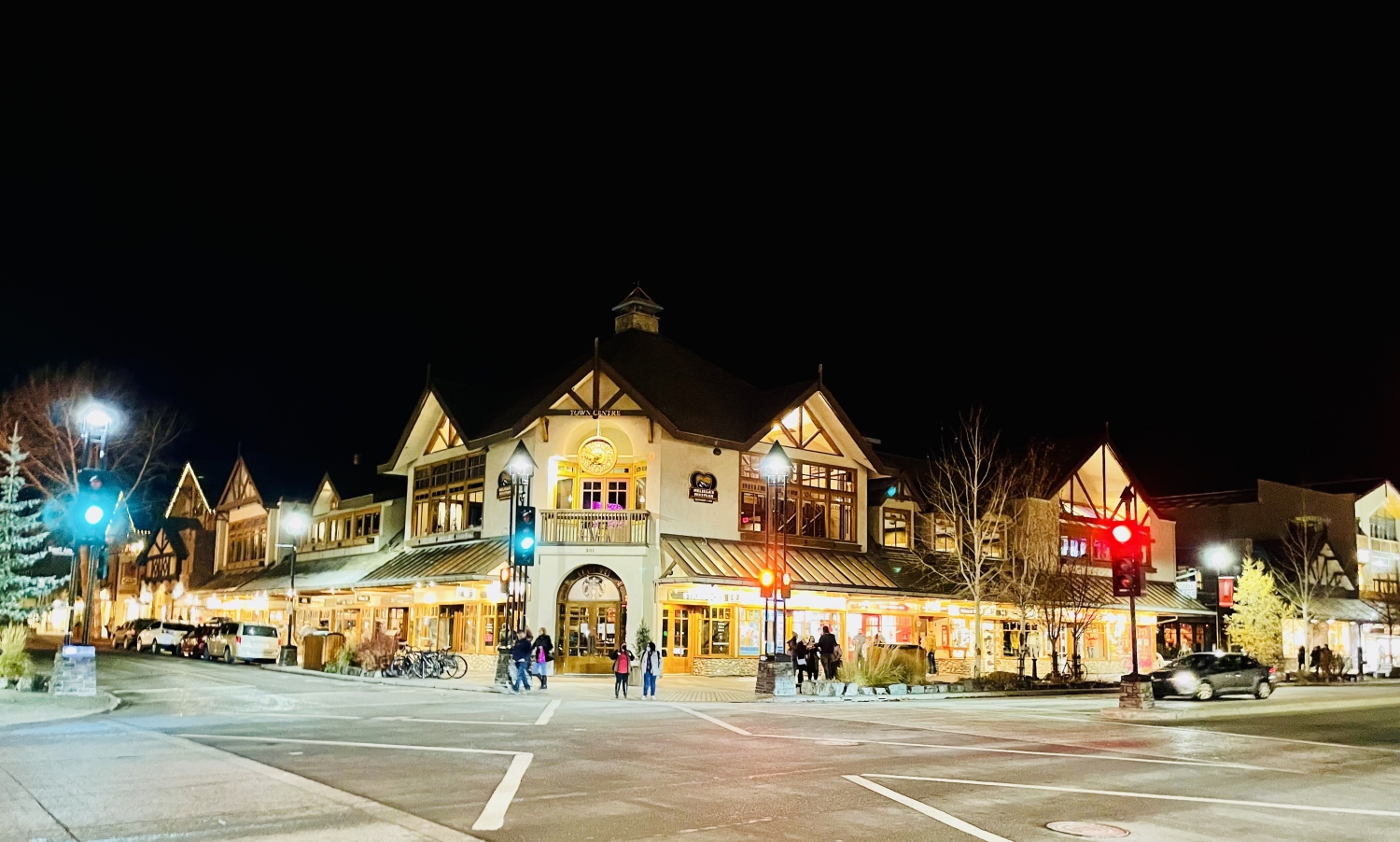 Our vision is always 20/20 in retrospect. When Boris closed the borders on us last week, I realised I had just made it to Canada and back in the nick of time. Window periods both ways. The way the world works now, we must grab opportunities when they present themselves without dithering. Grab handfuls and run, especially when it comes to travelling. That's why my bags are packed. Ready to go.
Just three weeks ago, this time, I was sitting in Banff. Right there in the Rockies. S'trues God, there I was wallowing away in a hot tub with snow surrounding me. After being on the flat Prairies, the mountains were a sight to behold; I was home, encircled by the peaks and gulleys once again. I could lift my eyes up to the mountains in awe.
Banff was named in 1884 by George Stephen, president of the Canadian Pacific Railway, recalling his birthplace near Banff, Scotland. Banff is a resort town in the province of Alberta, located within Banff National Park. Mt. Rundle and Mt. Cascade, part of the Rocky Mountains, dominate its skyline.
On Banff Avenue, the main thoroughfare, boutiques, and restaurants mix with château-style hotels and plenty of souvenir shops. The surrounding 6,500 square kilometres of parkland are home to wildlife, including elk and grizzly bears.
Banff is picture-postcard beautiful with diverse architectural styles and Chateaux-style architecture incorporating local stone, timber, and lightweight metal to make cantilevers and ribbon windows. Situated amidst nature, a mountainous landscape, and hot springs, it is famous for many outdoor sports activities such as hiking, skiing, biking, and trekking.
The hunt for the best brewery was still our primary focus, and the first stop for a draught and lunch was the Banff Ave Brewing Company, where the brew mistress took us on a tour of her brewery.
On our first night in Banff, I was privileged to experience my first snowfall. Ever. My first impression was the silence. My second thought was how large the snowflakes were, and you can catch them on your tongue! The light was my third impression, how ethereal it was. An enchanting experience and one I'll never forget, I thought as my boots crunched through the virgin snow.
At 2h00, I woke up, drew the curtains aside and watched, captivated by a group of young men engaged in a snowball fight in the main road. One posse was rolling balls of snow, compacting and tossing them up onto the balcony of the pub above them—a silent movie of festive fun.
Greeted by a spectacular golden sunrise, we all slept in a little later, cocooned in our bedclothes, relishing the first signs of winter. Even Maeva did a seven-hour stint.
In the morning, the call of caffeine is always loudest, and soon we had our warmest woollens and touques (took) covering our ears and foreheads. We stepped out into a white winter wonderland. Streets and buildings marzipaned in white, and a good snowfall certainly cleans a place up effectively.
Emily had us marching out and up into the mountains to see the views, exercise, and warm the old muscles up. As a reward, she promised we could enjoy a hearty breakfast later. I gingerly negotiated my way along the slippery pavements fearing a fall or breaking a hip. My age was telling on me.
The reward, it turned out, was the view—miles of pristine forest and mountains encircled us. The sleepy village below us and the majestic hotel took my breath away, and I've only read about this landscape in books or seen it on the NatGeo channel. Friendly locals and tourists were out in droves to enjoy the first snow of the season enjoying the views into Water Valley.
A trip to Banff isn't complete without visiting the iconic Fairmont Banff Springs Hotel nestled amongst pine trees standing sentry. Reminiscent of Wes Anderson's The Grand Budapest Hotel.
Built in 1888, the historic hotel was opened by Canadian Pacific Railways, and over the years, it has experienced several additions and developments. In 1926, the original structure was destroyed in a fire but was later replaced and designed by architect Walter S. Painter and was declared as a national historic site. The original wooden structure has been replaced by a steel frame structure clad in Rundle limestone. The eclectic building borrows facets from a cocktail of architectural styles, e.g. Scottish baronial architecture, French gothic architecture, a Chateau style used in railway hotels, and the Canadian Arts and Crafts movement.
Rumour has it that the ghosts in Room 873 are very much in residence despite the hotel's best efforts, and reports abound of a young woman standing outside her room as if lost. The ill-fated family of Room 873 isn't the only likelihood of ghosts to haunt the celebrated hotel.
My curiosity is never sated until I've gorged my senses on every aspect of a place. We wandered around the touristy shops; I tried on hats, scarves and traditional woollen cardigans, reminding myself that I was coming home to summer. A pair of boots niggled at my subconscious like a fly needing swatting. We browsed the Christmas store for hours picking up trinkets, baubles and snowglobes. Art galleries and book shops are always a favourite and these I explored too.
We dined in cosy restaurants, sprawling diners and industrial styled breweries. Three Bears Brewing, Block Kitchen and Bar and Park Distillery are some places we went to, but my memory fails me now recalling all of them. I had copious takeaway coffee cups until my liver protested.
On the way out of Banff we made a turn at the lake situated on the outskirts of the town, unfortunately we did not have an opportunity to visit lake Morraine or Lake Louise (I have been there before.) Once again the silence and pristine snow covered landscape took my breath away.
A whistlestop we made in Canmore, a village-sized clone of Banff, for breakfast where I succumbed and had the traditional French toast, Maple syrup and Blueberries. An ode to a humble slice of bread I must confess. It was time to hit the road home again.
Through all our shenanigans, Maeva remained the perfect poster child. She occasionally mewled when she was hungry and bleated when uncomfortable in her diapers. She smiled, dribbled and drooled contentedly while her doting parents basked in her sunny disposition. It was her first winter too and she navigated it all with flying colours.
---oOo---
Like prison doors clanging and bolting shut, our borders are closing all around us. Butch and I are packed, we've got our negative PCR test results, our passports are ready, and the Honey Badger's tanks are filled with fuel (well before the price hike). Our cylinders and pistons are pumping, and we're ready to hightail it out of here before Ramaposa's Command Council pow-wow.
---oOo---
---