Being Gobsmacked By Beauty - Nieuwoudtville And Biedouw Valley
---
---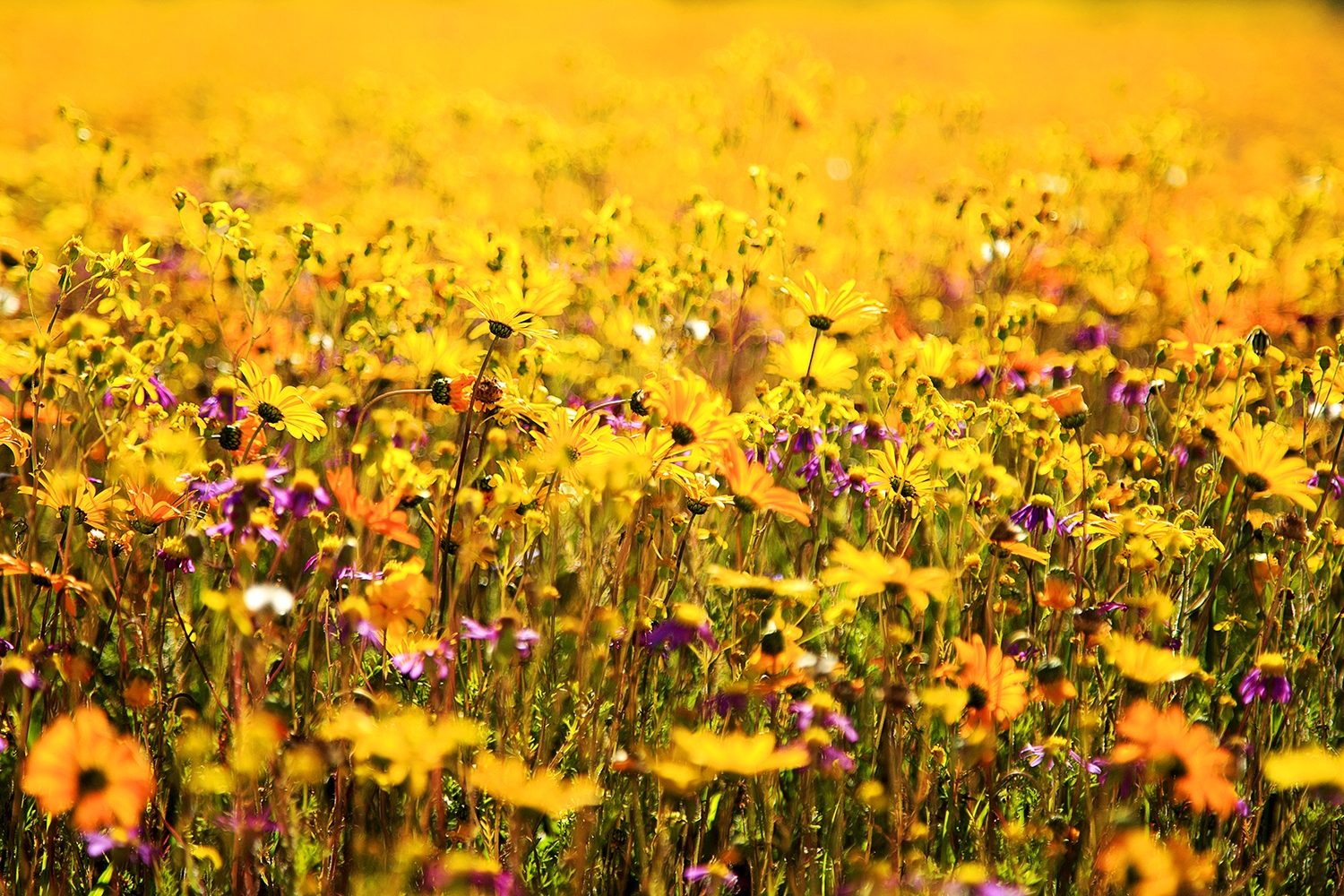 In the grand scheme of things, three OMG's in one day aren't that bad, but, you see, I'm not that sorta gal. But then again, I'm known to have a mouth on me. My expletives were utterly spontaneous, what my eyes saw my mouth exclaimed before my brain had caught up.
My most vivid memory of this two stop trip was the extraordinary changing of the colours. We were coming round the mountain and off the Botterkloof pass when the escarpment turned pink; kilometers of shocking pink, magenta and cerise. After driving many miles through the anticipated marmalade hues this was a welcome break to the senses, yet, the impact was mindblowing.
Nieuwoudtville lived up to its promise as the flower (actually bulb,but allow me a bit of poetic licence here) capital of the world once again. Not only was the village's Main road a kaleidoscope of colour, ladies, dressed up, with traditional bonnets protecting their faces, having set up stalls producing local takeaway treats like Vetkoek, skuinskoek, pancakes and a host of other lip-smacking tasties. A festive air greeted us. We pulled in at the fuel station to fill up with diesel giving me my first opportunity to capture some close-up pictures of a patch of daisies on the sidewalk. In private gardens, fruit and almond trees were covered in blossoms in shades of pink, white and cream.
Lunch, we decided, would most definitely be amongst Namaqualand daisies and some early flowering bulbs and NOT indoors. Katsterte (cats' tails) had pushed their heads up and towered above the daisies swaying gaily in the midmorning breeze.
As is our custom, we unpacked our table and chairs. The bright Tofo tablecloth was brought out, and we sat down with our drinks, enjoying our delicious hotdogs and tomato "smoor". Passers-by didn't bat an eye; it's not unusual to see tourists taking pleasure in their surroundings during springtime.
---oOo---
"Make haste while the sun shines" is precisely what we did after lunch, and soon we lumbered off to see what the afternoon had in store for us. Fallow farm fields were ablaze with vibrant colour all the way to the iconic Matjiesfontein farm, our intended overnight stop.
Colour carpeted the landscape at Matjiesfontein. We spent hours tiptoeing through the daisies, identifying, photographing, and stopping to enjoy the abundance of nature.
After setting up our campsite, Butch unstrapped our bikes. We went for a ride along farm roads, enjoying the saturated colours of the sunset and the deepening colours of the buds closing for the night.
With the quiet hum of a generator in the background, we listened to the chatter of Cape Weavers building nests, the fussy females inspecting their mate's labours. The occasional male rebuffed, all the while frenetically swizzling collecting leaves and sticks.
A Namaqua mist descended upon us as soon as the lights came on. Butch would not have to braai in the cold. We had a delicious soup specially prepared and frozen with such an event in mind. With mugs filled with hot milk, we crept under our feathers and enjoyed a chocolate bomb as silence took over. Man and mouse exhausted from a busy day.
The Honey Badger is a conversation starter, and everywhere we go, someone inevitably comes calling with stories of their overlander experiences or desires of living the dream. While I showered, Butch had an opportunity to chat with our camping neighbour. My sympathies go out to him, who had to stop his travels in his motor home due to physical frailties, but his wife assured me she's delighted in their Oz tent and 15inch blow-up mattress! Good luck with folding that tent, recalling our efforts with the pop-up we had.
---oOo---
By all accounts, the weather would be inclement. We resumed our trip on the dirt roads and mountain passes, traversing three passes into the Bidouw valley for lunch. Botterkloof Pass on R364, Klipfonteinrant Pass on R364 and Hoek-se-Berg pass into Biedouw Valley.
Whoever said "every landscape captures the imagination with its unique splendour" was 100% correct. Sometimes barren, often stark and mostly inhospitable, the unforgiving Namaqualand opens up in spring to celebrate with gratitude after a kinder, wetter winter.
---oOo---
The Biedouw Valley, I'd told myself beforehand, wasn't going to surprise me again. We'd been two years ago, and the chances were slim that experience could ever be trumped. Wow, how wrong I was. I was breathless. The valley lay below us like a patchwork quilt in all its glory—Sunbursts of orange, yellow, ochre, white and green.
Instead of rolling through nonchalantly, as I'd anticipated, we had to stop. Every few meters until we made it down into the valley where we stopped for our picnic lunch. We had to sit in chairs and take it all in. There's no other way to do it.
After lunch, with tummies full and our whistles watered, we waded through a sea of blooms. We sat for a selfie in a bare patch. My head swivelled in non-stop rotations. I couldn't believe my eyes.
---oOo---
When the sun began its dip behind the mountains, and long shadows closed the buds, we trundled off for a coffee at the newly erected Pop-up coffee shop on the van Der Merwe's farm sprawled in the valley just below the foothills of the southern end.
Queues were long as we snaked our way forward to the counter; the delightful owner told us how she realised there was a need. "On Sundays," she said, wiping a lock of hair off her forehead, "when we're sitting on the stoep gazing up at the valley, and a tourist stops to ask me for the use of my facilities, when you know, I would never do the same when I go to town. Then I grin and bear it and "knyp" (pinch) my bladder all the way back to the farm. That's when I realised, I could make money from this." she said in her delightful South African brogue.
Good for her. Three ladies operate the counter, and it appears they never stop as "tourists" buy jaffles, coffee and tea, chocolate cupcakes (my favourite), fudge and an array of other treats. Butch, who doesn't do "shopping", returns to the truck while I browse for a souvenir. With a recommendation to head east along the road to Enjo Nature Farm, where we're sure to find a camping spot, we head off. I will have another chocolate cupcake when we return, I promise myself.
---oOo---
Enjo Nature Farm has a following and unblemished reputation for the perfect getaway in nature. We were able to secure the "emergency" campsite. Under a canopy of trees, we parked our Honey Badger. The light was still suitable for us to untie our bikes for a quick ride on the gravel road.
To stretch my aching limbs, I did a slow meander, following the path to the center of the labyrinth for quiet reflection. My heart was overflowing with an appreciation of the beauty, serenity and pure awesomeness of our day in the countryside without any setbacks!
There are serviced cottages, three (I think) 4 campsites, the emergency campsite on the property, a small honesty shop at the main house, and free Wi-Fi. Although we didn't find the ablutions a problem, only one facility for all campers seems limited.
On one of my walks, I caught up with a little boy, sporting an oversized red Tshirt and a cloth sunhat, who was a font of information and didn't stop chattering the entire time he showed me around. He said his best thing in the world is living on a farm. Farmer, I thought, would be his vocation. He soon agreed he could be "whatever" because he knew everything in the whole world anyway. I agree wholeheartedly.
His youthful spirit of adventure was so refreshing and inspiring. La joie de vivre he had in bucketloads. Never would I burst his bubble, but I give him another 60 years...
---oOo---
We agreed that it would be wise to linger longer, but time wasn't on our side. At Enjo nature farm it's possible to relax or be energetic. There are two dams, many walking and mountain cycling trails, or, like us, one can stick to the main dirt road. Farm animals roam freely, and pets are welcome too. Guests are required to recycle.
Although I didn't have an opportunity to investigate the cottages, I would say they're well-appointed and perfect for a self-catering stay. By the looks of things, they're also in high demand, so early reservations are essential.
We thoroughly enjoyed our short stopover, our early morning bike ride and I certainly would like to return for a more extended stay.
---oOo---
Like any old horse, our trip was ending, and our nose turned after leaving Enjo. A last-minute coffee at the Pop-up coffee shop did the trick. The day warmed, making the daisies turn their faces towards the sun. We clambered back into the truck and headed off up the pass and over the Pakhuis pass to Clanwilliam.
Their are whispers on the winds that enthusiasts have been promised an extended flowering season this year. I urge you to take a trip to Namaqualand. There are many travel options to choose from. Day trips or a more extended stay is what you should decide. There's always space for a last-minute bed at the inn. See my blog http://maricha.co.za/blogs/post/spring-shenanigans-and-daisies-with-honeyed-hearts for tips and tricks.
---oOo---
Did you know? Yellow represents happiness, optimism, inspiration and summer. Those who like yellow are attracted to what's new and modern. Pale yellow can bring a sunny feel to a space without being overwhelming to the eye.
ENJO NATURE FARM:
Telephone: +27 (0)27 4700055
WhatsApp: +27 66 333 6810 (no sms's please)
---oOo---
Flipping through my photographs and memories I'm continually reminded that amidst our chaotic lives, fears, and insecurities our natural world continues to do exactly what its intended to do. Where human intervention is limited nature flourishes, where we scar the earth nature will heal it. I am in awe, inspired and afraid, none of us can be left unmoved or humbled by the sheer magnificence of nature. On our trips we always see "the small things" and concur they will inherit the earth. "We must tread softly on this earth." John Varty warns.
---oOo---
---