Gearing Up! Ready To Take A Hike
---
---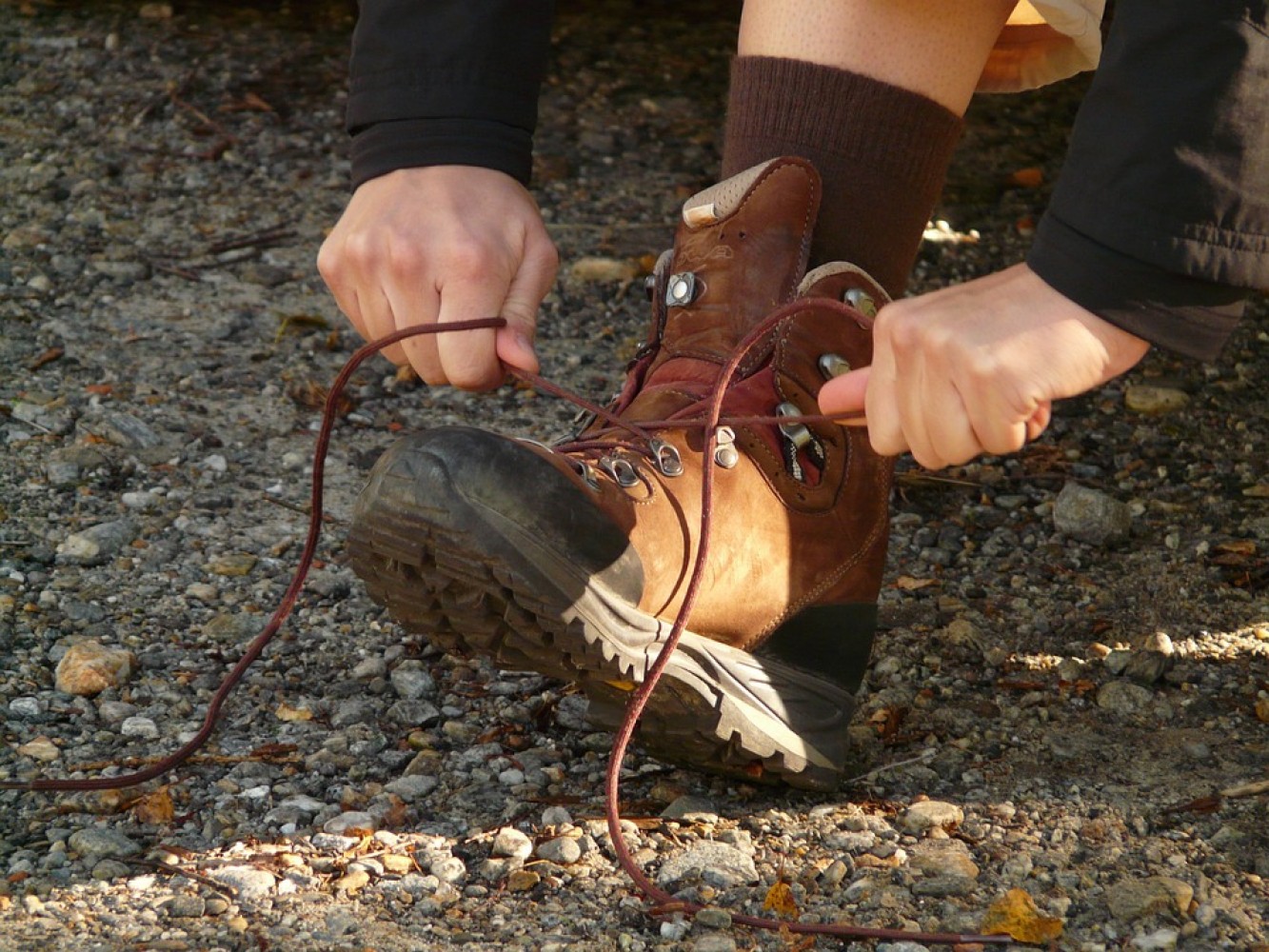 A few decades ago I celebrated my 40th birthday in Namibia. On the night, the rotund chef at the Waterberg Reserve's restaurant made an entrance and in true operatic style serenaded me in a booming baritone blasting "Happy birthday to you" beautifully. It's something I'll never forget. I have a collage of memories, beautiful photographs, books and cards commemorating that highlight.

Always one with a bucket list as long as a Chimpanzee's arm, and steadily growing, hiking the Fish River Canyon was high on the list until I looked down from the view point just north of Ais-Ais. My stomach belly flopped, my legs jellied and I had to use all my willpower to stop myself from toppling over the edge from the G-forces. I have a fear of heights. The descent is steep and chains are provided to assist hikers over the first 100 meters. I also have a yellow streak running down my back.

"Jitte ekke bang!" I'm scared. I had to accept that I would never have the courage to descend that vertical sheet of bedrock to walk the 85km along the riverbed to experience the Fish River Canyon. Until now that is.
2016, the penultimate year before I turn onto another milestone. I'm conquering my fears. The first one was horrifying, but, I stared down that Boomslang at Mana Pools. I still hate the buggers though. Next week I'll descend at Hobas and do a four day hike along the Fish River.

Not only did my G.P think it was time to muscle up and get fit, my spinning coach thought so too and had been sitting on my case for months. With the prospect of the hike I had no time to waste and got onto a fairly serious exercise regime. Every square inch of my body hurt on the second day. So my pain levels have fluctuated from excruciating to reasonable for the past four weeks. I had pain in muscles in places I'd never knew I had. I feel my age. Yesterday I seriously wondered whether I've not had an undetected stroke. Nothing really works as it should, my legs have got shorter, my balance has degraded, my fingers don't grip as well and my mind wanders. I'm slower and my strides are shorter. I huff and puff and wheeze.

This confession certainly won't inspire confidence in my abilities. I know that. Do not fear, by next Monday I'll be up and running. Why? I will not fail. Bloody mindedness is my middle name.

To go on this hike meant I had to up my wardrobe. Of course. And a CHECK LIST. The experience has been interesting as once again I was confronted by the different categories of sales assistant. I can describe them as: indifferent, disinterested, rude, uninformed and intellectually challenged. There were exceptions who were enthusiastic, helpful, friendly and polite. None knew anything about the Fish River Canyon, and I doubt whether any have a desire to hike.
I've been wearing my new Hi-Tech hiking boots non-stop for three weeks. The cold weather has been a bonus and my winter's toes have been snug as bugs in my thick woollen socks. I've had concerned friends send me YouTube clips on just about everything, but found the "How to tie hiking boot laces" very informative and helpful. I was able to improve my footing, my ankles are secure, dropped arches and all. My apologies to everyone who has had to move their furniture around to accommodate my huge clodhoppers. Dad you were right, they are my new best friends, couldn't live without them.
Supporting local industries and businesses is something I do, and so it was that I trotted down to our local outdoor equipment store to buy a new backpack. The very friendly sales assistant gave me the once over and recommended the super light Osprey Ariel 65, specifically designed for ladies. I was measured for the perfect fit.
In February I did a two night hike with my son, he wasn't impressed with my set-up at all, and called me the weakest link. My new Osprey manages to impress him with excellent reviews.
With the new boots and backpack I thought I was rearing to go. Not so fast. On Thursday I'm expecting my new Osprey Hydraulics reservoir. Cold water on tap.
That should settle it then. Most unlikely. Wherever we go counsel comes pouring in: don't forget this, you can't go without that. You are taking this or that? And if not I get the look that says "you're making a big mistake, I've done the hike and you're going to be sorry". On most days I get a YouTube clip about packing my backpack, what to pack, what to avoid and what I'll not survive without. My Precious has brought home maps, printed pamphlets about the history, weather conditions, the current water levels and expected weather conditions. I've read about the history starting a gazillion years ago, the German occupation of Namibia, who's died there and who's buried there. I've heard horror stories about injuries and broken ankles.

The training has been fun, from Mondays to Fridays I join the Aqua Queens, a lively group of retirees, who do Strength Classes, Pilates, aerobics and on Fridays I reward myself and stretch my aching muscles in the stretch class. My beloved watches me three mornings a week strapping up and cycling to an ensemble of tunes blaring in my ear in the Spinning Class. I do the circuit, walk/run on the treadmill and instead of sauntering to the washing line I now gallop with a full washing basket under my arm. I flatly refuse to swim. It's winter.

On two occasions I've hiked up the mountains at Fernkloof, to get accustomed to wearing a heavy backpack, to test the new boots, to negotiate rocks, slippery paths, downhills and too many up hills to keep track of. What a delight it's been. I've met some of my fellow Canyon hikers, I've enjoyed the grand vistas around every corner. We've had the most fabulous weather, clear skies, sunny days and to cool down cold winds through the gullies. When I've almost caught my breath, mist blankets the upper reaches and there've been a few drops of rain at the end of the walk. I've slipped, missed my footing, bruised and scraped my knees. I've been thankful my son can't see me tripping up, but wish they were here to see the spectacular fynbos coming to bloom, to spot a whale blowing would certainly make their day. Armed with a stick, a bag, water to fill the ocean, a snack pack, beanies and gloves I make my way steadily to the finish line. This week the G.P will declare me fit as a fiddle.

Tomorrow I'll hike on the beach, just to Sopiesklip, that should work my ankles. It's time to pack my bag, replace the water bottles with a sleeping bag, bedroll, a pair of socks, some thermal long Johns, my headlamp and toothpaste, never for a moment forgetting my maximum weight should not exceed 10kg. Going to take some doing. I've had to forfeit my beloved Canon for a smaller, lighter, point and shoot, the purist in me balks. My ardent hope is that I'm not the weakest link. Hold thumbs.
STORES I SUPPORTED - These were top of the pops.
Quenet's Jag en Hengel
Q Square,
High Str
Worcester
Trappers' Trading
Mountain Mill Mall
Worcester
Outdoor Warehouse Sports Store
34 Klipfontein Rd, Rondebosch
+27 21 686 3922
Drifters Adventure Centre
Shop L337
Sandton city
011 783 9200
http://driftersadventurecentre.co.za/onlineshop/packs-hiking/osprey-ariel-65-lds-pack/
---