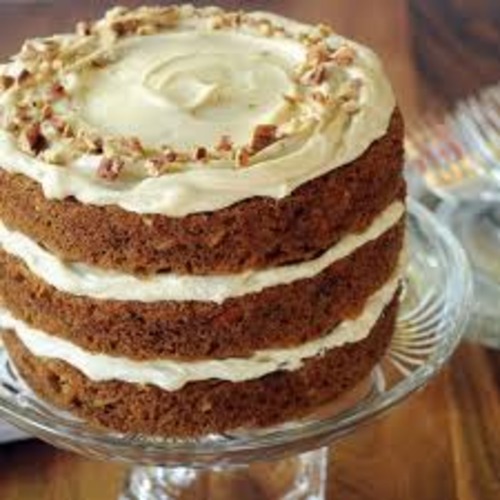 This cake has stood me in good stead for 30 years, it never fails to please and I've shared it many times. It's easy to bake and flavours improve with time which makes it perfect for weekends.
3 Extra large eggs
375ml Sugar
250ml Canola oil
750ml Grated carrots
625ml Cake flour
7ml Baking powder
5ml Bicarbonate of soda
7ml Cinnamon
5ml Salt
Rind of one lemon
120g Pecan nuts, chopped (Walnuts can be used)
Pre-heat the oven to 180C. Grease 23cm ring pan, using butter.
Beat the eggs adding the sugar a little at a time. Must be light and fluffy. Add the Canola oil and beat well. Lightly fold in the grated carrot and then the well sieved flour, bi-carb, baking powder, salt and cinnamon. Fold lightly. Pour into well greased pan and bake for 60-70 minutes depending on your oven you can check after about 50 minutes. Once cooked remove from the oven, let the cake cool down slightly before turning out onto a wire rack to cool completely.
Icing:
100ml Cream cheese (I use Philadelphia cream cheese)
100ml Soft butter
5ml Vanilla essence (use very good essence or Vanilla paste)
Grated Lemon rind
500ml Icing sugar
Pecan nuts and cinnamon for garnishing.
Beat the butter until creamy, add icing sugar little bits at a time beat until light, add the cream cheese, then the vanilla. Decorate cake as desired and garnish with the nuts and cinnamon or as you choose.
TIP: to ring the changes make cupcakes, but remember the baking time will be much less.
Bon Appétit.
---