Scoring 100% On Her First Test Drive
---
---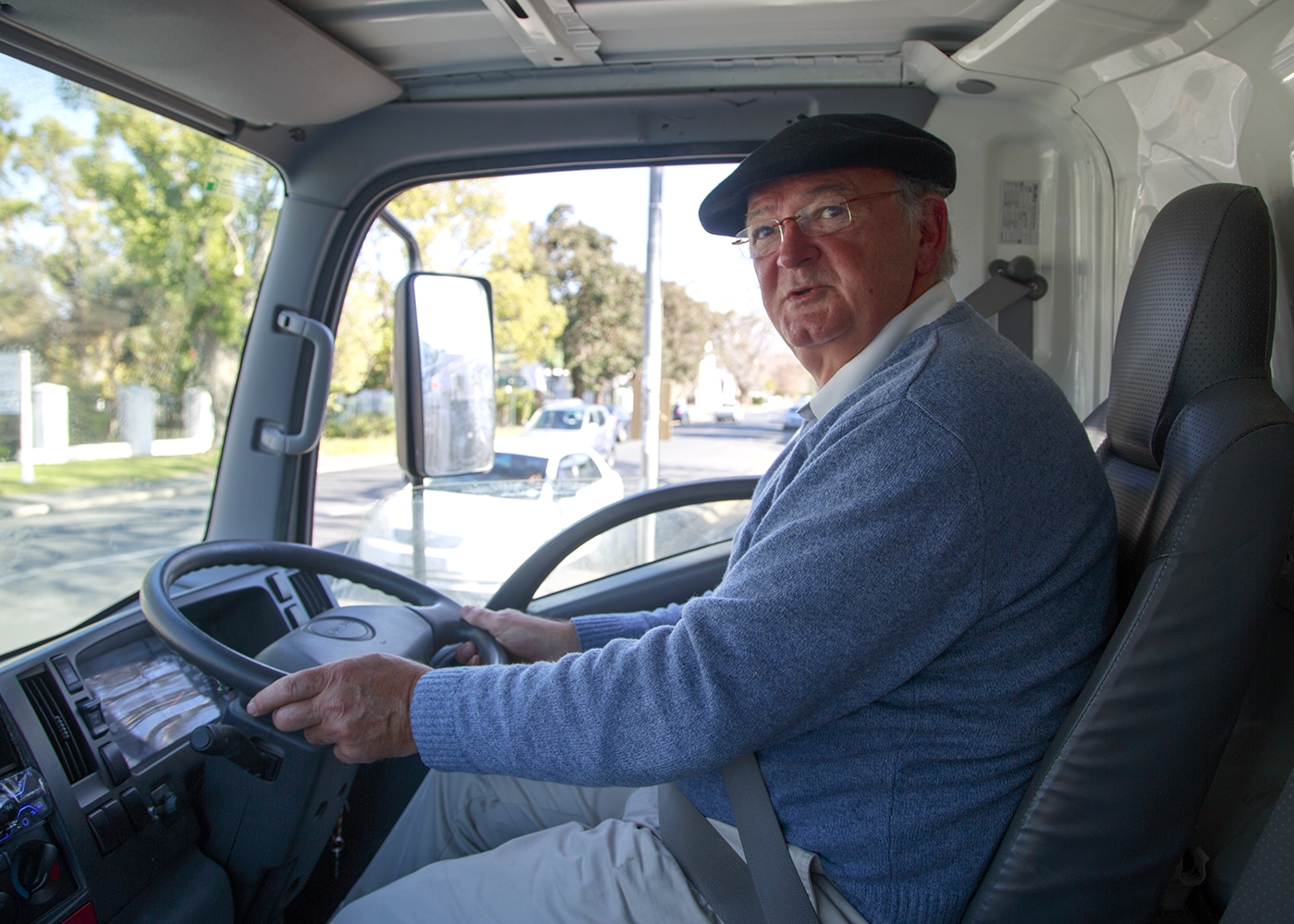 Our pet project, the Honey Badger lives up to all expectations and passes her first test drive with flying colours. She didn't put a gear out of place and with all the confidence in the world revved her engines and zoomed off at a top speed of 80kmph. I mistakenly said we were going on our maiden trip with the Honey Badger, sorry, it was a test drive. The Maiden Trip will only happen once we're done and dusted and we've had the official handing over of the keys. That's when the corks will pop. But, I'm getting ahead of myself. That's a long way off yet.
We are so inclined to see obstacles that it takes some doing to make the mind shift. We did. Our beach cottage was being used by friends, we had nowhere to go and little inclination to go on a road trip with a tent. Staying in a hotel or a bed and breakfast has lost its appeal after 5 weeks in Europe. We had a claritas momentum and saw the golden opportunity. Why not take the Honey badger out and put it through some paces.
Two weeks, to get the vehicle off blocks and onto the road. It was all systems go in the workshop. Electricity had to be supplied to a few lights. A radio had to be installed and it had to be iPod compatible. The mattress is custom made and had to be comfortable and carry a reasonable weight. The ribs of cupboards have been installed, but we needed to see whether we could manoeuvre around them without knocking them off the walls or knocking ourselves out.
At 14h00 on Friday we stopped at the Workshop for the Blind, where the vehicle has been holed up for a couple of months. This is where the carpentry is being done. Workmen were just finishing up, knocking the last nails, fastening a few loose screws and attaching a lock to the door. Earl and his men did all the last minute touch-ups to make sure we'll not find it necessary to fill in the Croxley he supplied for the snag list.
Nervous anticipation was making me jittery. We stowed our picnic baskets, a cool box with a few delicious treats, supper and a salad or two. The refrigerator has been installed but the power can only be relayed once all the work is complete I've been told. I made our bed with our most puffed up down duvet, I was not going to freeze, especially since I've become very accustomed to my electric blanket, bed socks, flannel pyjamas and winter linens. I do not do winter like Lara Antipova in Dr Zhivago. I do not "plunge into cold waves" at all. Next time might even load up a bike or two, will these do?
Butch, although an extremely confident driver did take the wheel carefully as we crawled (baby steps) up Church street to the filling station to fill those two tanks with Diesel. Jannie our favourite attendant didn't recognise us and had to be called over after giving us a rather cold shoulder. He was impressed. Cutting corners is out of the question in a large vehicle so it was at a crawl that we made our way to the N1. Of course nothing is ever simple, the fuse for the new radio shook loose, the iPod needed an auxiliary cable and the one speaker was dead. So back we went to buy a cable and then have the radio sorted.
At last we were on our way to Citrusdal where we'd go for long hikes and then relax in a picturesque setting according to my brother, who has been many times. I had visions of lolling in the hot water spa until my toes crinkled and my hair frizzed. We'd also have freshly squeezed orange juice for breakfast and I'd have my first fresh orange from a tree in 40 years. I could smell the orange essence on my fingers as I peeled the thick skin and feel the burn of the oil in my eyes as I drew back a strip of peel. I wondered whether I'd manage not to tear the skin under my nails as I did as a child, remembering how the juices could burn.
Well, no sooner had we turned off the N1 to Ceres that we abandoned any hope of listening to our Audible book, the noise in the cab was horrendous. We'd not taken into account the new entrance from the cab to the cabin, it had no noise suppressors! Talking to each other was impossible. There was a lot of frustrated eye rolling, lip reading and head shaking going on. Second thoughts tell me we will need Bluetooth not only for my earphones but to use our telephones hands free?
We made it into Citrusdal at 18h00 only to find that our preferred destination was chock-a-block. Our next option was Citrus Creek in the village. Karen, the owner, welcomed us at the gate with news that she had a space for us. Relief! We parked, got ourselves comfortable, poured our sundowners. A perfect, warm, cloudless evening under the stars. Once we'd relaxed sufficiently we laid our table and had our customary Friday night steak and mushroom sauce with a lovely crispy salad. A piping hot baked citrus pudding and custard rounded off our meal perfectly.
The new bed was as hard and as uncomfortable as a cement floor in winter. The duvet sent shivers up my spine as I flushed hot and cold. Reading my book became a chore as I doubled over trying to get comfortable propped up against my single down pillow. Oh I was pathetic and decided to call it a night. Too much excitement for one day.
I awoke before dawn after a troubled sleep, clinging to the edge of the bed, as stiff as a board, each joint aching as my beloved lay there sprawled out sleeping like a log. I could've kicked him! He was forgiven after a perfect cup of coffee, a Myprodol and a Voltaren massage.
My visions of lolling in a hot water spa were shattered so we decided to pack up and head off to the West Coast. I must compliment Citrus Creek for their beautifully, clean and comfortable ablutions. It felt like home. Karen gifted us with a huge bag of delicious, just picked oranges and Mineola's which we enjoyed en-route. Her chunky Marmalade was enjoyed on a thick slice of freshly baked bread drenched in butter.
A quick visit to the very bustling Citrusdal village got us sorted with a few items and Butch set up his GPS. We were set to hit the road again. Our tummies were growling and we needed an early lunch. Hebron was on our radar, a lovely farmstall with a very good restaurant at the top of Piekenierskloof.
A lot of development has taken place there since our last visit a few years ago when the owner/chef had just taken over the property. The Geraldton Wax plants were in full bloom, such a hardy yet finicky plant to cultivate. And it is being "farmed" here, what an excellent idea. A wine tasting locale has been set up where local wines can be tasted. The restaurant, thankfully, has remained unchanged, still quirky with a lovely stoep, where we sat, in the sun. The pork belly with sour kraut on a thick slice of roasted butternut was delicious and the rind as crispy as can be. Our desserts rounded everything off perfectly. Sticky toffee pudding, what could be nicer? We were ready to embark on our journey to the coast to watch some Lions annihilate a team from New Zealand in a semi-final match at Ellis Park.
A pub on the west coast is the perfect place to watch a semi-final rugby match when the one team is your own and the other one is a New Zealand team. The ref is enemy number one, the opposition a bunch of hooligans, your own team gets it in the neck and the best players are your companions at the bar. And so it was that we rolled into town at halftime to watch the Lions win. Isabella's in Lambert's Bay lived up to her reputation once again. All the bonhomie got us chatting and we were advised to head on up to the caravan park in Dwarskersbos, which we duly did. We arrived to a gang of bikers playing some weird game where they toss a motorbike tyre almost like a jukskei. Not wanting to put them off their stride we opted for a campsite as far away from them as possible. We're too staid and boring and would hate to be a fly in their party ointment.
West coast sunsets on an Indian summers' evening are just magnificent and the blood orange sky promised to delight the shepherds in the morning.
Our second night in our Honey Badger was perfect. I slept like a baby, warm as toast. Coffee in bed the next morning was just perfect and the day looked promising. We would meander down to Paternoster to have lunch at Wolfgat Restaurant. A treat I couldn't wait for. Being in Paternoster for a day just confirmed, once more, that this is one place I love returning to, and it's been too long.
As far as the eye can see the West Coast coast landscape is green, new shoots are sprouting profusely as Spring crops have started growing. According to the experts the Namaqualand hasn't had sufficient rain yet to ensure a good spring flower display, although travelers aren't being discouraged from making a road trip there they're not promising a great year of blooms. It's hard to say looking around, but, I suppose the seeds haven't germinated yet. Let's hold thumbs a late winter shower falls soon.
Chef Kobus van der Merwe is an artist. His food is art on a plate. His taster menu is clever and quirky using locally foraged ingredients like dune spinach, oysters, black mussels, wild asparagus, and indigenous herbs like "kooigoed" to smoke pears and fermented rooibos tea instead of vinegar. One of my favourite dishes was the bokkom butter and breadsticks served as one of the starter courses. Kobus is master in his kitchen preparing dishes, plating them perfectly using interesting crockery, ceramic bowls and wooden platters. The white themed tableware, crockery and napery makes my heart sing (my favourite colour!) How I loved the large French style table napkins in finest linen.
Each course was a taste sensation and the Springbok fillet rates as one of my all-time best main courses. Delicious. This was on the menu:
Strandveld Snacks, Angelfish, Kumquat and "soutslaai", Fish bone broth, pickled onion and wild sage, Saldanha Bay mussels, Heerenboon (pureed white beans) and dune spinach, Oyster, quince and Oxalis, Springbok Fillet, Limpid, "klipkombers" and for dessert Smoked pear and vanilla ice cream. I salivate as I type, and try as I might I couldn't tell you which dish was my all time favourite. They were all perfect.
After our perfect lunch sitting on the veranda overlooking a glassy sea on a 30֩C winter's day we had to leave and return home. This time we were better prepared for the slower drive home, we didn't need to converse this time, each one just savouring and reminiscing our road trip and beautiful meal.
The Honeybadger made a good impression and we did get quite a few admiring glances and neighbours coming over to chat about the vehicle and our future trips fascinated many who have similar bucket list ideas. The driver of the long Sishen train gave us a wave and a long hoot, we counted 250 trucks and 4 engines!
With my to-do list I went to see the ever patient, always willing and smiling Johan, who is the manager at the Carpentry section at the workshop in charge of our installation. He just nods and says yes. He knows, happy wife, happy life. I am very happy to report that all the work Earl and Johan have done passed muster and I can only sing their praises. Well done chaps, your work is splendid. Thank you. I doubt I'll ever want to sleep anywhere else but in my cosy little bed in our Honey Badger.
I'm holding thumbs we'll be able to set off again on another exploratory trip on the 25th August with one of my favourite sisters-in-law and my boet. They are fundi's at camping and party animals to boot.
PS I include photographs of our meal at Wolwegat, simply because I got heart palpitations looking through them again, a good sign, I must share them. If I belonged to a gardening, dinner or herb club, I'd really recommend an outing to Wolwegat for a meal and try and negotiate a class or demonstration with Kobus (if he'd be willing to do one), here one can learn so much about indigenous herbs, unusual seafood and their culinary uses. Remember foraging is free!
PLACES WE STAYED AT:
CITRUS CREEK – Chalets and Camping
Karen Brookes
Tel: 0229213145
Email: info@citruscreek.co.za
P.O. Box 76
CITRUSDAL 7340
DWARSKERSBOS BEACH RESORT
Tel: 022 784 0110/083 272 4132
Fax to email: 086 609 4124
Email: Dwarskersbos@Bergmun.org.za
RESTAURANTS:
HEBRON
Piekenierskloof Pass,
N7 Motorway,
Citrusdal,
South Africa
TEL: +27 22 921 2595

WOLWEGAT
10 Sampson St,
Paternoster,
Saldanha Bay Municipality
7381,
South Africa
http://www.wolfgat.co.za/
that's us and our "baby" Earl, the Honey Badger, he sits firmly on Butch's head.
---