Searching For The Perfect Brew(ery) - A Road Trip To Calgary
---
---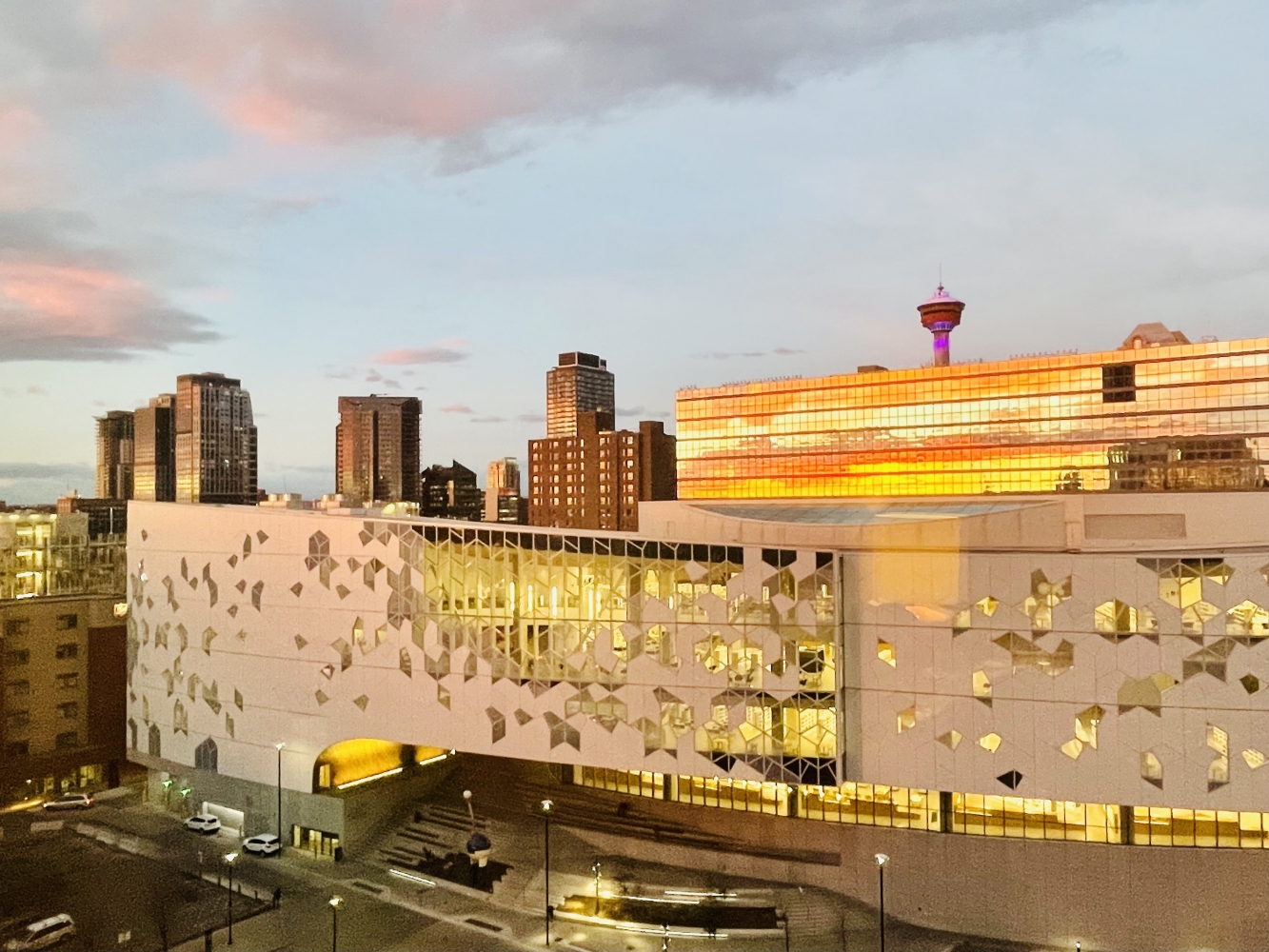 All work and no play is not a hard and fast rule with this crew. They're inclined to lean towards the sentiment that it makes Joe dull and kills innovation, invention and inspiration, or to be boringly predictable, which is an anomaly coming from an accountant, especially one who's co-parenting a three-month-old baby.
When Emily finalised the departure date and time, it was a matter of hurriedly flinging a few garments into our bags; accommodation reservations would be on the fly. Everything depended on Miss Maeva, her sleeping patterns, boob times or nappy changes.
The Tesla had not been taken for a lengthy spin yet. A road trip would be the perfect opportunity to put the electronics and the baby's tolerance to the test. No sooner were we securely belted did Miss Maeva fall asleep and we went swishing swiftly through the Prairies.
Our first port of call would be Calgary. Emily punched in our destination. The Ol' Beautiful Brewing Company situated in the Brewing district of Calgary came up first.
On Google maps, all the charging stations lit up indicating our pit stops. Perfectly timed they were too. Giving us ample opportunity to freshen up, have a coffee and snack. The quickest route would take us through places with the quaintest names. Moose Jaw, Swift Current, and Medicine Hat.
---oOo---
Moose Jaw has a history of tunnelling. According to one story, the tunnels were started by disgruntled Chinese railway workers in 1908, after several members were attacked and killed at the CPR (Canadian Pacific Railway) yards. The Chinese moved underground and lived there for years. Later, during Prohibition, bootleggers took over the network of passages and tunnels. It is believed Al Capone, the notorious gangster, frequented the city and its network of tunnels in his dodgy dealings. Fact or fiction? Who knows. A trip to these tunnels may reveal all.
---oOo---
Medicine Hat, Alberta
The city of Medicine Hat got its name from the Blackfoot term Saamis, which refers to the headdress of eagle feathers worn by a medicine man. They made camp and summoned the spirits to appear where the town would be founded.
Historically, Medicine Hat has been known for its large natural gas fields. Rudyard Kipling, who travelled Canada by train in 1907 with his wife and spoke eloquently of the area's natural gas on the front page of the Medicine Hat News, saying: "This part of the country seems to have All Hell for a basement, and the only trap door appears to be in Medicine Hat."
Because of the oil reserves, the city is known as "The Gas City".
---oOo---
About Swift Current I know very little, albeit to say that the name says it all. But. From June 18th, 2022 until June 19th, 2022The skies above Swift Current will fill with a colourful array of some of the most unique kites North America has to offer. Internationally acclaimed and award-winning, Windscape Kite Festival is a family-friendly, free-admission festival.
---oOo---
"Calgary, a cosmopolitan Alberta city with numerous skyscrapers, owes its rapid growth to its status as the centre of Canada's oil industry. However, it's still steeped in the western culture that earned it the nickname "Cowtown," evident in the Calgary Stampede, its massive July rodeo and festival that grew out of the farming exhibitions once presented here. ― Google
Calgary is well known for:
The Canadian Pacific Railway Headquarters.
The Calgary Fire of 1886.
The Calgary Stampede.
Calgary Flames - NHL Hockey Team.
Red Mile - Sea of Red Jerseys during the NHL playoffs of 2004.
Hosting the 1988 Winter Olympics.
Hosting the 2009 World Water Ski Championship.
Calgary reminds me a little of Johannesburg. A bustling commercial city with a large population of business people and oilmen (and women). The fringe businesses cater to the entertainment of many thousands of people who settle there to work on the oilfields and affiliated companies, e.g. Agriculture, manufacturing, trade, finance, business services, health and education. I believe the city is diversifying now that there is a decline in the exploration of fossel fuel.
While Joe went off to do some bidness, Emily, Maeva, and I put on our walking boots and stepped out onto the "towpath", designated for walkers and cyclists, running along the embankment of the Bow River, the lifeblood of the city. We crossed the red bridge searching for a coffee at one of the numerous restaurants situated in the sprawling park hugging the river. While I strolled with Maeva, Emily could run to her heart's content, doubling back to find us.
Emily was able to complete two runs; one a 5km normal run, the other an adrenaline induced 10km sprint. On this infamous walk I, on the other hand, got as far as the first bridge when Maeva let it be known that she was having none of this and belted her displeasure out for all and sundry to hear. I rocked her and soothed as best I could but decided to slink home after a concerned gentleman sternly enquired,
"Are you the child's mother? Hmm. Is she warm enough?"
In a flat spin, I could only splutter, "I'm her Grandmother!" With that he dismissed me. Not altogether convinced I wasn't a kidnapper, I thought. I scuttled home, baby in one arm pushing an unco-operative crabbing stroller in the other hand.
By the time Emily found us at the hotel, we were all in a hysterical state. Poor child thought she'd lost her baby who would forever live under a bridge in Calgary with her simple minded Grandmama!
Fortunately, our love of food and Joe's penchant for a beer together with Emily's FOMO we were able to calm the troubled waters. A good brew followed by excellent food was what was called for. It was a peaceful slumber baby Maeva drifted into once she'd latched onto her food allowing us to go off to find the things we all love.
We spent two days exploring Calgary's eateries and brewhouses, shops, art galleries, public library and coffee shops in the bustling downtown area where the tolling of the tram's bell, clack of inner city trains tell of a well oiled transport system. The city's eclectic architecture is fascinating, and I liked the skyline at night when lights spotlighted some iconic buildings.
Our accommodation on our first visit was at the Hilton, Downtown, and on our return journey, we stayed at the modern Alt Hotel. Both hotels were central to where we wanted to be. Rooms were well-appointed, and the sunrise's golden glow onto the Public Library from our rooms at the Hilton were spectacular. From the Alt hotel, we could hop, skip, and jump to the path snaking alongsie the Bow River.
Some of the breweries and restaurants we visited were: The exciting Raindog Bar, the industrial-looking Ol' Beautiful Brewing Company. We managed to secure a table at the ever popular OEB. We caught up with Emily's delightful cousin and her husband and had pizza at UNA's. I know I've missed out on many interesting watering holes and eateries, but I do suffer the occasional grey moment.
Armistice day is celebrated annually with the familiar poppies, which were evident all over the city. White crosses commemorating fallen soldiers were a stark reminder of WWII and the many millions of lives sacrificed for our freedom. Today we're fighting an invisible enemy called Covid.
We were a mere 80 km from the Rocky Mountains. According to reliable sources, Calgary is definitely on the tick list for outdoor lovers who come from all over to test their skills at everything from white water rafting to ice fishing and bobsledding.
We had one more stop on our road trip. We strapped Maeva into her car seat and headed towards the snow-capped Rockies to spend a weekend in Bamff. Maeva in the meantime was being the poster child. Sleep, eat, nappy, giggle, smile, sleep and again.
---oOo---
---