Street food in the fast lane
---
---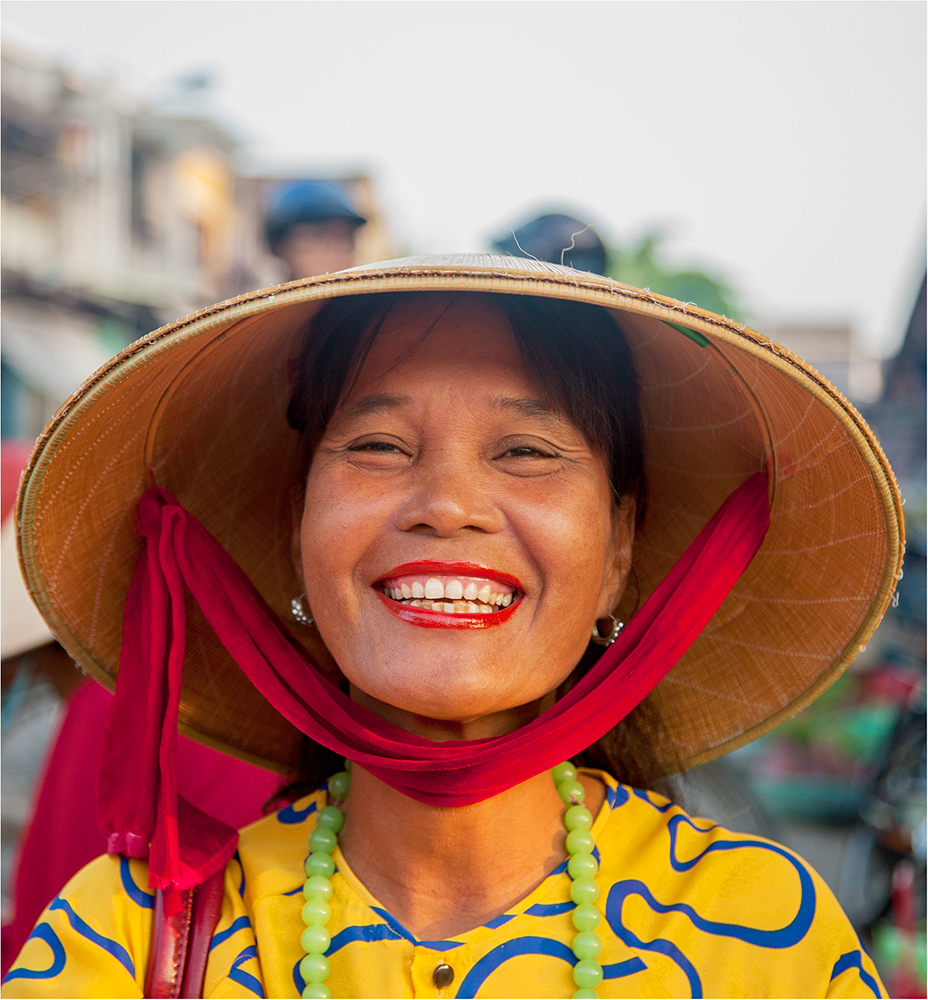 Streets are swarming with scooters, rickshaws, hookers and hawkers. The sidewalks bustle with traders, pedestrians, street cafes, and panhandlers This frisson is like a needle in a vein and addictive. The steamy life on the street is heady and the cacophony of sound and raw energy makes any street in Vietnam come alive. I can't imagine anyone going there and not savouring the experience. I believe there are shops that have been going for generations, makes sense to me, why change a good recipe?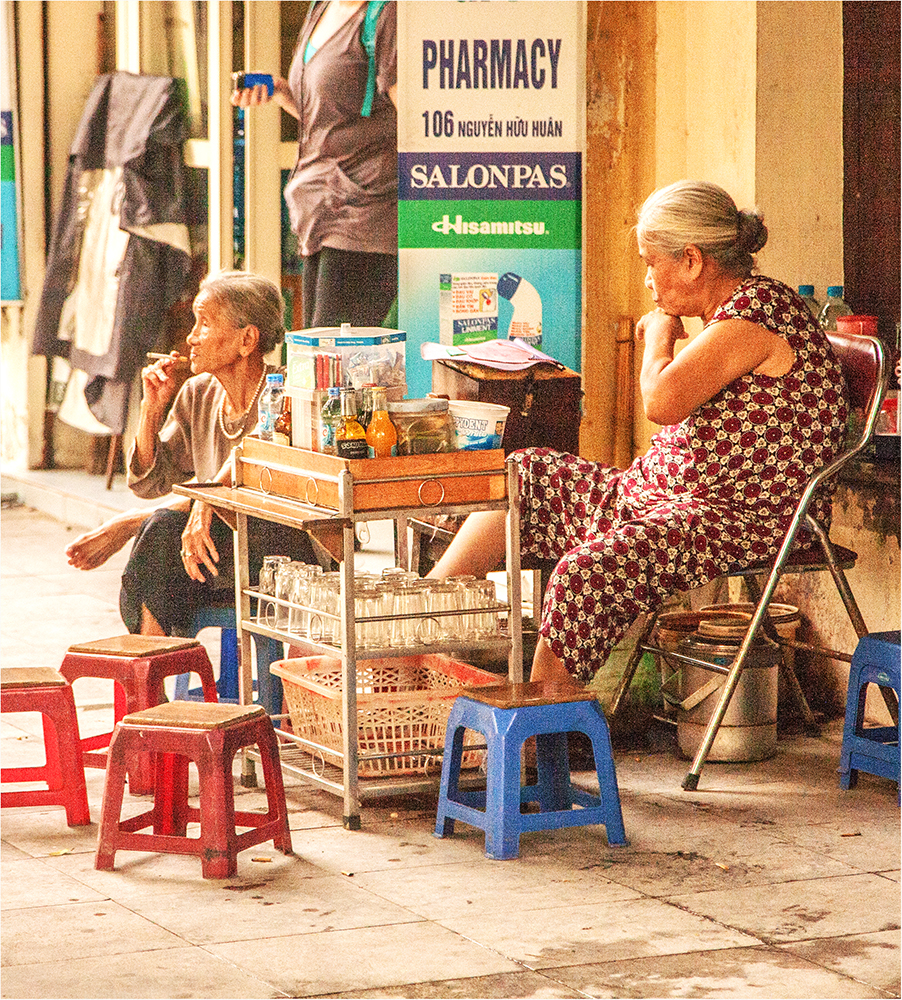 The vibe is infectious so we probably sat down more often that we would normally do, just to watch the people go by, to have a cold beer, the delicious lime drink, or a Vietnamese coffee, of course. The reasons, if you're looking for one are endless, it could even be as simple as an ice cream or as complicated as doing online banking or booking a show! What about seeking the weasle who did the best job (mind the pun!)?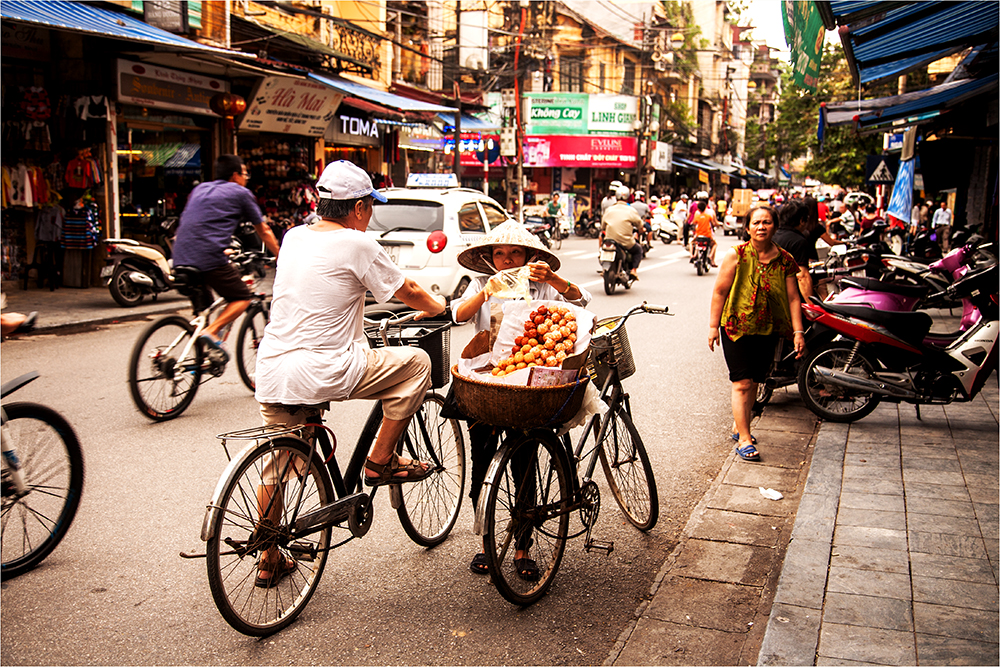 At night selected streets are closed and before you know it's turned into a night market and you'll be spoilt for choice when it comes to eateries. From the humblest dwellings, smallest villages to the most metropolitan city, street food is a way of life.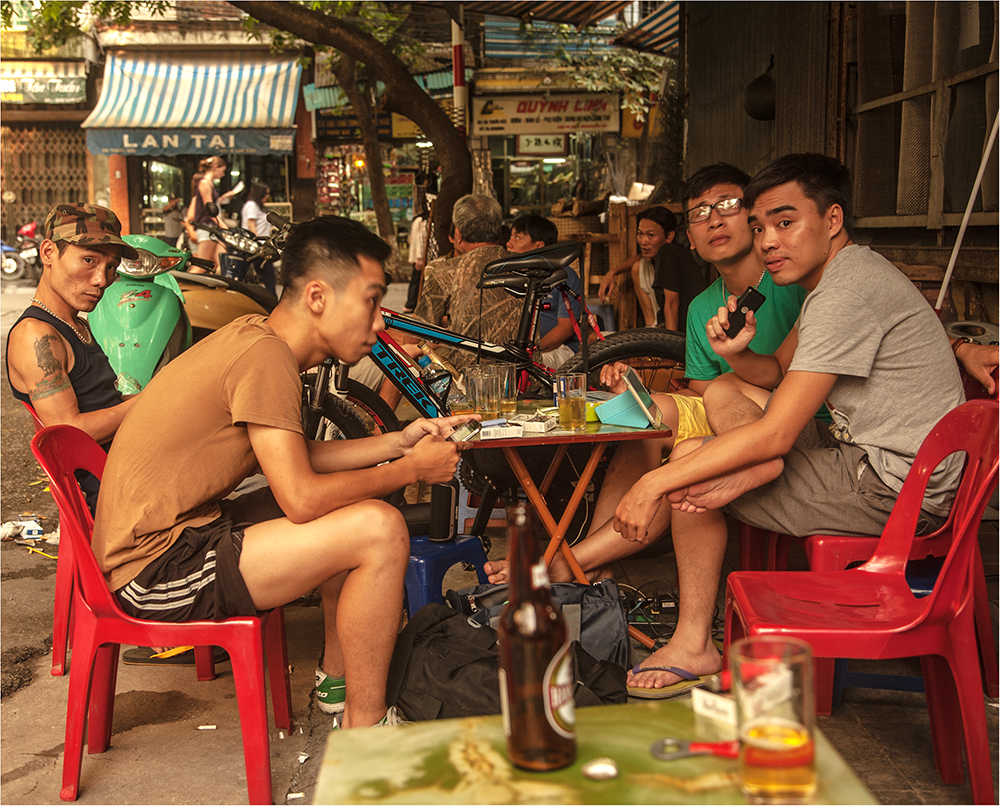 Choosing the eatery is easy, you just sit where the locals go, where it's busy, noisy and the tables turn often. Many kitchens only serve one or two speciality dishes so it's advisable to know what you're looking for too. In the old quarter streets are named after the goods that are primarily sold there so it's easy to get the drift. Because choices are limited there's a lovely tradition whereby it's quite alright to buy something from one or two different places and sitting down at your favourite spot and enjoying your goodies there. So we'd often buy our drinks or starters from one or two stalls and enjoy them with our mains, which suited us as Precious' knees determined our final destination.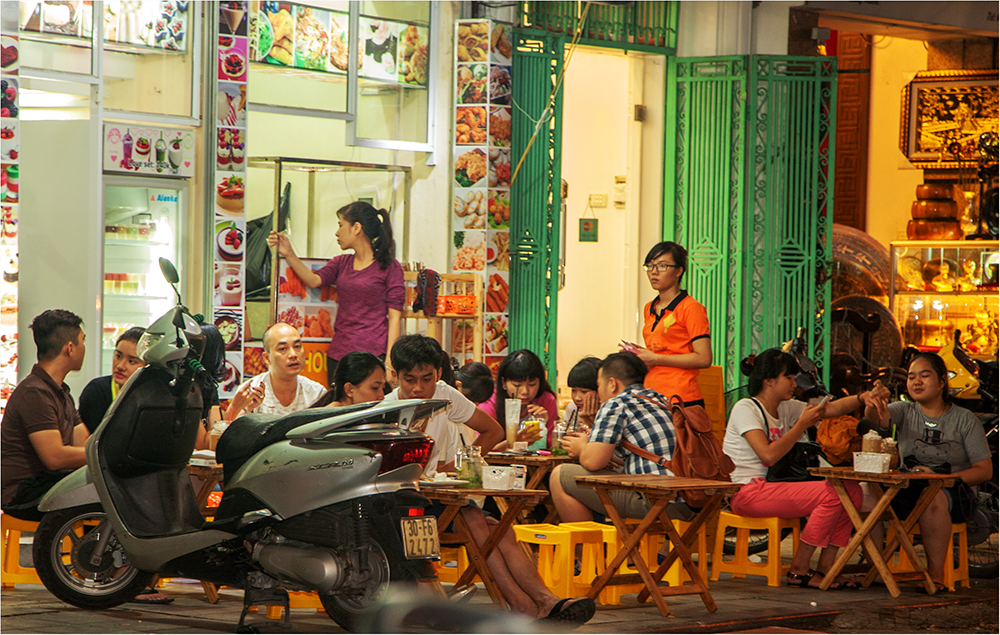 Some clever person said that no matter where in the world you were, if you spent a long enough time with a complete stranger and did a bit of delving it would only be a 7 person thread before you had a common acquaintance or link. Because we live in such a relatively "small" country that theory often proves the case. We made frequent updates on Social Media regarding our trip and it was with one post that a family member referred us to a very close friend living in Ha Noi. We made a dinner date; she picked us up at our Hotel and took us to her favourite street food vendor on 5 Chicken Street. The place was buzzing! We were soon seated and had the famous grilled chicken (of course), flattened Butter and Honey baguette, and board of selected pork delicacies. We sat for hours catching up with our friend, told her all the stories from home and she told us about her adventures in Vietnam, her life in Ha Noi and her exciting job at the prestigious St Paul American School in Hanoi.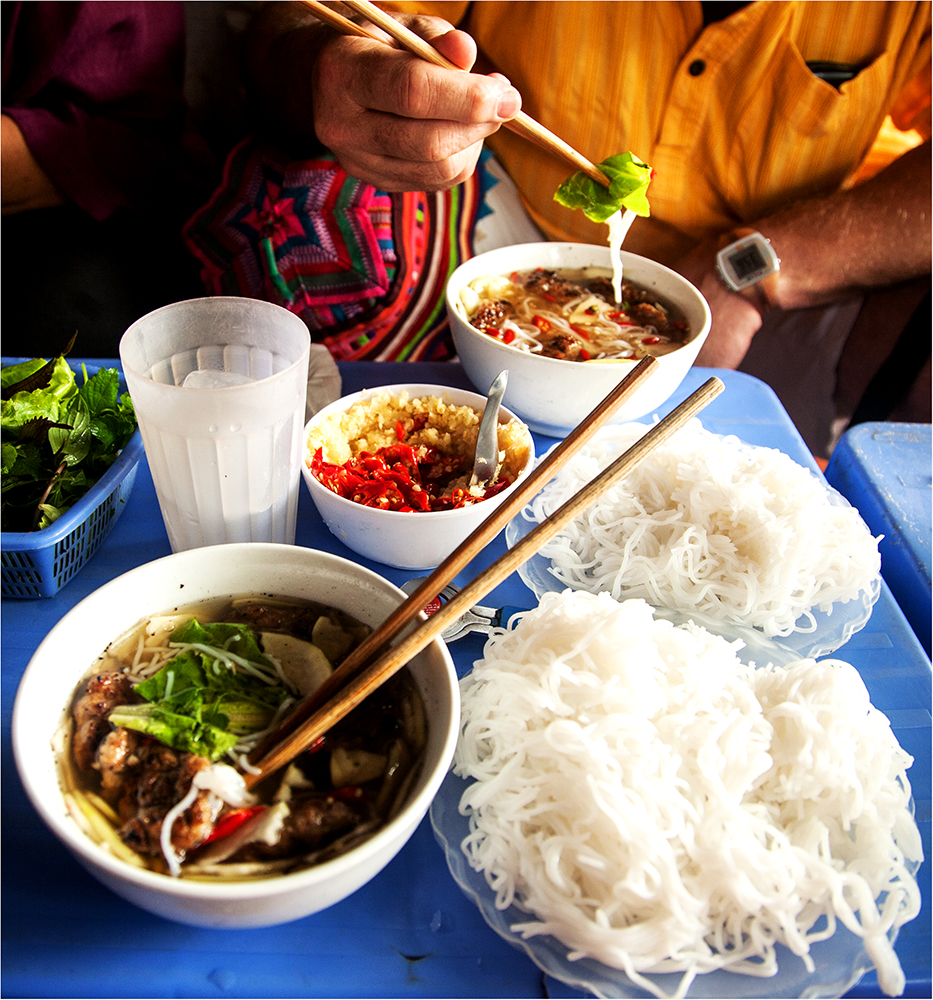 Breakfast with Nunu (not her real name) was in Xuan Dieu Street nearer to her home and situated near the lake after we'd been to the Flower Market at dawn and walked the streets mingling with the early birds. Traffic was slower so we could admire the mosaic along Ceramic road.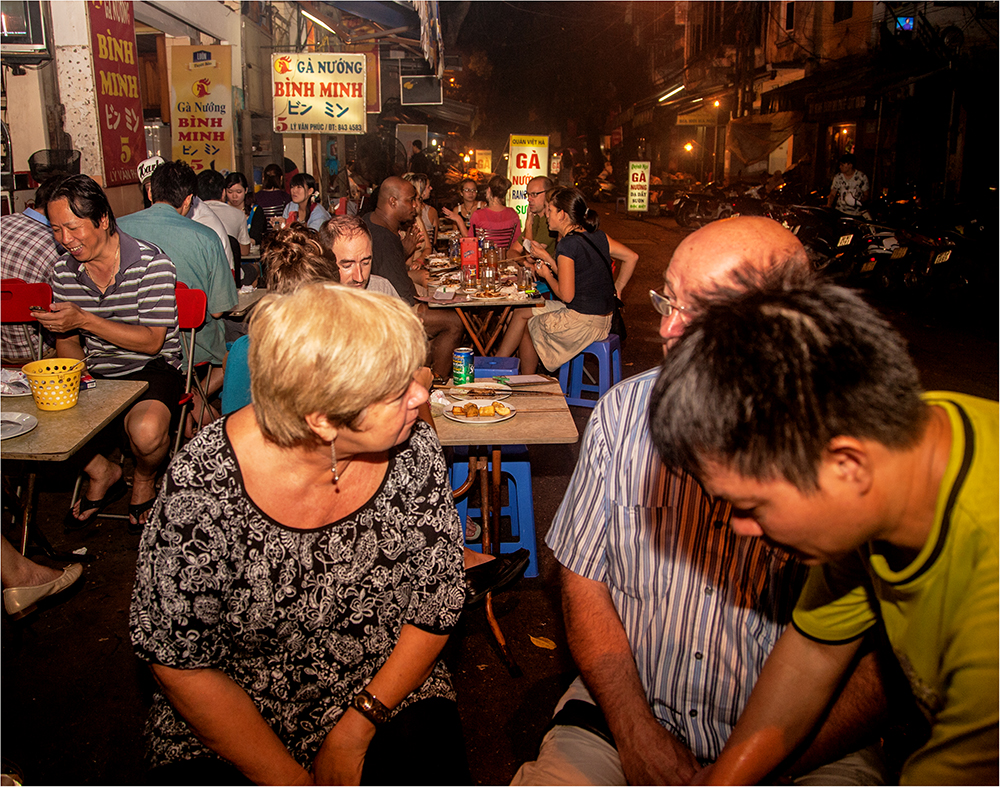 The Hanoi Ceramic Road originated with the journalist Nguyễn Thu Thủy, who won a prize in the Hanoi architecture contest for her idea of transforming the dyke system around Hanoi into a ceramic mosaic. The work of decoration began in 2007 for the dyke wall of about 6.000m in length and 0.95m in height which runs along the road of Âu Cơ, Nghi Tàm, Yên Phụ, Trần Nhật Duật, Trần Quang Khải, Trần Khánh Dư and terminates at the pier of the Long Biên Bridge. The Ceramic Road was planned to be finished in 2010 to commemorate the Millennial Anniversary of Hanoi in October 2010. The Mosiac is the History, Culture and tells the story of its people for hundreds of years. It's colourful, original and a testament to perseverance, dedication and discipline. We couldn't see it all, but on another visit I'd like to walk the length!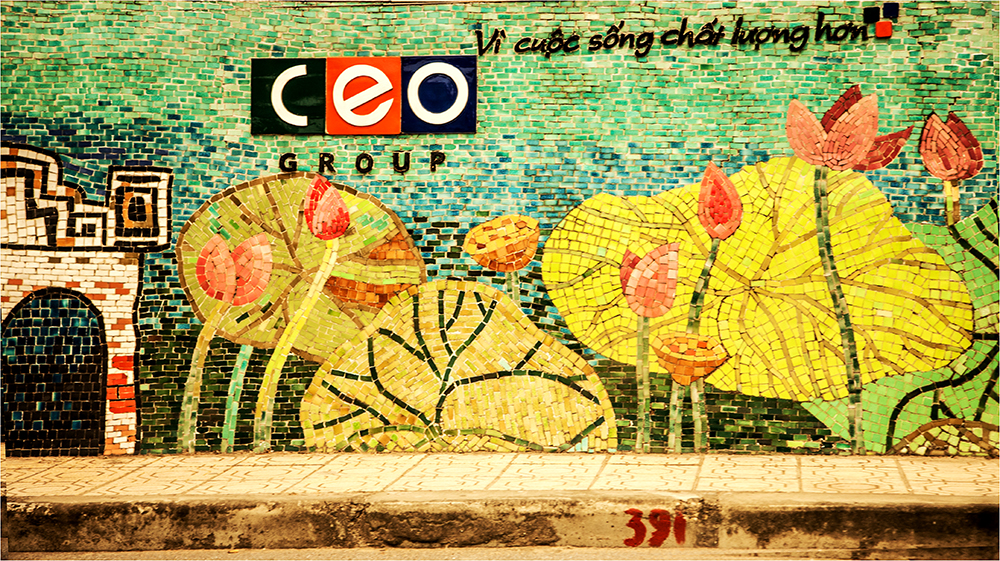 After breakfast we hitched a ride on Vespas and stopped for coffee with Ashely Yang and Kok Coffee and other drinks along our way.
All our street food experiences were brilliant and I can only think of one instance that disappointed, a really busy restaurant in Saigon, with seating on the street, it was a Friday night and patrons were mainly men playing cards, smoking cigarettes and eating with their friends drinking plenty of beer. Our neighbour, a tourist from New Zealand was really ticked off when his order was placed on our table, a plate of French fries, which we tucked into thinking it was a freebie, and then another plate arrived with deep fried scampi, which looked similar to Butch's order, but not after he'd tasted one piece realised it wasn't what he'd wanted when the waiter flew past, grabbed the two plates and unceremoniously plonked them down at the NZ's table. And then to add insult to injury he was just about to take a nibble when swoosh off the plate went once again! By now he was all righteous indignation and gave the waiter a mouthful. Bad mistake, you never tick a waiter off. A while later he received three dishes, all very unappealing indeed. I'd ordered skewered prawns which were delicious, Butch got his scampi, but I think they'd been recycled somewhere in the nether regions of the kitchen. No attention was given to us after that and we left with a hang dog look about us. The locals were having a fine old time and their plates of food looked delicious.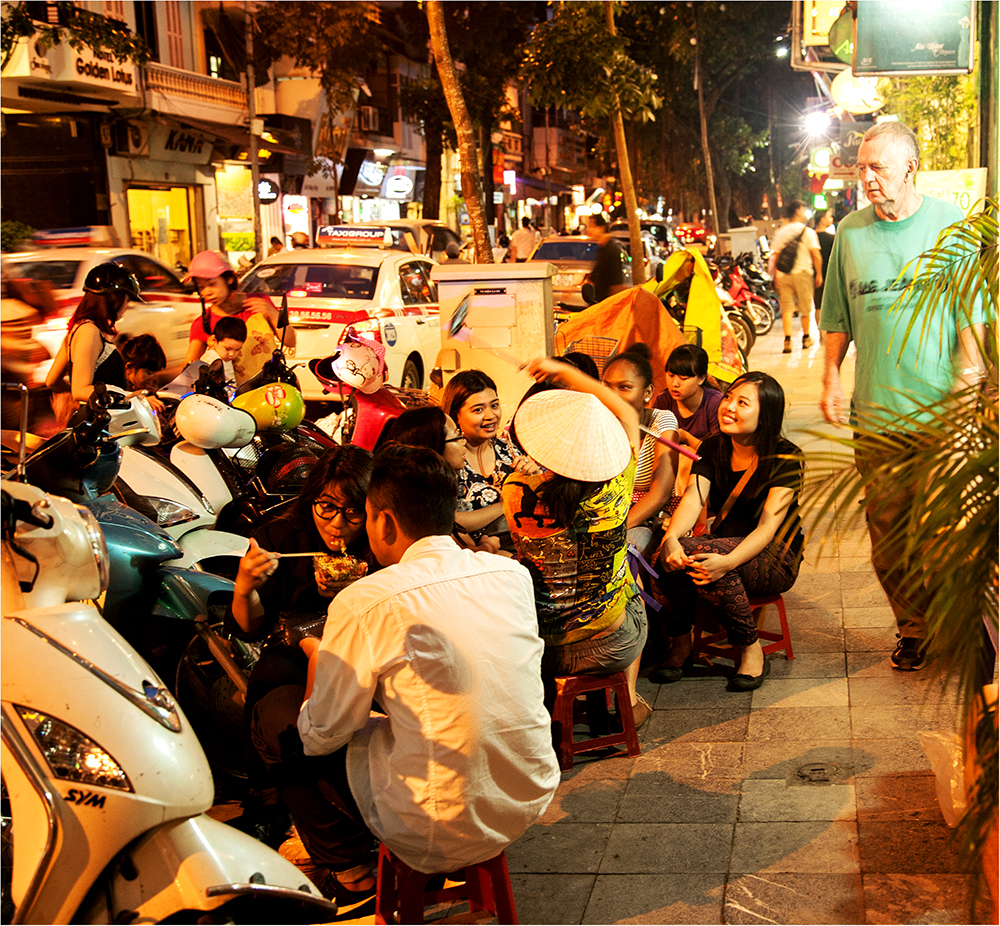 I had the best baguette with pork and lettuce ever in Hoi An from a shop run by two young artists and their assistant. I've tried making it myself, but can't! I think it was the sauce or bread or the delicious pork belly. Sheer bliss on a roll. Maybe it's just their passion on a plate which is so hard to replicate.
Our "bad" experience doesn't detract from the fact that street food is fantastic. The best ingredients are used, always fresh, clean and carefully prepared. We were stunned by some of the archaic cooking methods used, the simple utensils and equipment that are still employed and how much food was produced without anyone ever looking flustered or hot under the collar. Here one sees the K.I.S.S method at work and it works. The smells eminating from all the pots and grills is enough advertising and no matter when last your previous meal you'll start salivating soon after you start walking.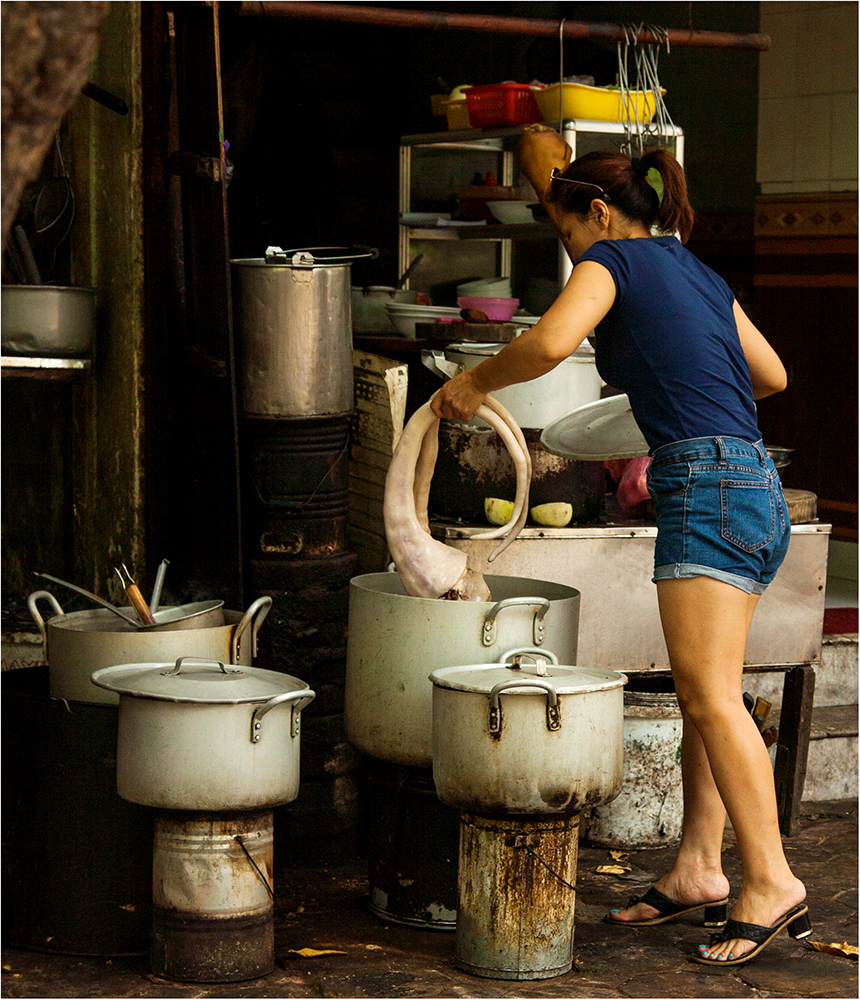 When I saw those poor fish in the aquarium the first thing that came to mind was "you've had your chips buddy"!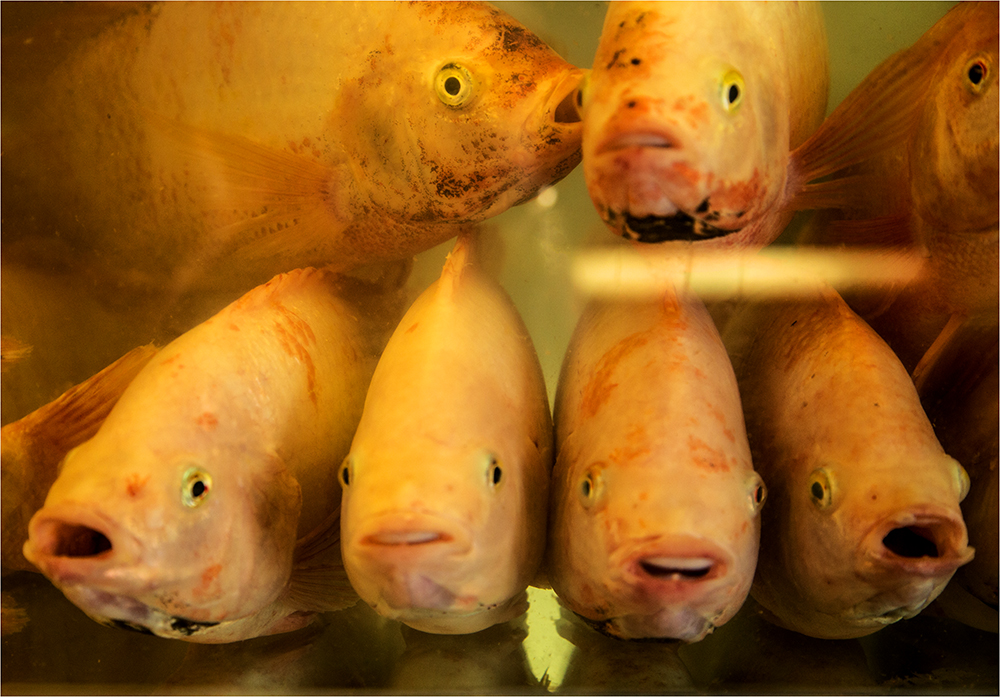 ---