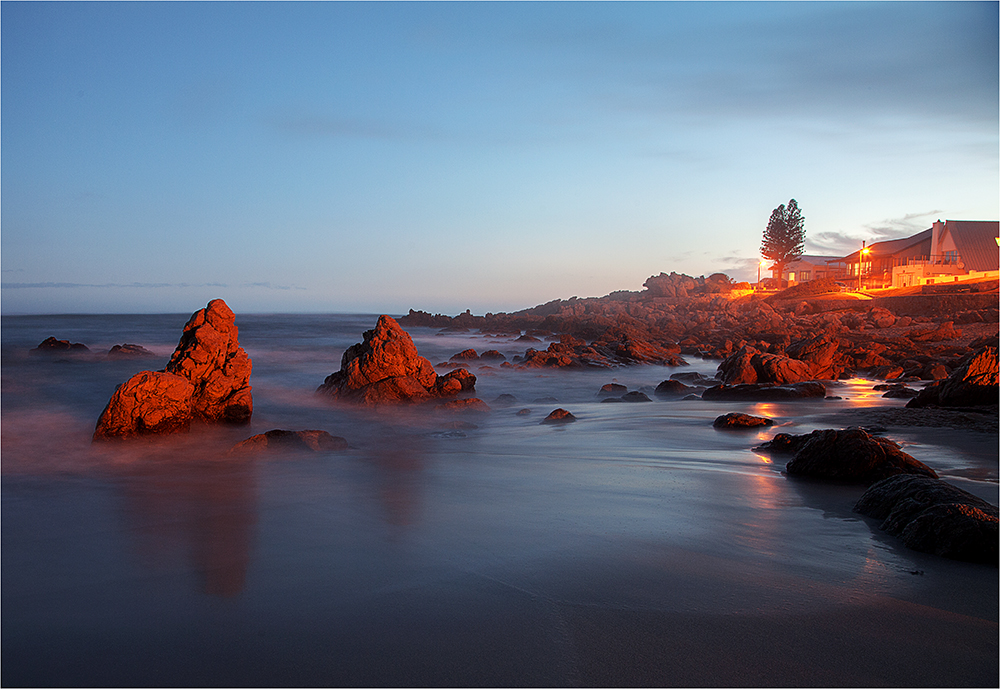 "We should all start to live before we get too old. Fear is stupid. So are regrets." Marilyn Monroe. So it's a new day and a new challenge. Sundays are family days and I had to be creative in the kitchen for a change. It may seem that I'm married to my trusty Canon but I have another life too.
After a long boozy lunch I only had the sunset (that old cliché!) to play with. Not my strong suit, I rarely venture into the realm of sunsets and seascapes, they're really intimidating as I don't like mediocrity. But I took the plunge and decided to nip off to the beach for a sunset shoot, slow shutter speed, narrow Aperture 22 ISO 100.
Of course nothing is ever easy, another photographer beat me to the prime spot, so I had to have my wits about me to get him to remain in focus (very slow shutter speed) as he was a feature. It's spring low tide which makes the water unexciting and shallow. The sky was good though and I tried to capture the vibrant pinks, blues and yellows.
As soon as the sun dipped behind the horizon the rocks became very dark making it impossible to focus, but, fortunately the Cruisers' lights shone right on target making a beautiful foreground.
Once I got down to the beach I had to use available light, which made focussing even more trying, the ebb and flow of the waves insignificant but the street lamps added interest. I resorted to using the self timer at 10 seconds for these photographs to eliminate any camera shake. Now's the time to love the old tri-pod, it saved the day.
I tried my hand at using HDR in the processing of a photograph, I include it for comment!
"Photography is the simplest thing in the world, but it is incredibly complicated to make it really" work.
Martin Parr
If you've enjoyed this Blog and would like to receive weekly updates just "SUBSCRIBE" I'd be delighted to have you follow my progress. Comments, suggestions and critique if you please.
---