The Destination Wedding Vacation
---
---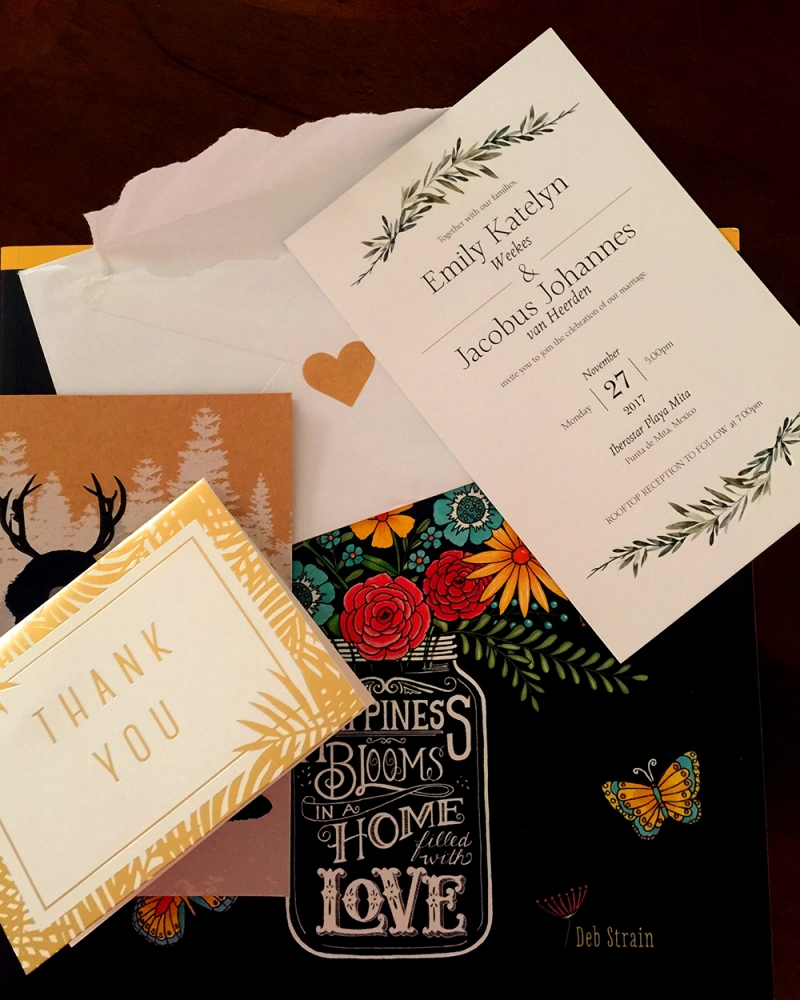 Elation! I must confess I am always a little in awe when I hear of someone jetting off to some exotic destination, and especially so for a wedding. The charmed life. Glamorous. Romantic. The first time it was mentioned in my company was when a recent graduate, earning a pittance, announced she was off to Italy to attend a friend's wedding. It wasn't that she was in the pound seats it was that she had amazing friends. Now everyone has save the dates magnetised to their refrigerator doors announcing a wedding in some far-off little heard of place.
With good reason you might wonder what's happened to the traditional "boeretroue" in a barn. I'll tell, they're still being done, but, with such glamourous style and panache that one wishes for an invitation. (The Western Cape has also become THE wedding destination among the monied elite from Wall Street and Canary Warf. Nothing like saying your "I do's" on top of Table Mountain.)
Must mention, I swooned when my invitation arrived, the old fashioned way, in the post! Firstly, because it would give me sufficient reason to spend some time with my children and grandchildren and secondly I could go on holiday to Mexico, a destination that was way beyond my aspirations.
Engaged is how I spent my two weeks in Saskatchewan, Canada, experiencing a Prairie winter. Snow. I'd stand at my bedroom window for ages each morning just mesmerised. Watching snowflakes fall. It's so quiet. Breath-taking. White. To think that each tiny feathery flake is individually formed. That's incredible. Driven snow. I saw it. The whiteness covering a multitude of sins, back yards, roofs, pavements and streets. Turning the most mundane neighbourhoods into a winter wonderland.
Laboriously we'd get into our snow gear to slip outdoors, just to spend a few minutes in fresh air. Like a child I'd also choose the virgin snow to step on, working on my footfall to get the most out of the crunch. I loved it. The nearest I got to speeding downhill was on a toboggan, quite exhilarating. I made more noise as I belted downhill than any 3 year old could.
Irritatingly the wake-up call came when the snow melted. The once pristine landscape turned bleak, brown and muddy. Mud splashed onto sidewalks, walls and covered cars, trains and busses. It's depressing. That's when I realised why one needs a mud room. Coats, scarves, beanies, gloves and mittens become clammy, smelly and soon I had a wet dog odour clinging to me.
Just to keep children cloistered indoors is something I'm not accustomed to, but, realised the extreme weather conditions were not conducive to outdoor activities and quickly saw why children become "addicted" to television. One has no choice. When the barometer hits -45֩C it's all a matter of survival as moods swing like pendulums.
Oh we had plans. Doughnuts and Vetkoek (a bun made from bread dough, fried in lard or olive oil) a South African winter tradition was an excellent way to keep my Neil busy. He could kneed, mix, pummel, shape and roll to his heart's content, letting his creations rise under a cloth was tricky, but, I had him in the palm of my hand once we had the finished product! Next morning he made doughnuts liberally sprinkled with cinnamon sugar and melted chocolate. He loved eating his own confectionaries, while sharing was a concept hard to come to terms with! We had much fun and even I couldn't resist licking my sweet, sticky fingers. Here is a chef in the making.
Excitedly Neil and I got ourselves dressed in our snow gear to do a day trip to the annual Winter Agricultural Show. With our backpacks on and him securely harnessed we trudged through the thick snow. He loved it. Insisted on "driving" all the tractors, combine harvesters, front end loaders and digger loaders. He is a hard worker always giving a helping hand, so it went without saying that he'd try out the handy vacuum cleaner on display, put his feet up to be Dubbined and gave a decisive nod of approval. We were taken to task and warned that the gentle giant in the pen was a Bison, a ferocious beast and it would be best that Neil not climb up the steel rungs to take a closer look! He was fascinated by the horsemanship shown in the arena and we were both bowled over by the rodeo cowboys. Seeing youngsters' dexterity while lassoing a calf was very exciting and Neil watched my short videos repeatedly! We returned home exhausted but chuffed.
Our trips to the bookstore were fun, while I browsed and selected a few for my bookclub Neil dived into the soft toys, rolling around in a soft cloud of fur occasionally leafing through books on Dinosaurs and his favourite Pet Patrol. Afterwards we'd spoil ourselves with a slide or run in the snow.
One afternoon while all the family gathered we got into our Sunday best and took our seats in the sitting room and watched our Daniel James officially get his name. There we were all his Grandparents, uncles and aunts. Dressed in khaki trousers and a waistcoat he was named in a very personal way by their Pastor, who lovingly dripped dots of water on his forehead, made the Holy cross and said a prayer asking for blessings, peace and a long life to be bestowed abundandly on this precious child of ours.
In secret I slipped off to spend my last afternoon with Joe, before we witnessed Emily and Joe's legal marriage ceremony. She looked beautiful in a pearl winter white dress and my beautiful son looked dashingly sauve in his bespoke suit. The bow-tied bestdog was on his best behaviour throughout the proceedings. The poignant ceremony was conducted with empathy by the Officer of the court who planted many seeds of wisdom which, I'm sure, will be nurtured, pondered and enjoyed by this young couple so in love. I couldn't be happier for both of them and I welcome Emily into our fold. Later that night I lay in bed reading a beautiful note from Joe expressing his devotion and appreciation to me. Such a humbling experience.
Enough! We couldn't wait to pack our bags and head off to warmer climes. A ja riva ja riva, Mexico we were on our way. The handcrafted surfboard was entering it's final stages and would've made it had the airline rules not been so stringent. Sadly it had to stay behind with the pooch and the housesitter. Fortunately there's no shortage of surf shacks with boards to hire at very reasonable prices.
At first I couldn't get enough of the white landscape as we cruised at altitude, but soon became bored as the landscape doesn't change much. As we coasted into Mexico the vegetation became green and lush again. Sunshine = happiness.
With sunglasses, hats and flip flops on we disembarked in Porta Vallarta on the west coast of Mexico. Our final destination an hour from the airport, this gave me an opportunity to get the picture. Lush subtropical forests wind through a hilly landscape with small villages and towns dotting the way. Alongside these are the condos, golfing estates and holiday resorts too. No one is complaining about the development, tourism pays handsomely.
Our resort was near Punta Mita, a fishing village and luxury resort on Mexico's Pacific coast. It sits on a small peninsula on Banderas Bay. It's known for upscale homes, golf courses and private beaches. The public El Anclote Beach, backed by restaurants, has gentle surf. Offshore are the biodiverse Marieta Islands, with wildlife such as humpback whales and blue-footed boobies. To the north is the laid-back surf village of Sayulita.
I must confess I did enjoy our resort. It was small, exclusive and well run. The restaurants and eateries served good food, the coffee shop served excellent coffee and the selection of snacks, nibbles and confectionary was mouthwatering.
Cigar bars have a romantic attraction and I peered longingly, remembering earlier years when I would've succumbed to a puff exhilarating in the aroma of a good Cuban. The buttoned leather, a good cognac, cigar, curling smoke and a good book, now that does do it for me. Alas, this time I steeled myself.
Seeing my children, their friends, our family and grandchildren having fun was heart-warming. The littlies learnt to swim within hours and dive-bombed us, played in the sand, building their sandcastles all day. There is nothing nicer than being covered in copious amounts of suntan lotion, the smell of coconut oil and Banana Boat infusing our golden skins. Both grandbabies were exhausted at night when I took over to babysit. My opportunity to just watch them, oftentimes creeping up to them to get a good sniff in the hollow of their collarbones. Blissful contentment I call that.
Quick Question: Does everyone have a wardrobe of bathing suits and sexy cover-ups? Am I the only person with one or two bathers? With a gun to my head and if push comes to shove I might have three. My mind boggled when I realised proper beach babes have at least 14 bathers for a seven day holiday! I kid you not. My only saving grace was the resort shop where I was able to purchase the last bather in a size slightly too big for me. I still had to slink around wrapped in my one cotton Kikkoi though.
Golden tans, gellish nails and groomed eyebrows and lashes were our only concerns when preparing for the wedding, which we were able to accomplish in the very expensive Spa. It really rankled that the manicurist earned a tenth of the price of a set of painted nails.
All too soon our week of blissful abandon drew to a close, sluggishly we packed our bags filled with colourful cotton rugs, beads and baubles. The bus ride back to the airport was a sombre subdued affair, even the littlies knew it was time to leave the yellow, blues and greens of paradise to return to a bitterly cold arctic winter.
While Lise slept on my lap I had time to read my paperback finding it hard to concentrate as I knew my clock was ticking. Partings are never easy and as soon as we'd touched down friends slipped away in different directions padding up to run to their already idling cars. Reality sucks. We drove home in silence. If that was Mexico, I'd done it.
To do justice to the wedding you'll have to wait, I need my wits about me to venture there!
It would be amiss of me to not mention Miranda Bukowicki the very competent travel agent who managed all our travel arrangements. We were always kept in the loop regarding any flight changes, visa requirements or immigration regulations. Thank you Miranda for dealing with us in such a friendly, professional way. If you're living in Canada (or you're able to depart from Canada) I can recommend Miranda with confidence.
Miranda Bukowicki, CTC, MCC
Luxury & Romance Travel Specialist
Calgary AB
Direct Phone: 403-238-1381
Direct Toll-free: 1-855-900-1381
Email: miranda@escapes.ca
www.mirandaescapes.ca
---