Tuesdays are for no ordinary fish
---
---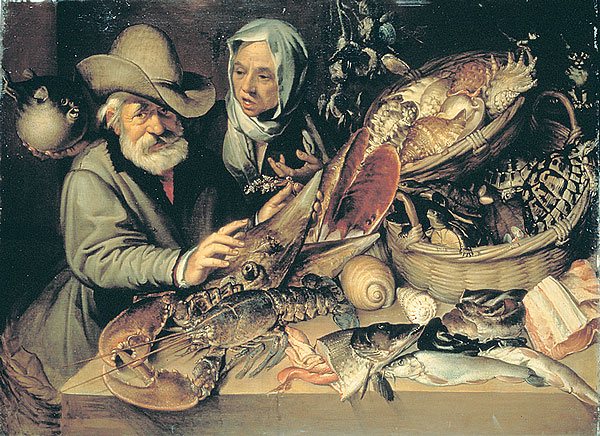 "I love the way the color lavender smells, and the way the color salmon tastes. And if there were a color called "fur", I'd like the way it feels"!–Jarod Kintz, This Book is Not FOR SALE
Painting of Fishmonger at Fishmarket: Bartolomeo Passarotti - The fish stall
If you're a fisherman and you happen to be on a boat in Kleinbaai on the 6th January you're sure to catch the queen of fish the Cape Salmon, they run at that time of the year, for how long I don't know exactly, but what I do know is that they're delicious. Cape Salmon, or Geelbek, is easily identified by its unique colouring; the inside of its mouth is bright yellow.
On Saturday morning we went Cape Salmon hunting and got home with a fresh Norwegian Salmon instead. "Why?" you ask, because we've run out of fish. The Chinese, Japanese, Vietnamese and Australians haven't, each day millions of fish are caught and sold at markets all over the globe. Sadly in Hermanus, our beautiful seaside village they're hard to find, unless you'd like Kingklip, stock fish and occasionally Snoek or Cob. In the old days fish, abalone and crayfish were freely available to sports fishermen, now we're all PC and into "sustainable" fishing, poaching and aqua-farming, and the illegal trade in our precious Abalone is booming. So we weren't surprised to see the fishmongers, Lusitania, an institution in the harbour closed.
These are some of the names we grew up with, Blou Hotnotjie, Galjoen, Harder, Janbruin, and Kolstert. Words that remind us of Gansbaai, Laaiplek and Tietiesbaai. Those were the days, hot summers, cool chicks, hot surfers, suntans and something free from the sea every day.
My Absolutely Perfect Black Mussel Soup
36 steamed Black mussels, top shell removed, stock reserved
1 onion, sliced
45ml Italian parsley, chopped
1 garlic clove, bruised and chopped
45ml butter
45ml cake flour
625ml milk
125ml reserved Mussel stock (or use fish stock)
125ml water
125ml dry white wine
5ml good chicken stock powder (or ½ cube)
METHOD:
1. In a large saucepan sauté the onion and garlic in butter until the onion is translucent, add parsley and stir fry for 1 minute.
2. Add the cake flour and chicken stock powder.
3. Remove the saucepan from the heat, gradually add milk, water, Mussel stock and wine.
4. Return to the heat. Stir until the soup has thickened and all the lumps are smooth.
5. Season to taste with salt and pepper.
6. Simmer for 10 minutes
7. Add the mussels just before serving. Heat through.
8. Serve with crusty artisanal bread or a deliciously decadent garlic loaf.
a few Saffron threads soaked in warm water for 5 minutes may be added for added deliciousness.
FRESH NORWEGIAN SALMON ON THE BARBEQUE OR IN THE OVEN
This is a crowd pleaser! Serves at least 10 people making it the perfect Summer Dinner Party dish!
1 3-4kg fresh Norwegian salmon
Maldon Salt or pure pink Himalayan Rock Salt
1. Keep the fish very cold until just before cooking (not frozen)
2. Wipe the skin with a damp cloth
3. Season the fish with Maldon salt on the inside
4. A little salt may be rubbed on the skin too
5. Make a HOT fire and sustain the heat for at least an hour by making another fire on the side.
6. Keep the fish closed. Place on the grill rack and position the fish on the very highest level away from the fire
7. Barbeque the fish for 45-60 minutes, turning frequently.

NOTE: the skin is very oily so it's not necessary to baste the skin at all.
Should you wish to bake the fish in the oven do so in a pre-heated oven of 180°C on the middle oven rack for 20 minutes per 500g of fish (3kg = 60 minutes). The head and tail may be wrapped in tin foil, shiny side out; this prevents those parts from becoming too overcooked and dry.
Serve with my fabulous Potato Tarte Tatin and a salad which I'll share with you tomorrow!
FISH AND CHIPS THE ORDINARY WAY
This is for young inexperienced cooks!
When you buy fish check the eyes, they should be clear. Fresh fish smells like SODA WATER nothing else!
4 portions, fresh firm fish (stock fish must be fresh, it has a pinkish colour) e.g. Cape Salmon, Cob
3 eggs, broken in a shallow dish and whisked using a fork
80ml cake flour
Salt and pepper to taste
1. Season the flour with the salt and pepper
2. Dust fish with the cake flour
3. Dip into the egg mixture and coat on all sides
4. Dust once again in the cake flour
5. Place portions carefully on a plate or wooden board
6. Rest the fish while the oil heats up
7. Heat 250ml Canola oil and 125ml Butter in a saucepan over a medium heat. Once the oil starts bubbling carefully add the fish portions, fry over a medium heat for 3-4 minutes, depending on the thickness of the fish, turn over onto the other side and repeat.
8. Fish must not be over cooked. Test by piercing the flesh with a knitting needle (I have a "culinary" knitting needle in the drawer which I use for testing.
9. Once the fish is crispy and golden remove from the pan, drain on kitchen towel.
10. Serve with a fresh garden salad, tartare sauce or Wasabi Mayonnaise and lemon wedges.
Remember warm lemon wedges are juicier. Wrap the fish in paper, sit outside on the lawn, put your face up to sun and relish your harvest from the sea.
Bon Appetit
Whole Fresh Norwegian Salmon
SCANZA TRADING: 021 5511448
Checkers in Hermanus
Catch of the day!
KLEINBAAI- A sleepy hollow near Gansbaai (Overberg) which initially attracted farmers (stock and wheat) from Caledon, Napier, Robertson (wine and soft fruit) and environs as they could keep an eye on their farms but also enjoy excellent fishing, Abalone diving and crayfishing. Fifteen years ago shark fever took over as it's near Deyer Island, the local great white shark Mecca. Kleinbaai has transformed and re-invented itself and now it's the hotspot to go Shark cage diving. Dive operators have sprung up like mushrooms and it's a "must-do" for tourists, eco-tourists, film makers, documentary film makers, explorers, scientists and everyone in between. An experience not to be missed.
The photograph above was taken on the 6th January 2015, a good catch of Cape Salmon (Geelbek) by a happy captain and his crew.
If you've enjoyed this post and would like to receive other posts please fill in the Subscription form. Everybody does!
No Ordinary Fish (Events Organiser)
Candice Barrett
+27 82 5502604
Have all your party or conference needs met by the most innovative, clever and just plain enthusiastic fish around.
---