Winter Wining And Dining Winners
---
---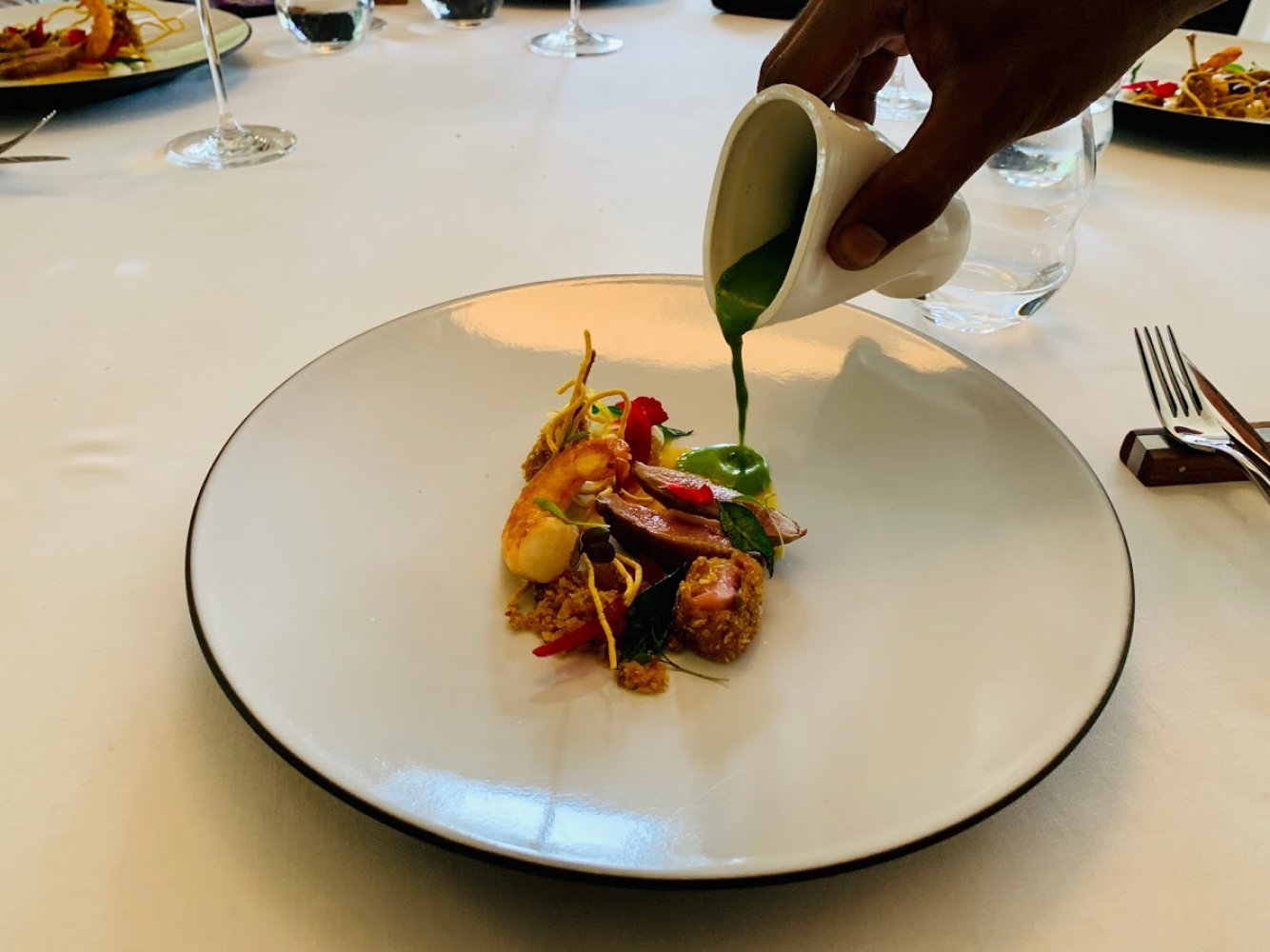 One Restaurant did leave a bad taste in our mouths. Their food is mouth watering, their communications shocking. More about them later. Let's move on.

Should I ever complain about anything, just roll your eyes. I know, life is a bed of meringue, sugar and spice. . I am spoilt and sometimes indulged. But then it's not difficult to indulge me. Just take me out for a good meal. Anywhere will do. But. It. Has. Got. To. Be. Good.
Winter is not a favourite time of the year in this house. We prefer warmer climes but we are easily placated. Therefore we often take ourselves and friends off to lovely eateries. In the Western Cape we are spoilt for choice. I believe one could stay in Cape Town for a year, eat out every meal and still not have been to all the lovely restaurants, bars, bistros and cafes around every corner.
Here are some of the places we went to. I am not posting them in any particular order just according to my photograph album. Photographs followed by the restaurant and a short review.
1. SPOOKFONTEIN – Hemel en Aarde Valley – Hermanus.
A relatively new winery quite a way up the valley with beautiful views onto the ocean. The food is sublime. I love the open kitchen, clever design, stunning bathrooms, minimalistic dining room all combine to create a delicious atmosphere in this small restaurant. Although there must be a spook lurking about in the fountain, the atmosphere is one of joyful bonhomie.
2. BOSJES KITCHEN - Near Botha cellar, Rawsonville –
The building is an architectural masterpiece and has featured in every magazine. I was skeptical as we've tried, unsuccessfully to reserve a table on several occasions.
We'd just returned from the Kalahari and a treat was in order. Sundays in Worcester leave much to be desired, unless you've invited friends for a braai. So off we went to Bosjes. I was speechless. From the turn-off to the farm extensive upgrades have been made. The little farm school is beautiful and I can only imagine how this has improved the lives of farm workers' children who attend this well designed school. It surely must inspire learning. And so the Community center and Church has been upgraded, not a sad, neglected building anymore. No siree.
Inspired and fashioned on Babylonstoren in Franschoek the gardens, vineyards and open spaces are a joy and much thought has gone into the creation with the beautiful mountains as a back drop.
The parking area was chock-a-block with cars from all over the place especially CAA and a few CW's.
The restaurant with it huge windows and views of the valley are magnificent. The maître d'hôte was very friendly and showed us to our table with a view. And we glanced at each other. We didn't have expectations.
The tasteful menu is small and well thought out. Our food arrived and we were wowed! Delicious. Beautifully plated, well prepared and a surprise. Butch was a little disappointed by his Rib eye steak, not a thick slab as expected. I beamed. My lemon tart was a citrusy and zesty. I still dream of it.
We left there feeling thoroughly spoilt. We needed to walk and did a tour of the gardens and the spectacular chapel with its amazingly scalloped roof. Well done it's so nice to know that there are philanthropists who care about their communities, create beautiful spaces where even someone like me can go and experience unsurpassed beauty for a little while.
I will most certainly return in October when the gardens are in full bloom. Maybe to the tea garden this time.
3. PEAR TREE BISTRO – Hermanus.
We have champagne days in the Cape, just perfect for shedding the winter woolens and venturing out of doors to dine outside with spectacular views of Walker Bay and the whales. Tourists come from all over the world during the winter months setting their sights on the bay to do whale watching. It's reputed to be the best in the world. Southern Right Whales come to our shores to birth and suckle their young before they migrate south to Antarctica for the summer.
We do our own Tapas style lunch and order a few starters. I love tasting an array of dishes. It gives me the opportunity to taste various dishes and it showcases what the chef has up his sleeve. I have never been disappointed and I can recommend the Spare rib starter. A most generous helping.
Our meals are always long and boozy. Who cares? We love it and will return time and again to watch the world go by on a fine day.
4. SEAFORTH – SIMON'S TOWN –
Years ago while Butch was in Hong Kong on business the Absa manager there introduced him to Alice, a young entrepreneur starting out on her career. Her sights were set on South Africa and the fruit business. It's almost thirty years later and Alice has been very successful and is currently one of the largest manufacturers of plastic (I know) bags which are specifically designed for fruit packaging.
Although we don't often see Alice when she's in Cape Town we make a point of catching up. This time we had lunch at Seaforth in Simon's Town.
She brought her beau along and was determined to show Cape Town off. Her treat, lunch at this established landmark which reminds me of Casa Do Sol in Maputo. The menu hasn't changed in decades and locals and tourists frequent this family restaurant with its oilcloth check table cloths. I was underwhelmed. I think it's time to rethink the menu and to update the plating and quality of meals served. A little tired. The days of a wilted salad as a garnish are over.
Although I can't point a finger at the fried hake and chips I had I do expect to be wowed. I wasn't. The whole experience was very 1970's and the large, piled high seafood platter had all the right ingredients in generous proportions, but, sophisticated diners and tourists expect quality rather than quantity. All our palates have sophisticated and competition is stiff.
5. NUY ON THE HILL – Worcester
Last week we decided to enjoy a night out on the town mid-week in winter. The reason was a Long Table and wine pairing dining experience in Nuy.
As the sun set over our beautiful mountains we arrived at Nuy on the Hill. How lovely to see the same view at night. Setting the scene for what was to come. AC introduced us to their new range of prize winning Gin at a Gin Bar.
We were to enjoy the meal at a beautifully laid long table able to seat 40 guests. We enjoy "new" company and looked forward to meeting our dining companions. We were not disappointed and soon became engrossed in lively conservations all around us.
The wine maker Christo Pienaar introduced the wines as courses were served. A very good selection had been selected to accompany the tasty, generous winter menu of Waterblommetjies in Phyllo and then an excellent Oxtail and Cinnamon casserole served with charred garden vegetables. For dessert the Chocolate Fondant was runny, rich and looked as good as it tasted.
Bravo AC! You did a sterling job and we look forward to attending many more of your Long Table evenings.
6. LA COLOMBE – Constantia
Our first visit to the "new" restaurant in the clouds in Constantia. Wow. No wonder guests come from far and wide to dine at this world class restaurant. Rated as one of our top 10 restaurants the bar has been set and believe me they live up to every expectation.
Treats were served as we arrived, culinary master pieces each one. Not only are the dainty dishes exquisitely crafted each delicacy is beautifully served in very original ways. Here chefs are artists, masters at their craft. When the chef rolled out his trolley to prepare one of our courses at the table we were transported back to the days of a chef's table, popular again but with a contemporary twist. Every dish a gastronomic masterpiece!
I am not going to say too much as I can't do the experience justice save to encourage each of you to go. Make a reservation you'll not be disappointed. I know Alice was wowed. She's not a foody like me and she was impressed taking endless photographs enthusiastically! A gastronomic experience.
7. UPPER BLOEM – Green Point
A small, intimate space has been transformed into a contemporary Tapas styled Bistro in the heart of Green Point and just 500m from where we were spending the night. We, for some reason were seated at the Chef's table where we could observe at first hand exactly what was happening in the kitchen.
I have been misled by reading too many books about temperamental Italian and French chefs, who, with noses in the air perform in kitchens intimidating cooks and serving staff with their theatrics. The way the chefs quietly went about their business at Upper Bloem could teach them a thing or two. Never a raised voice or a clattering of pots and pans, no drama as the dedicated chefs got on with preparing delicious dishes. The menu is changed periodically, inspired but seasonal produce.
Once again we were in awe as the one Tapas course after the other, with delicious gifts (amuse bouche) from the kitchen were served. I love black mussels, fresh from the sea preferably, serve them steamed in white wine and finished with cream and I am in heaven. Here, we were served smoked fresh mussels. I had to have the recipe as I am an avid smoker and enjoy the results of my attempts.
I made an enquiry, which was passed down to the chef, who came to our table to explain how he did it, but, also promised to send me the recipe. I thought no more of it. Two days later, in my inbox the recipe. Well. That impressed. The recipe is a thing to behold. Mussel Pannacotta. The dish is made up of no less than 4 components, Pannacotta, fragrant oils, the smoked mussels and an edible mussel shell. I salivate just reading the recipe.
What Chef Andre did was not only deliver on a promise, he also demonstrated the techniques this kitchen is capable of. The time, dedication and passion for producing excellence is clear. My vocabulary lets me down in expressing my admiration and awe. Thank you for keeping a promise and making time to send it to me I salute you.
8. WHALE COAST BREWERY – Hemel-and-Aarde Village, Hermanus
Years ago a group of us used to meet at different pubs or restaurants in Worcester on a Friday evening for sundowners. It was a wonderful way to get friends together, to catch up and to spend a few hours out of doors. This tradition has been continued by our ex-Worcester friends now retired in Hermanus. We joined them a fortnight ago.
The buzz. The crowd. The music. Brilliant. I am sure we will be regulars on a Friday evening from 17h00 – 18h00 when you can have two craft beers for the price of one! Reservations are necessary and I can see why. Not only is the atmosphere very festive, the music was good and the beer and open bar lived up to expectations. We ordered a few starter Calamari's, delicious. So next time you're en-route to Hermanus, don't drive past the Whale coast Brewery. They are pet friendly too, so the pooch can join you. They make a jolly good hamburger too!
9. REVERIE SOCIAL TABLE – Observatory – Julia Hattingh
We arrived at the long table for lunch. The black board menu is concise. We ordered soup for starters and curry as a main course. The waiter was a little taken aback, we thought he might be foreign and not as fluent in English so didn't take anything to heart. Our soup was served with homemade sour dough bread, delicious. Homemade butter too. Our bowls were generous portions. Fragrant, spicy and delicious as was our second course, the curry. We'd just tucked in when Julia appeared to ask if we were happy. We were. She took this as a cue to gently break it to us that it was very seldom that her diners had more than one course. Yes. Many of the diners were on their lunch breaks from their work places in the neighbourhood. This was their neighbourhood kitchen. The penny dropped.
Julia does her long table at night. Then she goes all out with a menu as long as my arm.
The rustic table is laid with family silver and beautiful crockery. All the bells and whistles. Wines accompany each course and the wine of the month was Opstal, a local Rawsonville wine. We had clearly missed the boat.
We didn't have dessert. But, I was not in the least bit sorry that we'd stopped for lunch we enjoyed the experience and I hope to be back for the whole long table experience some time soon.
10. ALPHEN HOTEL – Constantia
Although I am ever grateful that our rainfall this year has been good I must confess that the day we went to the Alphen Hotel the weather didn't appeal, it was miserable, cold and wet. I needed a log fire, comfort food and a good cup of coffee. No better place to be than the Bistro at the Alphen. Butch had to attend a meeting there in any event so I was happy to wallow away near the warm fire. By the looks of things everyone had the same idea as tables were virtually all occupied, at 9h30 in the morning. The coffee was excellent and my honey drenched pancakes divine.
I had my camera with me and consoled myself with a few photographs highlighting the inclement weather.
11. FOXCROFT – Constantia
I missed a wedding while visiting my children in Canada. Which disappointed the father-of-the-bride as we'd not seen them for a long while. But, we remedied this by going for dinner to Foxcroft's.
The décor is unpretentious, buzzing with clientele, always a good sign when locals support a restaurant when they're spoilt for choice.
We didn't know what to expect, although I had investigated surreptitiously and learned that we could expect a fine dining experience. Our waitress was a tonic. One of "ons mense" and loaded with personality. She soon had our order, after some good suggestions. The wine flowed and our conversation became lively as we enjoyed another excellent meal. Beautifully plated, tastefully seasoned and creatively thought out our selections made for a wonderful evening catching up with dear friends.
12. MAMA RITA'S LA CUCINA – Gansbaai
Rita needs an introduction. We have known Rita for years, serving us on many occasions when we would enjoy light luncheons at a friend's lovely bistro in Hermanus.
Rita was born to work in the hospitality industry and went on to successfully manage a Guesthouse in De Kelders. Rita is beautiful, friendly, and hospitable and has a way of making strangers feel like family. She always smiles, knows her clients by name and, if you're a regular, she'll offer you your favourite tipple before you're seated.
But, that's one thing, the other trait is to take the bull by the horns and fearlessly do what she's always dreamed of. To own and run her own restaurant. She's just done so. Mama Rita's Trattoria. For an authentic Italian evening out there's no better place in Gansbaai to do so.
A good black board menu with pizzas, pastas and ossobucco amongst the favourites. I believe there is a Sunday Special menu which will be a hit. Situated across the road from a school Rita offers parents the opportunity to host children's parties in the garden. Heavenly, imagine Mom can relax while the children enjoy the activities in a safe environment.
We couldn't wait to have lunch at Rita's and made a special trip through. We enjoyed our meal immensely and can recommend it without hesitation.
I know we'll always stop there to sit on the stoep like typical Italians and watch the world go by while enjoying a chilled local wine and delicious, crispy pizza from her wood fired pizza oven. Do forgive the spelling mistakes on the board, it happens in Italy too and proves no one is perfect!
13. A MEXICAN THEMED EVENING AT Q SQUARE – Worcester
I believe quarterly themed evenings are held in Q Square in Worcester, we attended their Mexican evening on the eve of our departure to Mabuasahube earlier last month. What a good choice it was to set us on our way. The two eateries involved were Daly Bread and Hugo's with stalls set up outside in the piazza while a selection of Mexican inspired meals were sold in a very casual and relaxed fashion from mobile stalls.
There was a guy playing his guitar setting the mood perfectly. Although we were all bundled in scarves and woolens (not very Mexican) the evening out was a hit. I was overwhelmed by the number of locals who'd ventured out for the evening.
We ended our meal with a lovely Pasteis De Nata (Portuguese) from Daly Bread. My beloved succumbed to the charms of the gorgeous young Señorita who offered him a Tequila while waiting to be served.
I hope to attend another one of these evenings as they're really relaxed and fun. We'll see what's coming up during the summer months.
P.S. Daly Bread has perfected the Almond Croissant. It's the best kept open secret in Worcester at the moment!
14. HARBOUR HOUSE – V&A WATERFRONT – CAPE TOWN
On a perfect day, there's no better place to be than the Waterfront. After doing last minute shopping before returning home we always try and fit in a meal from one of the many excellent eateries either indoors out outside. It was a perfect blue day. The water was calm, people were milling about, shopping, sitting on the steps at the amphitheater or waiting in line to do a boat trip. Harbour House was our choice. Service is always good and the meals served are excellent. I have never had a bad experience and this one lived up to all our expectations. From the fresh smoked salmon salad to the cracking on my crème brulee every course was perfect. I scooped up my parcels quite satisfied to return home.
15. GIOVANNI'S DELI – Green Point
Last but never least, a trip to Cape Town is never complete without us popping in to Giovanni's Deli in Green Point. This is my home from home when I need a good coffee and croissant. I love the vibe, where locals congregate and chat up a storm while reading the newspaper. The Deli is a housewife's delight with all the ready-made dishes for a lazy day at home. Plump Spanish olives in huge glass bottles, beautiful bread, cheeses, vegetables and pantry fillers from Italy. They're all available there.
16. GABRIELSKLOOF - N2 CALEDON
I sleep as soon as I have my seat belt clipped in but I have this uncanny way of waking up just before we round the corner and go downhill towards Gabrielskloof. that's when I need a coffee and a slab of cake. I'm particularly fond of the carrot cake, chock-a-block with chopped nuts, coursely ground carrots, spices and a delicious cream cheese icing. I have on occasion had their lemon meringues - delicious too. A wonderful pit stop along the N2 en-route to Caledon or towards Somerset West. For the keen photographer there are often huge flocks of Blue Cranes in the corn fields.
17. THALI – Gardens Cape Town
It was my birthday and I could choose a restaurant. I even invited a friend to join us and Butch phoned to make a reservation, leaving a message, after consulting the website to make sure we had the correct times and telephone number. If memory serves I think he even requested a reservation via their website, but, I am not sure. It was the 3rd of July.
We've been to Thali's before and loved our meal there. India is very close to our hearts and when it comes to food we're always game for a good curry. Thali serves the best Indian cuisine.
As instructed we arrived at 12h00 on the dot, tables cannot be reserved its all first come first served and I wanted to be served.
The restaurant door stood wide open welcoming us. Someone from the kitchen spotted us and came forward hesitantly wringing his hands on a dish cloth. I ask for a table for two, sadly my friend couldn't make it. Surprised, he says they're not open for lunch only dinner.
Impossible we say, we checked the website and phoned that morning, leaving a message on the answer phone as required. Nope closed. The website hadn't been updated and the message on tape had been ignored.
Flabbergasted we inform him that we've come all the way from Worcester. But it's no use shooting the messenger. With tails between our legs we dejectedly slinked off to find somewhere else to eat. I was not impressed.
I found the arrogance of the whole saga disappointing. I have checked and am happy to report that the website has been revised.
I always try to refrain from giving a star rating as its not possible for me e.g. The croissant from Daly Bread rates 5/5, but then so does a plate from La Colombe the two products are incomparable. I try to be fair and where credit and accolades are deserved I give praise gladly. Sometimes comparing apples with apples is like comparing apples and pineapples. it just doesn't work.

There are often specials advertised on the websites and in various online publications like Eat Out magazine. Do your homework and find out who gives the best deal. One can be surprised on all fronts.
Bon appetite
---