2nd November A Day To Remember
---
---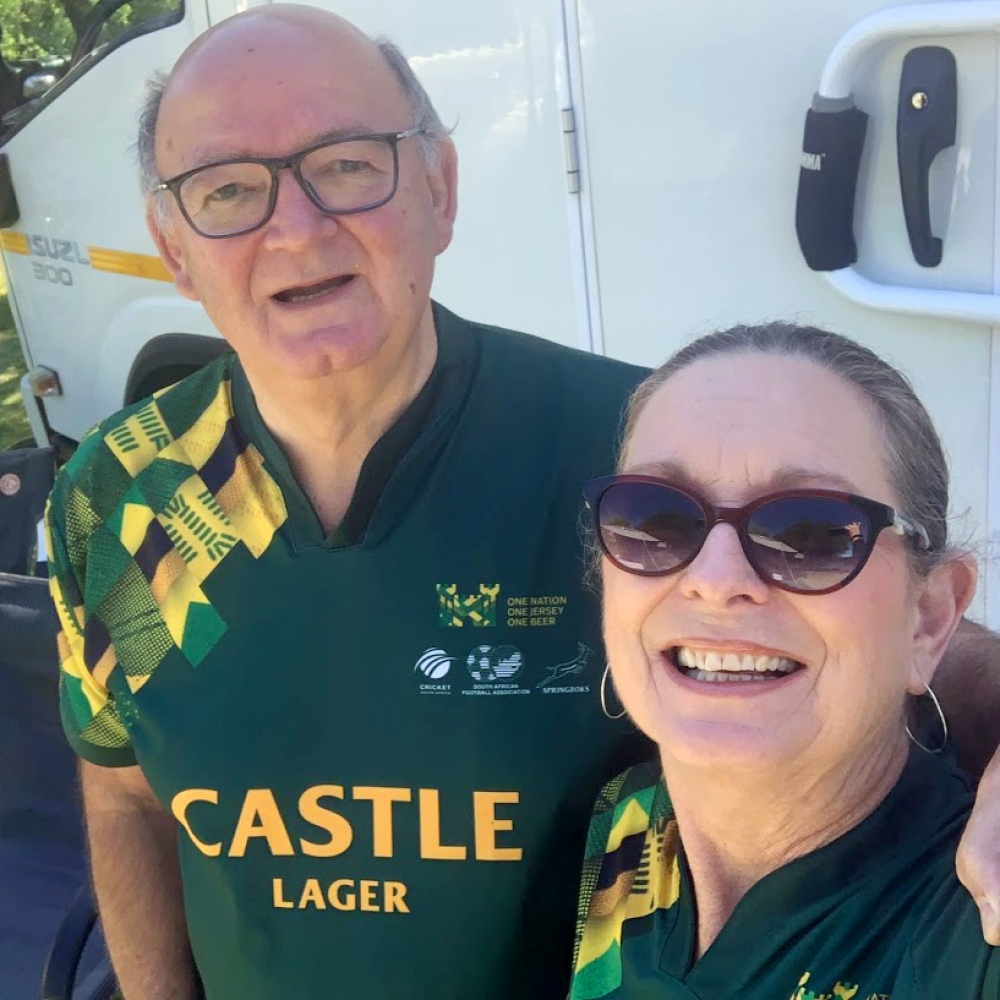 It would've been my Grandmama, Joe Knight's birthday. Born on the 2nd November, 1906. She would've been a ripe old age (113), but, would she have been proud of our rugby team? Absolutely. Oftentimes I wish she could've witnessed and experienced our Rainbow nation in action, especially when all the cogs are working in unison!

South African rugby runs deep and passionately in our veins as my great-grandfather Percival Ross Frames was the very first president of the South African Rugby Union and served from 1889 until 1894! I think they're all smiling and couldn't be prouder of our united South Africa in supporting our men in green and gold who against all the odds won the Rugby World Cup in Japan 130 years later.

My brother, also Percival, and Sue had us up at the crack of dawn on Friday morning, we were going camping. "Some people have to work" Butch is fond of saying, so off the two boys went while we got our last bits organised for the weekend along the Breede River at Rivierzicht river Resort near Robertson.
Every time we go off in our Honey Badger the packing and organising stages are becoming easier and less arduous. Although we have limited space and therefore have to live fairly "smartly" making do with only the basic necessities we do have many luxuries which make our trips unforgettable.

Armed with a packet of freshly delivered Almond croissants for breakfast from Daly Bread and four celebratory cupcakes from pâtissière Juanita Stanbridge we were ready to hit the road.

I must mention that although we love our Almond croissants I loathe the mission to get them. For some unknown reason it's impossible to place an order. The staff stoically refuse, no matter how persuasive one is in ones attempt to place an order. As someone said while Butch was trying to place an order a few weeks ago "their service is shocking but their product so good hence we put up with it!" Sue and I did a few errands and returned twice before the delivery was made, an hour after scheduled. We are hooked. Not even Jason's in Green Point can better these. Believe me.
Rivierzicht River Resort is situated along the Breede River on a farm with river frontage. The resort offers a choice of accommodation which makes it the ideal destination for campers or guests who prefer either tented accommodation or a self-catering cabin. We thought this would be the perfect destination for a family reunion, a wedding party or a corporate team building exercise.

Next time I will take my longer lens as there is a profusion of bird life and if one's patient one could photograph birds nesting, feeding and swooping down on the water. With binoculars a keen birder could tick a few off their list or just enjoy the friendly wagtails as they come ever closer for those easy pickings.

The river brings about a calmness that we all yearn for and I found myself just sitting there taking it all in enjoying the youngsters on their floatees, the canoeists paddling or the occasional shriek from a neighbour as she plunged into the icy waters on a hot afternoon.

Fishing is big and many enthusiasts plied the waters with their rods as they cast their lines from rafts, kayaks, rowboats, inflatables and even a "kick-boat". I watched tongue in cheek as one angler eagerly cast his line with a flourish only to have it hooked in a branch. Fortunately I could spare him the embarrassment by switching my gaze to a red Bishop in mating plumage strut his stuff.

When we were much younger we'd sometimes find that our excitement and enthusiasm at being "away" would get the better of us as we lost our inhibitions somewhat as the moment would become too much for us and of course lead us to over indulge, becoming quite opinionated, loud and boisterous as we burned the candle at both ends before temporary amnesia overtook us and we forgot the consequences of our carefree abandon.

Fortunately we're much older and much wiser now, but, it was not so next door. Deep into the night we heard the debates, where everyone agrees in disagreeing tones, we could forgive them as it was most likely the forthcoming rugby match and we all had an opinion didn't we? The barbecue fires were lit early before sunset and the tinkling of ice cubes or that pop and fizz could be heard as we settled with our sundowners, snacks and opinions.
Supper was a huge success, a fragrant, spicy curry and a delicious chocolate mousse and granadilla concoction to round the festivities off. As the midges, mosquitoes and other light seeking gnats sought our exposed flesh we turned in.

As the sun's rays touched our windows we jumped up all bright eyed and bushy tailed ready to take on the world as we warmed up for the monumental battle ahead. The boys were not going to miss a single moment of the warm-up. Our neighbours were deathly quiet. My grandmama's words "act in haste, repent at leisure" came to me clear as a bell! The sun beating down on their tents would move them. Eventually! In our green jerseys we set off to Robertson town.
Once again we had a table reserved at Bourbon Street, just as well as it was packed. What an atmosphere. Although I realise not everyone is a rugby fan per se I do think that Saturday's match was far more than that. It was a fight for unity, camaraderie amongst battered and bruised South Africans for the underdogs. A Springbok squad that no one rated (except us SAFFA's) for a win. A team that pulled together with only 18 months to go, who consciously changed their mind set from playing for survival to a team playing the game to give a nation hope again. We saw how individuals became a collective whole with only one aim, to make their country proud, regardless of personal circumstances. They succeeded. We are proud. A day to remember forever. When the final whistle blew there was not a dry eye in that restaurant. I am most proud because they succeeded in uniting us at home and made South Africans all over the world proud of their country of birth.

For tea we enjoyed Juanita's deliciously divine mouthwatering cupcakes. I highly recommend any of her creations and you can find her enthusiastically selling her cakes at the Groenstoor in Brandwacht every first Saturday of the month.
As you can well imagine we only had one topic of conversation for the rest of the weekend. Try as we might we'd return to rehashing the game reliving every scrum and line-out, and penalty, the tries and conversions in awe and wonder. Magnificent! We all agreed we'd outmanoeuvred England good and solid. They didn't stand a chance as Rassie and the guys pulled the one rabbit after the other out of the bag. We even loved the referee!

Archbishop Desmond Tutu said ""You have restored a self-doubting nation's belief. When we believe in ourselves we can achieve our dreams. Our father, Nelson Rolihlahla Mandela, is smiling from the heavens today."
For supper Percy and Sue surprised us by putting a spatchcock chicken on the fire in the bag! The grid is kept cold and just before using is rinsed under a cold water tap. The chicken was then placed on the grid, in the sealed bag. Cook high and slow turning frequently for 60 minutes. Juicy and succulent as no moisture is lost. Perfect. A new recipe in my armoury.

Sunday was spent leisurely. I even managed to get Butch out of his rugby togs after our morning walk. It was the perfect day and we spent it in the shade of a large Acacia tree on the riverbank watching the slow passing of the mercurial water as it meandered to the sea. For lunch a fire was struck up and we braaied enjoying the beautiful green manicured lawns, the shade and the water. Permission was granted, on request, to stay until Sunday evening which was really great. If I could've I'd have stayed a little longer.

P.S I had the luxury of using the shower in our Honey Badger as we had plenty of water on tap and electricity for our geyser. Bliss. I didn't have to cart my belongings to the communal ablutions where I'd inevitably forget something and only realise it when I was in a compromised position! I did do a recce of the facilities and found the four cubicles near our site to be well appointed with large glassed showers, lavatories and a hand wash basin in one spacious cubicle. I cannot give my opinion regarding the workings though. I believe some campers were disappointed.

My pockets filled with stones, bones and the odd plant is imprinted in my DNA as Great-Grandfather Percival Frames collected and cultivated succulent plants and became a member of the Board of Trustees of the National Botanic Gardens at Kirstenbosch. A number of plant species, including Aloe framesii, Delosperma framesii, Pleiospilos framesii and Homeria framesii were named after him by H.M.L. Bolus, and Volume 4 of Flowering plants of South Africa was dedicated to him. He also collected both marine and land shells, and purchased foreign shells from G.B. Sowerby and others. His collection later went to the South African Museum in Cape Town. The snail Sculptaria framesi was named after him.

Snails I'm not too keen on.
P.O Box 481, Riverside, Robertson, 6705
Bookings & Inquiries: 023 626 2013 | Alternative Number: 063 823 4748
rivierzichtresort@barvallei.co.za
Office Hours: Mondays to Friday: 9am - 5pm
Saturdays, Sundays & Public Holidays: Closed
---