Board Not Bored Walking - Setting off
---
---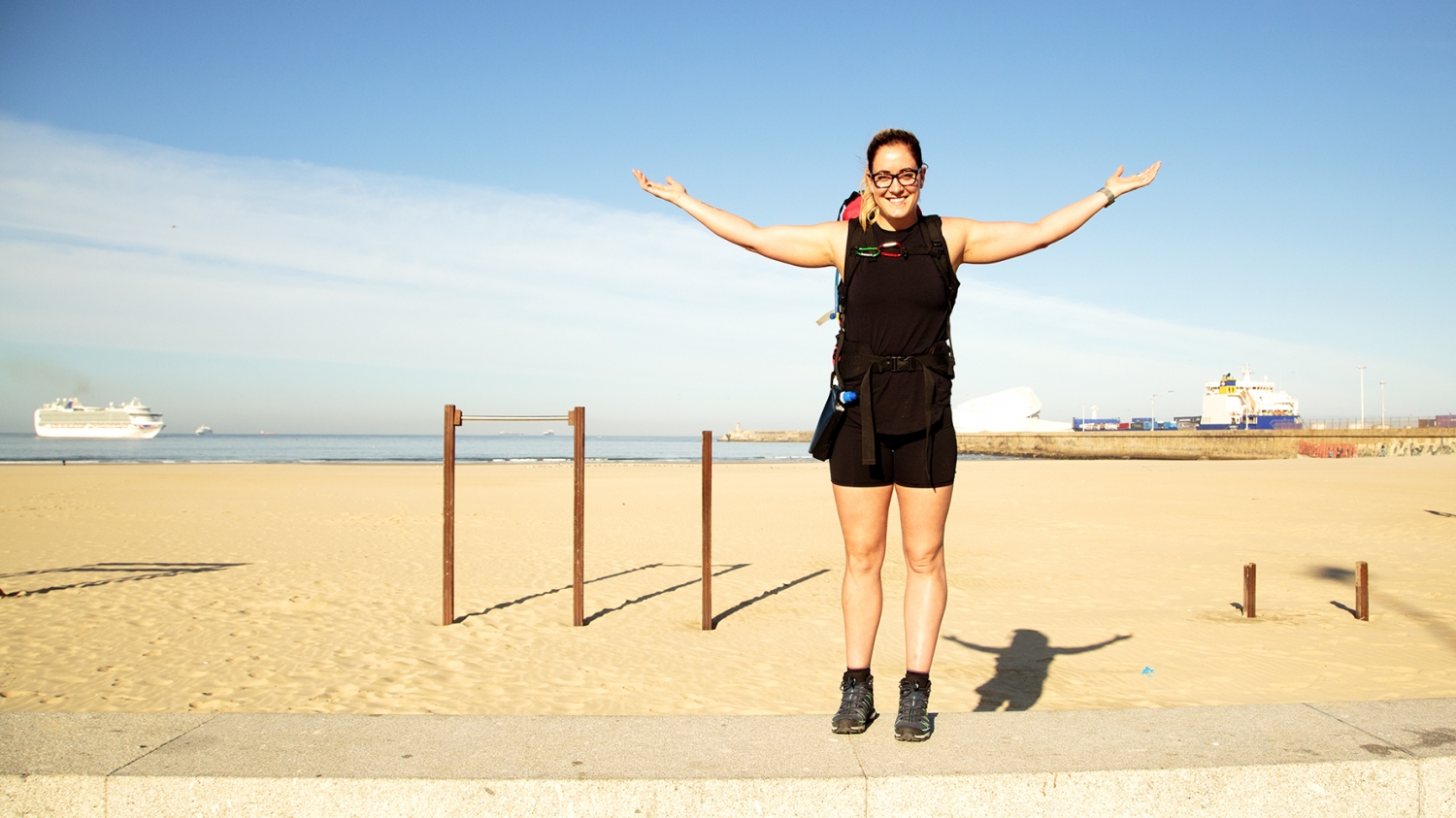 This I know is true. Just as we had to take those first uncertain steps into the unknown and blindly take one step at a time to do our Camino, I know that unless I type my first words and just get on with it I'll never write our story. Simple as that. I have a very simple philosophy, it has stood me in good stead since I was a child: take things one minute at a time, then one hour, then one day, one month and soon it'll be one year. So it's an emotional one word at a time this time. Difficult to do with only good memories of a sometimes harrowing experience. Two broads boardwalking.
Today it's Monday, and Mondays are excellent days to start a diet, crush that last cigarette or start a 340km walk from Porto in Portugal to Santiago de Compostella in Spain. Our last Sunday was spent relaxing, having an early supper and, like the good book says, early to bed early to rise, we did as suggested. I could hardly sleep, when I did I had a recurring dream of getting lost in a labyrinth, in a strange country where I couldn't understand the language, but the scary part was, I'd forgotten my underwear. A nightmare.
We started our Pilgrimage on 5th June 2017 and to start off on the right foot I got up before the alarm at 5h00 enjoyed a long, hot shower, washed my hair, made sure I was properly sun-blocked, carefully layering my clothes to ease myself into the sunny day walking along the coast. I strapped my toes individually (Elastoplast) as instructed and creamed my heels. I slipped into my knee highs and brand new Merino wool socks. Pulled my hat on, tightened the strap and made sure I had my essentials like lip ice, tissues and sunglasses close at hand in my side pockets. Our Pilgrim passports were easily accessible to be stamped and Lise had the Guidebook. My camera was fully loaded. I was as ready as I'd ever be. We had enough cold water to stay hydrated, adding Nuun electrolyte tablets to give us a boost.
While Lise got herself groomed I once again read up on our walk, mentally preparing myself for a mere 24km, a breeze. Before checking out of our lovely apartment I went back inside, almost knocking the orchid flying, and double checked to make sure we had all our possessions. We did.
Lise, the ultimate selfie queen got the camera set up on a self-timer and with broad, confident smiles we posed for our first photo of the day. As instructed we stretched our quadriceps, ankles and calves. I set my Garmin, waited for the satellite to kick in, (a little confusing for him I'm sure, last time he beamed down to Worcester) and with a spring in our steps and lots of bonhomie we set off.
Of course we'd have a wobbly. Opting for what I understood to be the scenic route we decided to go by train from the Metro station to Matosinhos and walk from there. Easier said than done, we arrived in Matosinhos and couldn't find the yellow Peregrino marker, we walked and walked and found ourselves almost back in Porto! Never mind, we decided sitting down at a pavement café. After a coffee, Wifi and Google Maps we'd GO. According to our guidebook and careful re-calculations it would be 33.9km. We would get our first stamp of the day at the tourism office and head off. Fortunately we happened to read a tiny notice stuck in a corner of a grimy window with their business times, 9h00 open. No way! We had to leave without the stamp, but stopped to buy our Pilgrim shells at a newsagent and there the kindly shopkeeper did the honours. The bronze statues of women waving to sailors setting sail for far-away places felt so apt.
Once we found our way-markers things became a breeze, we crossed the "draw" bridge "ponta móver" crossing Rio Leḉa. Once on the Promenade we found our rhythm and chatted amiably, enjoying the early morning peace and quiet, occasional cyclist or runner. I was looking forward to the boardwalk, that's where we would really start to enjoy this jolly day. Lise was all smiles and we even did a jig and stopped for photographs, another coffee and croissants before the sun warmed too much.
The boardwalk would be easy, well waymarked and I couldn't get lost no matter what. Little did I know that the boardwalk would become unbearably hot, the spring in my step caused by the swaying wood would become monotonous and the strain on our hips would develop into a dull ache. The glare of the sun ricochets off the bleached wood making us strip down to our barest necessities.
We pass fishermen tending their nets, living in small cottages so reminiscent of our West Coast, I stop to chat and take photos. Cottages are painted in bright cheerful colours, such a celebration of their simplicity. Cottage gardens, small-holdings and farms are dotted along the way, young crops are growing prolifically. Each garden had a vineyard, a lemon tree, a few corn rows, tomatoes and a selection of seasonal vegetables and saladings. Just enough to manage without labourers.

At lunch time we stopped at a Restaurant buzzing with locals, we undid our latches, dropped our bags unceremoniously and fell into our chairs. Exhausted. Three ladies are in charge of the restaurant and without any fuss they served our lunch, a basket of their freshest bread, a simple garden salad and deliciously prepared fresh fish. Coffee and Pastel de Nata to pep us up and set us on our way.
My Garmin has a battery life of approximately 6-8 hours while using the GPS, which tracked our route. We'd done 28.17km when the battery was kaput, we had at least another 12km to go and we were exhausted. We'd walked from Matosinhos to Mindelo, Vila do Conde wasn't even on the horizon yet. I would estimate our total walk to be 44km never thought I could do it, a marathon.

From the Garmin: Walking by Maricha on 5 June 2017
Matosinhos Walking
Distance 28.17 km
Time 7:41:15
Avg Pace 16:22 min/km
Elev Gain 213 m
Calories 2,215 C
I was lagging behind slightly, taking photographs, when I caught up with Lise. She was stretching her quads and thighs. I asked "what's up Lise, you tired? Can it be?" She responded "Mom, please! these hips don't lie!" It was time to sing Onward Christian Soldiers, the only marching song I know. Our spirits were flagging and I was angry and frustrated. Lise plugged her earphones, switched on her iPod and just slogged on. I didn't have the luxury of music so had to find a song in my head.
The sunny day turned cloudy and the skies became quite grey. "Rain on our first day" I thought, we certainly didn't have the energy to unpack our waterproof kit. Considering my options kept me going, it was warm, I'd hopefully not catch a cold should I get wet, but, I couldn't afford a wet backpack and camera bag. Imagine trying to dry all my clothes, especially the socks. Fortunately my wandering thoughts shortened the road and we made it to our guesthouse just before the heavens opened.
Streets are not well marked and finding a place using their address as stated on a website is often deceiving and maddeningly frustrating. People who've lived in Cities, towns and villages all their lives are often clueless as to street names and addresses and I can't think of one occasion where we were satisfactorily shown or clearly directed to a location. Finding our Guesthouse proved to be difficult too!
Erva Doce Guest House was our final destination on our first day. Our hostess, a lovely young woman welcomed us while she was busy with the final touches to a beautiful cheesecake she was busy garnishing. Yum. She knew all about us and announced that we'd be sharing our room with another Pilgrim, a man! The last thing I needed to hear. Pedro from Spain. We'd be a threesome. My heavy, tired heart dropped into my boots. As a sign of my distress the heavens opened and a gentle shower fell.
Fortunately Pedro was just leaving the room to go and buy his supper from the local fresh produce shop when we stumbled into the small room. I felt 6 (and sick) again, double decker bunk beds. We unpacked, got ourselves organised, bathed, dressed and by the time Pedro returned with his supper we were about to leave to go next door to the Tapas bar. Small, cosy, warm and welcoming. We enjoyed a lovely supper, managed to get our Mojos back and headed home to an early night. Pedro was snoring quietly.
After coming to grips with our circumstances we actually had a good night's sleep. The beds were comfortable. We both had lovely hot baths, relaxing our weary legs. We both slept like logs after a good Voltaren Gel application to our legs and a thick layer of healing foot balm.
Pedro slipped out of the room quietly as I woke at 5h00. He was on his way. Maybe there was a reason why we had to share our space with someone else, who knows? It confirmed our decision not to share digs with strangers in an Auberge, commonly used by Peregrinos. I owed it to myself to spend time with Lise, to bond with her, laugh, cry and get to know this remarkable woman, my daughter without having any distractions. I wasn't ready to meet strangers yet either. We had the room to ourselves and could get ready for our second day in a leisurely fashion. Breakfast was included. Hot croissants, various rolls and bread, with the usual accompaniments and excellent coffee.
Another long day awaited us. A day of sheer hell.
ACCOMMODATION:
Booking.com
ERVA DOCE GUEST HOUSE
Rua do Caisdas
Lavandeiras, 39/40
4480-754 Vila do Conde
+351 919 058 715
---