Breakfast Inspiration - BIRCHER
---
---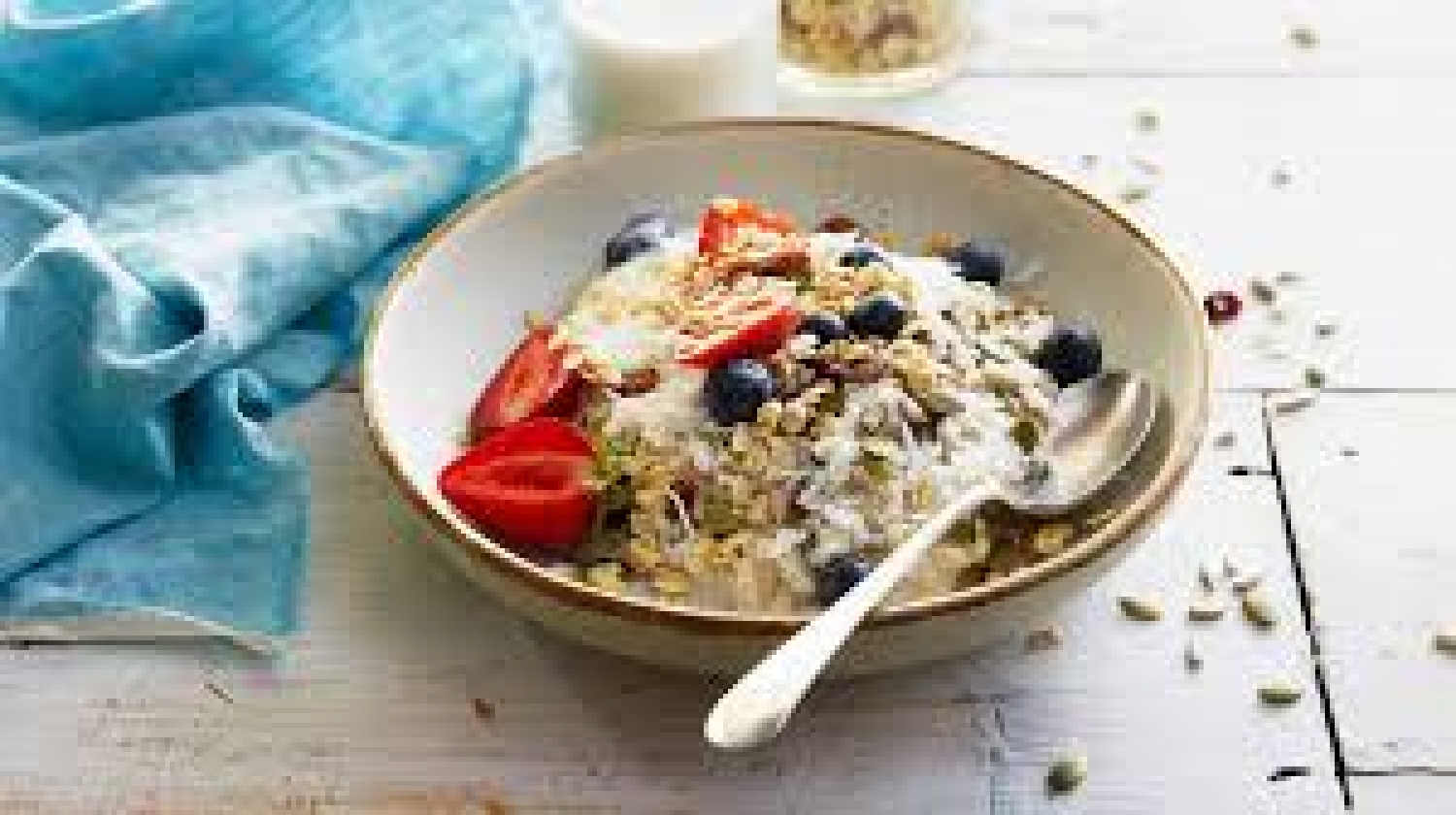 Sometimes we all need a little inspiration. I find we slip into a routine very quickly especially when it's just Butch and I. Every meal is just a repetition of the day before as we're both busy and meals at home just serve their nutritional purpose. Keeping us sustained and hopefully healthy.

It was on a recent weekend away that a friend introduced us to BIRCHER. I must confess I had not heard about it as breakfast, as a rule, is not my favourite meal and one I'd rather avoid. Coffee is my stapel.
I read up about it and this is what I found:
Similar to traditional muesli, Bircher Muesli is a perfect breakfast choice to help keep you feeling full and energised all day long. Consisting of rolled oats, milk, apple and lemon juice, honey, cinnamon, grated apples, dried fruits, berries and toasted coconut, Bircher Muesli is great combined with yoghurt. Definition of muesli. : A breakfast cereal of Swiss origin consisting of rolled oats, nuts, and fruit.
We all know Muesli of course. Yes they are similar but with Bircher the rolled oats, fruit and nuts are soaked overnight and finished off before enjoying in the morning.
This is my recipe for:

FRUITY BIRCHER:

250ml Rolled oats (I use organic oat. Gluten free organic oats may be used too)
1 apple coarsely grated
10ml cinnamon powder
10ml ginger powder
2,5ml cayenne pepper (optional)
5ml turmeric
125ml dried cranberries
175ml Chai seeds
2 rooibos tea bags
175ml 100% pure apple juice
125ml boiling water
Mix all the ingredients, pour into a storage canister with an airtight lid. Place in the refrigerator overnight.
Before serving:
Remove the rooibos tea bags.

To serve:

Ladle two tablespoons of Bircher into a breakfast bowl
Add 30ml yogurt
And then add your choice of condiments; I have 4 prunes soaked in rooibos tea (500g stoned prunes soaked overnight in boiling water, generously covering the prunes. add three rooibos teabags. Next day remove the tea bags. Keep in the fridge and use as needed. Refrigerated the prunes soak up the liquids, become really sweet with a lovely sauce)
15ml assorted seeds and nuts
30ml Oat bran.
A scoop of granadilla or not
Roasted coconut flakes. (Roasting coconut is easy as pie and delicious. Just preheat an oven to 180C place the flakes on a roasting pan, place in the oven for 10 minutes. Check on the browning process as some flakes may brown quickly.)
All the above ingredients are optional make your own variations using your favourite seeds, nuts, fruits or flavours. It's really easy and delicious, even if I say so myself. Please note we do not add any sugars nor honey. If you enjoy a dose of sweetness (it makes the medicine go down) please add to your taste.
TIP: For camping combine all the dry ingredients, pour into a airtight container use as needed by adding liquids before use. Berries make a great garnish. Mixed seeds, nuts, spices may also be made beforehand and stored for convenience.
The benefits of eating oats and oat bran are endless. The recommended dose of fibre is 30g daily. One banana contains 5g of fibre https://www.healthline.com/nutrition/oat-bran
Do build up your immunity to fight colds, flu and virusses by using liberal doses of: Ginger, Garlic, Tumeric, Cayenne Pepper, Cinnamon. They're all tasty and easy to add to shakes, teas, smoothies, soups, casseroles and now BIRCHER!
Not only do we need to constantly wash our hands we must put good, healthy foods into our bodies. If you think you've got a virus/cold/flu brewing wear a mask so that your spittle does not infect someone else, especially children and older folk. Sore throats are often the first symptons of a cold, make a gargle using 15ml Bi-carbonate of soda in 125ml of warm water. Gargle. Repeat 4X daily. If one can stop it in its tracks so much the better.
A few years ago, my daughter, on a visit, recalled a meal she'd had with a friend and this is what she said "oh Mom, it was an old people's meal. Cold meat and salad." Let's not fall into that trap of convenience. It beckons at times especially when we're very busy doing other things. Preparing a good, healthy meal for our loved ones is therapeutic and rewarding.
"My wife and I tried two or three times in the last 40 years to have breakfast together, but it was so disagreeable we had to stop." Winston Churchill
Thank you Megan for introducing us to Bircher. It's changed the way I approach breakfast!
---