Cape Salmon Is Summer - Fish Cakes
---
---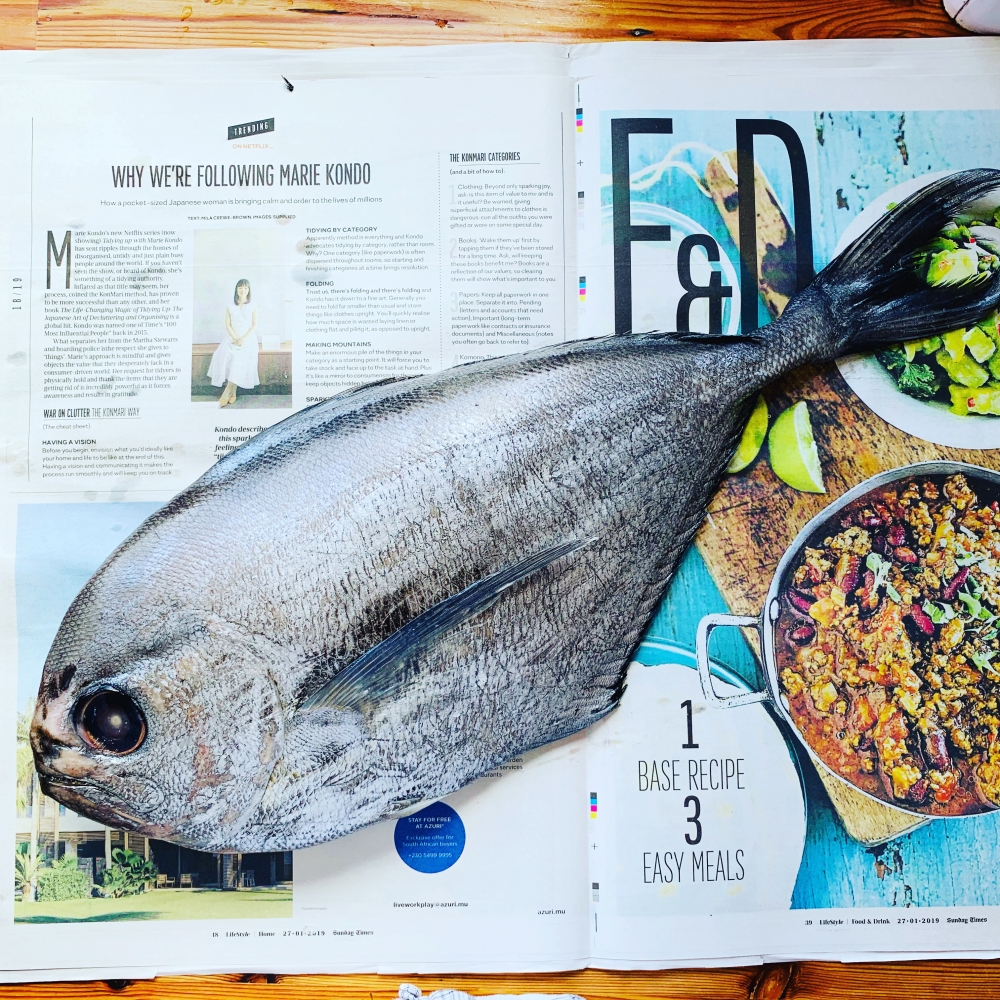 There's absolutely no sense in living at the sea and one never enjoys fresh fish. Ironically when we wanted to buy a Cape Salmon, caught at this time, we couldn't find one in Hermanus. Cape Salmon is the queen of the seas in my opinion and I'll always go for that option.
So... we had to turn to our local supplier in Worcester SIMPLY FISHIN CHICKEN. Yes. That is queer I know. We were able to buy two fish. Fresh as can be. Still frozen I defrosted them in the fridge, overnight. I couldn't resist smelling them, that's how you tell whether they're fresh. The eyes too must be clear. If you smell nothing but soda water then your fish is fresh. Should you smell fish, then it's not fresh. At the same time we couldn't resist the beautiful Angel fish. Smoking hot! Fresh water fish like Trout smokes very well indeed and I've done it many times using this method.
MY THAI INSPIRED FISH CAKES OR FISH PIE:
Served with a Red Miso Dressing and fresh garden salad. Any left-over fish may be used. Remember the Garlic, ginger and chili are optional you may prefer to only season with salt, pepper and a squeeze of lemon, that's fine too. I confess, I use the prepared garlic, ginger, chili in the small 4 pack from Woolworths, it's a staple in my fridge. (I also have numbing injections when I go to the dentist). Remember your palate is different to mine so adjust the heat, we like it hot baby.
3 generous cups of flaked fish
1 packet Smash or Instant potato mash made according to the instructions. I substitute and use 100ml milk and a good knob of butter and then add water to make up 450ml liquid (make the mash a little drier)
1 medium onion, finely chopped
100ml finely sliced Basil (can use parsley or Coriander)
10ml finely chopped garlic (optional)
15ml finely grated fresh ginger (optional)
2 green chillies, chopped finely (optional)
10ml Soya Sauce (optional)
1 Jumbo egg, slightly beaten
A few scrapings of lemon zest
Season to taste with salt and freshly ground pepper
In a large mixing bowl mix all the ingredients together. Add the mashed potato while it's still hot.
COATING:
2 eggs beaten with a fork until frothy
Pinch of salt and pepper
Seasoned flour for dipping (I used Coconut flour as I prefer Gluten Free and the Coconut would enhance the Thai flavours)
Make your cakes to your desired size, I make a medium sized fish cake using about 3 tablespoons of fish.
1. Roll cakes in the flour, dusting lightly.
2. Roll cakes in the beaten egg
3. Dip and cover with flour again.
Place on a baking tray lined with baking paper
Once all the cakes have been made return to the fridge for 30 minutes
In the meantime heat a heavy bottomed pan add Olive oil and 100ml of butter. Bring to a medium heat. Once hot carefully place fishcakes in the oil and fry for approximately 3-4 minutes per side until golden. If you're using a heavy bottomed pan, the heat can be turned down to prevent the cakes from burning to a crisp!
Remove, place on kitchen towel and keep warm in the oven.
TIP:
A crustless fish tart can also be made.
I made 6 fish cakes and then added the remaining flour and beaten egg to the flaked fish incorporating it all into my fish pie.
Butter a quiche pan or tart pan with a generous amount of melted butter. Add the fish. Sprinkle a cup of grated cheddar cheese on top and bake in a pre-heated oven of 180֠C for 30 minutes until cooked through.
Serve with a delicious fresh garden salad, lemon wedges, in summer a lovely mango or pineapple salsa lifts the spirits!
Salsa:
Desired fruit cut into dice sized blocks
Add chili, lemon juice, spring onion finely cut or basil finely sliced
Mix and serve in a small bowl on the side.
I served our fish cakes with Red Miso dressing (store bought – Woolies) and we loved it.
Bon Appetito darlings.
FOR THE BRAVE:
Preparing the Angelfish for smoking:
If the angelfish has not been gutted and filleted do so. If it has been gutted and filleted open it up and pat dry. Sprinkle a generous amount of Maldon salt on the flesh side and leave on a tray in the fridge for 20 minutes. Using a clean cloth brush off the excess salt and moisture.
Prepare the smoker. I have a stainless steel smoke box but, a saucepan may be used or a Weber kettle braai will also do.
Sprinkle a small handful of oak shavings and a handful of Rooibos tea for extra flavour, on the bottom of the pan or smoker. Lay the fish skin side down on a wire rack.
Place that over the wood shavings. Cover with a tight fitting lid.
Ignite a flame (high to burn the shavings for a smoke) and smoke for 10 minutes until the fish has cooked. Turn off the flame and leave for an extra 5 minutes. Remove.
In the Smoke Box:
Add 200 ml Methylated spirits to the burner, ignite push back into the smoke box and set aside. The amount of methylated spirits will determine the cooking time perfectly. Once the flame has died down leave for a few minutes (5). Remove onto a platter. Garnish with slices of lemon and enjoy immediately if you can with a crispy summer salad.
The smoked fish can be enjoyed at room temperature, left overs may be used for fish cakes or used in a patè.
It would be amiss of me not to mention our fish supplier: I can recommend their products. I believe they stock crayfish too and a range of other products.
Simply Fishin Chicken Worcester
cnr Napier and High street shop 7A (Boxer shopping center),
6850
Worcester,
Western Cape
(I could not find a telephone number)
---