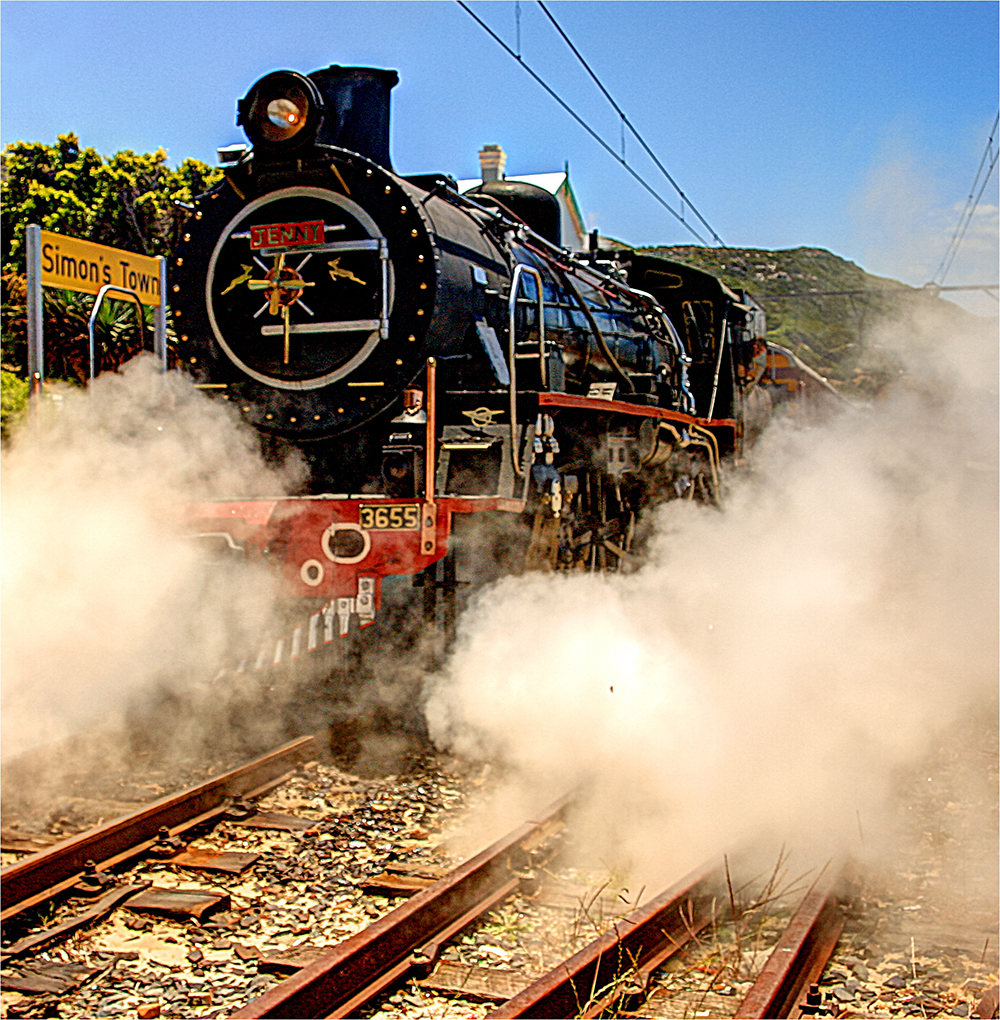 Clickety-clack, Clickety-clack choo-choo-choose your train wisely! Trains and Champagne. I'm neither an Anorak nor a Trainspotter but I love the huge beasts. Skinny bandy legs, new black lace-up shoes the dress 6 inches off the floor when kneeling. A very wobbly chin, I'm petrified I'll cry. Guarding me is a huge grey army trunk, I nervously clutched a stiffly starched Panama hat. It's me waiting for the Steam Train to fast-track me to Pretoria and boarding school. That was the beginning of my morbid fascination with trains. Since then I've done a few train journeys and even had the audacity to throw my Panama hat and trains' cushion into the Crocodile River, as one does!
During my years working in Cape Town I commuted by train, always sitting in the same seat with the same companions, reading the Cape Times, War and Peace, and everything Ayan Rand, smoking like a chimney. I've slept on the Trans Karoo and went on a day trip to Matjiesfontein on the Shosholozo. I found my way around the Undergroud in London, Lisbon and Singapore. I've had coal in my eyes on more than one occasion and poor Precious has been dragged all the way to Simon's Town to see "Jenny", our only remaining Locomotive! Next time I go to Canada I'd like to do the Trans Canadian Railway trip and for my next very important birthday it's going to be the Rovos Rail from Cape Town to Dar es Salaam! I can't wait to hear the conductor shout "All aboard" and the whistles blowing.
Christine Bake Kline's Orphan Train, Pelham One Two Three, Agatha Christie's Death on the Orient Express and most recently The Railway Man- Eric Lomax are some of books I've read and have on my book shelf all emotive.
The list of movies and lyrics is of course endless, my all time favourite was Dr. Zhivago and I have visions of being Lara standing in the snow, covered in fur waiting to depart on a Trans-Siberian train. Some of my favourites are:
Chennai express
The Darjeeling Limited
Taking of Pelham 123
The Cassandra Crossing
Death, Deceit and destiny aboard the Oriental Express
Dr Zhivago
Eternal Sunshine of the Spotless Mind
The First great train robbery
The bridge over the River Kwai
To Russia with love
The lone ranger
Murder on the Orient express
Who will ever forgot Robin Williams shout "Good Morning Vietnam" or laugh out loud when thinking of M.A.S.H?
But I'm being side-tracked. We decided to do a round trip and take an overnight train from Hanoi to Sa Pa. We'd received conflicting reports from friends who'd done train journeys in Vietnam so not to be put-off I did a lot of investigating and found that there are many options either doing it like the locals or to opt for the tourist trains. As often happens in life one gets what you pay for!
I must confess our Indian experience taught that it suited us to book a coupe instead of a four berth compartment, and to upgrade as much as we could afford. There are many options and the website clearly defines the various options for certain routes. Tickets may be purchased online and will be delivered to one's accommodations 24 hours before a trip. This posed a problem as we would be in Halong Bay on a Junk! The decision was made for us as we discovered that we needed Vietnamese Visas to visit the country and an invitation from a travel agent. Because our aeroplane tickets had been booked from South Africa we thought it appropriate to ask a Vietnamese travel agent to do our Rail tickets and one or two other reservations.
Our Vietnamese Travel Agent was Kool from Blue Sky Travel. She did a sterling job, all we had was an email address and that's how we communicated with her. She chopped and changed our itinerary umpteen times until we were 100% happy. She arranged for the relevant documentation for our visas and did our rail reservations following our instructions to the letter! Kool even telephoned the Church Boutique Hotel on a Sunday to confirm the delivery of the tickets two days before our departure and confirmed that they would be in safe keeping until we required them.
There are a number of "Tourist Train" companies who offer various options and even some Hotels in Sa Pa include a train journey in their line-up of specials. It materialised that each company would shunt and hook-up to the Diesel Locomotive due to depart for a specific destination. Our passage was booked on the Franxipan Express. Passengers are instructed to report to the station one hour before departure and board once the carriages are prepared. We were pleasantly surprised by the efficiency of the whole system and once our tickets had been checked we were directed to our carriage. We had requested a coupe and to our surprise we were allocated a four berth compartment, which was really welcoming and we relished the extra space. Our bunks had been prepared for bed time and we were welcomed with flowers, fruit, water and cool wet wipes. The facilities were communal but adequate.
Once again we were impressed by the electrical connections which enabled us to charge our telephones, iPads and small laptop (not that we'd use them in the mountains!).
We had a very comfortable night, but I did think the end was neigh on a couple of occasions as we hurtled along at breakneck speeds. The wide gauge tracks in India made for a smooth journey so the narrow gauge tracks in Vietnam were far more harrowing. Leaving Ha Noi in the dark was a tad disappointing as I realised I might've seen the hovels and squatter shacks along the tracks. I had a brief glimpse and it was astounding and horrifying as I thought it was unique to India
During the wee hours I was woken by an ear splitting screech and load thump which sounded like an explosion. Stupefied I just lay there waiting for the concertina of carriages (I've seen too many movies on this subject). From now on I think I'll concentrate on "A Brief Encounter"! Of course my Precious had set his alarm to wake us up in the morning, his timing was a guestimate, and hours too early, I needed my beauty sleep but bounced out of bed tail wagging and rearing to go. Only much later did the attendant come around with delicious Viet coffee and condensed milk.
We passed rice paddies, homesteads and tiny villages barely visible in the mist as we made our way North up into the mountains giving us a taste of what was lying in wait. Sometimes it felt as if I could touch the sidings as the tracks were laid in cuttings through the hills, overgrown by tropical forests and exotic plants.
The journey was over far too soon and I looked forward to our return trip two days later.
We'd heard that in Dalat we could do a short 10km trip to a small village Trai Mat in a Russian engine and "box" cars. The station was built in 1932 an imitation of a station in Deauville in France and still retains it's Art Deco design. The journey is fascinating as it gives one a glimpse of the countryside and there we saw the magnitude of the cultivated flower industry. Mountainsides are covered in flowers particularly chysanthenums all grown in hothouses, for a constant supply I suppose.
We had a two hour lay-over in Trai Mat and used the opportunity to refresh and walk up to the very popular and well-known Pagoda. On our way back to the train we spotted children walking home from school in their school uniforms, really old fashioned and so typical to the Propaganda posters we've seen.
I highly recommend the services of Blue Sky travel in Ho Chi Mingh City and do ask for Kool she's really cool! I'm sorry I never got to meet her when we visited there, but, time is always of the essence and we simply didn't have an opportunity to do so.
Kooljle -
BLUE SKY Travel - Inbound Department
(84) 949 844 012
Vietnam Railways:
Hotline: +84 904 619926
sales:
So while I don't type to the beat of "The Locomotion" as I did at school on my old Olivetti ball head, I still enjoy the music as it does give you the rhythm of the rails.
If you've perservered and you've got this far then you're entitled to this little comedy skit! Enjoy!
NOW A MAJOR MOTION PICTURE STARRING COLIN FIRTH, NICOLE KIDMAN AND JEREMY IRVINE
During the second world war Eric Lomax was forced to work on the notorious Burma-Siam Railway and was tortured by the Japanese for making a crude radio
---