Comfort Food Prince Albert Style
---
---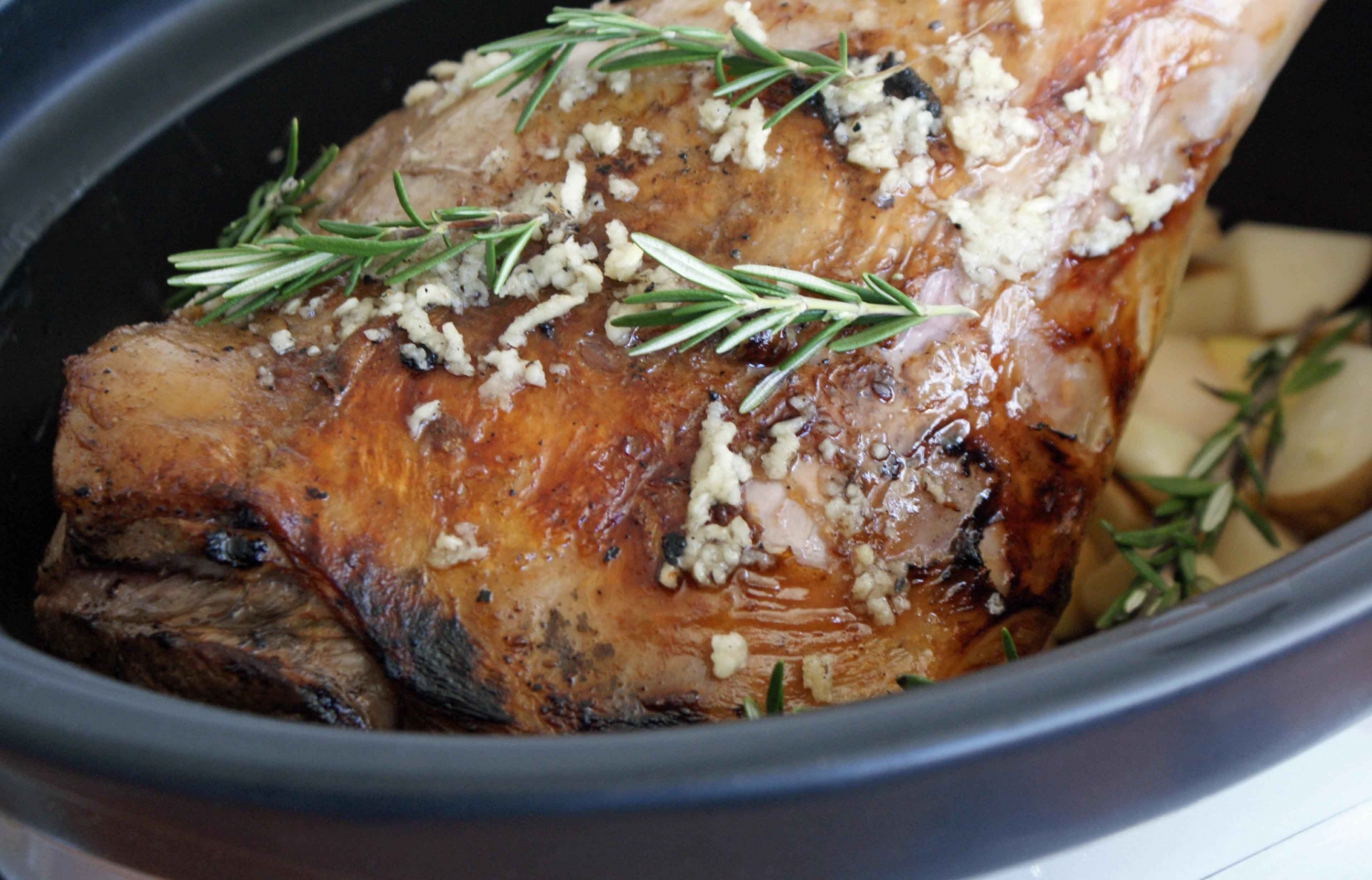 Whenever I think of the Karoo and food there is only one thing that comes to mind. It has to be lamb. Karoo lamb with lots of Rosemary. Of course at this time of the year you might imagine a roast leg of Springbok, that'll do too. Treat it as if its lamb and the results are spectacular.
Like the French I often slow roast my leg of shoulder for 6-8 hours. My mother-in-law would do it in a warming drawer overnight sometimes. She would give us spoons to spoon it into our plates. With it she'd serve Caramelised carrots, green beans cooked the old fashioned way, slowly, with a sheep's tail added, lots of butter, onion, carrot and potato. This would also be slow roasted. Of course we'd have yellow rice, with heaped spoons of turmeric, sticks of cinnamon and a good handful of raisins, steamed to perfection. For dessert she'd make a brown pudding or a saucy Orange pudding served with egg custard and thick cream.
My Slow Roasted Shoulder of Lamb
1 shoulder of lamb, weighing about 2.5kg
125ml Prince Albert olive oil
1 bunch fresh thyme
2-3 sprigs of Rosemary
1 garlic bulb, plus extra sliced cloves for marinating
Maldon salt and freshly cracked pepper
8 medium onions, peeled
125ml red wine
125ml Balsamic vinegar reduction/Pomegranate reduction works as well
Method:
Rub the olive oil all over the shoulder, sprinkle with fresh thyme and rub it slightly to release the oils. If you have a strong shoot of Rosemary you could thread it through the shoulder or just bruise the leaves and also rub all over releasing the oils. Peel and slice a few garlic cloves place those over the meat too. Place the lamb in a large casserole and marinade overnight.
Early morning - Next day pre-heat the oven to 140֩C-160֩C depending on your oven. Season the meat with salt and pepper. Heat a little oil in another pan. Brown the meat slightly. Remove, return to the casserole, and add the red wine and onions. Cut off the top of the whole garlic and add as a whole to the pan. A bouquet garni may be added for extra flavour. Cover with a snugly fitted lid or tin foil well wrapped to seal. Place the casserole in the oven and braise for 4 hours. One hour before the end of cooking time add the Balsamic reduction. Return to the oven for 60 minutes without the lid. Baste the meat every so often and make sure the jus does not burn. The meat should fall off the bone and there should be a lovely jus resting at the bottom of the pan.
Serve with vegetables of your choice and a green garden salad on your nicest platter. Arrange the onions on the side. You may also add medium potatoes to the pot 60 minutes before the end of cooking time, they will caramelise in the rich juices.
Ouma's Carrots
Scrub a bunch of carrots until they're clean, cut into quarters, pinky length. Melt butter in a saucepan, add a stick of cinnamon and a grating of orange peel (in those days the cooks would also add a good dessert spoon of sugar - but, we don't do that anymore!). Season with salt and pepper. Saute until the carrots are cooked to your liking, a few drops of water may be added should they dry out.
I often just add my carrots to my meat about an hour before the end of cooking time and they're delicious.
Mint Sauce:
Chop a generous handful of mint leaves finely in a cup pour 75ml Red wine vinegar and 75ml water. Add a good tablespoon sugar, a pinch of salt and a grinding of black pepper. stir until the sugar has dissolved. Serve with your roast shoulder of pork at room temp.
Mother-in-law's Easy Orange Pudding
(I give it to you as she instructed me, you can't make a mistake) this is not a large pudding just enough for 4 so don't use a very large pie dish to bake it in.
1½ cups cake flour
7,5ml baking powder
A good pinch of salt
Sieve the above ingredients together
In the Microwave melt:
65ml milk
60ml butter
Beat together until thick and frothy:
3 eggs
250ml sugar
Once the eggs have been beaten add the dry ingredients followed by the milk and butter mixture.
Pour the dough into a buttered dish.
Bake in a pre-heated oven of 180֩C for 30 minutes
Make the sauce by melting the following ingredients together:
250ml sugar
250ml water
250ml fresh orange juice
5ml vanilla essence
30ml butter
Zest of one orange
Pour the hot sauce over the cake as soon as it leaves the oven.
We enjoyed a similar pudding on our visit to Prince Albert and it just rounded off our weekend perfectly. This is one of my go-to meat dishes, always a winner and will be on my menu when I am the cook of day on safari!
Bon Appetito Amigo!
---