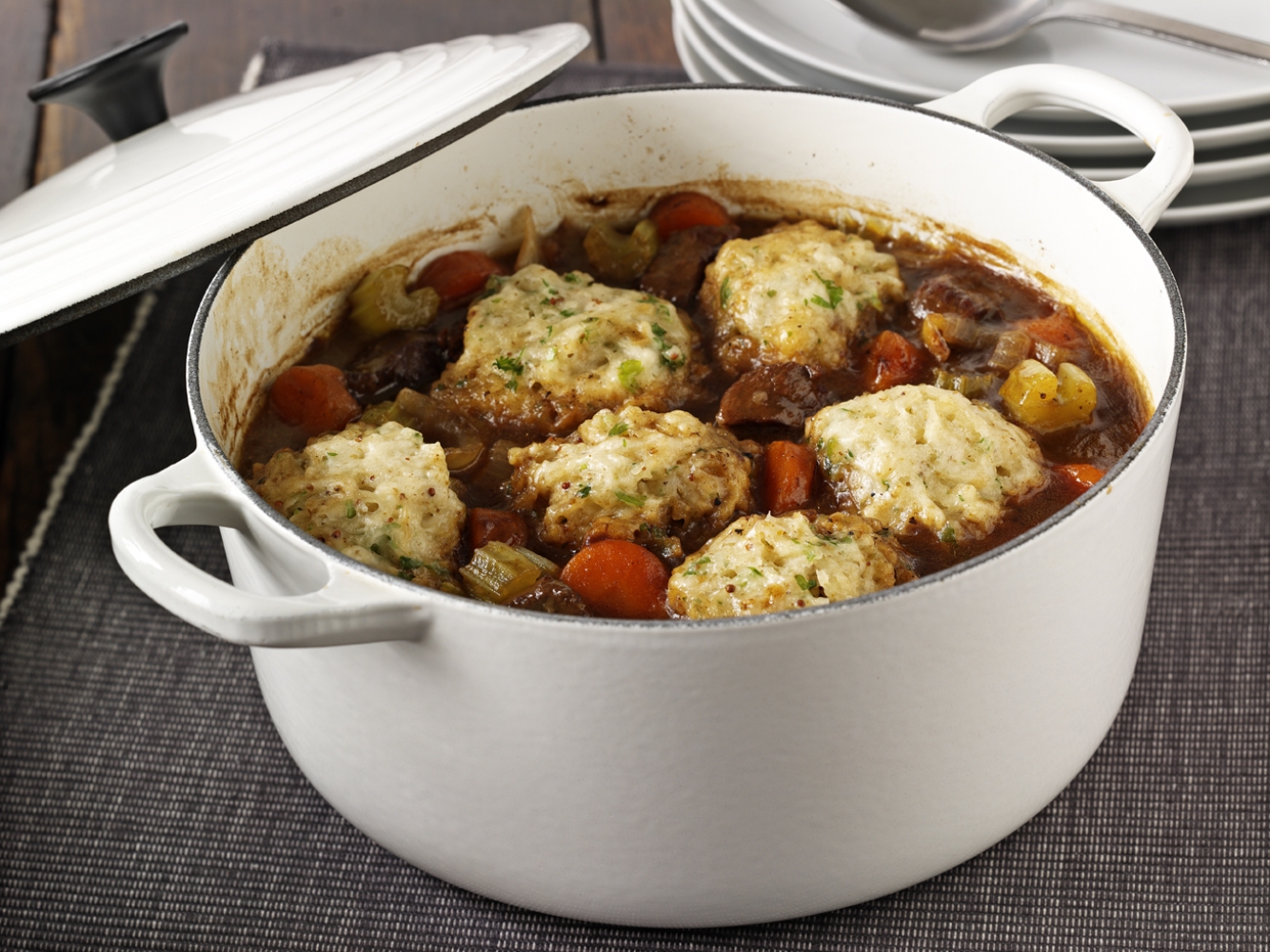 We don't have central heating, so our homes are colder inside than outside sometimes. This has advantages, we warm up our homes with huge log fires, burn candles, have heaps of blankets and throws, we wear pajamas and bed socks, we fill our hot water bottles and switch on heated blankets. Meals are heartwarming, wholesome, slow-food affairs and we try and "celebrate" the old casserole or stew. If you've grown up on a farm, you'll remember the warmth of the AGA stove, the smell of anthracite permeates the kitchen and the coal scuttle is always full. Dumplings are traditional. Soups with crusty bread are a staple. A winter without Dumplings, sago, bread and butter pudding or Melk Kos (a milk pudding made with corn flour) and venison pie would be disappointing.
I made a huge beef stew with dumplings on Friday. We filled our bowls, wrapped up warmly beanies and all and tucked into bowls of soul food. We both suffered hot flushes eventually!
BEEF CASSEROLE WITH DUMPLINGS
2 large onions, peeled and chopped
30ml olive oil
30ml butter
60ml wheat-free flour
1 packet brown onion soup
1,5kg beef short ribs, cut into 2" pieces
1kg marrow bones, sawn into 2" pieces
1 small tin tomato puree
Celery, cut into desired lengths
1 bunch, baby carrots, washed and not scraped
1 small butternut, peeled and cut into rings
1 medium sized sweet potato, unpeeled, just washed, cut into thick rings
1 punnet button mushrooms, brushed off
2 bottles of beer (600ml red wine may be used instead, but give the beer a go)
30ml brown sugar (optional)
3 bay leaves
Punnet fresh rosemary, I left the leaves on and just removed the stems after cooking
4 cloves of garlic, finely chopped
1 green chili, finely chopped
Thumb length ginger, finely grated
Maldon salt and freshly cracked black pepper to taste. (Remember the onion soup has salt added too)
DUMPLINGS:
250ml self-raising flour
60g butter, cut into small blocks
45ml Greek style Yoghurt
45ml cold water
15ml Rosemary, finely chopped
METHOD:
Dust the meat with flour seasoned with brown onion soup.
Heat up the butter and oil in a large casserole dish, for this occasion I use an ancient blue and yellow AGA casserole dish. Stir fry the onion, add garlic, chili and ginger. Saute until the onions are glassy and the garlic is sweet.
Remove the onions with a slotted spoon and keep to the side.
Brown the meat. Now the marrow bones, but, do not add the bones to the casserole yet. Remove the marrow bones. Leave covered with cling film until 30 minutes before the end of the cooking time to add to the stew.
Return the onion to the casserole dish, add the beef short ribs, beer, sugar, rosemary, tomato puree, celery and carrots.
Place in a pre-heated oven of 170֩C for 60 minutes until meat softens.
Remove from the oven, check seasoning, if necessary add salt and pepper and if the gravy is too thick add another bottle of beer or 250ml of water. Add the rest of the vegetables and the marrow bones, cover with a duble layer of tin foil, and return to the oven for a further 30-45 minutes.
Prepare the dumplings:
In a food processor add the flour and butter, pulse for a few seconds until the consistency becomes like bread crumbs. Add the rosemary. Add the yogurt and water. Pulse until the mixture forms a soft ball. Remove from the processor. Divide the mixture into six portions. Roll into balls. Place on a board, covered with cling wrap until you add to the casserole. Once in the casserole close with a lid, return to the oven for a further 30 minutes.
Serve with boiled rice or cauliflower mash. We didn't find the need for an accompaniment so enjoyed ours without another starch.
Bon Appetito amigo!
After supper we both fell asleep while watching a movie. Far too cozy we were. On Saturday I found a copy of JAN the magazine. Fabulous book. I salivated while perusing, I particularly loved the photographs of South Africa with a French flair. The recipes look scrumptious too. Will have to try some.. but they're for summer.
---