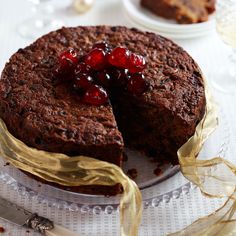 Now's the time to get Grand'Mere off the shelf, dust her and riffle through her pages to the two stuck together when I baked last year's Christmas cake. It's eight weeks to go and that's how long one needs to mature a cake. This fact struck me like a blow to the solar plexus this afternoon when I noticed the DVD's had been moved and dumped in a heap in the corner of the shop making way for the Christmas Décor section. When that happens it's just a matter of time before Jingle Bells floods out of every speaker. Can a year pass so quickly? Ten lifetimes is not enough space between me and the Lighthouse Family. So before a partridge sits in my pear tree let's bake. I've adapted my Great-Grandmama's cake, it's a winner.
DEE DEE'S CHRISTMAS CAKE
Please note: the fruit has to macerate for 24 hours before the cake can be mixed and baked, so prepping should start a day or two ahead of planned baking time.
250g sultanas
250g raisins
250g currants
50g dried cranberries
125g soft, sweet apricots (or prunes)
60ml Amaretto, almond liqueur OR 20ml Almond essence
100ml brandy
250ml strong Rooibos tea or Cranberry tea (use any floral, fruity or spicy tea, something which will compliment the other ingredients)
60ml Kirsch (cherry liqueur)
250g butter, softened
250g soft brown sugar
4 eggs
250g cake flour
30ml baking powder
Pinch of salt
150g almonds, toasted and ground
150g walnuts, toasted and roughly chopped
4 pieces glacé ginger, finely chopped
8 Maraschino cherries, finely chopped
Zest of one lemon
Zest and juice of one orange
5ml ground mixed spice
5ml ground nutmeg
5ml ground cinnamon
2ml ground cloves
5ml ground ginger (optional)
METHOD:
1. Place the sultanas, raisins, currants, dried cranberries, prunes or apricots in a large bowl. Pour hot tea, brandy, Amaretto Liqueur (or Almond essence) and Kirsch over the fruit and soak overnight until all the liquid has been soaked up and the fruit is puffed up.
2. Pre-heat the oven 160°C and prepare a 22cm deep round cake tin by lining the base and sides with a double layer of baking paper. Tie a triple layer of newspaper around the outside of the cake tin for extra protection and to prevent the cake from burning.
3. Drain (keep the fluids in a jug) and finely chop the larger pieces of fruit. Leave some pieces a little larger to add texture to the cake and the raisins, sultanas and currants may be left whole.
4. Cream together the butter and sugar until light and fluffy. Beat in the eggs one at a time, beating well after each addition.
5. In a deep mixing bowl sift the flour, baking powder and salt. Add the almonds, ginger, cherries, lemon and orange zest, ground spices, and macerated fruit. Mix lightly to cover the fruit in flour.
6. Stir the flour mixture a little at a time into the butter mixture together with the orange juice.
7. Using a large spoon, transfer the cake mixture into prepared tin and spread it out evenly with the back of the spoon.
8. Cover the top of the cake with a double layer of baking paper cut into the desired size and bake on the lowest shelf of the oven until a skewer inserted into the cake comes out clean, should be about 3-3 ½ hours, turn the oven down slightly after the first 2 hours to 140°C
9. When the cake is cooked remove from the oven and rest for about 20 minutes. Remove from the tin and cool completely on a wire rack.
10. Once the cake is cold, puncture the cake 8 times with a thin knitting needle, spoon some of the tea over the top of the cake, if there's not enough liquid just add a tablespoon of brandy. Wrap the cake in a double layer of baking paper and foil, keep in an airtight container until needed.
11. This cake can be used immediately but keeps for 2 months. During this time feed the cake every week by making small punctures and spooning a few teaspoons of Brandy to soak into the cake. Wrap and store the cake tightly after every "feed".
COOK'S TIP:
Before baking the cake, nuts, glace fruit and cherries can be arranged on the top of the cake.
Decorate the cake very simply by dusting a light layer of icing sugar over the top, a Christmas cut-out can be made and used as a "stencil", tie a beautiful red velvet Christmas ribbon. Traditional marzipan and icing can also be made as you wish.
We love serving Christmas cake after dinner, served with Port and Stilton cheese or any other blue-veined cheese with a few bunches of grapes or figs.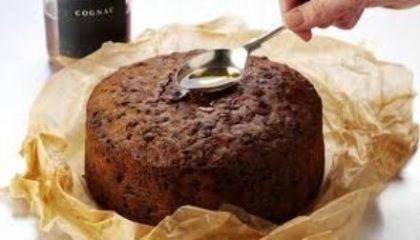 "Charlie Brown, you're the only person I know who can take a wonderful season like Christmas and turn it into a problem." -Linus Charlie Brown Christmas quotes
---