Gorilla De Ville Goes Camping - Botswana
---
---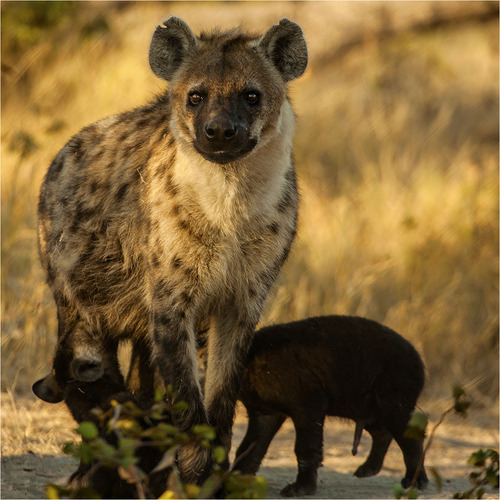 "Precious", promised himself that he would go to the bush in 2014. Reservations were made with Banks, the Camp Official at the Khwai Community Camp. This is bush camping at it's best, hard to beat and hard to find. We camped for eleven nights.


N.B here's a link to "Youtube link to animal sounds in the bush" enjoy it whilst perusing this blog.

The Khwai Community Camp belongs to Khwai Village, situated on the Khwai River on the northern boundary of Moremi Game Reserve. Five years ago all hunting was banned, but, to recompense the hunters the Botswana Government started an initiative to encourage the people to become independent by granting them the use of the land surrounding their village. 15 campsites were established along the river, these are bush camps, without facilities.


Our friends had the luxury of a fully kitted-out off-road trailer, with a roof-top tent, well-appointed kitchen set-up, tents and side-tents. After our experience with the caravan we decided less was more and opted for Queenie's set-up: a Gazebo with a small dome tent inside. We slept in the dome tent, had our books and a few things inside the tent with good lighting, but the bulk of our luggage, supplies and equipment was stored in the Gazebo with all its sides attached.
We had extra tables and chairs and also two refrigerators and a deep-freezer, a chemical lavatory and shower cubicle with hot water.
What I've not mentioned yet is that we had two young Camp attendants, delightful men who looked after our campsite whilst we were out game-viewing; we've had experiences with monkeys and honey-badgers that've ruined our campsite and made life really difficult.
Banda (AKA Dr Banda) and Mr. Brown were amazing; and knowledgeable about the bush. They helped wherever they could, pitching tents, fetching water from the river, filling our solar water bags. We highly recommend their services to anyone visiting the Khwai Community Camp. Banks was a regular visitor to our campsite and he often stayed for a cool drink or supper.
Our days were spent game-driving, often at sunrise, but we weren't too regimental and on occasion we slept in. We had plenty to laugh about, much to learn and overcome, Marie even overcame her fear of Elephants as we had friendly visitors in our camp every day.
Our meals were easy, uncomplicated affairs, usually a meat dish served with a vegetable or two or a salad in the evenings, left-over's for lunch with gorgeous freshly baked bread. Mine burnt!

We would pack picnic baskets for tea, sundowners or cocktails. On one occasion I got out of the car with my camera to take a photo of Chris doing a water crossing and to my dismay and the amusement of Precious a troupe of Baboons was so overwhelmed by me that they panicked and ran helter-skelter grabbing their children and babies by the scruff of their necks. Jumping over the river, losing themselves and some of their children in the process, the noise they made was deafening. After that I was Christened Gorilla de Ville, and Precious is convinced this encounter will be retold for baboon generations and baboon children will kowtow by the mere mention of my name.
Our Route was as follows:
Day 1: Worcester on the N7 (road works, stop and go) to Molopo Lodge near Kgalagadi Game Reserve
Day 2: Entered Botswana at BOKSPITS, travelled along the B211 slept near Kang, at Kalahari Rest Lodge
Day 3:Stopped at the Ganzi Hotel for breakfast.Trans Kalahari Highway A3 to Maun, where we stayed at a new guesthouse the Queness Inn. Did last minute shopping and headed to our final destination the Khwai Community Campsite.
Day 8: All went well until day 8 when our Land Cruiser's alternator packed up and we had to hot-foot it all the way back to Maun. Land Cruiser went for a service to the very competent Delta 4X4, we spent the night at Maun Lodge, with a "loan" Cruiser called "Norrafok" – apparently there's a town in Russia called Norrafok, who knows?
Day 12: Return trip. A2 Highway. Then off to the Namibian boarder, Chris' vehicle overheated! A border crossing from hell, especially after sunset as all the cargo vehicles stop-over for the night so that they can make an early start in the morning. Stayed at Zelda Game and Guest Farm just off the National Road. Thank goodness otherwise we'd never have found it. A popular destination for hunters.
Day 13: Good trip through the beautiful Namibia on the B6 to Gobabis, where we slept at the White House near Grunau.
Day 14: From Gobabis we took the C20 then C23 to Stampriet, then on B1, which becomes the N7 in South Africa and home James it was.
We did many thousands of kilometres, all went relatively well except that we did loose Chris and Marie, fortunately we kept our wits about us and we met up at our campsite in Khwai.
In conclusion: Gorilla de Ville reports from civilisation, it's one thing going to the bush, believe me it's another story getting the bush out of everything, fortunately things can be laundered, washed, pedicured, manicured, tweezed, waxed, snipped and shaved. Just holding thumbs I can get rid of the smell of the camp-fires (strooi's), the lashings of sand and dust, the bugs and critters (I'm thinking there could be a mouse in the picnic basket).
SPECIAL SIGHTINGS:
Wild dog - A pack of resident African Wild Dogs
Hyena Den - we tracked and observed the goings on at a Hyena Den at daybreak when pups were frolicking
Lions, large herds of Elephant, Leopard with his kill. We marked 89 Bird Species.
---