Halo! Halong is Halong Bay? Halong can I stay?
---
---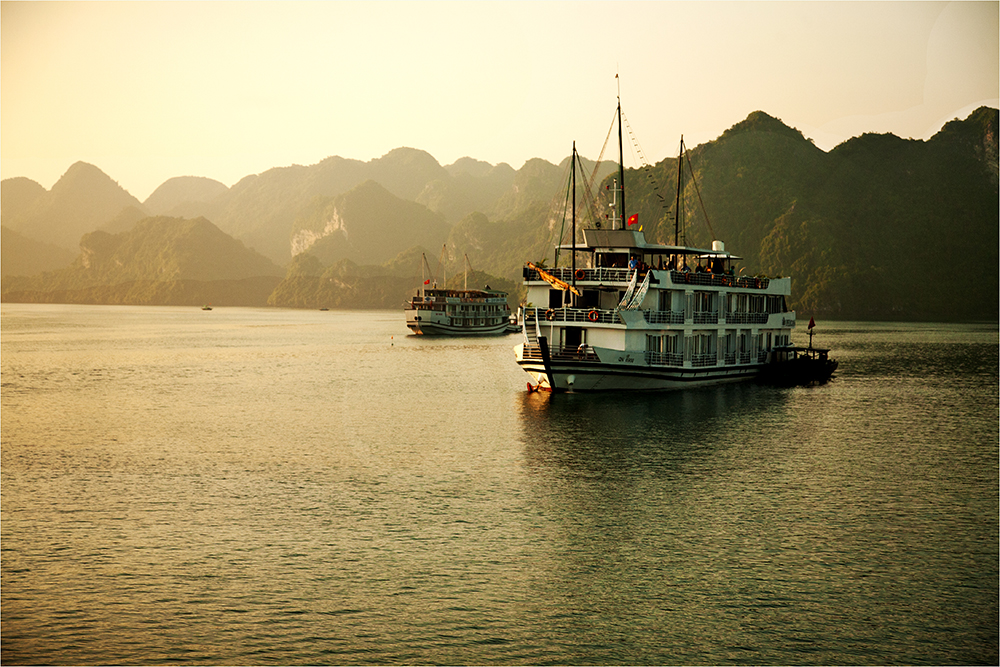 "To be included on the World Heritage List, sites must be of outstanding universal value." and "To contain superlative natural phenomena or areas of exceptional natural beauty and aesthetic importance;"
I must confess I knew very little about Halong Bay except that it was exceptionally beautiful and this knowledge came from the movie Indochine. It lived up to all my expectations.
Halong Bay is spread across a huge area scattered with thousands of pinnacle-shaped limestone and dolomite outcrops. Legend has it that the bay was formed when a majestic descending dragon plunged into the Bay of Tonkin, lashing his tail creating the labyrinthine seascape of bizarrely shaped outcrops, caves and sandy coves and beaches.
Traditionally built Junks still sail the bay, the fan-shaped sails are fashioned from rough cotton hand-sewn and dip dyed in vegetable dyes for protection, giving them the distinctive ochre colour.
Floating villages are still seen including not only houseboats but also floating herb gardens, kennels, pens for livestock and fuel stations.
One is spoilt for choice when it comes to choosing accommodation on a junk for an overnight stay and we opted for Pelican Halong Bay. Our Junk was moored in a new harbour with a shopping and housing development a reasonable distance from Halong Bay City. Pelican Tours picked us up at our hotel in Hanoi and we enjoyed a comfortable 3 hour drive to Halong Bay with a half-way stop to refresh, stretch our legs and do some shopping.
The friendly captain greeted us on the small wooden craft which took us out to our Junk which was moored in deeper waters. First impressions last and in my minds' eye I still see the happy faces of the crew waving to us as we neared the boat.
Once settled in our cabin, which was quite striking with a small balcony and large open French doors allowing a cool breeze into our quarters. We freshened up in a small but comfortable shower room before drifting to the well appointed dining room for a buffet luncheon while we quietly sailed amongst the amazing outcroppings. I couldn't wait to get my camera set up as the landscape just begs to be photographed. Later in the afternoon after all the passengers had relaxed on the top deck or had a nap or ponder we were taken ashore to explore a tiny beach and hike to the top of the islet.
We all dressed for dinner and met on the upper deck for cocktails at sunset. The chef came out of hiding and gave us a cookery class and demonstrated the art of making prawn and pork spring rolls. We then practised our skills and enjoyed the fruits of our labours! I must say we weren't too shabby at all!
When the captain announced dinner was served we slowly made our way to the dining room and a scrumptious three course meal. As the wine flowed conversations became more animated and soon passengers were chatting up a storm. To not enjoy the cool evening breeze would be a sin, so we all returned to the deck to savour the blue night skies, relaxing and enjoying the distant sound of people's voices on the wind. The lights from other Junks and boats moored nearby light up the bay and a colourful reflection on the water quiets one's soul. This place spells "romance" and soon couples drifted off to whisper sweet nothings into a beloved's ear or to count the stars (in her eyes as sadly, Africa's stolen all the stars) leaving the diehards to try their luck at squid fishing with the crew. I didn't stay and wonder who got lucky.
Just after sunrise we weighed anchor and set sail for Hang Bo Nau which is a photographer's dream location, especially when there are a few boats around.
We went caving, at Hang Sung Sot or the Cave of Awe best known for its phallus-shaped rock, a fertility symbol. The caves are enchantingly lit up with various coloured lights and our guide was quick to point out all the wonders.
We also had an opportunity to do some Kayaking which our lot did with gusto, the silence, peaceful tranquillity and beauty is really awe inspiring.Once we'd returned to our boat we enjoyed a "Continental" breakfast, although it was more than that. It was time to pack, get ready to return to the harbour. We spent time on the upper deck, enjoyed a Vietnamese beer and then had a leisurely lunch before returning to the harbour and then the trek back to Hanoi.
I can confidently recommend a stay on one of the "Pelican" Junks. We were treated like honoured guests, the staff are all very highly qualified, friendly, helpful and so enthusiastic and proud of their country and more importantly of Halong Bay. We enjoyed the company of all the other passengers and said a very sad farewell to everybody waving until they were mere specs on the horizon. We were particularly fond of our guide a delightful young girl who lives and does her job with such passion and joy. If we'd stayed another night I would've indulged in a Spa treatment and I'm sure things would've slowed down too, but unfortunately the rest of this magnificent country awaited. Another 10/10 for Vietnam.
Best place for a honeymoon I'd say! Last but not least, safety was always the highest priority and passengers and crew were not permitted to leave the vessel unless life jackets were worn.
PELICAN HALONG CRUISES:
Address : Tuan Chau Marina, Tuan Chau Island, Halong City, Quang Ninh Province, Vietnam
Phone : +84 (0) 915 056 461
Official Website: www.PelicanHalongCruises.com
Email :
ref: www.tripadvisor.com
---