Having street food without being a pavement special
---
---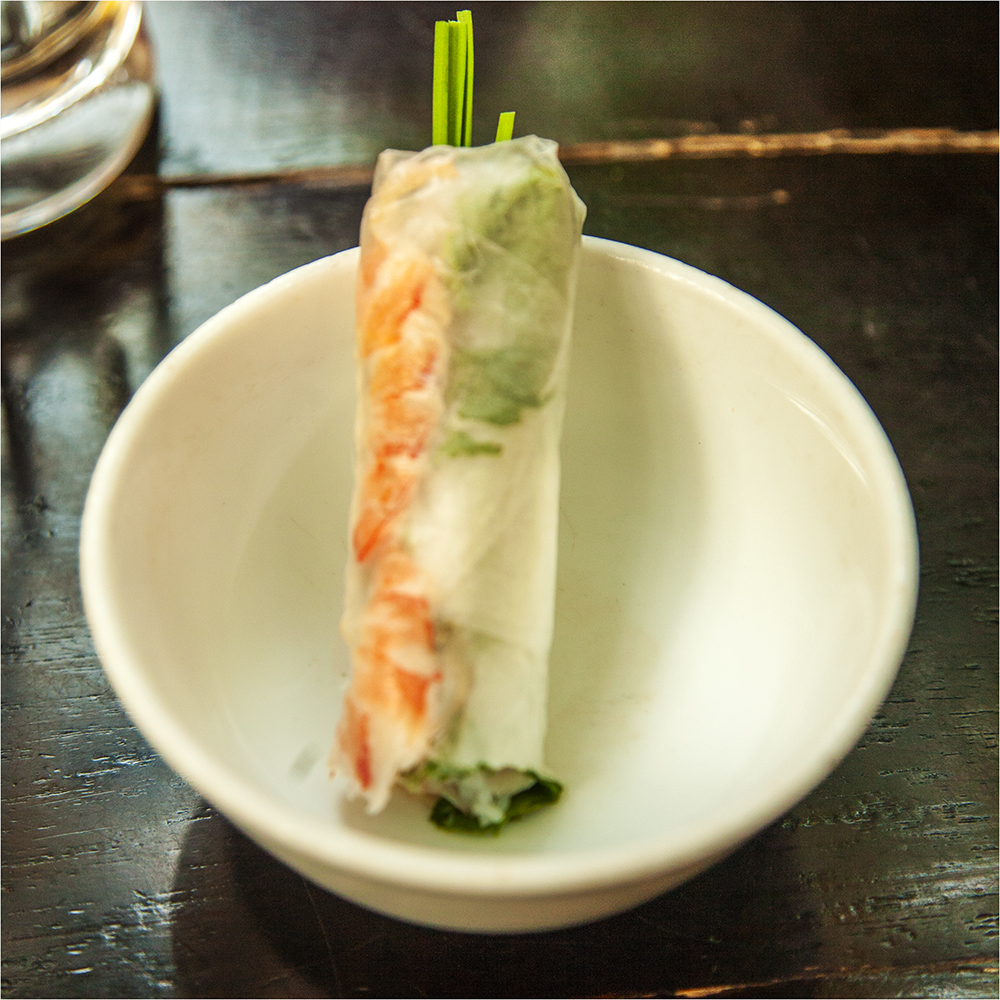 Si! "The Italians and Spanish, the Chinese and Vietnamese see food as part of a larger, more essential and pleasurable part of daily life. Not as an experience to be collected or bragged about - or as a ritual like filling up a car - but as something else that gives pleasure, like sex or music, or a good nap in the afternoon." Anthony Bourdain
I couldn't have said it better myself! Sometimes it's best to leave words and even food to the experts and that's exactly what you can expect from Quán ăn Ngon a Vietnamese food court in the heart of Ha Noi. In an earlier post I mentioned this restaurant as it had come highly recommended by the receptionist at our hotel.
Quán ăn Ngon (Gὶn Giῡ Giá Tri A͛m Thuc Viêt) - Authentic taste of Vietnam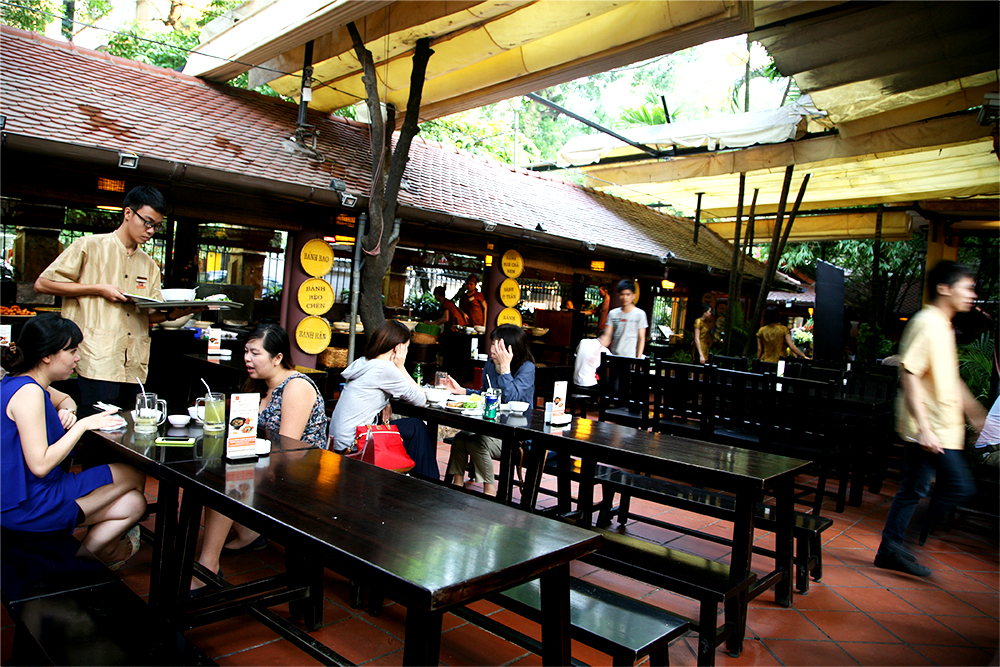 Situated in a busy street the peaceful, shady courtyard has been transformed into an informal dining area, with "picnic" style tables and chairs. Along the perimeter "stalls" have been erected and each stall specialises in a traditional North Vietnamese dish. Customers can either wander around the stalls, seeing how dishes are prepared and made, and then ordering each morsel, or peruse the menu where all the dishes are itemised. As this is a favourite eating place for locals, much of the menu is written in Vietnamese. We could understand spring roll, Bun Cha, stir fly, Pork, Chicken rice etc., but we were not au fait with much on the record. Being serious foodies we had to know everything.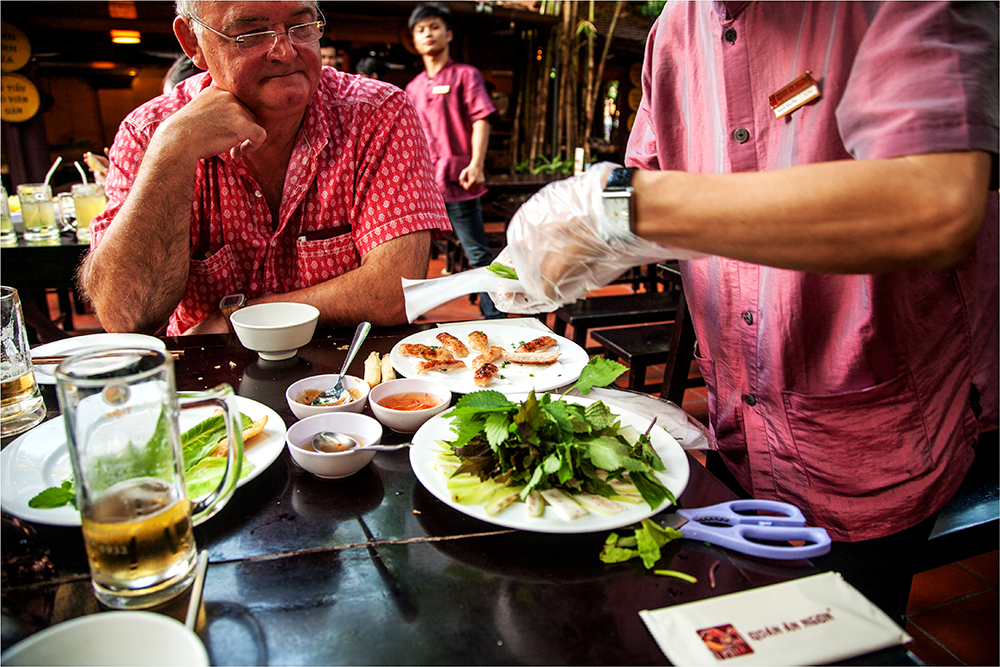 Fortunately we had a very willing and enthusiastic waiter, a charming young man. I can't resist a young man, they ALL remind me of my boys and I can see a likeness in each one. This one reminded me of a nephew, Cor! So I was intent on listening and taking his advice. He had a sweet smile and sparkly, intelligent eyes.
For starters we had fresh Vietnamee Spring Rolls, that's what we came for after all! The pork and prawn ones hit the spot. No sooner said than done and our divine waiter arrived with a tray of ingredients laid out on trimmed banana leaves, from one of the stalls. I think I reminded him of his Mama because he then proceeded to "serve" us. He donned a pair of disposable gloves and with infinite care meticulously placed perfectly julienned servings of cucumber, GREEN banana, carrot, shredded pork and glassy, succulent prawns, and a variety of herbs and lettuces onto a fresh sheet of rice paper. Folded it into a tight envelope, instructed us to dip into a chilli, lime dipping sauce and watched us with a huge grin on his face while we bit into this delectable morsel. He didn't have the heart to leave us to it (as other waiters did with their clients) but made all our beautiful Fresh Spring Rolls. The rice paper is so thin and gossamer that I could understand why he so painstakingly placed each ingredient perfectly, the first layer of ingredients are visible and each individual ingredient makes up the whole! If it kills me I'll die trying to make some too. All dipping sauces perfectly balanced to compliment each dish, so it's no use thinking you can get away with one "sweet chilli sauce" think again!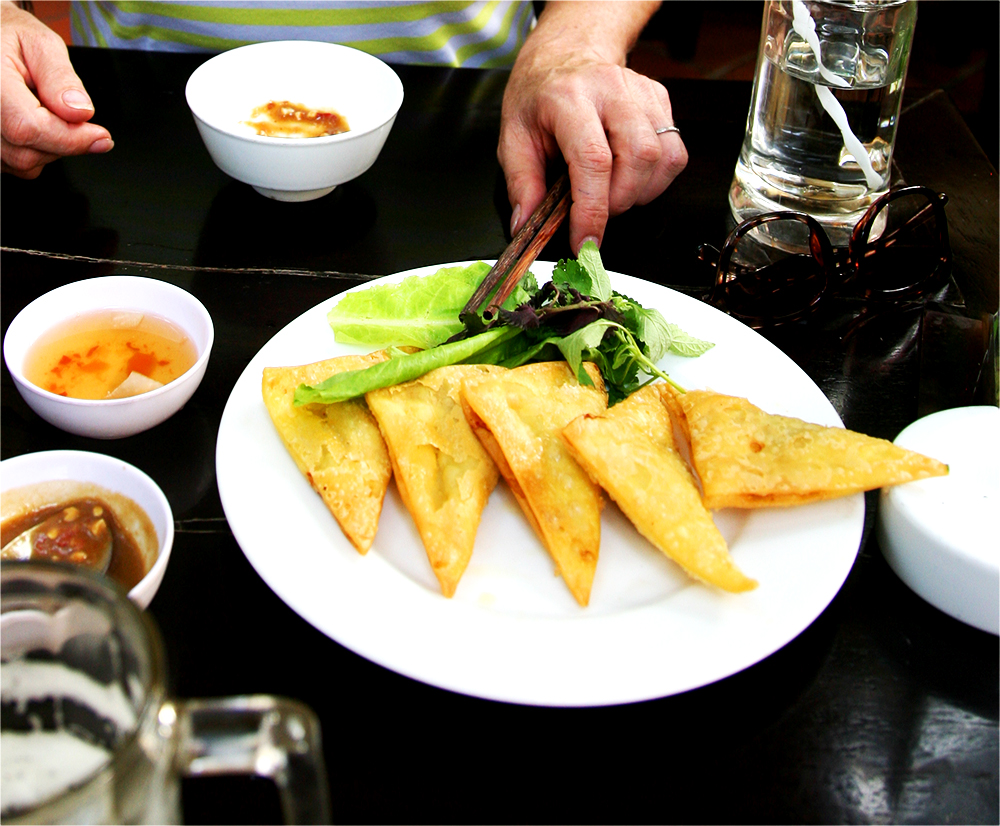 I think he saw we were easy pleasers so he suggested the rest of our menu, a smorgasbord of delights. He insisted we have a dessert, and suggested I go to the dessert lady which I did. She reluctantly showed me and let me have a taste, which led me to believe that each "stand" was independently owned.We decided on a Milkshake concoction, filled with jellies, JoJo berries, nuts, it was almost like a liquid Trifle. One of the ingredients was a cube of clear jelly, which I later discovered was from the Cassava plant. In Mozambique the leaves of cassava is eaten and prepared like spinach, so this was intriguing. Our other choices were a fresh green mango salad, grilled pork belly and grilled calamari (squid).
The restaurant was fairly full when we arrived, but by the time we left it was hectic, frequented by locals, Expats and a few tourists, which augers well in my books. We really had a super evening. The food was fresh, creative, authentic and moreish. Service was prompt and our waiter was fantastic.
Should anyone ask me where they should dine, this would be my first recommendation, as here foreigners who might be a little less adventurous will be able to sample the very best of Vietnamese Street food in a comfortable environment. With a little coaxing you might venture forth and do the real thing next time, try the Lilliputian tables and chairs and really bugger up the rugby knees like my poor Precious, who never uttered a word about his discomfort.
On further inspection we discovered that there are a number of these restaurants in Hanoi so with a little investigation you might find one nearer to you and I'm sure the menu will be different too. Definitely worth investigating!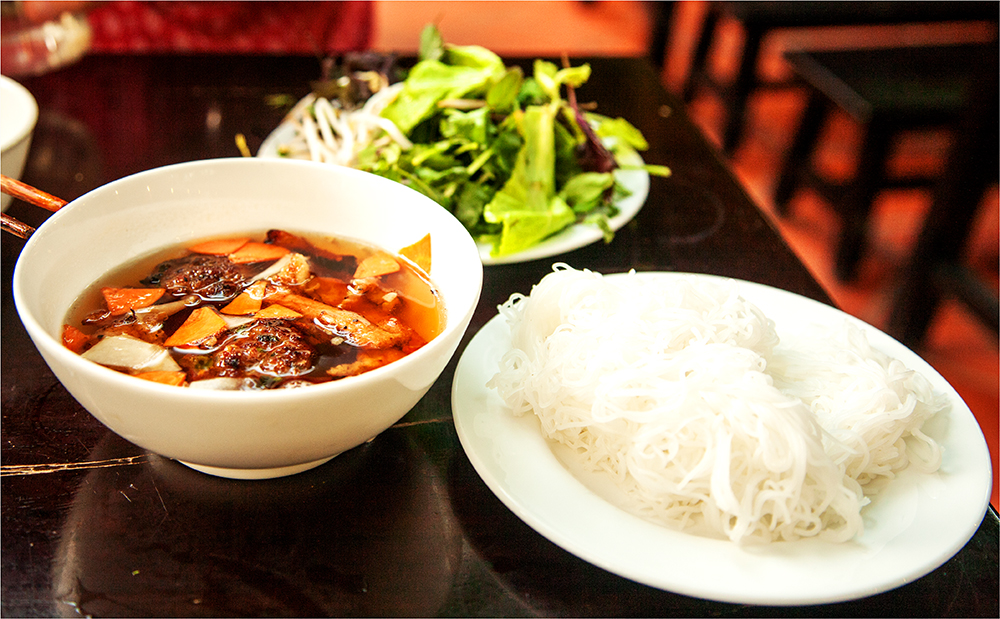 A last word. As I was sorting and editing the photos for this blog I literally started salivating! Tonight we're having Bun Cha, a clear stock, with grilled pork dumplings, fresh herbs, sliced chilli, nuts, fried shallots, rice noodles and coriander leaves. A traditional dish enjoyed all day, this is a staple and can be dressed up or down depending on the family's budget. If it works perfectly the recipe will follow.
Address: 18 Phan boi Chau, Hoan Kiem District, Hanoi
Phone: (04)3942 8162 Fax: (04) 3942 8164
website: ngonhanoi.com.vn
FB: quananngon
email:
also www.tripadvisor.com
unfortunately the video is in Vietnamese, but take a peek you'll get my drift.
---