Hot Chick Spicing Up The Kitchen
---
---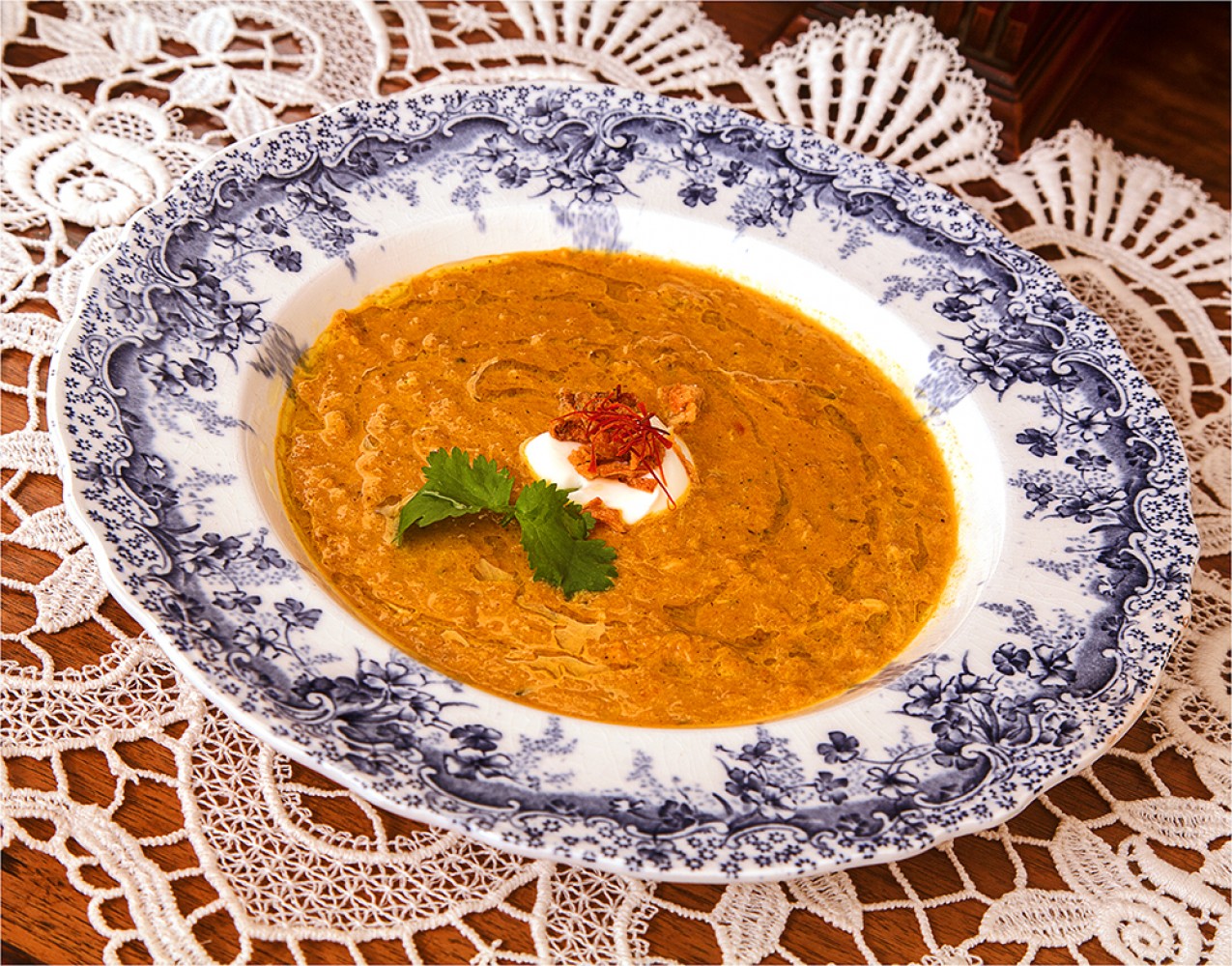 Winter food to spice up your life, add heat to your menu with colourful spices, bring out the tartness of Citrus with a saucy pudding, go tropical with a pod of Vanilla and pick up an exotic thread of Saffron. Wrap up snugly in rice paper and fry up some Spring Rolls. These multinational recipes from countries with oomph will dispel any thoughts of winter fingers, runny noses and chilblains returning a flush and blush to the cheeks! Bon Appétit!
CHHATRA SAGAR CHICKEN CURRY SOUP
The flavours of aromatic coriander, cumin, nutmeg and paprika make this soup perfect on a cold winter's day. Add extra garlic, freshly chopped chilli and finely grated ginger for their immune boosting qualities.
1kg chicken pieces, browned in butter and olive oil, remove once browned and keep aside.
15ml butter
15ml olive oil
1 large onion, finely chopped
2 large carrots, peeled and finely chopped
3 garlic cloves, crushed, peeled and chopped
Finger length of fresh ginger scraped and grated
1 small tin chopped tomato
15ml ground coriander
10ml ground cumin
10ml paprika
10ml turmeric
1 bay leaf
5ml sugar
2,5ml each nutmeg and cloves
5ml crushed chilli
1,5litre chicken stock
100ml cream
Salt and pepper to taste
250ml chopped coriander leaves
125ml full cream Greek Joghurt
Crispy onion chips
METHOD:
1. In a large saucepan brown the chicken pieces, remove and keep to the side
2. In a large jug make the chicken stock according to instructions and keep to the side
3. In the pan juices of the chicken stir fry the onion, garlic, ginger and chilli
4. Add the carrots and celery, stir fry for 5 minutes until the vegetables are nicely coated and start to shine and go limp
5. Add the spices and stir fry for a few minutes.
6. Add the chicken, stir until well mixed with the vegetables
7. Add the tomato and chicken stock
8. Simmer on a low heat until the chicken is cooked and can be broken into small pieces
9. Remove the chicken, de-bone, break into small pieces
10. Return to the pot, season with salt and pepper to taste
11 Just before serving add the cream
12. Pour into a soup tureen garnish with chopped coriander leaves
13. To serve: each serving is garnished with a spoonful of Greek joghurt, a sprinkling of crispy onion flakes and a spoonful of chopped coriander.
COOKS' NOTE: coriander is an acquired taste, some like it some don't, if your guests would prefer, substitute the coriander with CHOPPED ITALIAN PARSLEY OR BASIL.
TO RING THE CHANGES: after the chicken has been removed the soup may be blitzed to a smooth consistency and then the chicken may be added, but, a smooth thick soup can be made by blitzing all the ingredients and then garnish as above.
TO SERVE: this soup is perfectly complimented with hot, buttered NAAN BREAD.
GLUWINE (Mulled wine)
1 Bottle favourite red wine
100g caster sugar
1 stick cinnamon
4 cloves
2 star anise
Rind of 1 lemon,
2 oranges, juiced
2 oranges, sliced
Pour red wine into a saucepan, add the caster sugar, and stir until the sugar has dissolved.
Add the rest of the ingredients except the orange slices.
Slowly bring the mixture to boiling point over a low heat.
Remove from the heat immediately once temperature has been reached.
Remove all the spices
Add the sliced oranges.
Serve in a large red wine glass.
DEEP FRIED SPRING ROLLS
100g minced beef
2,5ml freshly ground black pepper
2,5ml salt
2,5ml sugar
65ml shallots, peeled and pounded or grated
3 garlic cloves, peeled and pounded
1 small turnip, washed and grated
125ml spring onion, finely sliced
1 small white onion, finely chopped
125ml finely sliced button mushrooms
65ml glass noodles, cooked according to instructions (vermicelli can also be used or breadcrumbs)
1 egg
16 sheets of rice paper, or Spring roll wrappers
500ml Vegetable oil for frying
TO SERVE:
8 butter lettuce leaves (Iceberg can also be used)
2 cups mixed herbs, mint, basil, coriander
Sweet and sour dipping sauce
Loosen the mince add the spices, mix well using a fork. Add the vegetables and lastly the egg yolk which has been lightly beaten with a fork. Keep the egg white for sealing the edges of the spring roll wrapper.
Place 15ml of heaped mixture onto the edge of a wrapper
Fold over the wrapper and pull back tightly to seal the mixture. Roll over, fold sides in neatly and roll until almost to the end. Seal with the egg white and place on a tray with the sealed side down.
Heat the oil in a medium frying pan until the oil is hot, but not smoking. Place the spring rolls carefully into the oil and fry, turning twice for about 3-4 minutes until golden brown. Remove from the oil. Drain on kitchen towel.
Served with the lettuce leaves and herbs, wrapping the spring roll in the lettuce. Dip into individually served dipping sauce bowls.
BAKED QUINCE
Use one quince for two people.
4 tablespoons honey
Use ripe fruit not tough resistant under-ripe fruit
Wrap each quince individually in tin foil.
Place on a baking sheet
Bake in a very hot oven of 220°C for 1½ hours (90 minutes)
Remove from the oven, undress the tin foil
Halve the fruit, remove stones and fill the hole with honey.
Serve with custard or homemade crème Anglaise
MY FAVOURITE SELF-SAUCING CITRUS PUDDING
3 jumbo eggs, separated
250ml sugar
65ml flour
250ml milk
30ml lemon juice
Zest of one lemon
165ml freshly squeezed orange juice
30ml melted butter
Whisk the eggs until frothy; add the sugar, a little bit at a time.
Add the sifted flour and milk alternately, whisking until the mixture is smooth and light
Add the lemon juice, milk, orange juice, lemon rind and lastly the melted butter.
Beat the egg whites to the soft peak stage; fold lightly into the egg mixture, making sure you don't expel all the air.
Pour into a well greased Soufflé dish (a round oven proof dish with high sides)
Place the dish into a roasting pan filled with boiling water (Bain Marie) bake in a pre-heated oven of 180°C for 40 minutes.
Serve with fresh cream, ice cream or custard. Nom-Nom!
For my photographs of the recipes look at the blog Day #64 Of A 365 Photography Challenge
---