If Not Cabbages Then It's A Landscape
---
---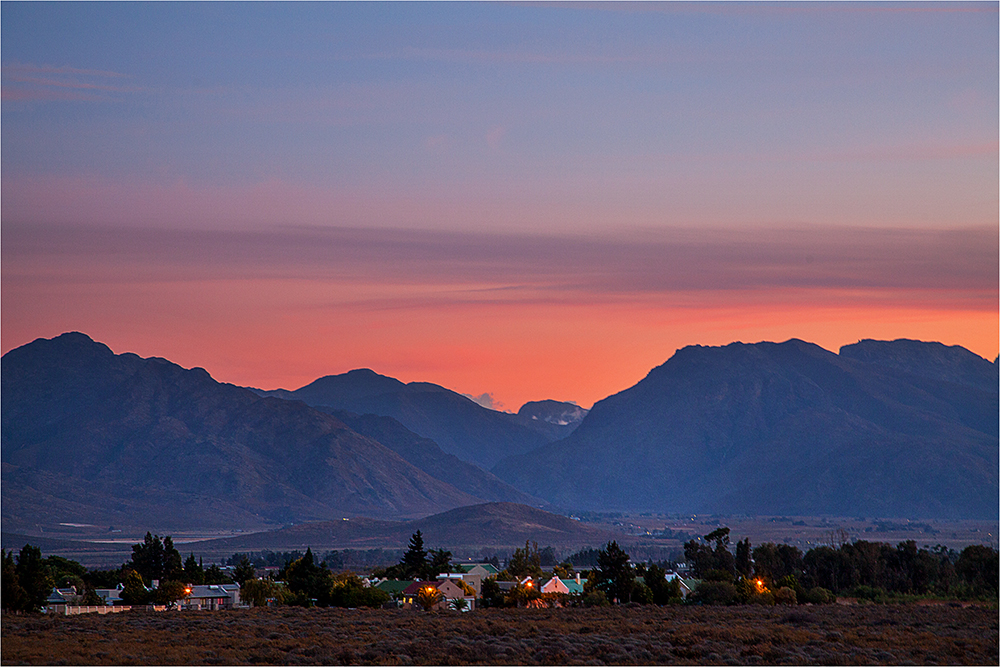 "Clouds come floating into my life, no longer to carry rain or usher storm, but to add colour to my sunset sky." ― Rabindranath Tagore, Stray Birds. Our blue mountains are ringing out tonight.
Of cabbages and kings I know nothing but I have pored over black and white photographs made by Edward Weston of a single Cabbage leaf, the detail, depth and "colour" (although they are in Monochrome) are amazing, inspiring me to photograph my plain old cauliflower before it succumbs to the pot and becomes mash!
Today I heard Eskom is so desperate they're even trying to blow out our candles. They might not get to my candle but they're certainly working on my nerves. The lights have just come on again, we're back to having romantic suppers in the kitchen and then to bed with our books and coffee which isn't such a good idea because by 21h30 we're asleep. For insomniacs it's a long night when that's the case.
Instead of going spinning, which I should do, I took a circuitous drive to Chavonnes and Brandwacht, I haven't done that for ages, the skies were promising a good sunset again. Like a hibernating tortoise I've started living in my shell more and more, but tonight we had a lovely Indian Summers' evening, perfect for a few landscapes before the lights dimmed.
Our skies are deepest pinks, mauves, purples, blood orange red but tainted by the devastation of many summer fires, the earth is dry and calls out for the winter rain which seems to have gone into hiding. Black landscapes, a stark reminder of the devastation of heedless, mindless stoking of the flames. I captured some of the harsh realities of beautiful fynbos reduced to burnt sticks.
Karen Blixen: If I know a song of Africa, of the giraffe and the African new moon lying on her back, of the plows in the fields and the sweaty faces of the coffee pickers, does Africa know a song of me? Will the air over the plain quiver with a color that I have had on, or the children invent a game in which my name is, or the full moon throw a shadow over the gravel of the drive that was like me, or will the eagles of the Ngong Hills look out for me? From Out of Africa.
The day is done, to bed with me for the second time tonight; I'll read about Africa again.
I hope you've enjoyed this blog, who knows you might be inspired to make art or follow my progress, I'd be thrilled, "SUBSCRIBE' to receive a weekly update of blogs.
---