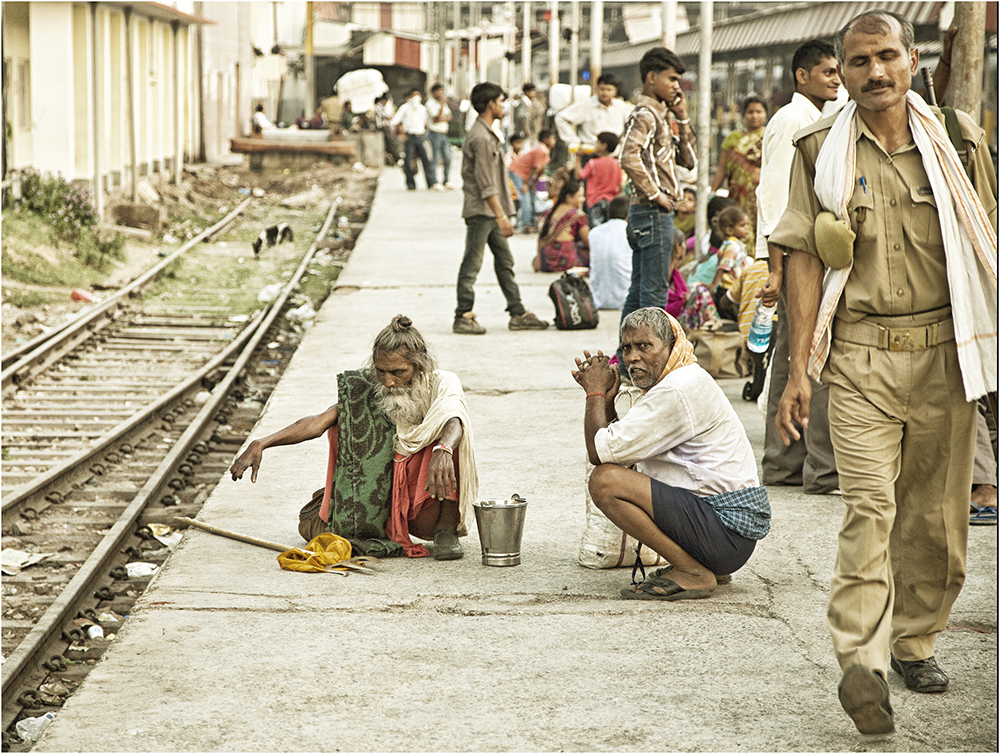 Whether you travel like a Prince or a pauper, in India there will be a train to suit your needs and your pocket. It's poplular and a great way to experience the culture, landscape and the people. You can dine with a Maharajah on the Rajastan Express or enjoy street food on the platform on the sleeper train. It will be exciting and adventurous.
Our first train journey was an experience as you can imagine, firstly the train stations are mayhem, the ticketing system is weird and the trains themselves an eye opener and culture shock. Yes, the trains are overcrowded but not as bad as expected, apparently only suburban trains have passengers on the roof. it's illegal to sit on the roof and hang from the outside, but who cares!
Our first journey from Mumbai to Udaipur was as a "waitlisted" passenger, an unconfirmed ticket which may be confirmed on the day of the journey, we were on an overnight train with a "compartment" booking, turns out Butch and I had to share a bunk in a communal carriage, for some privacy we could draw a very grubby curtain!
Our luggage had to be chained to the bunk for safety! Once again our travelling companion was charming, helpful and kind. Sanjay Singh, a doctor on his way to his best friend's wedding helped us and saw to our comfort, he advised us on what to eat on board and bought all sorts of snacks at various stations along the way too. To our shock and amazement we then discovered "no alcohol allowed", so we had to stow our cool bag with ice, a half Jack of Gin, (which was a mission to buy in Mumbai as we couldn't find a bottle store and had to sneak around a corner to the local bootlegger), BC wine and the medicinal Indian Tonics. Fortunately we were allocated an additional bunk before bedtime so we popped sleeping tablets and slept like babies, waking refreshed, ready for our next adventure. The "facilities" on the train were adequate so we could wash our faces and brush our teeth.
Our second train journey was meant to start at 22h30 but was delayed by 4 hours, our "coupe" was parallel to the passage, very narrow and once again only had the grubby curtain for privacy, and we decided not to take our sleeping tablets as it was so late. Butch spent a sleepless night on a "cot" which was hopelessly too narrow and too short, I didn't do too badly and did get a few hours sleep, I believe a familiar comforting purr escaped my lips, the next day was long and boring for Butch who was quite irritated, tired and uncomfortable, fortunately I enjoyed watching the scenery and I was engrossed in a book I'd downloaded on my Kindle.
Varanasi station is frenetic and overcrowded, we decided to hire porters to help with our luggage, imagine all your earthly possessions on someone's head and they're off ahead of you. We needed two auto rickshaws to get us as near to our Guesthouse as possible, the streets are so narrow there that some of the streets near the Ganges are closed to all vehicles and can only be done on foot. We were tired, hot, bothered, irritated and generally travel weary (gatvol). Butch was not keen on Varanasi to begin with as this is the holiest of holy cities in India, the oldest city in the world and cremations are done publicly on the riverbank, we've heard stories of bodies floating down the river too, ones that weren't weighed down properly.
Our third train journey was from Varanasi to Delhi. But first we had to endure a death defying journey by auto rickshaw to the station and our 1st class compartment to Delhi. What joy!Clean, spacious, beautiful coupe all to ourselves with a door, a table, plugs for our electrics, that's one thing all the trains have, we could charge our phones to our hearts delight. So without any delay I got rid of my jeans, got comfy, whipped out or stainless steel glasses and poured ourselves a well deserved drink. The moment was too much for us and twice Butch upturned his wine.
While I was making my bed on the top bunk I daintily put my foot on the table for balance and the whole thing collapsed. At last I could use the toilet paper that I'd schlepped all the way from home to clean the compartment, it didn't even need cleaning except for the wine and Butch had to get flat onto his back on the floor, a tight squeeze, his legs on the bunk, to screw 6 tiny screws back into the wall to secure the table, he used some of the loo paper for plugs! Eventually we settled down and stopped giggling! Now we know why they have laws in that country regarding the use of alcohol, can you imagine 1,6 billion people on the bottle?
I still love rail travel and would do it again, but, with a little more style, there are many options and I certainly would consider something luxurious like the Palace on Wheels.
We made all our reservations with it is a mission as one has to register on the official Indian Railway System, but all the instructions are on the website, once we'd done the necessary it was all plain sailing.
---