Island Style At Ngepi River Camp - Namibia
---
---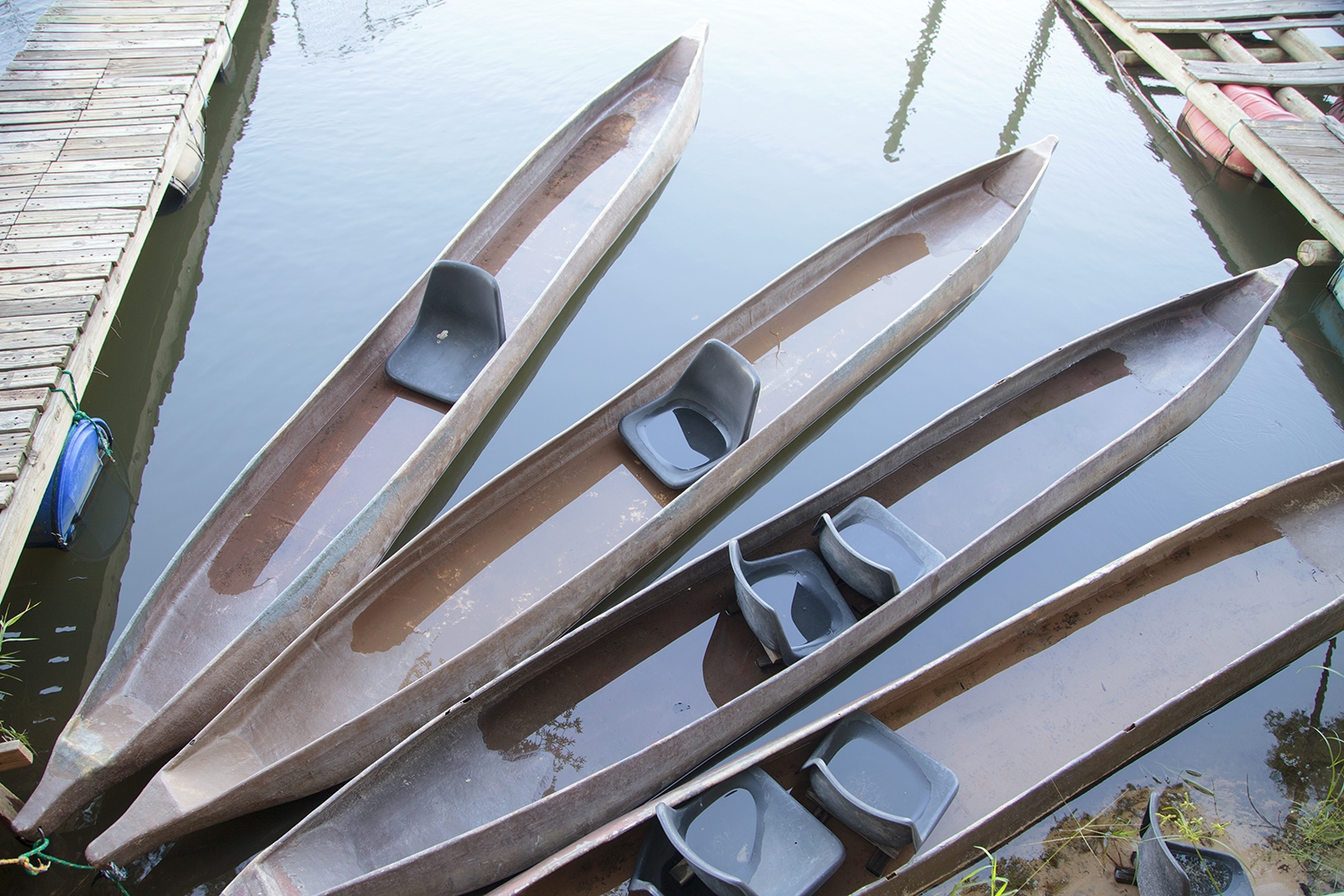 The marvellous advantage of writing or diarising is that Butch and I continually relive our adventures. Many of our conversations are rehashing and reimagining our trips which of course, inspire us to investigate future trips.
I've just returned from an invigorating 27km bike ride, and I feel energised and eager to tackle the day. Déjà vu triggers memories, and it was while I had a near fall (skidding through some thick sand on a golf cart path) I relived the hilarious scenes of our first bike ride at Ngepi.
We entered the bustling town of Divindu, where Butch went in search of last-minute goodies at the newly opened Metro store. Mayhem. Flustered, hot and scarlet cheeked, he stumbled into the sunlight clutching his parcels, having survived a bun fight trying to locate a bottle of Gin in the most chaotic store he'd ever been to. For lunch we stopped at the local deli, after filling our tanks with fuel, and indulged in a carbo loaded hamburger, something I rarely do. Very good indeed it was too.
The turnoff to Ngepi River Camp couldn't have come sooner. After many days of travelling, we were ready to settle, soak up the sun, unleash our bikes and do a spot of leisurely sightseeing. We were expecting a laid-back island-style stay.
Ngepi River camp is situated on the banks of the Kavango River right up in the north-western reaches of the Zambezi region (formerly known as the Caprivi) and borders on the Bwabwatha National Park and nearby Mahango National Park. I had visions of seeing Sable antelope, hippos, lion, leopard, buffalo, elephant and Roan antelope during our stay.
Ngepi Camp boasts enormous trees, and in between this "forest" campsites are nestled. Which means that the Honey Badger had to squeeze through some tight spots and picking our site with shade needed to be mulled over after pacing around a few campsite's perimeters.
Snaking through thick indigenous trees, we made our entrance. Hot on our heels was another group of tourists who waited while Butch parked. Thinking we would have friendly neighbours, we greeted them pleasantly only to be rebuffed. The tour leader spoke up and indignantly asked whether we had plans to remove the branch we'd "left in the road".
Taken aback, we assured them we would and searched for the branch. By Jove, the branch was practically a tree. While the sullen group watched, Butch and I huffed and puffed while pulling and dragging the massive branch into the scrub with the eventual, reluctant help of the sullen bystanders. They ultimately got fed up and assisted us. It was time for a drink.
The Honey Badger didn't get off unscathed, out came the duck tape; and soon, we had the gaping hole patched up, preventing rainwater from causing further damage.
Karma is a bitch. While they pitched three tents and a gazebo, then unpacked a gazillion crates, baskets, pots and pans in the sudden drizzle, we sat legs outstretched, enjoying the ebb and flow of river life while sipping sundowners next to our blazing fire. Cheers.
First thing the following day, we unharnessed our bikes gave them a quick once over to assess any damage. After a week of ploughing through thick sand, rutted single track roads, miles of thick brush and the odd puddle, we found them sound and ready to roll.
Namibia is a popular cycling destination. Under the strangest circumstances, we've met the most motivating people peddling away across the Namibian sands, up steep inclines and faithfully forging ahead in a sand storm along miles of ruler-straight road. Safety is always a factor; we've never felt threatened or nervous while cycling in Namibia. Seeing the countryside on a bike is very rewarding and highly recommended.
Excited by the prospect of exercising, filling our lungs with fresh air and exploring our surroundings, we set off. This would be the first time we'd encounter unexpectedly thick sand. It didn't take long before one of us would bite the dust. My history of coming a cropper is well documented and predictable. To my great surprise, I'd come around a bend on a few occasions and find my beloved arse over kettle in a bush or dusting himself off after yet another fall. Not accustomed to sandy roads, he'd engage both brakes and, well, voila, he'd go flying over the handlebars. His shenanigans provided great mirth and delight to the local children, and on a few occasions, we'd hear their distant laughter ringing out. He'd take it all with a pinch of salt, saddle up wearily and plough on.
After a good workout, we stumbled into our bathers and dipped into the unique floating swimming pool. A steel mesh enclosure with a boardwalk slap in the middle of the river. A hippo and crocodile proof float anchored in the Kavango River.
Solar power is used throughout the resort in an eco-friendly way. Our grumpy neighbour complained to management about the low voltage, which benefited us, sparing our batteries during cloudy inclement weather. (He did simmer down, and at times I'd hear them chat and impart interesting information to Butch.)
We spent three glorious days at Ngepi Campsite. Our explorations took us through villages and farmland. We explored nearby Popa Falls Lodge, stopping for a breather and a cold drink. We enjoyed an ice-cold coke at the local shabeen where possible on a few occasions.
Bathing is a thing at Ngepi campsite, and I'd shower and do my ablutions in a different outdoor bathroom every day. My favourite was the jungle-themed shower, and to relax with my weary feet up, I wallowed in the iron tub overlooking the river.
Indigenous forests line the river. Being in the shade is a balm for the soul as most campsites are under gigantic trees. This could be your chance if you've never slept in a treehouse. Hugging the riverbank, there are several "tree houses".
Ngepi, we've discovered is a favourite destination and now we know why. The staff are brilliant, the accommodations perfect, there's a different watering hole for sundowners each evening. No one should be bored with all the activities on offer e.g. gliding downstream on a sundowner cruise, showing your skills at Tiger Fishing, tag and release, of course. Game viewing, swimming, and if you like, just lazing about taking the air. Clients can go online with free wifi while sipping a drink at the bar.
We took to the road again and visited the Mahangu Game Reserve. We stopped and picnicked, sat and enjoyed the elephant herd at the waterhole and delighted in herds of plumpest Zebra, Kudus big and small, nervous Wildebeest, and large herds of Impala still in nurseries. The bristles of Warthog are always my favourite, and the ever graceful totter of Giraffe never disappoint.
Birding is excellent on the flood plains. Our list of birds was increasing rapidly, and we noted African darter, African Fish Eagle, African Hoopoe, Jacana, green-backed Heron, Lilac Breasted Rollers, Little Bee-eaters and the ever cute Kingfishers. Ahh and my favourite, don't ask why, Ostrich in the wild. Oh! I forget the cutest yellow billed Oxpeckers riding shotgun.
On more than one occasion during our stay on the Kavango river, I'd say to Butch, "I could live here." I love the climate, the vegetation, the people and the slow pace. He'd look at me with raised eyebrows knowing full well my itchy feet had places to go, sights to see and hidden gems to explore. Maybe one day when I've been everywhere on my ever-increasing bucket list.
CONTACT:
---