Lemon Grass and Turmeric Chicken Skewers
---
---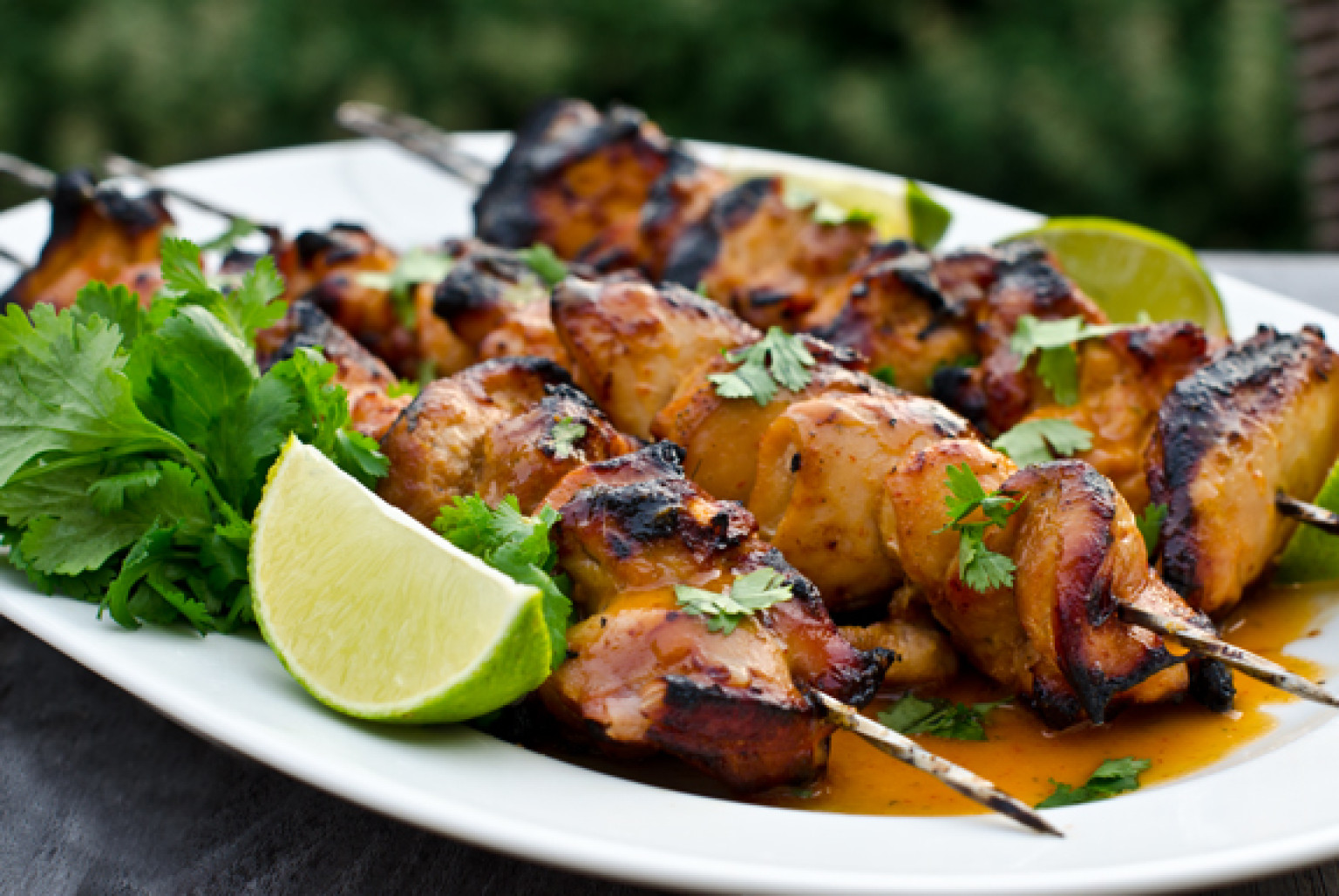 When the sun shines evenings are balmy and a perfect reason to have a mid-week celebration, light a fire and barbeque something easy, fragrant lime and delicious. Sip cold crisp green Sauvignor blanc and listen to evening sounds.
LEMON GRASS TURMERIC CHICKEN SKEWERS
(this recipe has been adapted from the original used by the Morning Glory Cookery School)

8 boneless, skinned, chicken thighs
10ml ground turmeric (use fresh turmeric if you can, 15ml fresh is always best)
65ml lemongrass, pounded
5ml sea salt
15ml brown sugar
5ml freshly ground black pepper
5ml Thai five spice
4 lime leaves, sliced (use small young lemon leaves as substitute)
6 garlic cloves, crushed
4 shallots, finely chopped (or small onions)
2 green chillies, chopped (remove pips if you don't like too much heat)
5ml sesame oil (sesame oil has a strong flavour, if another oil use a little more)
15ml fish sauce
8 wooden skewers, soaked in water for 1 hour
1 onion cut into wedges
Coriander leaves to garnish
METHOD:
1. In a mixing bowl, combine the fish sauce, sesame oil and sugar, salt, black pepper, tumeric and five spices, stir until the sugar has dissolved, add finely chopped garlic, shallot, lemongrass, chilli, lime leaves.
2. Massage this mixture into the chicken pieces, cover with cling film and refrigerate for 1 hour, the longer the chicken is marinated the better the flavours (over-night).
3. Thread one of the onion wedges and then two chicken thighs onto one skewer with another onion wedge on the end to secure meat.
4. Grill for 5-6 minutes on each side over a medium heat. On the barbeque adds a smokey flavour but can be done in the oven using the grill option.
5. Let the meat rest for 5 minutes, plate and garnish with sprigs of coriander.
6. NOTE: when using turmeric gloves should be worn as the colour dyes one's skin!
7. Serve with a deliciously fresh green mango salad.
---