Les Girls are Frenching It - Menerbes
---
---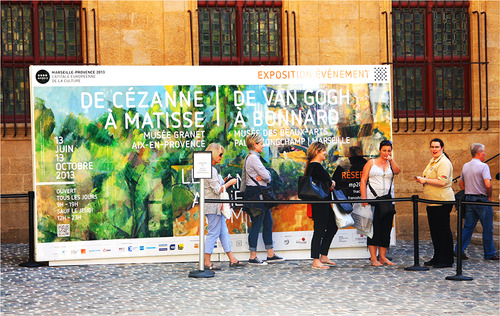 Au Revoir Paris! All too soon we had to pack our bags and make our way down our narrow staircase to our taxi to board the TGV to Avignon. Thankfully we had someone who very kindly carried our bags down those stairs and waved and airkissed us, shouting "Au revoir" to us as the door closed behind us.
At the Paris Gare de Lyon we promptly got ourselves a porter, who informed us about the protocols etc., while he loaded all our luggage onto his trolley, we followed him with a huge sigh of relief knowing we'd never have made it onto the correct platform on time. But, with us the show's never over until we're safely where we're supposed to be! So there we are following him all decked out in our Prada's and scarves and "outfits' for this historic journey. As we go up the escalator I notice that for some reason the front wheel on the baggage trolley gets stuck on a prong on the last step. With this we started to concertina and still the trolley won't budge, quick thinking made the porter tip the trolley, dislodging all the suitcases onto the platform and us hot on his heels! We went down onto the suitcases like ten pins, all arms and legs akimbo, what a catastrophe! Fortunately no one was hurt, only his pride! To let us all off the hook the train arrived precisely on the dot and we were able to embark with as little fuss as possible and before we could wish him well he hot-footed it out of there, I think he was Egyptian and couldn't get over our ungracious collapse and exposed flesh. We collapsed onto our 1st class seats in a state of giggles and promptly had champagne to calm our nerves. The very comfortable journey took 2½ hours to complete, I loved seeing the beautiful French countryside and had a quick 40 winks too, I had to be very careful as I do emit a soft purr when sleeping upright!
In Avignon we hired a car, which was not exactly what Bronwynn had ordered on the website, this one was bumped and scraped with a very loose bumper and not at all as new and pristine as she'd been led to believe, but after giving the attendant our 10c worth we loaded up and headed into the countryside to our Villa in Menerbes.
By now events were beginning to feel quite surreal to me, imagine me in Menerbes? Exactly, it's not easy, who in their wildest dreams would've thought I might ever end up in Provence in Le Petit Luberon and Menerbes, one of the most beautiful places on earth? No-one! And here I was in this picturesque village staying in the old Post office, (Arcienne Poste) now renovated and beautiful!
Marie, our delightful housekeeper was waiting to welcome us, show us around the house and make us comfortable. She also prepared a traditional 3 course Provencal meal for us, which was scrumptious and every course a masterpiece! She told us a little about the history of the house and it's restoration, and informed us that the owner was Philippe, with two peepee's! He lives in New York, his Mama was French and his Papa English. Hat's off to Philippe with the two peepee's he has style and vision and excecuted it perfectly.
We loved the Villa, it was everything we could've dreamt of and more, beautifully appointed bedrooms all with a view overlooking the vineyards below, a chef's dream kitchen, our bathroom was a wetroom (which I'm over and done with, too much water lying about), bathrooms en-suite, living rooms to chill out in, a large outdoor area with a long table for suppers on warm evenings and the piece-de-resistance, the Mayor. our neighbour, just above us right on top of the cliff, and he's not a gentleman to meddle with we were told, Monsieur Mayor is a man of principle and quite stern and if we made too much noise after 22h00 at night we might have him pour water all over us from above! We assured Marie that that wouldn't be a problem, in fact we would invite him over for a sundowner, "Non, non, non" said Marie flapping her hands about getting into quite a state, "'eet would not 'elp" she lamented, "Monsieur Mayor 'e doesn't like girls!" and she threw her hands up in dispair! "Never you mind" we told her, "in a town with only 50 permanent residents (we have 60 children in a classroom in South Africa) he would be a walk-over!" Next day she told us Monsieur Mayor was in Paris! Audrey did try her best calling him to come down from 'ees ivory tower every now and again, but it fell on deaf ears. Our first foray into the village was to stock up on Champagne 3 bottles of blush, delicious, the very next day we returned to buy 6, I bet the store keeper thought he was onto a good wicket at that rate!
By the second day we were in the swing of village life and would wander down the lanes crying out "Bonjour Madam Bonjour Monsieur" as we sassheed up and down the cobbled streets, at first Rosa who is Portuguese, the local tobacconist and publican gave us the evil eye but soon enough she mellowed and smiled, I did try my Portuguese on her one morning when I slipped in for a coffee, but she was unimpressed. On two occasions we enjoyed a nightcap there too and had the pleasure of meeting some of the locals. One who was rapped over the knuckles by Audrey when he asked her to kiss him (on the cheek) and she replied "I'm not French kissing you!" he was quite taken-aback and assured her it was only to be three times on the sheeks! We declined a round of drinks from the locals on our first visit, but assured them we'd be back the next evening after dinner, of course they didn't show up!
Our days were spent relaxing, walking, talking, eating, drinking, savouring the tastes, sounds and sunshine of the beautiful valley and the Luberon. We did road trips to many of the surrounding villages like Apt, Bonnieux, Lacoste, Gordes, Roussillon, Fontaine de Vaucluse, Oppede-le-Veux, Saignon, Avignon, Aix-en-Provence. We found Le village des Bories too. All have their own unique characteristics, flavours, charm and beauty. I was overwhelmed by the art, the beauty, the attention to detail, the friendly people we met, although it had a lot to do with the fact that I was with 4 gorgeous girls who charmed and smiled and showed an interest in every person they met. We spent a Sunday strolling through an antique market, delighting in all the treasures to be had and bought our supper there too.
We soon had our clocks ticking to local time and slept later, got ready at a more leisurely pace and also managed to only make an appearance when everyone else did at 10o'clock in the morning. Gwen managed to read her book on the rooftop patio too.
Both Gwen and Che did a sterling job with the driving and navigating, Lesley and Ana were crooners of note who sang and hummed and accompanied the iPod beautifully. Not many wrong turns were made and when we did it was a blessing as we'd see something unexpected. That is the joy of not having a GPS I think. We enjoyed a picnic in the forest, had dinner at a very very special restaurant in the village, and a bottle of MUM, we loved the pizza at the local Pizzeria and fell in love with the waiter's dog! It was here that I admired a beautiful dress and had the shop assistant follow me around like a ghost, I wasn't Pretty Woman, but she thought I wouldn't cut the nod on the price I'm sure. On the last day I marched in grabbed the dress, whipped out a credit card and nonchalantly said " I'd 'ave 'eet Merci Madam"!
Ahh before I forget we met a charming Irish gardener in Oppede le Dreux, where Pierre Cardin has a house, who wrote "Two suitcases and a dog" called Finbarr Mac Eion (aka Owens) a really charming raconteur, who fell in love with Lesley and whispered in her ear that she was his favourite! She blushed and giggled all day!
Marie prepared a second meal fit for a queen, to celebrate Gwen's birthday, she had streamers up, balloons and a poster on the window saying "happy birthday Gwen Do Lynn"! We had a beautifully laid table with lovely crystal glasses from her home, candles and linen table napkins (of course). Once again she'd pulled out all the stops and we could just sit back and relax and enjoy her Provencal cuisine. Marie certainly makes the best creme brulee in the world. I loved the many courses, the gorgeous olive pesto on crostini, the mellon balls wrapped in Parma ham, a delicious beef casserole, the best Rattatoulle I'd ever tasted, the selection of cheeses was to die for and the desserts just amazing. She served lovely Pastis and Marachino cherries, baked figs, fresh figs and many other regional dishes, and beautiful fresh fruit and tomatoes which she has growing in her garden. Just before we departed she presented us each with a gift of dried lavendar in a sachet, done with so much care and love. She assured us she'd be "'appy to ave us stay, but she knows we ave usbands at ome'!" We would love to have her come to South Africa to give us cookery classes, imagine that? I'm sure it could be a hit! We will certainly be adopting the French way this summer, serving cheese and bread after the main course and then the desserts, and what's more, now I'll be able to have all the Queen of Tart's desserts as I'll make two courses of them too! So brace yourselves!
We did the Ligurians (we called them Troglodytes) at Le Village des Bories in Gordes Vaucluse and even saw a vision which surely must've been a Trog, which is a rare sight indeed, as you know the French are so groomed, and well-dressed both men and women, and that very evening we got dressed down and had ourselves a fancy dress party! Just the 5 of us!
Every evening I'd find a chocolate or small gift on my pillow from Gwen, clever, well thought out gifts which made us feel so special, and then one morning outside my bedroom door a beautiful card wrapped in ribbon with a sachet of tissues inviting us to dinner and a movie that evening. We sat down to a lovely French leg of lamb served with gorgeous vegetables and wine. Afterwards we made ourselves comfortable on huge pillows and watched the golden oldie "Moonstuck", what a treat, I must admit I did fall asleep once again, but, enjoyed the tea and birthday cake at interval!
"Only dull people are brilliant at breakfast" that's what Oscar Wilde said, and we found that out one morning when we ethusiastically asked our Cretan waitress for the breakfast menu, she burst out laughing and couldn't stop, explaining that they were just ordinary people and had a simple kitchen and no breakfast was possible! She did manage to russle up a few Pain chocolat and Croissants though, but certainly not a hot English breakfast, that would've been ludicrous!
This very special time ended on Saturday when we once again caught the train in Avignon back to Paris. I nearly lost my teeth once again, as I missed the step whilst getting off the train, but by then who cared, my Pradas are still bouncing on my nose and the very quiet Frenchman reading his book probably put it down to the Bubbles. At least it broke the ice with the very snooty lady sitting behind us, she asked me where we were travelling to and I found out she's from Marsaille on her way to her flat in Paris for the weekend, imagine that?
We arrived to a very wet Paris, our driver holding his placard, we made it to the airport just in time for a last bottle of French bubbly, weighing in my very over-weight luggage was a mission, and then boarded our plane back to South Africa.In the taxi we chatted and I said I did have my reservations about the success of such a trip, imagine; 5 girls, two weeks, many personalities, many quircky habits, menopause, hot flushes, set in our ways etc., but not once did I feel irritated or frustrated, I just loved every moment, re-kindled old friendships and really enjoyed making new ones. Gwen is a stunning friend to have, one of the best, and she can organise, gather her troops and lead the way like Bonaparte. Ana, Che and Les are just divine and it was my priviledge to have met them and first prize of course to be included on such an epic trip. Ana was our commic relief, Les our crooner and wordsmith, Che, knows what she wants and how to get it without mincing her words, which we all needed when we negotiated odd things; and I was the irritating, forgetful photographer trying to record our trip! We were the fabulous five – Steel Magnolias, Le girls Frenching it!
We promised ourselves a reunion either in Clifton or in the Karoo, I sincerely hope it materialises before we all get back to our busy lives. My wish is to have our boys join us as I often wished my Precious could've been there to enjoy the wonders of France and Paris. 'Opefully 'ell get my drift and oo knows maybe one day we'll be barging on the Canal Du Midi!
Au revoir mon amis,
---