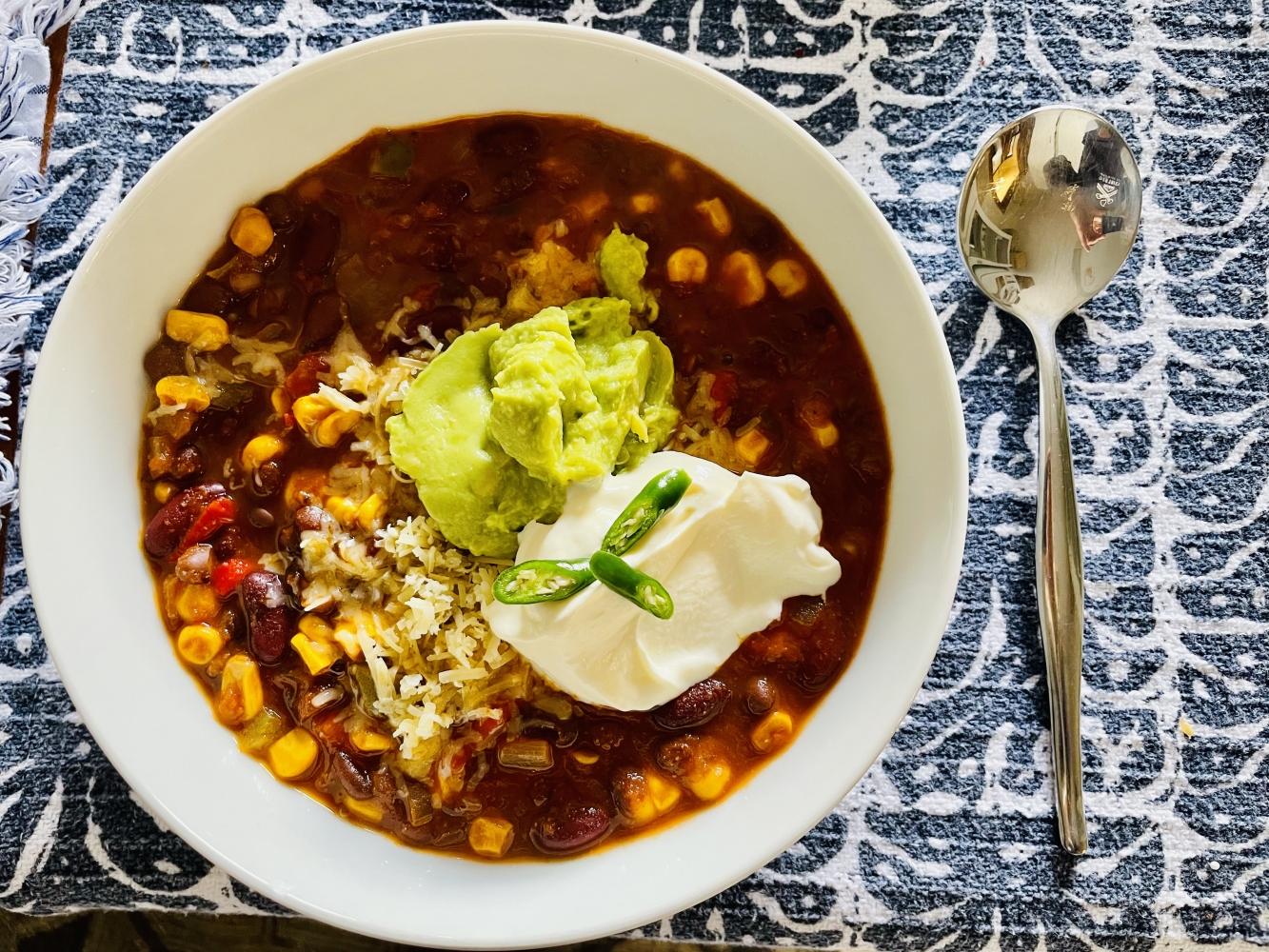 The weather's turning, and we need a quick fix.
There's no time to beat about the bush. I'm ready and packed, just waiting for Butch to finish up at work. Seeing as we're in for a spell of cold weather, I thought I'd give you this quick recipe for a really good, simple chowder/soup. It's vegetarian too, depending on how vegetarian you are, of course.
Warmth or spiciness can be turned up by adding your chopped chillies, pepper, cayenne pepper and then cooled down with a good old dollop of sour cream, grated cheddar cheese, and guacamole. It's avocado season now; they're reasonably priced again; plus, there are delicious ready-made guacamoles available in the stores too. Freeze them to use later, or take them on your next trip—Show stopper time when you whip them up as a dip or condiment.

VEGETARIAN MEXICAN BEAN SOUP
2 x 400g tins red kidney beans
2 x 400g tins black beans
15ml olive oil
1 red onion, chopped
2 garlic cloves, chopped
2 green chillies, chopped (remove the white membrane and seeds if you're not into too much heat)
5ml cayenne pepper or chilli powder or smoked dried chilies (I used both)
15ml cumin power
15ml ground coriander
10ml mixed spice
2 x 400g chopped tomatoes
1 tin tomato paste
750ml vegetable stock made according to instructions
1 red bell pepper, chopped
1 green bell pepper, chopped
1 tin corn kernels
A handful of chopped parsley
Grated cheddar cheese
250ml Sour cream
1 punnet guacamole or 2 avocados mashed and seasoned with crushed chilli, lemon juice, salt and cracked black pepper
One lime cut into quarters to squeeze over individual portions
Extra fresh chillies to cut for extra heat.
Method:
In a large saucepan, fry and saute the chopped onions, add seasonings, chilli and garlic. Saute for 2 minutes then add tomato paste and tomato pieces. Saute for a few minutes. Add the chopped sweet bell peppers. Add stock and bring to boil. Simmer for 30 minutes. Add drained beans and corn and simmer for a further 10 minutes. Top with chopped parsley.
Serve your soup, add dollops of cream, grated cheese, guacamole and lime juice.
Serve with garlic bread, stone-ground bread or crispy Nachos.
There you go. The ingredients are mainly stored-cupboard ingredients and can be packed for camping or self-catering holidays away.
This recipe is my take on a delicious bowl of Chowder I enjoyed in Sayulita, Mexico.
---