Meditteranean Baked Tomato Salad
---
---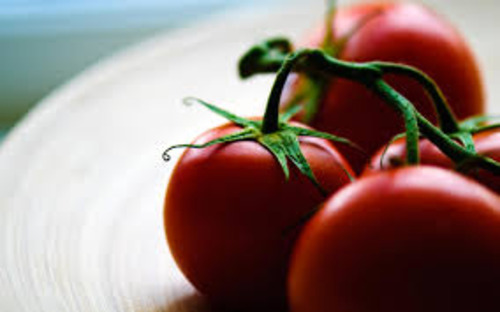 Nothing beats a beautiful plump sun-kissed bright red Rosa Tomato, in our house they're a staple and this recipe is a winner for it's versatility and simplicity. Use a variety of tomatoes.

Pre-heat the oven to 220°C
On a lined (line with baking paper or tin foil) baking sheet spread out a large punnet of yellow, red and green Rosa Tomatoes, whole garlic cut into ¼'s unpealed, add 2 handfuls black olives de-pipped, 3 wheels of Feta cheese broken into large chunks, sprinkle with 15ml brown sugar and drizzle Olive Oil (lavishly) on top, bake until tomatoes and garlic is nicely roasted. Remove from the oven. Add a large handful of torn basil leaves, dress with reduced balsamic vinegar and a squirt of olive oil for shine and to re-fresh, season with freshly ground black pepper.

Serve at room temperature on a gorgeous platter with bruschetta or break French bread, delicious as a snack with wine or as a salad.
Add Red Bell Peppers cut into large chunks for variation, Portabella Mushrooms or aubergine can also be used. But do not have more that a 2cm layer of vegetables in the baking pan. Oven must also be well heated so that the vegetables don't draw water. This salad is really simple, it's all about the tomatoes.
Bon appétit
---