Moon On The Water - Where a Simple Life Comes Together
---
---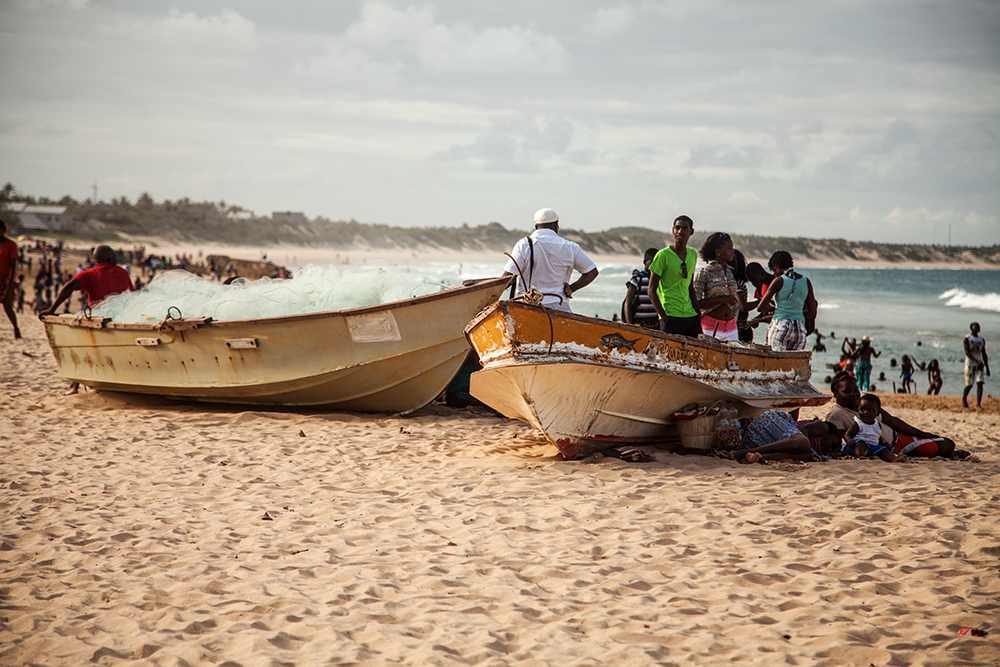 As soon as the furniture is arranged on the veranda and the long table is placed against the railing I sit down and feel my shoulders drop, my neck becomes looser and the tension flows like blood through my veins out through my toes. I can breathe again, long slow inhalations, in-out, in-and-slowly-out and then my eyes close and all I hear and feel is the sea. That's what Tofo does for me. It takes just two days before I say "Precious, you know what?" of course, with me he'll never know the answer, so I say "this place is magic"! Lua No Mar – Moon on the Water.
It's a simple fully furnished two-bedroomed 1950's cottage with only the bare necessities, and that's exactly what we love about it. Our routines are very simple too, walk, eat, sleep, imbibe, read, chat, sit and that's it! This year was a highlight as two of our children joined us, but that didn't really make a difference, we didn't change a Mozambeat. As one sign says "Eat, drink and be Mary"!
This is the place of no make-up, no hairdryer, no pretences; it's a place of red, yellow, blue and me looking like the wrath of God on most days. My wardrobe consists of a couple of bathers and wraps, cheap-cheap flip-flops, an old straw hat and cheap but gorgeous sunglasses. In the bathroom you may find some indulgences, shower gels, body butters, lotions and potions, hair treatments and after sun gels. Many are gifts from people who've obviously seen the writing on the wall!
Good meals are important so I do take good Olive Oil, tea, coffee, Milk, chocolates, nuts, condiments, herbs and spices, good wines, good Balsamic vinegar and a few store cupboard staples and treats, cheeses like Cheddar, Brie, Gorgonzola, Camembert, goat's cheese, some yogurt and delectably creamy Greek Feta. Rusks of course, cookies too and Christmas cake. I confess I did slip in some white napery, candles and flutes too and for Christmas crackers and ribbons. I couldn't resist a very special Birthday cake for my boy on the 26th either and crates of bubbles for all the festivities and Precious' birthday.
Meals are simple affairs, salads and fresh fish from local fishermen. A standard price is negotiated at the beginning of the holiday, this time it was 160 Metical per kilo (R57.54). We enjoyed Butter fish, Lemon fish, Yellow Fin Tuna, Cutta and Calamari at that rate. King Prawns on one occasion, but prawns aren't as readily available in December we've found, instead we have scrumptious oysters instead. Also available are mussels and clams.
The Tofo Market is a landmark, always a-buzz with hawkers and stall owners selling everything from curios to clothes, fresh vegetables and fruit, alcohol at very reasonable prices, long-life milk, bread, eggs, cigarettes and I'm sure everything else in between too. A lot of bargaining takes place here, confidence, gutzpah and sheer determination will always get you a bargain, but have your wits about you it's a mind game with aggressive opposition! I love it although I do walk off with a headache most of the time! Wooden fish are a particular passion with me and I never leave without one at least, the last one weighed a ton and was beautifully made by an artist in Tofo.
It would be amiss of me not to mention the pan-handlers ranging from children just out of nappies selling beads and bracelets to teenagers selling sunglasses, coconuts and clothes on the beach. They're a determined lot, not easily dissuaded from their selling pitch and always hopeful tomorrow will be a better day. I succumbed to a smooth operator a "Ray Ban" wearing youngster with attitude who promised to deliver 5 Pau for 25 Metical (bread rolls @ R8.89) every morning for the 3 weeks, the deal was sealed after much negotiation and persuasion on his part. I smelt a rat of course when he lit up a dooby (joint) but his good looks and charm sealed my fate. He was conscientious for 10 days delivering our Pau every morning at about 6am and then he evaporated like mist before the sun. Payment was upfront of course!
Every day at about 11h00 we'd wish there was someone selling Tipo Tinto infused cocktails, R&Rs, (Rum and Raspberry), beer, cold drinks or water on the beach, we even went so far as suggesting bathers could have flags signalling a barman who'd then come hot-footing it over the sand to make deliveries. Imagine a Pau filled with greens, freshest Roma tomatoes and cucumbers and the famous local grilled piri-piri chicken from the market for lunch? An entrepreneurial young girl did start selling frozen lollies which was a great idea and I'm sure she did a roaring trade, only problem she was South African and I'd like to see local entrepreneurs doing it instead. Maybe next time we're there someone's planted this seed from me!
Tofo's appeal for us is it's relaxed laid-back atmosphere, it's wide selection of fresh fish and produce, the market, the people of course and last but not least it's eateries, bars, hotels and wide ranging accommodation choices. This year we were spoilt for choice, the Hotel was one and all the eateries in the market were just perfect. Mozambeat was jolly and the walk makes one feel less guilty about the indulgence.
Google "Tofo" and "what to do" there and this will come up: Scuba-diving, snorkelling, fishing, wind surfing, surfing, body boarding and swimming with sea-horses – making this a much sought after destination with travellers coming from all over the world. Here's a little secret, I'm a great eaves dropper and love dropping eaves especially in restaurants, Precious knows this and has been known to give me a good kick under the table when I get that glazed look and stoic smile so, to hear French, Italian, Egyptian, American, Spanish, Greek and Portuguese all in one room is just music to my ears, not that I understand anything it's just so COOOL.
We are extremely conscientious about taking our Malaria medication – Malarin or Mefliam as prescribed. The house is sprayed inside and out with FENDONA (a non-toxic insect spray) and at dusk I spray our bedrooms with Doom diligently even under the beds as Mozzies love the dark. We don't use Mosquito nets but they're available on all the beds. We use coils, citronella candles and Peaceful Sleep lotion (au-de- peaceful sleep in our house is the perfume of choice). In Africa, 500 000 children die each year from Malaria.
PRODUCTS USED:
• CLARINS – Extra-Firming day/night creams and Blue Orchid Face Treatment Oil
• REDKEN – Diamond oil Shampoo, Moisturiser and Deep Facets treatment.
• BANANA BOAT – Suntan lotion
PLACES WE LOVED:
Hotel Tofo Mar – for Sundowners, Christmas Buffet, Hamburgers
Mozambeat Motel – a swim, sundowners, meals under the trees, quiz nights
Branko's – great food, great atmosphere
Concha's – landmark, best piri-piri chicken
Tofo Tofo – good pizza
French Restaurant – Como de Mer - good food, amusing waiter!
Sadly the very very best food, wine and ambience is on our veranda at our Long Table.
GETTING CONNECTED:
3G Data cards are available at the Market, they're cheap but WiFi rates are quite expensive considering that we used 6 GIGS in no less than 3 weeks! Maybe a Gig in Mozambique and a Gig in the rest of the world isn't quite the same thing! Also be very specific and reiterate DATA!
A few of the restaurants, Hotels etc., have free WiFi access just ask for the code.
DISAPPOINTED:
Dino's – no service, such a shame as it's such a landmark, hopefully all will be well in the not too distant future.
Casa Na Praia – no service
Fatima's Nest Backpackers – thumbs down for the thumping music until 4h00 in the morning, this went on for a week every night.
BIRTHDAY CAKE:
Melissa's Candy Cakes
BEST WAVES: Tofo and Tofinho
BEST DIVES: Diversity
SNORKELLING WITH SEA HORSES: Barra Lake & Sea
+258 82 734 8943
Website: www.ambriafrica.co.za
Email:
OUR CELLAR: BC WINES - Worcester
PLACES TO STAY: Look no further
LUA NO MAR
Tel: +27 828081173
Email:
---