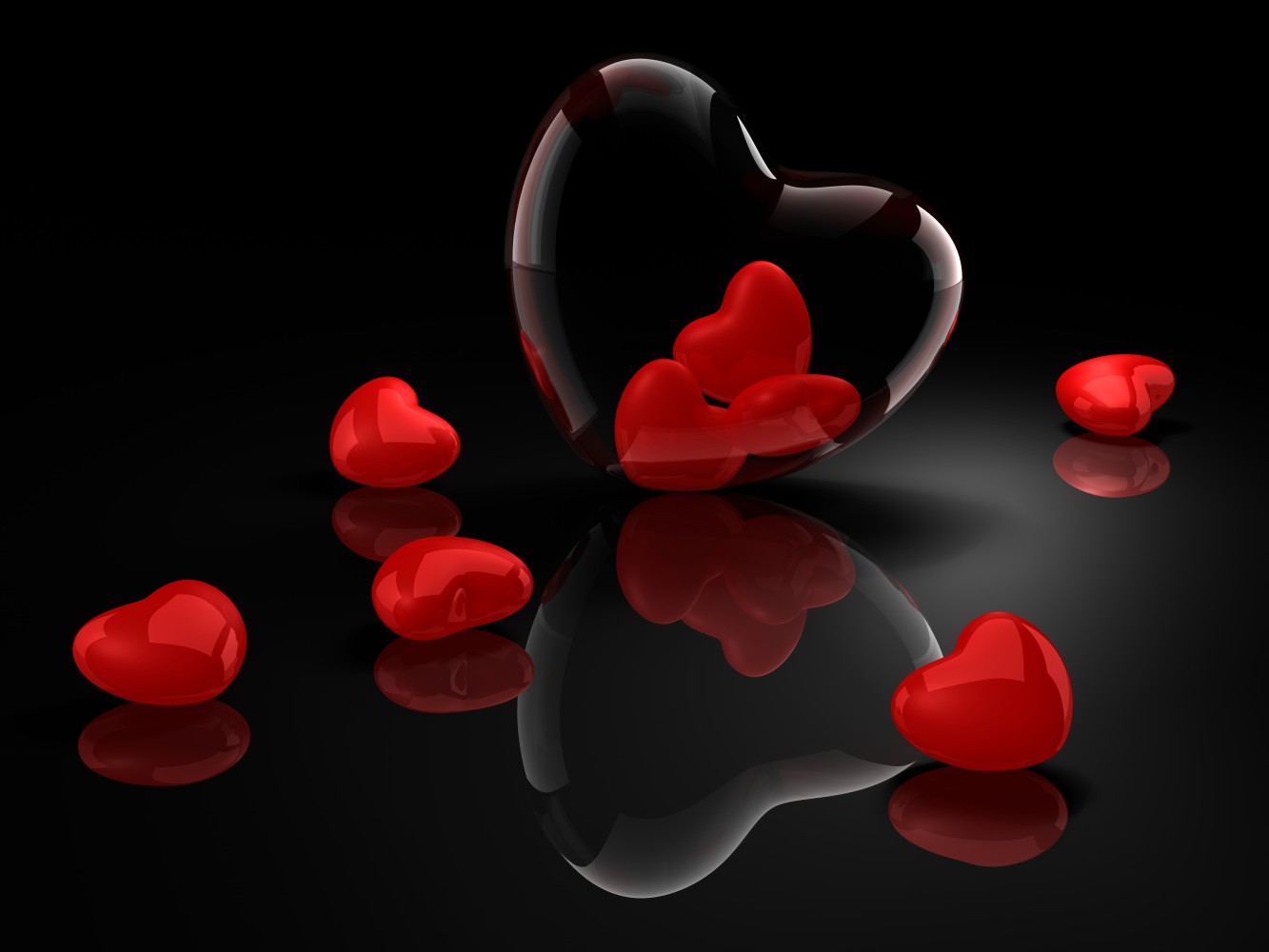 Like minced beef I forced myself into my new contouring spandex figure-hugging petticoat and sexy, lacy, red bra, a birthday gift from Precious when I was a size smaller but had no need of support, as we were camping in a rooftop tent in Xai-Xai, Mozambique, a decade ago! On Saturday evening my red dress was a tad tight and had to be smoothed over my "hips" and my décolletage revealed much to be desired! The minute I pushed my no 7's into my stilettos I started wobbling and walked like a Geisha with bound feet. This did not auger well.
(listen to the video I've inserted, it'll get you into the mood for love and maybe you'll fall in love a little bit too)
But I get ahead of myself , this happened after a lovely day spent City Sightseeing on Cape Town's Red hop-on-hop-off bus. From a menu of choices we chose the blue route around the Cape Peninsula. We collected our tickets from the vibrant ticket office in Long street. The vivacious lady at the counter greeted us enthusiastically, making sure we "got" the rules, " no ticket no go!" It was the perfect day for travelling in the open-top double decker bus. I was amazed by the driver's skill at negotiating us around the tight corners, winding lanes and steep declines along our route.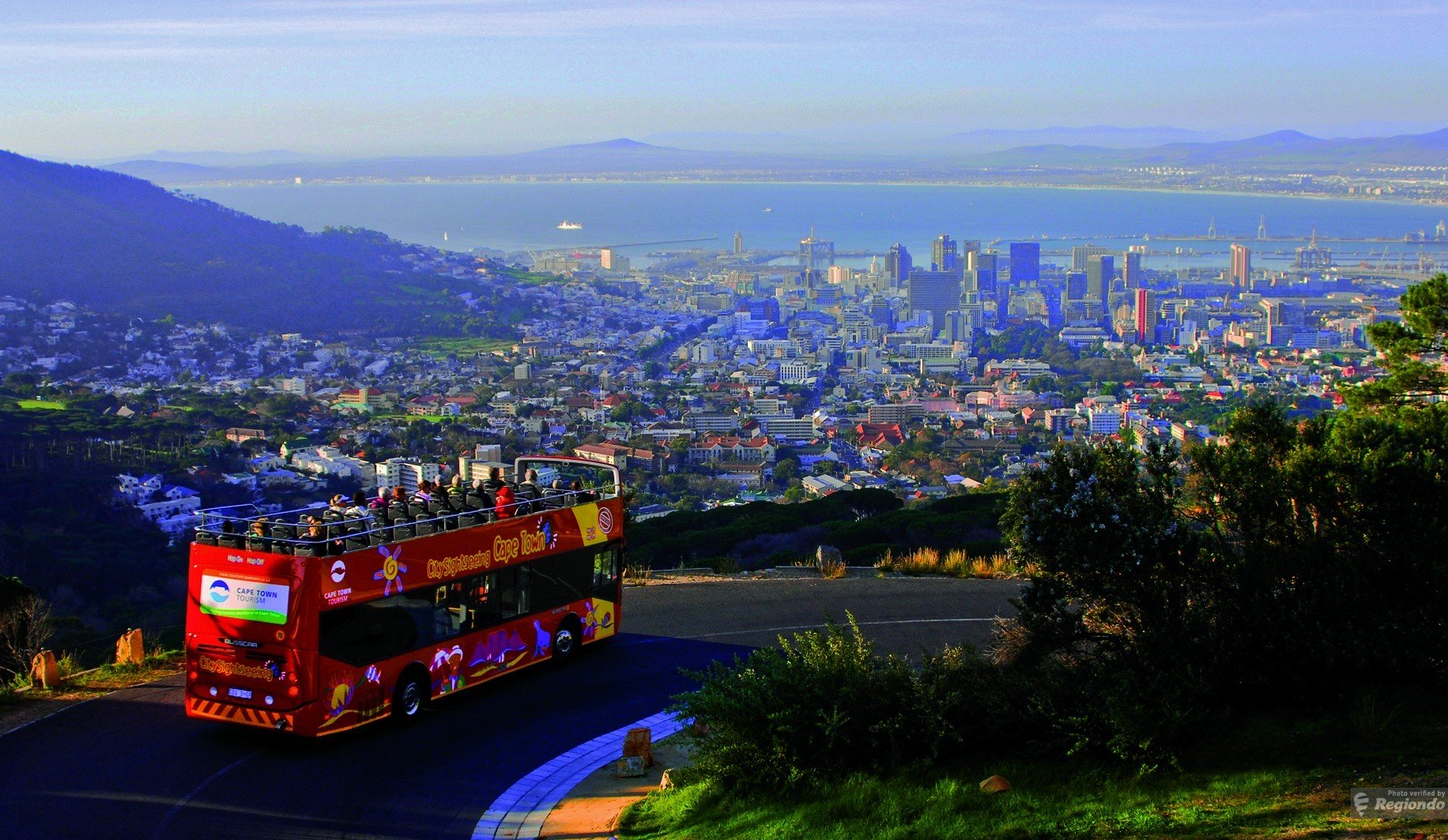 We alighted at the Kirstenbosch Botanical gardens, strolled around and admired the exhibition in the hall, walked the sky walk, aptly named "Boomslang" and got right up close to the tree tops. The pristine gardens are a joy and it was wonderful to see so many families enjoying an alfresco picnic on the lawns, feeding the many Egyptian Geese with chicks or the Helmeted Guinea fowl, playing games with their children or just taking a nap or reading a book. The Sunbirds were plentiful and even I could identify them.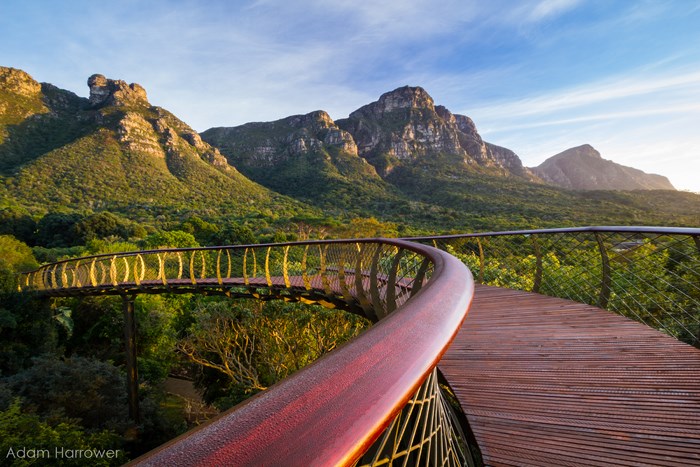 It was time for wine tasting so off we went to Groot Constantia for that. Being in the vicinity of Kloofnek road was like turning back the clock, the Chapman's Peak restaurant must be the only establishment in the country still sporting it's 1974 regalia, from the unkempt, overgrown garden to the waiters who were young men back in the day. The dining room looks as it did for a Valentine's Ball in the 60's, dark and uninviting in black and red with thin paper serviettes! Precious regaled me with stories of his matric dinner in 1966, which was held there, telling me how the girls got "tipsy" drinking the non-alcoholic champagne his Dad had donated for the occasion! Fat chance of that happening today! We both enjoyed a light lunch; crispy fish and chips for him and calamari done in the classic way, a light crispy batter. I couldn't eat the limp, slightly warm "side salad" it really looked like garnishing recycled from plate to plate.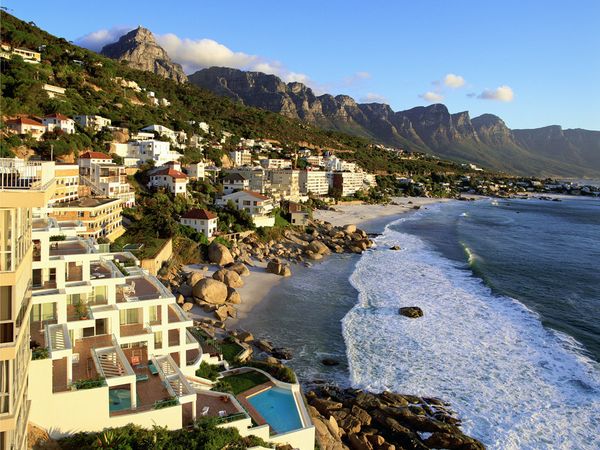 The journey on the bus gave us a glimpse of Cape Town as a tourist would experience it and I must confess Bantry Bay and Clifton's 4th beach with the huge white yachts moored in the cove did impress. I was in awe of the magnificent mansions with their fabulous views and almost envied the couples on the promenade walking their groomed pooches on long leashes. Our last stop was the Waterfront to have a cup of coffee at Mellissa's before we hopped on for the last time. The friendly driver stopped a short distance from the Mount Nelson, just a hop and skip from our Guesthouse.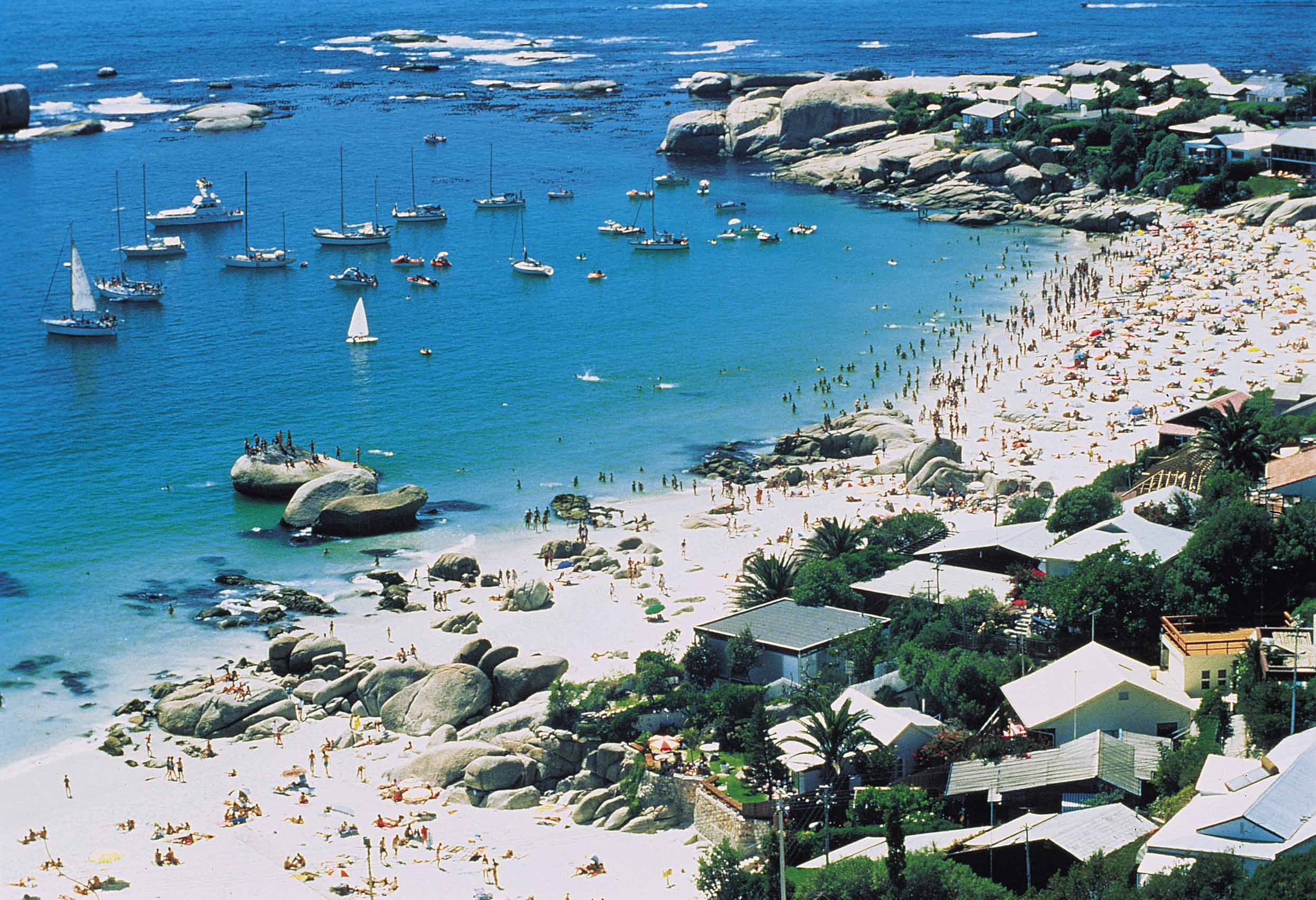 I highly recommend this attraction, as it will orientate a new visitor to Cape Town and for returning visitors a reminder of long forgotten spots and a good idea of what's new will be established. The ongoing commentary is very informative, educational and topical, even the African inspired music played in between commentaries is good and tourists can choose from the 16 language commentary. Of course I didn't take any notice of the warnings regarding the ruthless African sun and only noticed my charred forehead when I was applying my make-up later that evening. Fortunately Precious got many compliments for his multi-coloured patchwork hat from Thailand and his pate was spared. I do have the motorbike and sidecar tour on my bucket list so we'll be back.
Tel: 021 511 6000
Long Street Tour Office,
81 Long street
Shop 5.
open daily from: 09h00 to 17h00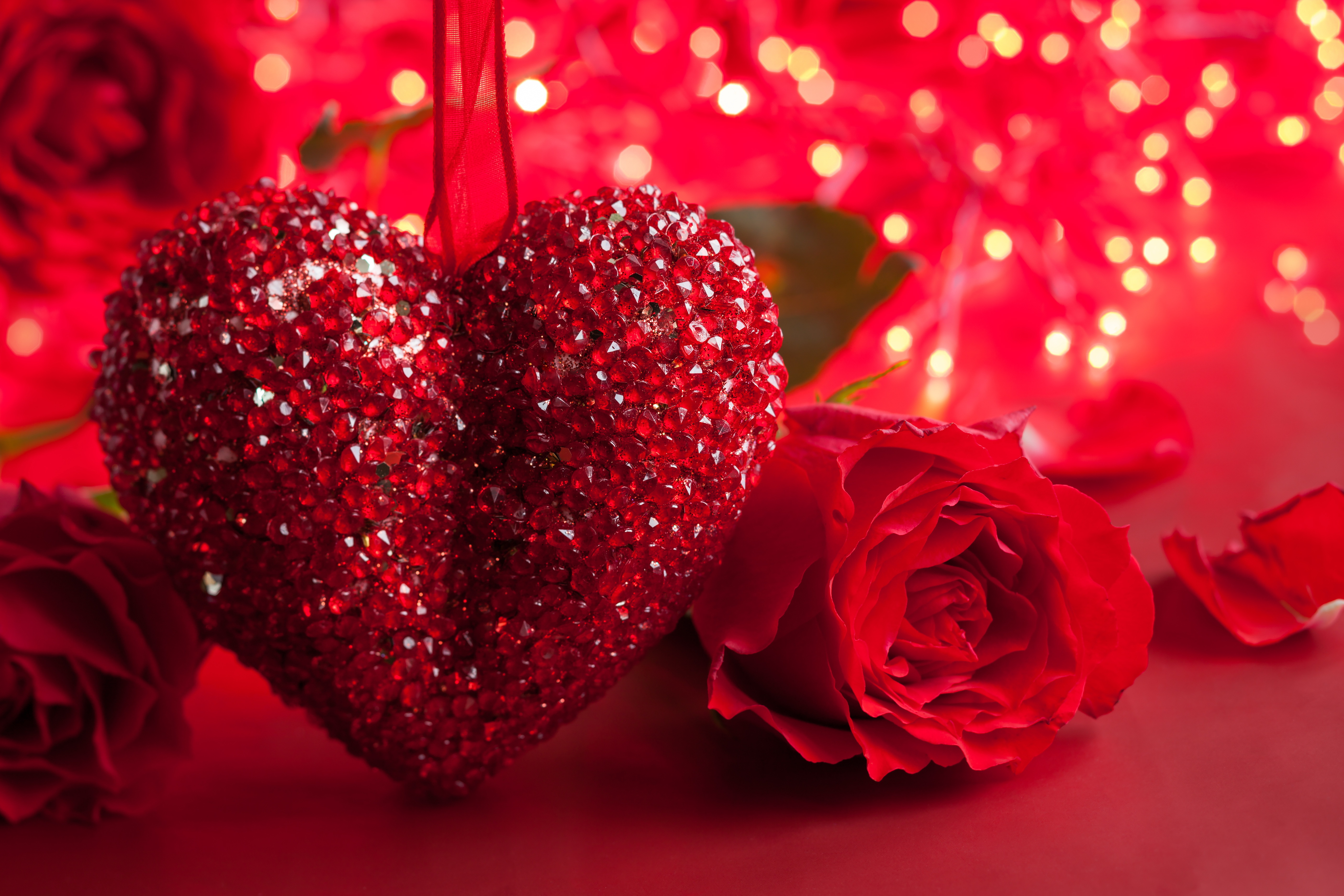 Saturday evening was party time and we celebrated in style at the home of a very dear friend. That's where I got my carpet burns. In a very unladylike manner I missed a step and went down like a ton of bricks clutching my flute of bubbles, the silver cutlery and Precious' very sharp knife, which I'd just used to carve the fillet with, and my vintage plate. I saved my dinner, broke the flute and prevented serious damage to my arteries. I landed on my knees and fortunately not flat on my face, saving my front teeth, thank goodness. That was my cue to kick off the heels and do some drumming and Karaoke when the fantastic five piece band took a break. Precious joined us on the dance floor, hence his buggered knees. We left shortly after the witching hour, my Beloved as sober as a Judge!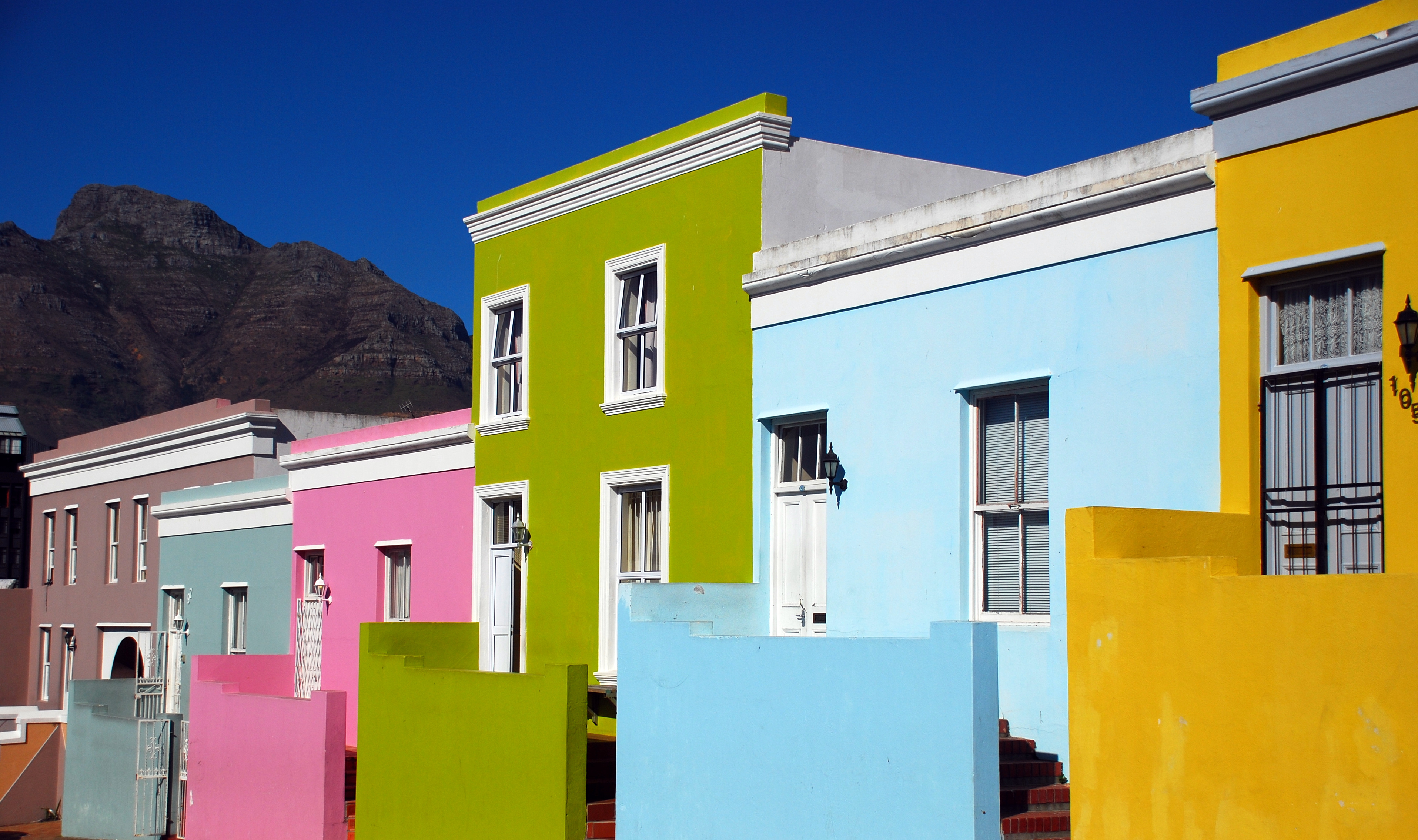 There's no mercy for the wicked and I was awoken before I'd had all my beauty sleep, giving us ample time to visit Rose street in the Bo Kaap where we photographed the colourful Malay cottages, a sight to behold. This re-fuelled my desire to paint our cottage a bright liquorice-all-sort colours. Local residents are very tolerant of tourists and carry on with their day to day lives without being at all fazed. Boys were playing "ice hockey" and cricket in the streets, men were washing their motorcars and busy housewives were delivering treats to neighbours.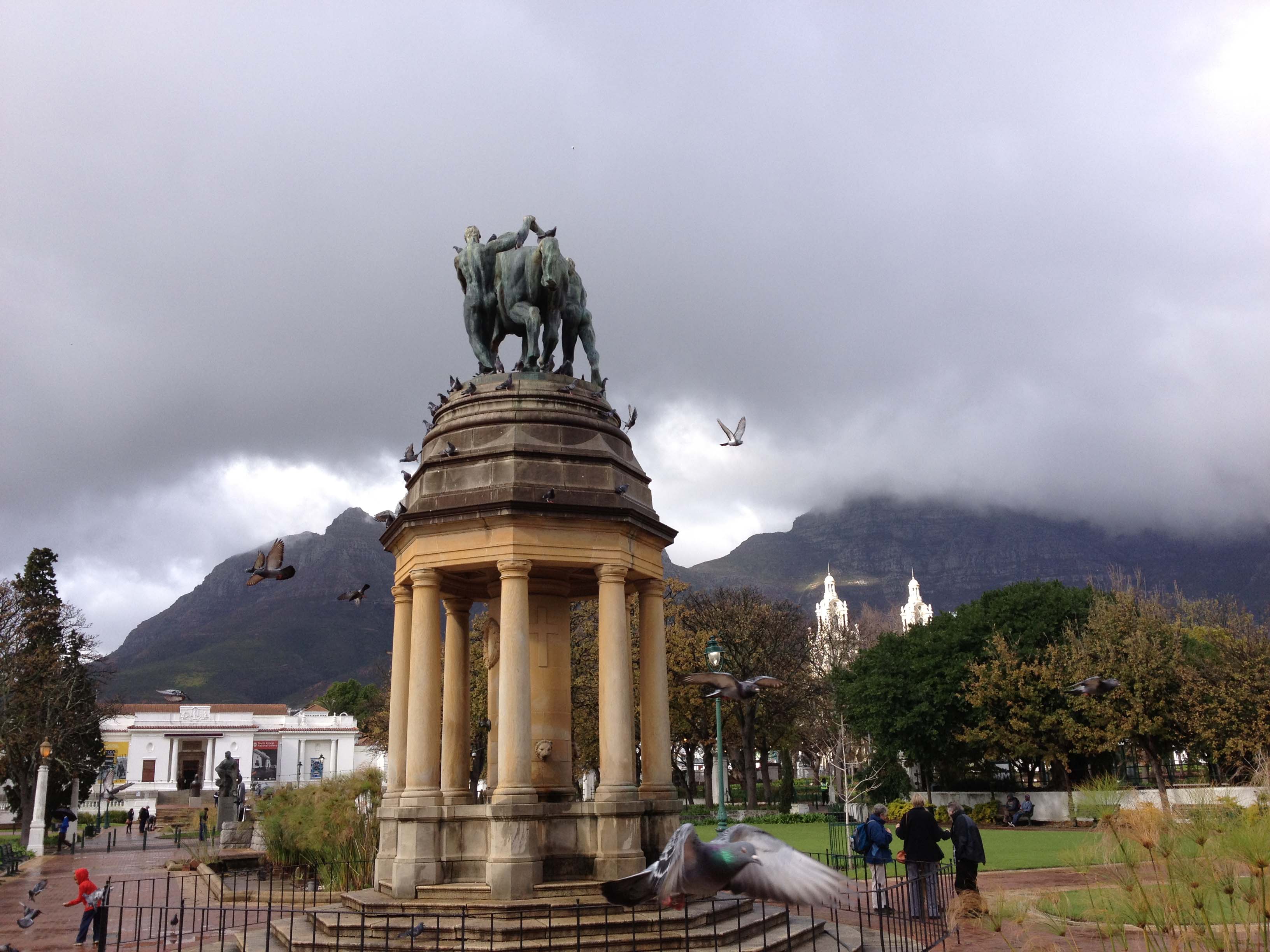 Our last stop was the Holocaust museum in the Company Gardens. There's a vegetable garden now replicating the original Company gardens of Jan van Riebeeck, a reminder of the much larger gardens at Babylon's Toren in Paarl, but that's a trip for another day. Once again I was impressed by the numerous families from all walks of life who enjoy what's on offer. I was reminded of taking my boys to the Museum, the Planetarium, looking at the bronze soldier on horseback and them feeding the pigeons. How time flies. All South Africans should visit the Holocaust Museum at least once in their lifetime, a reminder to us all of man's inhumanity, greed and his capacity to hate and murder. I'm glad I went and admire the men and women who devote their time and energy so lovingly to educate us.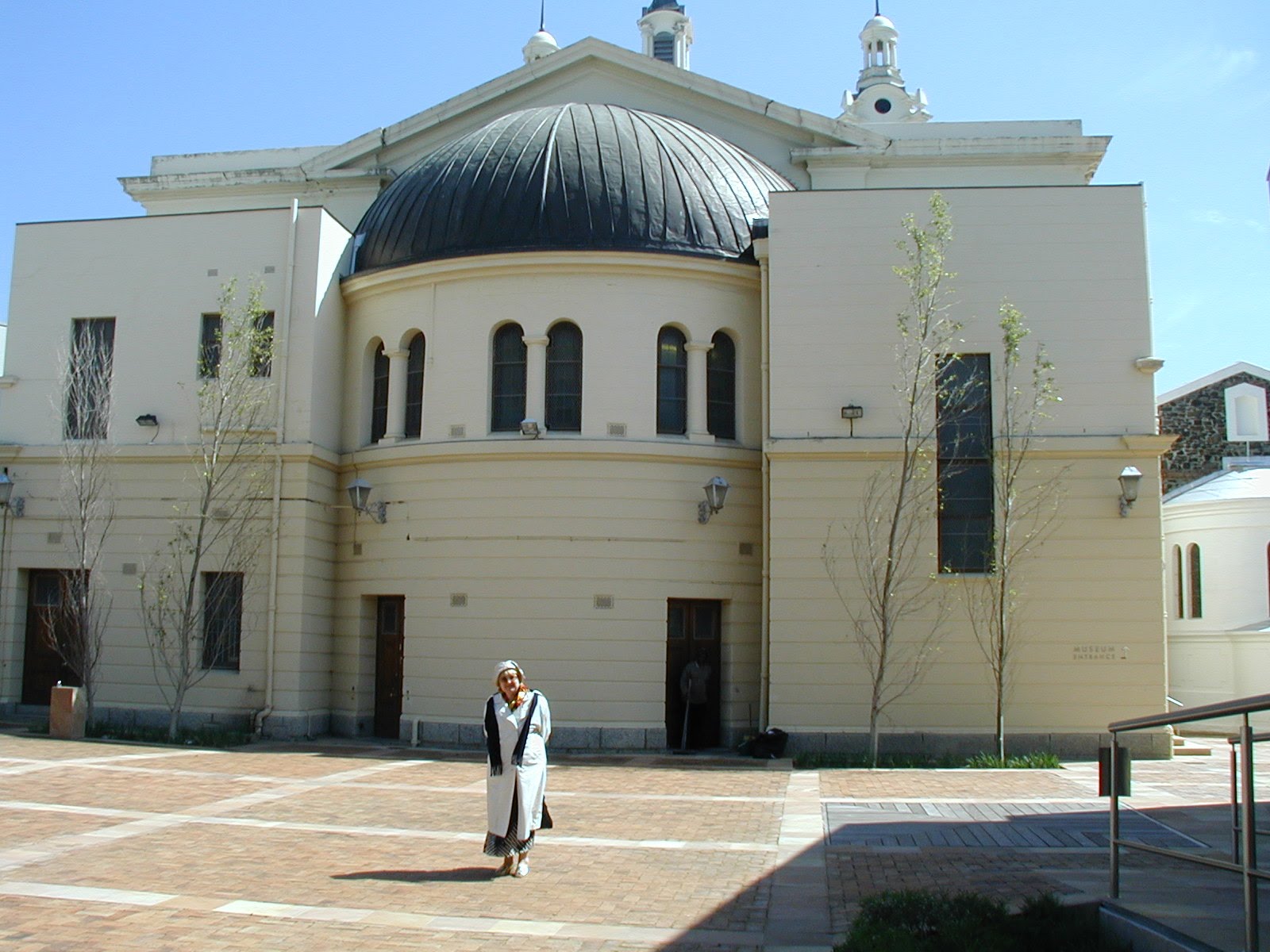 "Monsters exist, but they are too few in number to be truly dangerous. More dangerous are the common men, the functionaries ready to believe and to act without asking questions." ― Primo Levi
And I always remember these words: "For the dead and the living, we must bear witness." ― Elie Wiesel
Imagine being so anonymous that: "They'll never know we were here." ― Danny M. Cohen, Train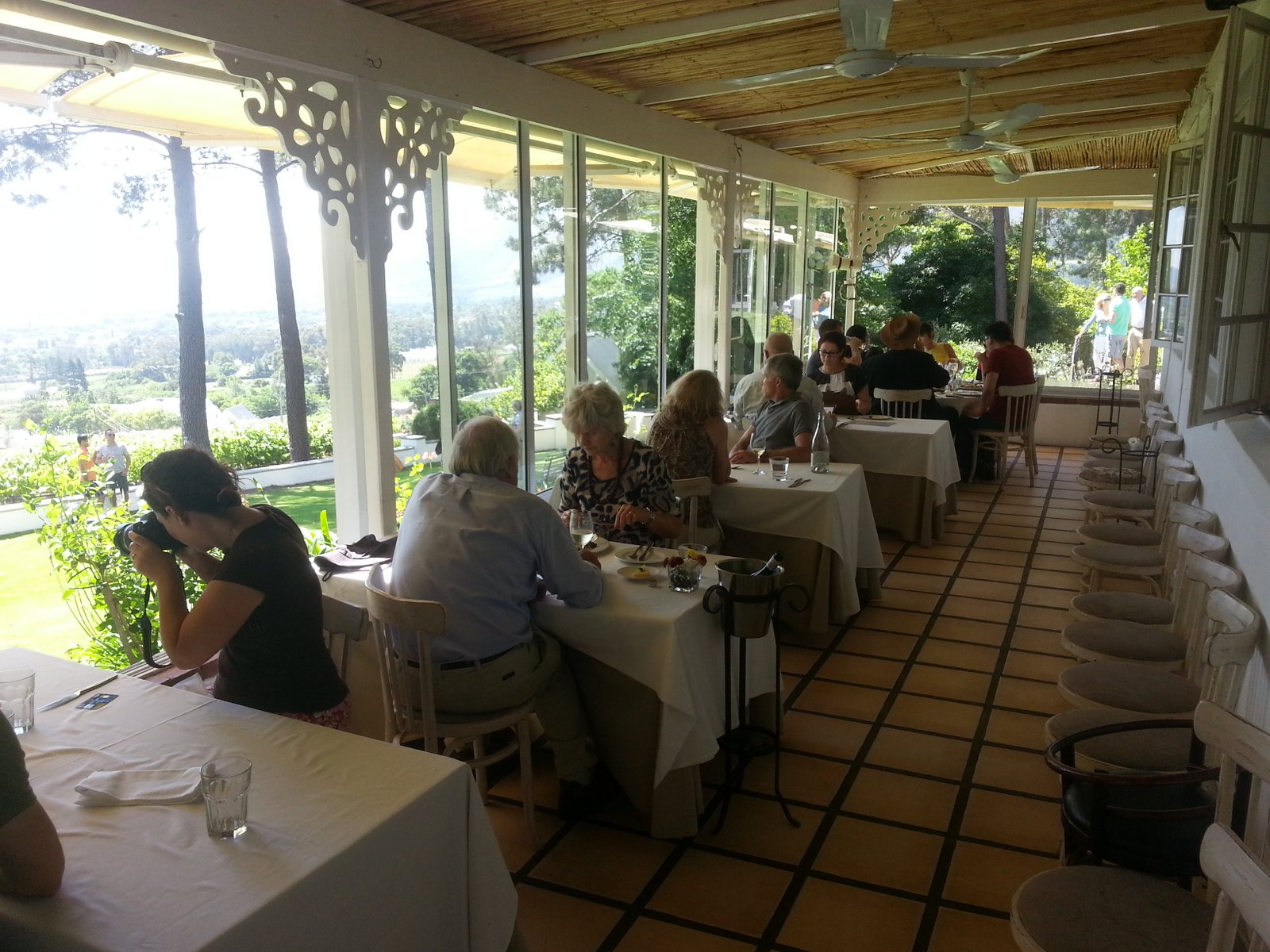 Sundays are the best days to visit and spend time with friends and family. It was impossible to find a reservation at many of my favourite restaurants but fortunately we were able to make a reservation at La Petite Ferme at the foot of the Franschoek pass. I was delighted as our 14h00 appointment allowed us enough time to end our visit to the Company Gardens at the Tea Room before heading in that direction.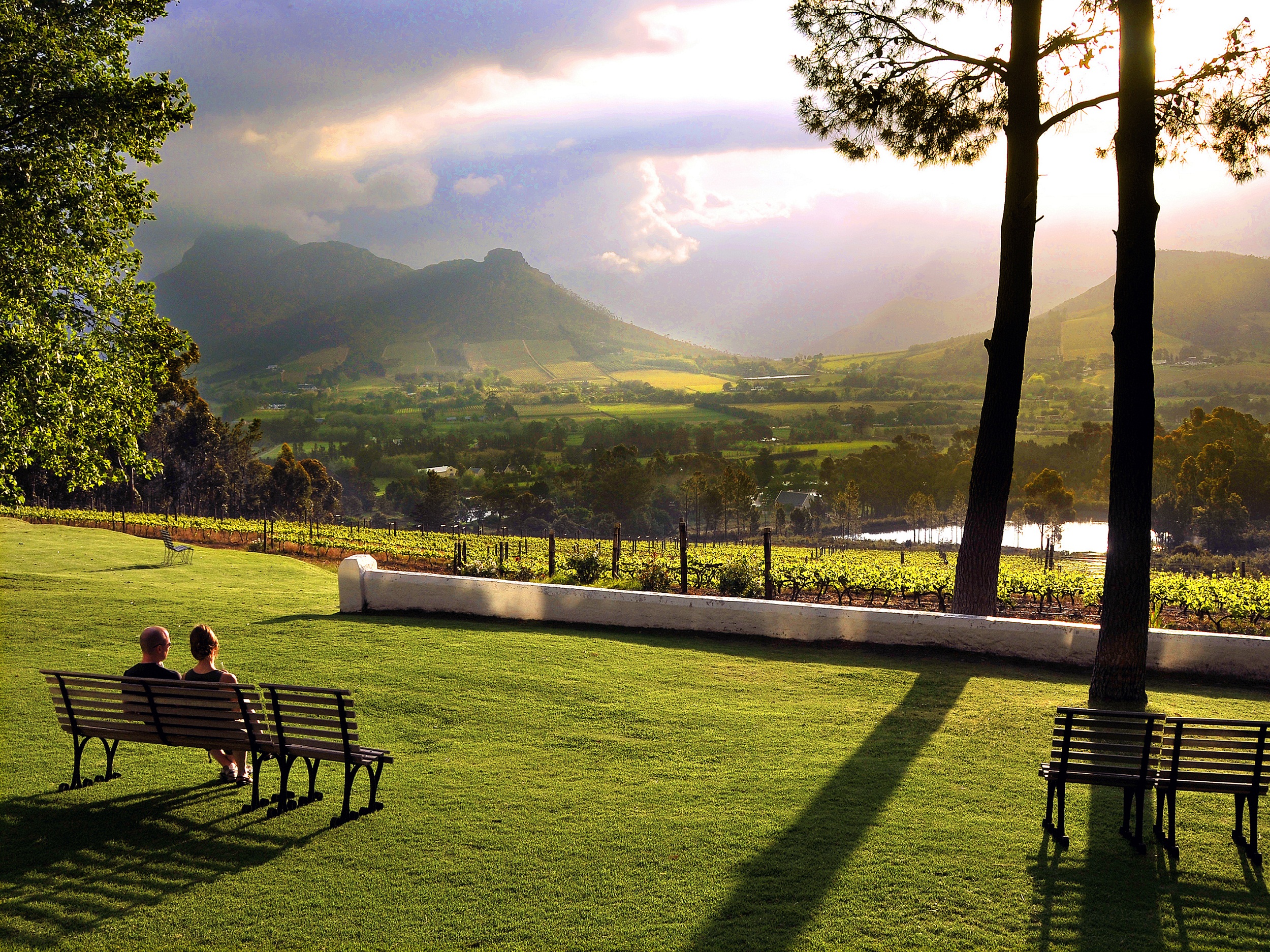 We love La Petite Ferme with its beautiful views of the valley, the friendly staff, the delectable menu and stunning desserts and our favourite Morena Cuveé Catherine Methode Cap Classic. Due to the high demand to be seated outside we were seated inside, which was fine as we were able to open the windows for a cool breeze. Our selection was the Duck Liver Pate and Fishcakes for starters, both were excellent, the mild curry sauce served with the fishcakes was delectable, I could easily have run my finger around the bowl to clean it up. My main course was the slow roasted leg of Lamb wrapped in Aubergine with baba ghanoush, prepared the Syrian way. The other was roast Springbok, beautifully prepared with just the right rich Jus. I had the poached stone fruits with an Italian Meringue, perfection on a plate.
The perfect location and breathtaking views prompted a lively conversation about our Democracy and the horrific events at SONA2015, our Overlander, land redistribution and politicians which led to our decision to return to Mana Pools in Zimbabwe, which is going to be the Ace of Spades in our deck of cards.
La Petite Ferme,
Franschhoek Pass Road,
PO Box 55, Franschhoek, 7690,
South Africa
Tel: +27 (0)21 876 3016
Fax: 086 720 6284

www.lapetiteferme.co.za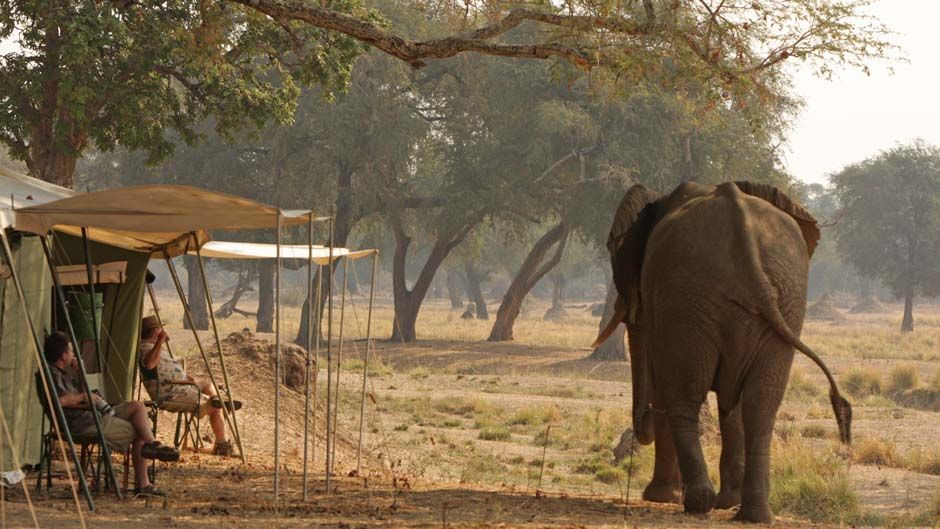 I snatched a quick 40 winks in the car coming home, what an amazing experience we had. We are truly blessed to live in the most beautiful, complicated, multi-faceted, mixed up place in the world.
On the off-chance we happened upon a movie called The Kid, the harrowing account of Kevin Lewis, a severely abused boy living a horrific life with his dysfunctional family, who thankfully, overcomes his circumstances to become a well known crime writer. 8/10
If you've enjoyed this Blog and would like to receive weekly notices please just "subscribe". Go on do it! Everybody is.
---