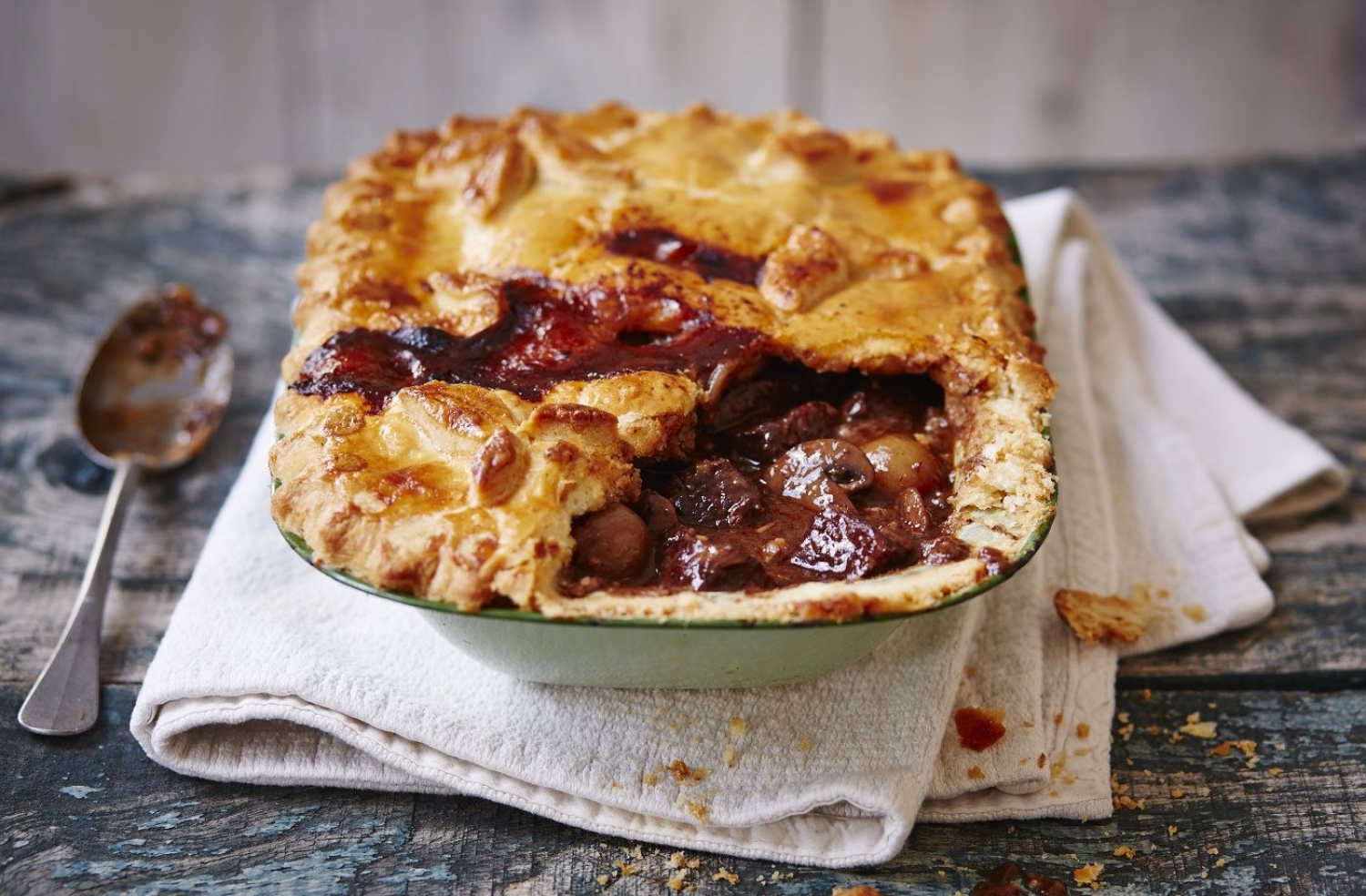 We thought the pie was delicious. Butch's mouth has been salivating for something like this for a while so I thought "Well why not?" I didn't make my pastry but bought a ready-made Puff pastry instead. We all have our favourite one, I like using the Woolies All Butter Puff Pastry Sheets. It always works well enough for me. Serves 4-6 or makes 2 lovely pies, one for the freezer.
2 large onions, roughly chopped
Salt and freshly ground black pepper
10ml Brown sugar
850g matured, boneless beef Brisket, bolo or thick flank cubed 3cm X 3cm
1 lamb's kidney (optional, it's merely for flavour for Steak and Kidney Pie use at least 4 Lamb's kidneys) split the kidney, remove membranes and fatty bits
375ml Beef stock, hot. (Use 2 beef stock cubes or liquid stock)
30ml Balsamic Vinegar
30ml Cornflour
60ml water
45ml Tomato paste
30ml Worcestershire Sauce
2 sachets ready-made Pepper sauce
10ml Dried mixed herbs or herbs of your choice (e.g. thyme)
1 punnet button mushrooms, sliced
30ml Butter
Season with
5ml dried chili flakes
10ml freshly cracked black pepper
5ml Maldon Salt
METHOD
Pre-set oven to 130֩C
Cover the base of a heavy-bottomed saucepan with the chopped onions, season with salt and pepper and brown sugar. Add the cubed beef and then the kidney. Pour hot stock over the meat and onion. Add balsamic vinegar. Cover with two layers of tin foil tightly pinched down. Place in the oven and simmer for 3 ½ hours until the meat is tender.
When the meat is fork-tender remove from the oven, remove the tin foil. Thicken the jus with cornflour mixed with water.
Add tomato paste, Worcestershire sauce, seasonings, and Pepper Sauce. Please check the seasoning and add more pepper or a dash of chili if it leaves you cold!
Leave to cool down to room temperature before decanting into a pie dish.
Sauté the mushrooms in butter over a high heat not to draw water. Remove from the heat and season with salt and pepper. Cool down. Spoon on top of the meat.
Insert a small ramekin, half-filled with water into the center of the pie dish.
Roll out your pastry onto a floured surface. Roll out to fit the pie dish with a good overhang as the pastry will shrink with baking.
Leave to rest in the refrigerator of 30 minutes while the oven heats up to 200֩C. Bake on the middle oven rack for 30-40 minutes.
This recipe is inspired by an original recipe by Ina Paarman. I do trust her recipes.
---