Panning Flamingoes At Sunset
---
---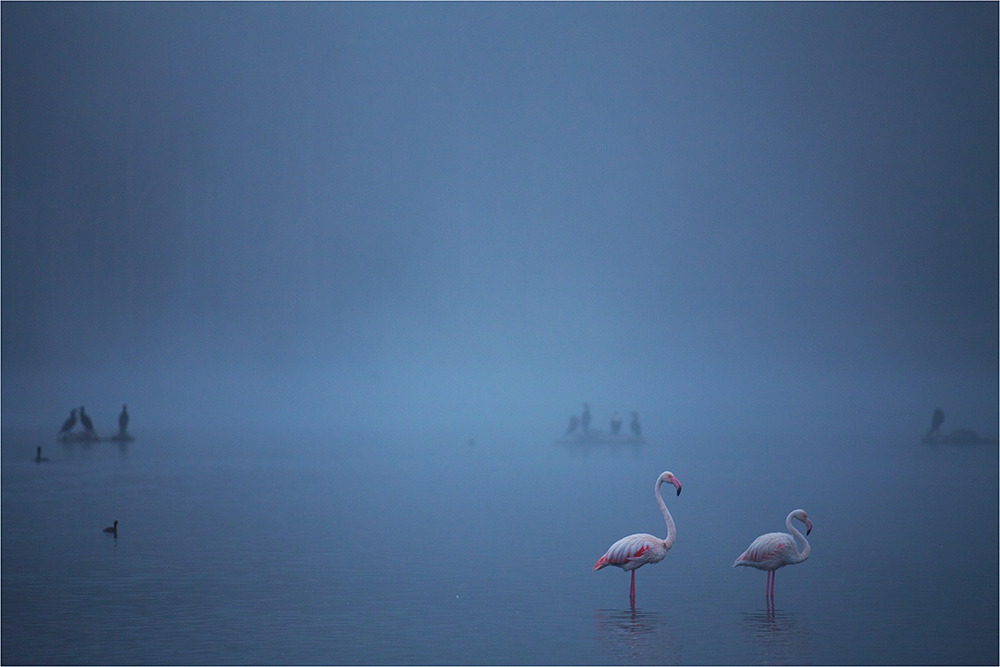 Mist is a great medium to work with as it creates an eerie atmosphere, ideal for photography and landscapes in particular. I loved the stillness and tranquillity the mist seemed to create on the salt pan when we went at dusk to see the migration of the flamingos from the one side of the lake to other. The large flock of birds we'd encountered last weekend seemed more dispersed with smaller colonies all over the lake. The flight at 6 o'clock was nothing to rave about either, but I loved it and tried to capture this solitary, quiet, tranquil landscape with my photographs.
An unexpected sight I found at the beach on Sunday morning, instead of a deserted landscape I was astonished to find the beach quite busy, people walking and playing with their dogs, children in the lagoon fishing, skimming and generally just having fun. The colours were quite different a more sombre tone almost monochrome, although none of the photos are monochrome, I managed to capture the effect. If I could recall the tune I'd have hummed Play Misty for Me.
In the morning I thought landscapes would do, shooting at 25mm using a small depth of field at f 22, trying to get the shutter to slow as much as possible. I might've used a filter to slow things down a little more but wanted to keep all the movement as still as possible. My ISO was set at 100. The glare on the beach was particularly bright, but I under exposed to compensate.
On the whole I like what I got and I'll definitely be going out more often to use the diffused light caused by mist. The mist lingered all day and only lifted on Monday.
"The storm starts, when the drops start dropping
When the drops stop dropping then the storm starts stopping." Dr. Seuss.
Please leave a comment if you'd like to.
If you've enjoyed this blog and would like to receive weekly updates just "SUBSCRIBE"!
---