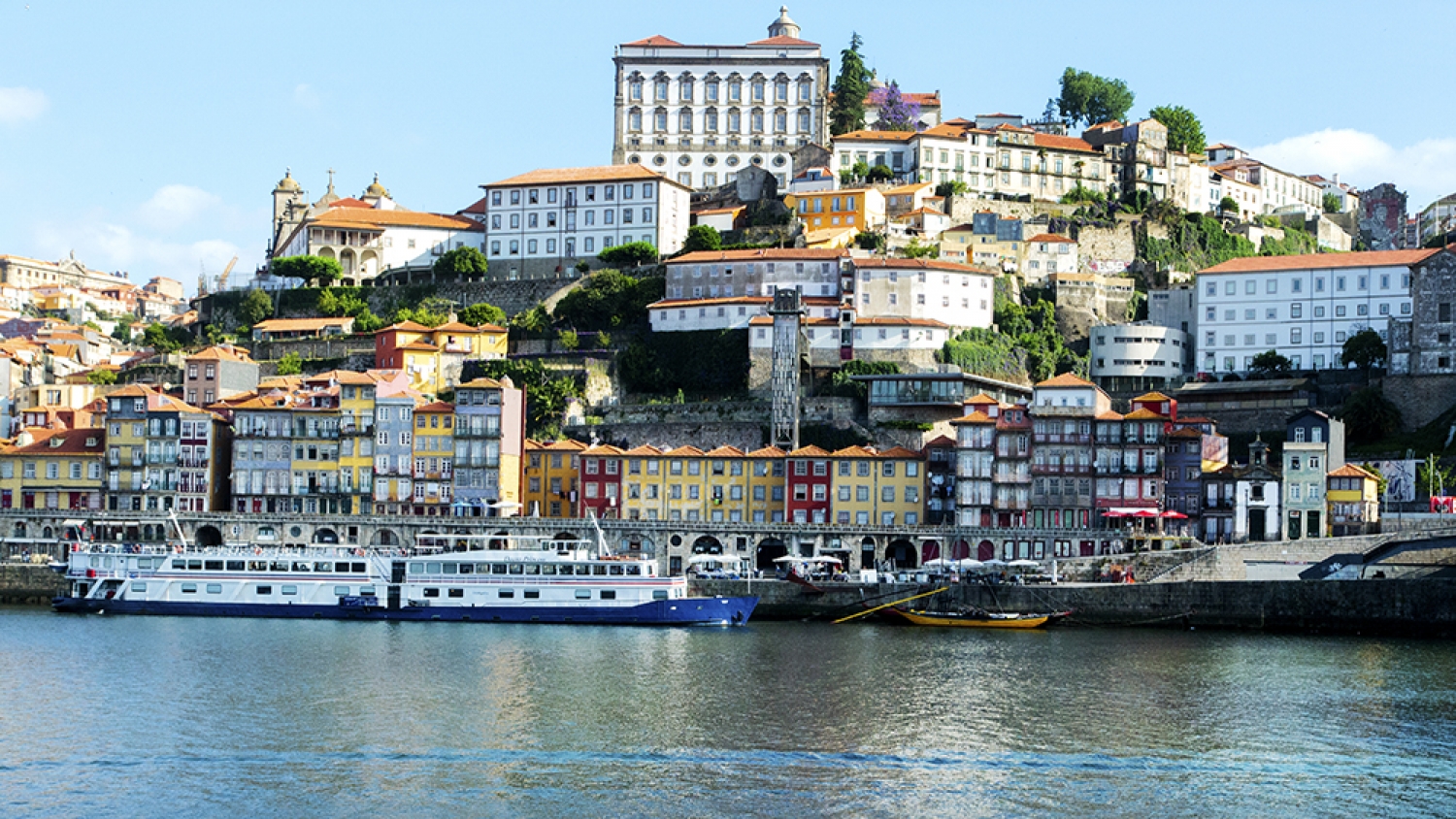 Four nights in Porto is all I could squeeze into my itinerary. My love for Portugal is a genetic thing. It's not skin deep, I'm wired to love that slip of a Mediterranean country hemmed in by Spain on one side and the ocean on the other. My aunt lived in a tiny fishing village south of Lisbon, Caiscais, where Fado music is often heard in cafes and bars, my Dad fell in love with it and even Butch has a pipe dream of selling Piri-piri chicken on the street, little does he know, there are no chickens in Portugal and piri-piri comes from Mozambique, in bottles, never the less it confirms my natural attraction!
In my minds' eye I've always imagined Porto to be a little bit like Stellenbosch, maybe it's because it's a university town or that it has a river (the Douro) running through it or the vineyards, cellars and the atmosphere created by being so close to the earth. This small yet important city oozes character, its opulence is romantic, swaying with a rhythm that comes alive at night. Beautiful, rich in history, colourful and vibrant. It surely must be the Ruby in Portugal's crown.
Not much has changed here in the last couple of centuries, maybe the local dialect has changed or the young ones are a little more sophisticated, but the older generation still till the land and are the keepers of the bustling fresh produce market and sunburnt, hardened men bring in the catch of the day. Bells toll in Cathedral spires, little boats bring in shipments of liquid gold in Port-soaked oak barrels. Trams, trains and funicular are still favoured modes of transport and the local bookshop is now far too big for its boots, being the centre of attraction since it's quaintness has become so popular. Cafes serve dark syrupy coffees and delicious, Pastel de Nata, a milk tart baked in a buttery, golden flaky pastry, with a slightly burnt topping. Oh, it's heaven on the tongue, each baker guarding her great-grandmother-8-times-removed's secret recipe to the death.
I was there to wait for Lise, my daughter, from Canada, the perfect place to spend a few days before our grand trek began. But waiting for me, was my very dearest friend Megan, all the way from England, she would be my companion, guide and roomie, she simply loves Porto and has spent many memorable holidays exploring the city.
We'd hardly settled and it was time to set off to see the sights, take in the magnificent architecture, snoop around the morning market, take a deep breath at the river Douro and walk the maze of narrow streets. In the beautifully decorated and adorned cathedrals, churches and tiny wall niches I thought of my loved ones and lit a candle. The soft whisperings of the faithful filled me with hope and restored my faith in our human race. The aged still pray for peace, forgiveness and find comfort in their daily routines, they are filled with joy and acceptance.
Summer was upon us in full force. I couldn't be happier, I was travelling with a backpack which limited my wardrobe to a few T-shirts and shorts, one black dress, a scarf, a pair of flip-flops, my hiking boots and last season's bather. As the days got hotter we realised it would be best to do as much sight-seeing early in the mornings, late in the afternoons and during the long evenings we'd saunter out for a gourmet meal.
Our accommodation was really cool, we stayed in the centre of the old town, just a few blocks from the Metro, the market, the old station and the river. An old building, renovated and modernised we loved our apartment with its clever use of colour, minimalist furnishings, comfortable shower room and adequate kitchen with a stove, refrigerator and Nespresso machine. The apartment sleeps two adults, but a sleeper couch can easily sleep an extra guest comfortably. The Manager, Diogo Braga, of Oporto Local Studios in Almada Street, was worth his weight in gold, he was there to greet us when we arrived, tired and hot at 15h00, all smiles he quickly showed us around, gave us some good tips on what to see and supplied us with an excellent map.
Diogo sent me a link to download their App which was a great help in orientating myself beforehand, gave excellent suggestions with up to date directions and ideas to make a Porto stay worthwhile. As often happens some of Lise's luggage got lost and had to be delivered, Diogo organised everything, from contacting the airport and courier company to arrange the delivery date and the drop-off point as we'd be on our Camino de Santiago by that time. We couldn't be more pleased.
Megan and I are foodies, she is after all our Queen of Tarts, and we enjoy really good food, local food and our dining experiences are highlights whilst traveling. On her iPad with all the right Apps she went about looking for suitable eateries with gusto and made reservations at two excellent restaurants, one was Tapabento restaurant, a fine dining restaurant in a slightly "colourful" neighbourhood the other was a tapas restaurant on the riverfront, a favourite haunt JIMAO TAPAS E VINHOS RESTAURANT. Our table outside, a very desirable spot, a sweet vase of flowers propping up a little black board with Megan's pedigree welcomed us to our table! Both meals were "Muito excepcional, de fato". On one of our daily walks along the embankment I persuaded her to lunch at the fishermen's local eatery, Tasquinha D'Ouro which was loud, busy and boisterous, we had soup of the day, the local fish dish and half a dozen Sardinhas, as one does in Portugal, served with boiled potatoes and a typical garden salad. I loved it and it was as cheap as chips! Breakfasts were a Croissant and Coffee, and always a Pastel De Nata in a special Cafe or bar near the apartment. Lunch would be on the hoof wherever we found ourselves, preferring to seek out the most popular joint favoured by the locals.
Two doors from our apartment was our favourite sorveteria (Gelato) serving delicious ice-creams, we had to stop, being good neighbours and all we felt it necessary to support local business too! Having a siesta is obligatory and we know why, besides being hot and humid days are long and one must be prepared for the drawn-out evenings with the locals.
I will not bore you with all the details about Porto, those are easily Googled, if you're interested or if you're winging your way there any day now. Not a bad idea, you'll simply love it. I hope my photographs tell the story of our experience there, of course for me every picture tells a story and I can feel the rhythm, energy and joie de vivre people who visit and stay there experience.
Here every wall oozes art, and with every building care was taken to tell of the place's history. Craftsmen, artisans, stone masons and fine artists worked and laboured for years chiselling away at huge marble slabs, beautifying Cathedrals and humble homes. The colourful tiles adorning walls, floors and ceilings tell of the rich culture, the trade routes intrepid Portuguese explorers dared to conquer. "Painter" has a whole new meaning when one looks up at an adorned dome! The church certainly had standards and the one was a gold standard, I was speechless!
Yellow, blue, green, pink, red, green, orange are the colours that immediately spring to mind when I close my eyes and think about my short stay in that magical city. Terracotta tiled roofs have never looked so appealing and I could tear down our grey roof in a heartbeat and replace it with the warm, rich clay tiles found there.
To have art running in your veins must surely be true for the Portuguese, there you can take to the floor and show your dance steps without missing the beat, musicians, jugglers, gypsies, writers, poets, watercolourists and graffiti artists are all welcome to show off their talents. I loved it. If I had the talent I'd have put up my easel and gone to work with brush or pencil. The tolerance, patience and kindness shown to even the lowliest panhandler was heart-warming and quite strange, showing up my preconceived prejudices.
I openly gaped at the shoe shops, on every corner there were shoes on display in grand window displays, bling is big, platforms, stilettoes, chunky lace-ups and a celebration of the old favourite Birkenstock which has made a comeback in a big way. I could just feast with my eyes. Fashions are feminine florals in voiles, silks and chiffon. Evenings are for shining and ladies came out to play in all their finery.
Of course nothing could beat seeing my Lise at the airport, she'd grown another inch since I'd last seen her I was sure. Prettier than ever, slim and toned with her tousled blonde hair she came marching through customs with her backpack flung nonchalantly over her shoulder, she was ready to hit the road and explore. It was then that I knew all would be Ok once she'd settled, siesta and freshened up this girl would be ready to see the sights. We lazed on comfortable chairs watching the world go by, ate Padron peppers, she quenched her thirst on local brews, we indulged in the most over the top foot long hotdogs, from a truck, the hugest Crepe filled with sweetest cream and licked ridiculously decadent icecream cones, we kicked off our shoes and caught up with news of the boys, my girls, the Grandbabies, Grandpa and Grandma who'd sent her a gift.
Our adventure was just starting and I would have three weeks to catch up and bond with my youngest girl child. I was in heaven or just dreaming. Happy to follow her through narrow alleys, up church spires, over the Douro to see the Port barges, just sit and listen to her stories or read while she breathed her sweet breath on my neck. She was four again, it made me happy.
My photographs are chronologically correct my musing not!
Where we stayed:
Oporto Local Studios
166 Almada str
Oporto
Manager: Diogo Braga
Contact: 00 351 967120910
Booked: Booking.com
Where we ate:
Jimao tapas e Vinhos restaurant
11-12 Praca Ribeira/ S Nicolau
Tel: +351 22 092 4660
(TripAdvisor)
TAPABENTO BAR RESTAURANT
Rua Da Madeira 222
Porto
Tel: +351 912 881 272
CAMAFEU RESTAURANT
Praca Carlos Alberto 83
Porto
Tel: +351 937 493557
(TripAdvisor)
TASQIUNHA D'OURO
Rua Do Ouro
236 Lordelo D Ouro
+351 22 610 0021
(TripAdvisor)
BEST PASTEL DE NATA –
NATA LISBOA
Rua de Santa Catarina 499,
Porto
+351 22 208 6996
Confeitaria do Bolhao
Rua Formosa 339,
Porto
Tel + 351 22 339 5220
MY TRAVEL AGENT:
Above and Beyond travel
Angela Meyer
angela@aboveandbeyondtravel.co.za
Tel: 021 556 7023
Fax: 086 680 2168
Cell: 083 256 5995
---