Resolution, Revolution Or Right On From Where We Left Off
---
---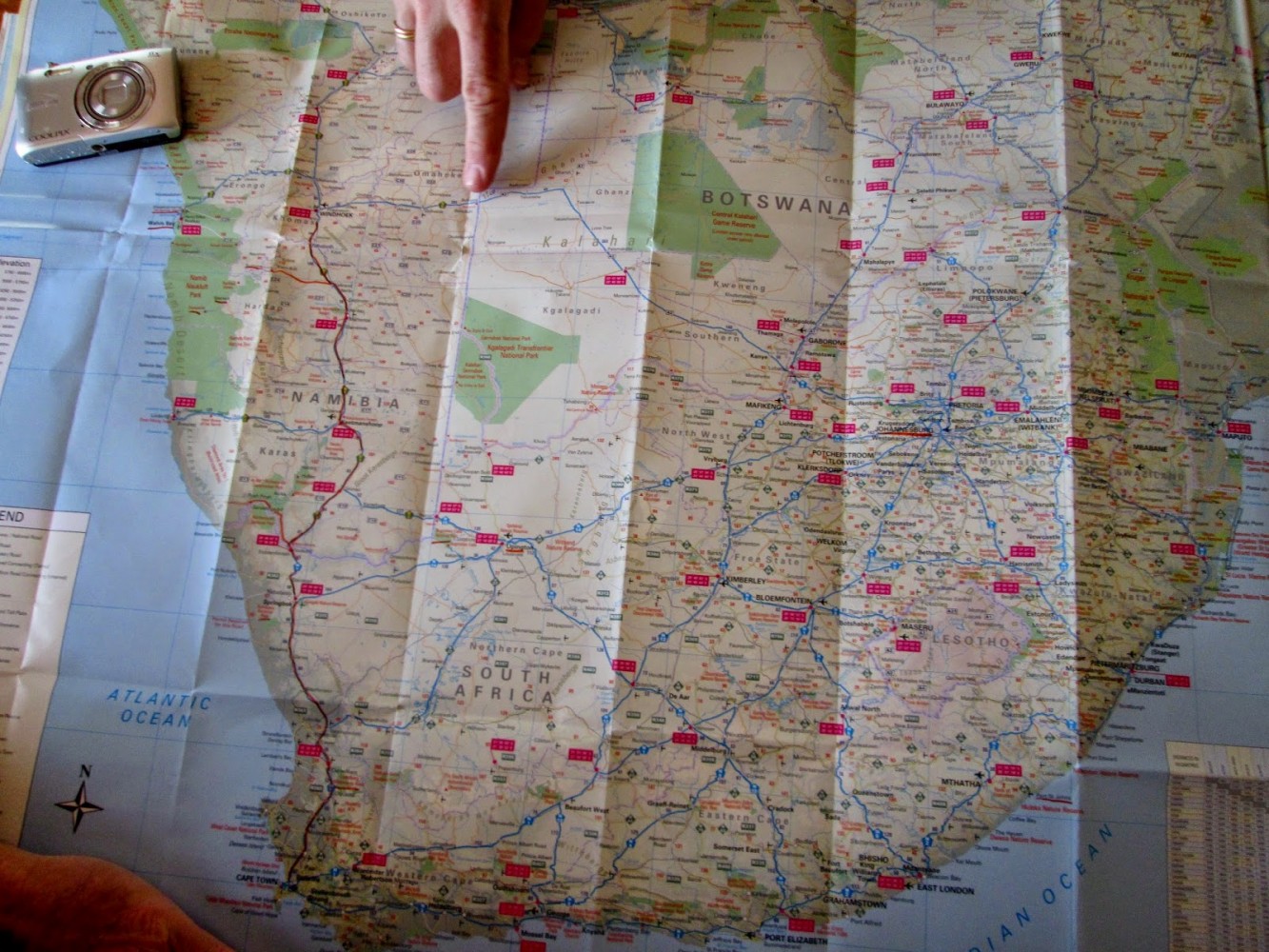 The choice is always ours. New years have come and gone a few dozen times in my life, some good, some indifferent and some jolly awful. My New Years' resolutions have been a fickle affair, being of the opinion that if we try and don't succeed this time we can start all over again in 365 days' time. In 2016 I want to finish what I've started before starting something new.
I'm proud to say Precious has all his buttons back on the shirts which have been draped over my chair for 4 months. My latest travel blanket has been stitched together, the ironing basket is empty and all the single socks have partners. I've wrapped and stored the Christmas tree for another year.
Namibia in December isn't everyones idea of a Summer Holiday. A novel idea it certainly was. We did it, we went north when everyone else went south.
It's best to set off at first light, roads are quiet, temperatures are reasonable and watching the sun rise is glorious. It was a long day, we covered many miles and most of the traffic was heading in the opposite direction.
The perfect Afrikaans spoken by the Customs Officials made me realise one need not make a hullaballoo about the language, it's very much alive and well in Namibia.
A country of harsh contrasts, much of the land is drought stricken, for kilometres we didn't see a blade of grass or a green leaf on a tree, but, the landscape remains magnificent.
At Goibib Mountain Lodge we stopped for the night, our host was Andre Lotter. A well-kept much loved stock farm just North of Grunau. We witnessed first-hand how passionate one must be to not lose faith when there's been no rain for years, when there's no grazing and no water to feed your herds of cattle and antelope. It's heart breaking to see a farmer admit defeat and sell his herd out of necessity before they perish.
Oprah Winfrey said "everyone has a story to tell". That's true. We were spell-bound listening to Andre, a very eloquent raconteur He told us stories of diamond deals, murders, shootings, dodgy deals, family intrigues and other jaw-dropping tales! We enjoyed two very informative game drives, we saw the sunrise and a magnificent sunset. We photographed the barren landscape, a herd of Nguni cattle and herds of antelope.
Our cool accommodation was very comfortable and my hair did a final curl, before going dead straight, under the humidifier. All our meals were catered for by the friendly staff. Before we left home I promised myself an afternoon of just reading, which I did beside the refreshing, crystal clear pool. We resumed our road trip feeling relaxed, refreshed and excited to reach our final destination.
Instead of lugging all our supplies from home we decided to stop in Windhoek. A very good decision indeed. A modern, cosmopolitan city. It's clean, friendly, efficient and hasn't lost it's African flair. From Ackermans to Zoom it's all there. I got my daily fix at Woolies, stocked up with the freshest vegetables, saladings and the choicest cuts, vacuumed packed, all from the Food Lovers' Market. If I could've gotten away with it I might've fallen for a pair of stilletos, the shoes stores were an eye-opener.
Unlike Mozambique, Vietnam or India our quest for a 4G data card failed. After queuing for almost half an hour I was disappointed by the unenthusiastic salesperson at the Samsung shop. In Outjo our next attempt, the NTC (Namibia Telecom) had closed! Ultimately a blessing, we loved being out of touch.
We arrived at the Arebbusch Travel Lodge, our accommodation in Windhoek just in the nick of time. I had travelled enough for one day, our Audible book had almost finished and I had cabin fever. Plus, I'm sure, I had the beginnings of a bedsore on my bottom. A very good pit stop. Clean and spacious. A very comfortable bed with air conditioning (not negotiable in Namibia) and free Wi-Fi, one of the few times we could catch up with loved ones.
When in Windhoek you shall have at least one meal at the iconic Joe's Beerhouse. An establishment with a reputation. 400 guests can be seated in various interlinked dining areas. Built in a haphazard way, almost like the segments of a centipede the individual dining areas are private and eclectically decorated, sometimes more shabby than chic, always a good talking point. I had the plumpest, fattest most succulent Namibian oysters in town. The Zebra steak, I believe, was excellent and my steak salad a very healthy portion.
We heard the rumbling thunder while the heavens lit up with flashes of lightning and then we smelt the rain rolling in on the dry, barren plains before it quenched the parched earth all around us. This is the Africa I love.
Wilhelm Stal did not disappoint, our order of wors (sausage), droewors (dried sausage) and biltong (beef jerky) was ready, packed and waiting for us. German efficiency at work. A must do for anyone en route to Etosha or Swakopmund, it's in the middle somewhere on the highway. Delicious.
Our next stop would be Erindi, but more about that later.
This year I'll attempt to do only what I can when I can. Life is too short to miss out on a good time, to have a nervous breakdown or to get stressed. Upping the chill factor will be the order of the day.
P.S The Namibian Dollar is linked to the South African Rand, sadly. But on the bright side it makes it all the more attractive for travellers, especially foreign tourists. Go! before the Namibian President has a word with his South African counterpart.
GOIBIB MOUNTAIN LODGE
B1 Highway,
112 km south of Keetmanshoop,
Grunau,
Namibia
(Book on TripAdvisor)
AREBBUSCH TRAVEL LODGE – WINDHOEK
1 Golf Street
Olympia,
Windhoek,
Namibia
TEL: 087 550 9634
www.arebbusch.com
JOE'S BEERHOUSE
160 Nelson Mandela Avenue
Eros,
Windhoek,
Namibia
Tel: +264 61 23 2457
http://www.joesbeerhouse.com
WILHELM STAL (for boerewors (nat wors), droewors and biltong)
Tel: +264 62 500124
---