Scones, Simply Whey Too Easy
---
---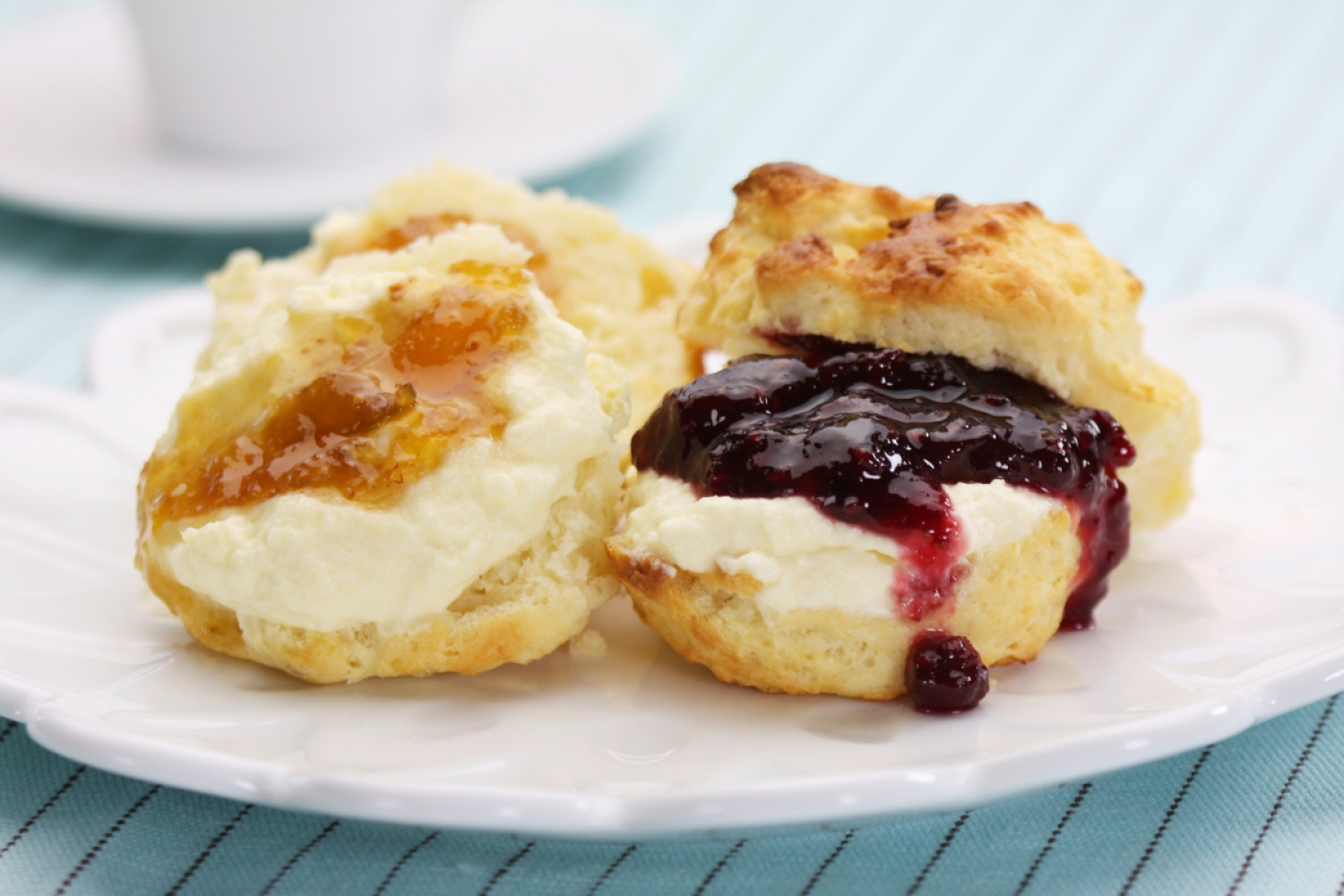 My Mother-in-law was the Julia Childs of Karoo Kwezeen (Cuisine). We were a good combination on the food front, she cooked it and I ate it, until I became quite poorly from over indulgence. Although very kind and patient I doubt she thought I had any mentionable talents and definitely not in the kitchen. On Sundays she baked Scones. Beautiful, light, fluffy, perfect little morsels, sometimes she'd add a cup of Cheddar cheese or biltong to the dough; when they were served with tea they were plain.
As a young bride I was eager to follow family traditions and with enthusiasm set to bake a batch of scones one Sunday afternoon. My hand was too heavy and too hot. I overworked the dough, the butter softened and the flour heated up. I couldn't even sell them as Rock Buns. My husband, with his Mel Gibson eyes, took one look at them, sniffed, did me the honour of nibbling on one crusty flake and declared "These don't taste at all like my Mom's scones". He pushed his plate aside and had a slice of Sasco bread. I was hurt and discouraged. Only years later, did I try my hand at baking scones again. I had learnt by then what the rules were. Technique. Baking is a science; although easy, it takes practice and a willingness to learn and master the finer details.
Last night I used the buttermilk harvested from my butter making to bake my perfect scones. Ironically I still use my Mother-in-law's cookie cutter for the job. Today it's all buckled and bent but a gentle reminder of my youth, my enthusiasm to learn and serve the best food I possibly could.
She would be proud of the scones I served last night, they were feathery light and golden, she would not have been as long suffering about my store bought Strawberry Jam though.
As customary Butch finely chopped and shredded his delicious biltong, I served the savoury scones with Cream Cheese, he had his with Bovril I think, but then again, he's a man who'd have Marmite and Banana on a roll. That's my last word on that. We both had delicious mouthfuls with thick cream and Strawberry Jam. Yes, we do our cream first and top it all off with a generous spoon of jam.
I made my scones using ½ cake flour and ½ Gluten Free flour. My courage deceived me and I couldn't do those 100% Gluten Free. Maybe next time.
Here is my recipe:
MARICHA'S PERFECT SCONES
Pre-heat oven to 200֠f
500ml cake flour (I used 250ml cake flour and 250ml Gluten-free flour)
2,5ml salt
10ml baking powder
75ml very cold butter, cut into small blocks or grated
1 extra large egg, room temperature
125ml buttermilk (if you do not have buttermilk use yoghurt)
45-60ml ice cold water
METHOD:
Sieve the dry ingredients 3 times
Rub the butter into the flour, until the consistency resembles fine bread crumbs.
In a bowl mix the wet ingredients and add to the flour. Mix using a fork until all the liquid has been incorporated. The mixture might be quite wet that's fine.
Sprinkle flour all over a wooden board.
Drop the mixture onto the board and LIGHTLY KNEAD until a soft ball is formed. Work quickly.
Pat the dough down to about 1½ inches (2,5cm)
Using a cookie cutter make your shapes. Reshape the left over dough and make more scones.
Place carefully on a baking tray that has a sprinkling of flour
Using the left over egg wash brush each scone.
Place into the hot oven and bake for 10-12 minutes.
Remove from the oven and cool slightly before serving with thick cream and strawberry jam.
A few tips:
Make sure the flour is fresh
The butter and water must be ice cold.
using buttermilk or joghurt cuts through the baking powder and neutralises the acrid taste
Do not over work the dough
Sprinkling a little flour on the wooden board will prevent a soft dough from sticking.
Work quickly
When using a food processor use the pulse setting
As soon as a soft ball has been formed stop kneading.
Remember the palm of the hand is much warmer than finger tips. Use finger tips.
Add a little (125ml) cheddar cheese or biltong for a savoury scone.
Enjoy your scones any way you like. They're the perfect light supper treat and can be whipped up when unexpected guests turn up for tea.
Watch my short video for a tip or two.
Every time I bring a pot of jam to the boil it reminds me of my mother-in-law who sat me down with a huge basket of gooseberries, presented me with a darning needle and instructed me to pierce the tiny golden marbles exactly 7 times. It took me all day, while she prepared and boiled the syrup and watched counting every jab.
My Quick Strawberry Jam
1 punnet strawberries, chopped
weigh your strawberries and use the same quantity sugar (I would use Xylotol)
sprinkle the sugar all over the strawberries, stir to mix and leave to stand until all the sugar has dissolved.
Slowly bring to the boil stirring occasionally. Simmer gently until the jam has thickened. Drop a teaspoon of jam onto a cold saucer, when the jam has thickened as you desire remove from the heat, pour into a sterilised jar (place a washed jar into a hot oven for 5 minutes). Seal. ( I would only make a small quantity of jam as we only have jams occasionally)
P.S why is it that any old burgler has no difficulty breaking the codes on safes, can break through any security bar, beam or alarm but for the life of me I struggle to unzip a small canister of baking powder, the secure tag always breaks off on these wretched lids. I almost lost a finger this time.
Bon Appetito amigo!
---