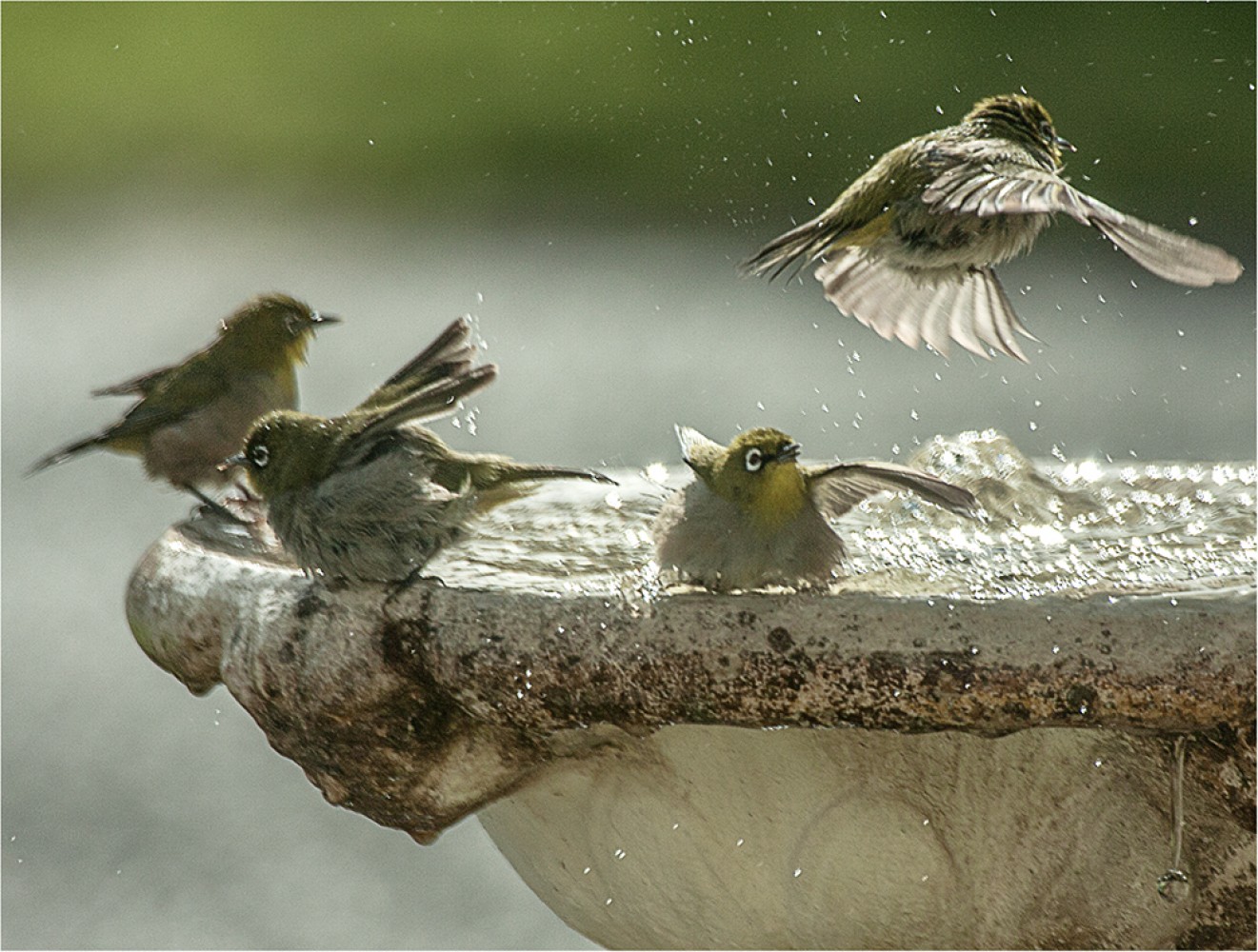 We slept in. And it's only someone as depressed as Edgar Allan Poe who dare say ""Sleep, those little slices of death — how I loathe them." I love my Saturday morning sleep in. During all the excitement I too sympathised with Dr Seuss who says when you're in love sleeping is a waste as reality is better than your dreams, I remind myself we became Grandparents!
It's my turn to make coffee, which is OK as I'm spoilt with a cup every morning. It's getting cooler but the sun still shines brightly into the house as I lift the blinds and there they are, at least five Cape White Eyes are splishing and splashing in the bird bath. I grab my long lens and take a few photographs balancing the lens on the window sill as I'll not make the same mistake twice. If I should so much as touch the door handle they'll be off.
This week has been quite an emotional roller coaster so I'm taking the day off and only venture out for an early/late lunch/supper. When the sun sets I manage to take a few photographs of lavender, I pick a bunch to hang up in my wardrobe and for garnishing the Lemon and Lavender Ice Cream currently churning away.
We're going to get into our P.J's and watch my very favourite movie - The Unbearable Lightness of Being, while eating ice cream. The verdict is good, it's rich and smooth with a subtle lemon and lavender flavour, try it sometime.
"Making love with a woman and sleeping with a woman are two separate passions, not merely different but opposite. Love does not make itself felt in the desire for copulation (a desire that extends to an infinite number of women) but in the desire for shared sleep (a desire limited to one woman)." ― Milan Kundera, The Unbearable Lightness of Being
If you've enjoyed this blog and would like to follow my progress just 'SUBSCRIBE" its easy peasy quick and breezy.
---