Still Wandering - Gatsrivier Guest Farm
---
---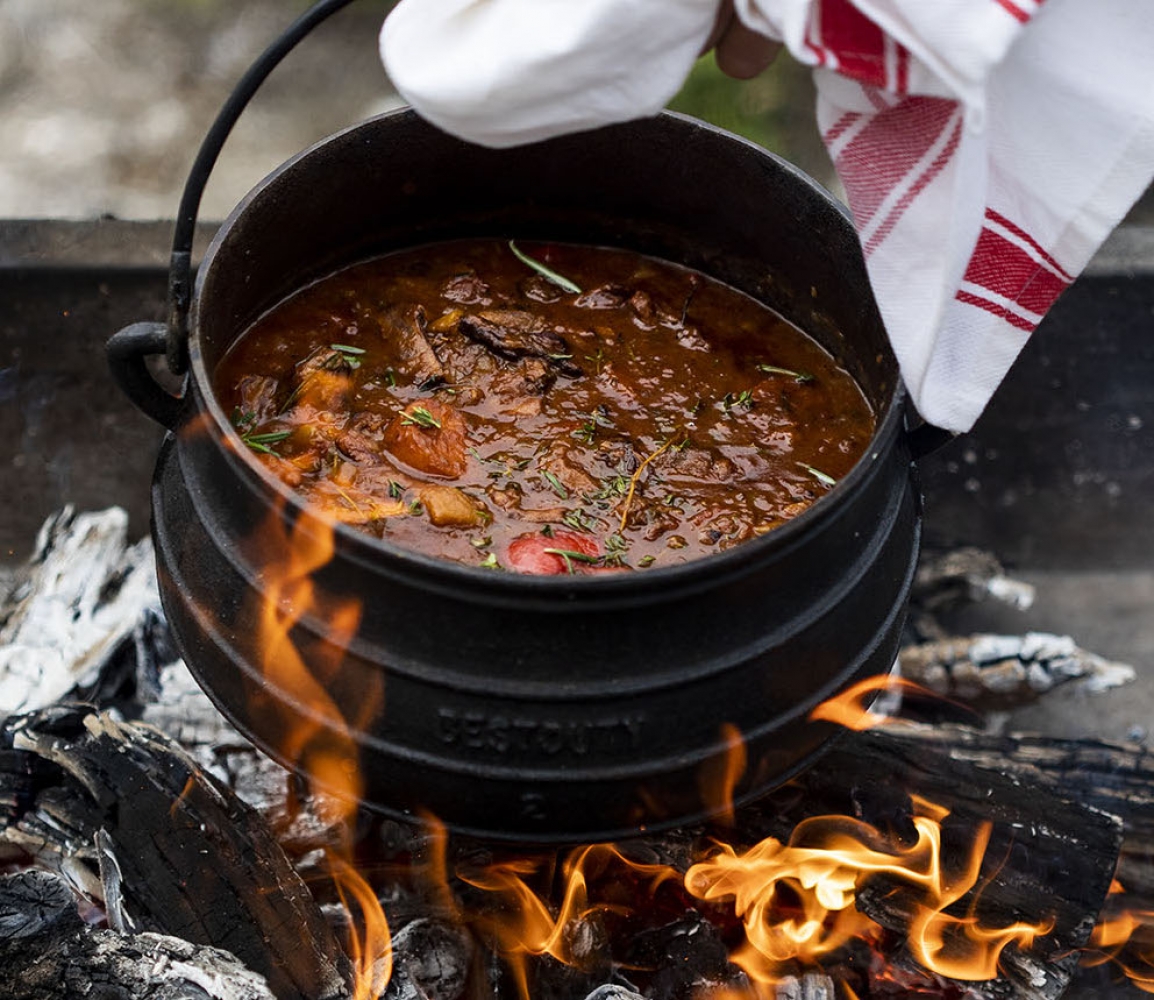 With dust billowing in our wake, we made our way from the Tankwa farmstall back onto the main road (a 70km detour, I was told) to continue our meanderings in search of peace. The road north became quieter, and farmsteads became fewer. In the Karoo, sustainable farming can only be on vast tracts of land. Fences run for many kilometres before there's a turn as we climbed ever upwards onto the escarpment.
Butch is the driver of the Honey Badger which makes me the navigator, gate opener and clerk of works. There are many gates to open. At first, my cold, stiff joints rebelled at the stretch as I slid down painfully from my seat and again when I stretched up to pull myself back into the truck. Eventually, with gate eight, my muscles had warmed up enough to ease the descent when I had to alight my carriage. Most barriers I encountered had a different opening and closing mechanism. Some slipped open quickly; others had to be manoeuvred and teased to release the "blou draad". Every gate protested and screeched as I pulled and pushed, dragging them open.
We reached our destination at the Gatsrivier Guest Farm by midafternoon, just in time for coffee. Pieter and Marlize, the managers, were there to welcome us and escort us to our campsite. There are twenty campsites. Because of Covid19 guests are placed at a reasonable distance from each other. We were not the only campers but, would not encounter them during our stay. Our appointed ablutions were for our use only—an unexpected luxury.
After showing us around, we were left to our own devices. Within two ticks we had our chairs out, tables set up and lockers open. The kettle was whistling before we knew it. With a cup of hot coffee, we sat down and surveyed our surroundings— we couldn't be more pleased.
While Butch set up, I took myself off to suss out our immediate surroundings. The abandoned building on our site would be explored later. From a distance, I could hear the Gats River flowing, which I followed until I came upon a series of gentle waterfalls. Rivers in the Karoo are seasonal and often only flow when there's a flash flood, causing water to rush down at an alarming rate and then subside and dwindle. This river was unusual, especially since it had more than a week previously. It turns out it's a seasonal river and runs during the rainy season. There had been a few downpours, and now it's expected to flow for a while. Although the Karoo is semi-desert, it's considered a summer and winter rainfall area. 2020 is a good rain year in these parts.
Nightfall slipped in gently without a significant drop in temperature, enabling us to sit out, legs outstretched catching some warmth from the fire in the firepit until well after a spectacular orange sunset. We dined on a simple Mushroom Stroganoff, and for dessert, Flambe bananas. Afterwards, we played a couple of hands of Rummikub and then retired to our books and a movie. My hot water bottle had warmed the cold sheets, and our little heater had done a marvellous job at cutting through the chill.
Lately, it's been very unusual for us to lie in late. The Karoo air was working its magic, and we found ourselves only stirring at 9h00. After morning coffee and rusks, we set off to explore the farm roads on our bicycles. We've not saddled up since March, and, much to my horror, I was as nervous as hell. My leg had only just recovered from my tumble in January. I was not going to have a repeat performance on a rocky road in the Karoo. Butch made a flask of coffee which we enjoyed sitting on a log on the riverbank after a 90-minute ride.
Karoo birds, not accustomed to humans, went about their business unperturbed by us, pecking at seeds and grubs their calls baffling us at times. We did manage to identify a few: Bokmakierie, Cape Bunting, Cape Crow, Common Fiscal, Red-faced Mousebirds, Pale Chanting Goshawk. Not bad. We heard the Sunbirds cry, and the distinctive wing-flapping of Karoo chats but once again couldn't identify them. We wished we had Rachie there who only needs a few notes to know.
This once working sheep farm must've had numerous outbuildings, homesteads and kraals. Today there are just the bare bones, bricks and stone remaining to many of these buildings, exciting places to investigate and ruminate. My curiosity sparked, I ran my hands over the stone and rotting wood, I always speculate about the previous inhabitants, what were their lives like and why did they leave? Noteworthy stories abound if we could read the signs.
While Butch enjoyed an afternoon nap, I explored the veld, clambering over rocks and rock climbing the embankments and koppies. An expedition to observe how the plants have recovered after the good rains. Karoo flora comprises many species of aloe and succulents. New growth is sprouting on almost every bush. Interestingly I found a few plants displayed regrowth triumphantly in full colour. Some early bloomers are already flowering, especially bulbous plants. Nestled, protected by lichen-covered rocks, ferns and mosses were beginning to show themselves too. Brightly painted faces of Bokbaai Fygies will carpet the slopes and gullies in a fortnight I'm sure.
We made an early start to supper, a Middle Eastern Lamb Shank Tangine style potjie (recipe to follow) and my favourite Sago Pudding with caramelised citrus segments and Vanilla ice cream. Two hands of Honeymoon Bridge rounded off the festivities.
Unfortunately, we couldn't stay any longer; I would've in a heartbeat, but, my car had an appointment with the panel beaters. Don't ask; you'd be surprised. After a leisurely breakfast, we packed up and slowly meandered back to Worcester.
---oOo---
On a few occasions during the weekend, we met and chatted to the owners of the farm Anet and Hennie. A delightful, well-travelled couple who understand accurately what our travel dreams and bucket list ideas are. They captivated us with riveting stories of their recent trip to Uganda and Ethiopia. What an adventure they had. Hennie tried his best to dissuade us, but, alas he can't. We're going as soon as we can.
It would be amiss of me not to compliment them on their efforts to provide guests with excellent accommodation facilities. Our campsite was spotless, well-appointed with braaiing equipment, a bundle of wood and a ground cover ready for our dining table—high pressure running water on-site and in the bathroom.
Bathrooms are a dead give-away in my books. An unsatisfactory shower experience immediately sends my star-o' meter crashing down. Be prepared to be wowed with the luxury bathroom facilities at Gatsrivier. Like needles, the hot shower spray warmed and massaged my back. Not even the walk, with all my paraphernalia in tow, put me off. I eagerly trotted off to our private bathroom every day for the hot solar shower. 10/10 on Trip Advisor it will be!
There are no scullery facilities so do take your basin and kettle for boiling water, or, a bucket to fetch hot water for crockery and cutlery.
Congratulations Gatsrivier Guestfarm, you have created an oasis, in an extraordinary location, outstanding facilities and a marvellous management team. Thank you for your hospitality. We certainly hope to return one day. For non-campers, there are cottages too. Play parks for the kids have been built, and they'd love it. I can just see them on the jungle gym and cycling along the tracks. If there's water in the river, there should be swimming holes too, the sheer, polished rocks are perfect for sunbathing. Like lizards, one could bask in the sun.
---oOo---
Karma has a way of always bringing one back down to earth from a high, doesn't she? On Monday evening my Dad phoned to tell us that my brother, a highrisk healthcare worker, was diagnosed with Covid19. We are devasted. Please wear your mask out of respect for other people. It's the right thing to do.
---oOo---
We found Gatsrivier Guestfarm on the iOverlander App and enquired via Whatsapp.
Pieter & Marlize
087 802 8440 (Office)
076 538 5793 (Whatsapp)
---