The Honey Badger Goes For An Annual Check-up
---
---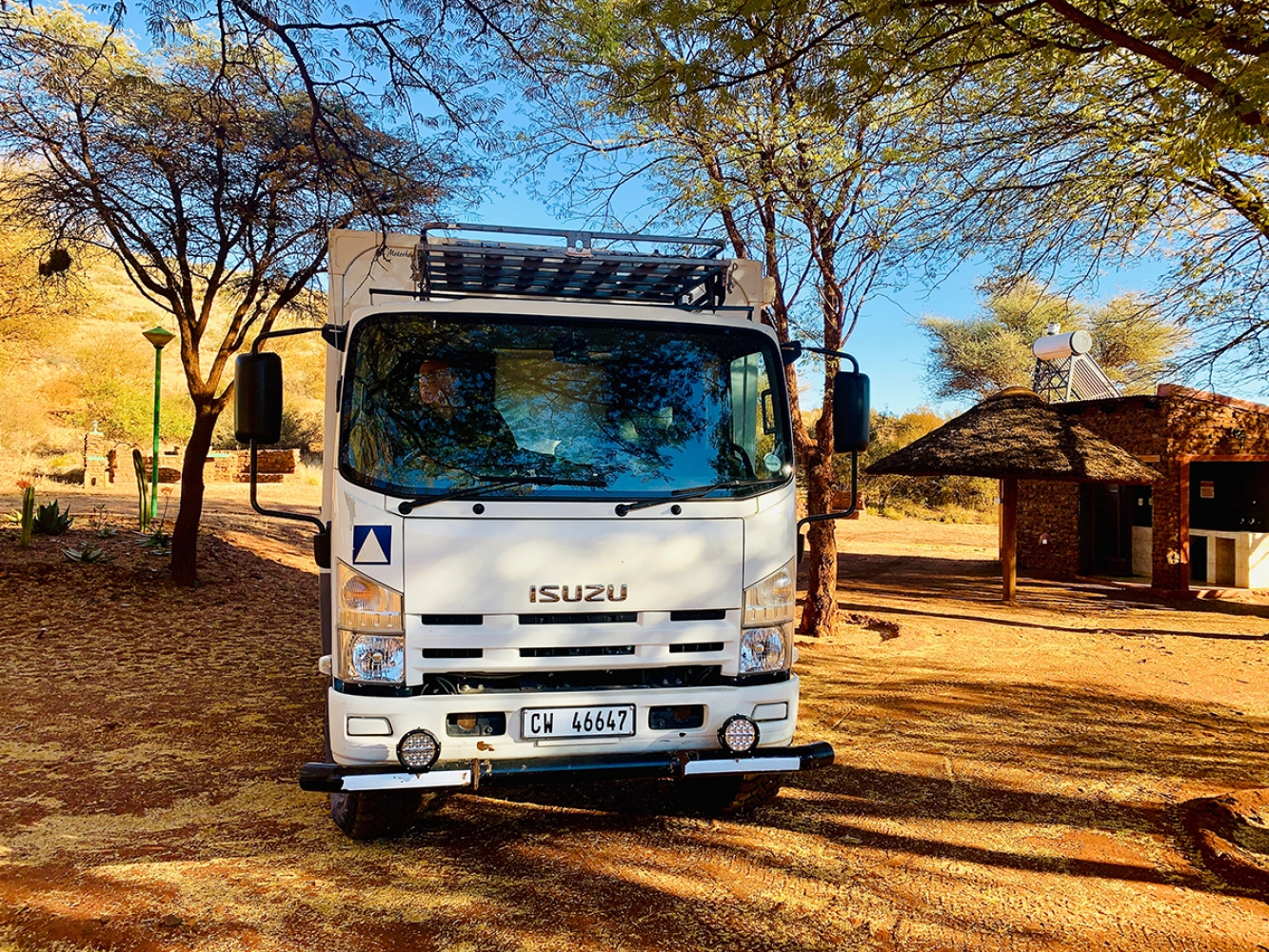 We've been far and wide in the Honey Badger, our Isuzu NP 300 4X4 Overlander or motor home. Motor home sounds like a retirement home whereas Overlander sounds sexy and adventurous. Don't you think? We'll stick to Overlander Truck.
It's been just over a year since we officially took possession of our truck from AC Motorhomes in Brackenfell. Thank you Melisssa for never losing your composure with us and taking all the stress in your stride. You are one cool cucumber!
We certainly put our Honey Badger through her paces on trips to Mana Pools in Zimbabwe, the Karoo, Cedarberg, a few camping trips locally and in December a road trip from Onrus to Wilderness going wild most days and more recently to Mabuasahube in Botswana.
At times I shuddered as we negotiated terribly potholed roads, plain sailed through thick sand and vibrated along corrugations. I would tease Butch saying I need a kidney harness or Velcro on the ceiling as I hopped and bounced along.
My fear would always be that we'd reach our destination without cupboards and that I'd open the front door only to find pots and pans littering the floor. It never happened. What did greet me on occasion was all our refrigerated food sliding down the steps to greet me. The magnetized fridge door couldn't stand up to the African roads. Fortunately, with the help of a very practical friend, Trevor, we were able to fix that in a jiffy at Mana Pools by applying Velcro to the door and adjoining wall. We also have our vegetable box firmly lodged against the door as an extra precaution. One would think that a highly reputed manufacturer like Dometic would've realised their doors need a robust almost industrial-like locking system.
I started a snag list immediately, in an attempt to stop me nagging or stressing about small irritations. It helped immensely as I'd stop worrying as soon as I had it on the list. First step in remedying the problem I figured.
Butch has uncanny bad luck when it comes to tyres and on almost all our journeys we've had a flat tyre at some stage. Sometimes it's a fast leak and sometimes it takes a while to discover. Unfortunately. With good grace he always just gets on with it but I know it must be worrying. Fortunately, as fortunate as it can be, the problem has always been with our custom made rims. For some unknown reason the very professional welding cracks, causing a loss of air. So its not the tyres, but the rims! Our faith in the rims is failing, imagine sitting in the middle of nowhere with faulty 17" rims.
The rims made the top contender on the to do list. The manufacturer has been very obliging and has tested and assured us that the rims are sound. On one or two occasions we even thought the tyre pressure monitors were acting up, fortunately, we've learned expensive lessons and those thoughts are only momentary. We've not been spared. When that monitor buzzes, something is amiss. Poor Mossie, our tyre supplier, is at his wits end and I'm sure wants to run away when he sees the Honey Badger rounding the corner to his shop!
Butch is currently in negotiations with George, from Advanced Wheel Corporation in Wadeville who is in the process of putting a new rim together and after he has tested it will send it here for further testing by us. Butch is confident that this will prove to be the solution. I certainly hope so.
To make our ride more comfortable we had two extra blades installed to the rear suspension, which has stiffened the suspension and has helped tremendously in reducing the bounce we had.
Other niggles have been a water leak and a burned out diesel pump. To our consternation we discovered that the 12 volt pump, which pumps fuel from the auxiliary tank to the main tank, was connected to 24 volt current! Crazy. It was in Botswana where this discovery was made. The technicians who did the work mockingly said "and we thought no one in South Africa makes stupid mistakes like this"! We didn't either. We hold thumbs that the new pump keeps on going for a very long time.
As we get older we realise that we enjoy uncomplicated camping and traveling. Less is more. With this always in mind we tried to simplify our camper.
We've installed another hatch for our extra Engel for freezing. The door to the hatch can serve as a table next to our outdoor shower and we're able to load and unload from there too.
In Africa (and the world it seems) mosquitoes and other bugs are a nuisance especially at night so we've had a wonderful pleated gauze sliding door installed to prevent possible attacks from insects.
We have found that guests have difficulties climbing in and out of the Badger without the use of a hand railing. A handrail with locking mechanism has been installed. This will serve as extra security too. Butch says it's called a security handle!
When our tyres deflated or we weren't parked on a level we'd find ourselves sliding downward with the mattress often going south. This happened while driving on the bad roads too. The mattress would vibrate itself off the bed. That has been sorted and the locker beneath the bed has had struts installed. Never again will I have to carry the load of the bedding, mattress and lid on my back when I remove goodies from the grocery boxes beneath.
I must mention that we had all the work done at AC Motorhomes, which was really great, but, getting an appointment was quite a feat as they are so incredibly busy. Butch was convinced he could just phone up and Bob's your uncle he'd have an appointment. Nope. We had to wait a good few months to find a slot on the white board.
When we pulled in with our truck there were three other Isuzu trucks being converted and when we fetched our truck after the works had been done there were at least four other vehicles in the process of being converted. The economy might be shot but overlanding has increased. Interesting.
All our tyre woes are dealt with by Mossie Mostert at Tyre King in Worcester. A saint the man is. Never gets in the least ruffled, and he has had reason to be! The odd bit of engineering has been done by Vissers Engineering. Thank you for being so positive about anything that troubles us. Butch's path to these businesses is a well trodden road, I think he goes there feeling despondent but always comes back with a spring in his step.
All the other minor bits and bobs on my list were completed in no time and now we're good to go. I can't wait. Our dining room is currently housing all the Honey Badger's household items. It really is unimaginable that we've managed to accumulate so much "stuff". I can't wait to wade through all of it when I repack. With discipline I will sort out and only return the things we've used. Light, practical and space saving will be the criteria. Not - maybe, possibly, in case, you never know.
Butch and my brother (The Fab Four) are in the planning stages of another adventure, but, that's still a way to go. For now I'll have to cool my heals and chomp at the bit. We missed the Namaqualand flowers this year, which was a good year. Beggars can't be choosers I suppose. Fortunately the days are getting warmer and longer, we might just break-away soon. The long road North is calling us and we're finding it difficult to resist the pull.
---