The Illusive Perlemoen And Where To Find It in Hermanus
---
---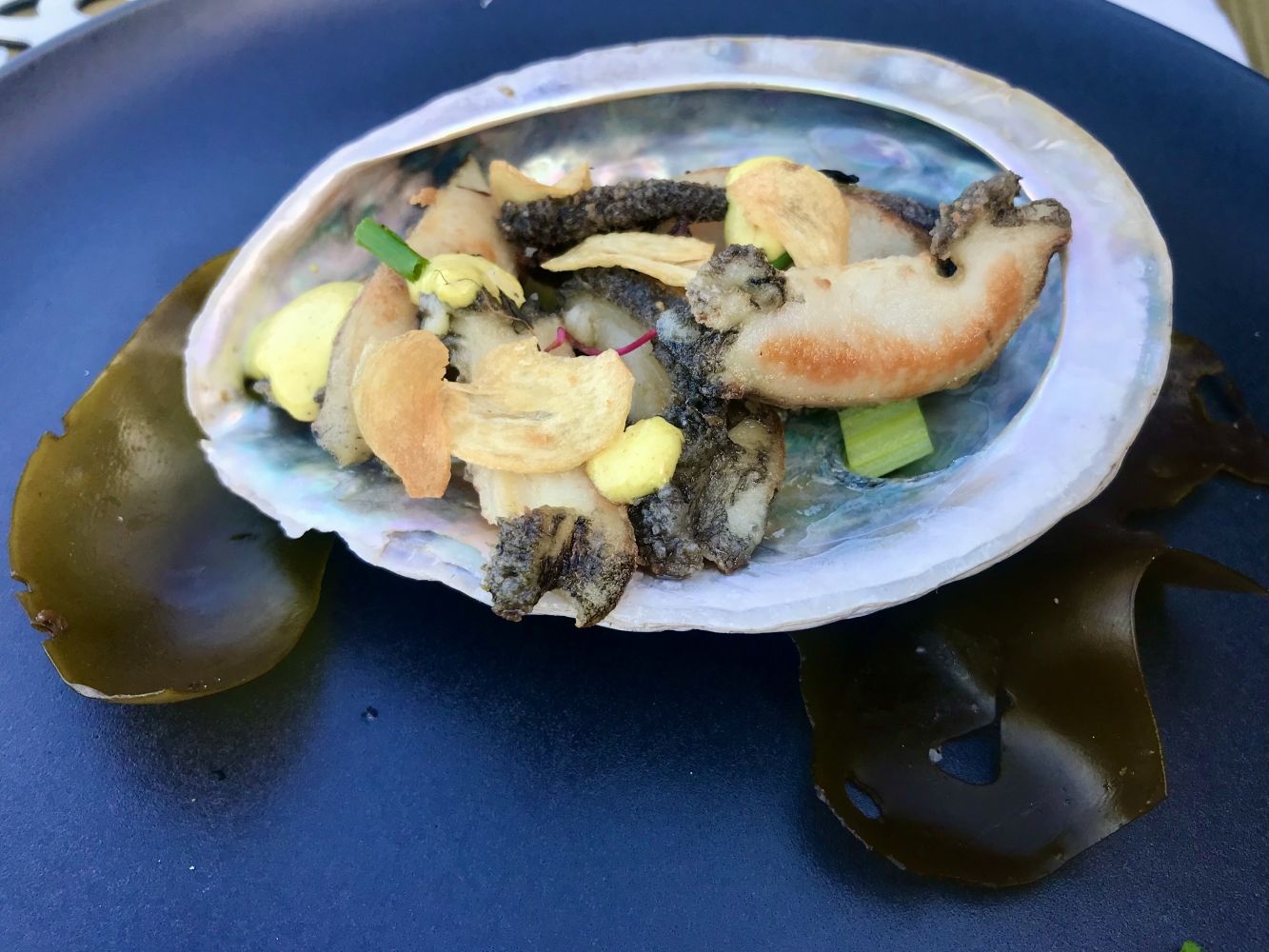 If you grew up in South Africa and enjoyed your holidays in Hermanus or anywhere along our Southeastern/western coast, there would be three things you'd certainly do. You'd go fishing, diving or spend time on the beach.
If you'd asked my Great Grandmother what her favourite memories of seafood were, she'd mention Giant Mussel crackers and Crayfish and Abalone (Perlemoen or Klipkous). Her favourite recipe is in the book Hilda's Where is it by G. Duckitt. (My copy was published in 1911.)
In his book "South African Beachcomber", Lawrence G. Green mentions the early abundance and later scarcity when "between the years 1949 and 1954 it looked as though the perlemoen might be wiped out. Divers were fetching them up by the hundred thousand round the Cape coasts. …. To restore the failing virility of wealthy orientals."!
In the '80s and early '90s, we'd holiday in Kleinbaai, a small coastal suburb adjoining Gansbaai, where we could partake in our favourite activities. The Harbour made it possible for us to go out in our fishing boat, and the coast was ideal for diving. Our intention was to eat something free from the sea every day.
Perlemoen topped the list. Licensed divers were permitted to remove five perlemoen per day. We'd prepare them in a million different ways. Every cook had their favourite or famous family recipe.
To protect the dwindling abalone stocks, it became illegal for recreational divers to harvest Abalone. This opened another can of worms described in the Daily Maverick link I attach below. The illicit abalone trade.
We often debate why Abalone was not encouraged and promoted as a uniquely South African product on a par with dishes like Koe'sisters, Bobotie or Venison Pie. Instead of wealthy Eastern clients buying and eating Abalone smuggled from our shores, they should've been flocking to the Western Cape to enjoy its sublime flavours and aphrodisiacal properties here. We could've had a booming trade.
I haven't had a fresh abalone from the sea in about thirty years.
---oOo---
A fortnight ago, there was an announcement on one of the Hermanus Social Media network groups that a new restaurant was opening at the old Harbour aka Visbai (Bay of fishes). The new restaurant is named Perlemoen. Its signature dish or ingredient would be Abalone! Of course, the Abalone would be commercially farmed. We couldn't be more excited that someone has brought this no brainer to fruition.
The restaurant does not take reservations, and it's "first come, first serve" I was informed on an enquiry.
A perfect day dawned last Saturday. We excitedly arrived at the picturesque old Harbour, negotiated the deep, steep steps and made our way down to the water's edge.
It was a blue day with a few puffy clouds floating by. Absolutely perfect. On went my hat, and off came my jacket. While Butch gingerly negotiated the path to the cloakrooms, I was mesmerised by the enormous waves crashing over the harbour wall. It must've been spring high, we decided. It was. We'd witnessed the eclipse a few days before.
On the busy deck, we found our table. The small, exciting tapas menu allowed us to choose a selection of dishes to share. We had Abalone carpaccio, then a traditional minced dish, dolled up and reinvented, served with bruschetta, and Butch selected a pan-fried sliced Abalone served with curried aioli. Each delicious dish was well cooked, tasty and beautifully presented. For dessert I had Cape Brandy tart with a drizzle of fresh cream.
The yet unlicensed restaurant invites guests to bring their own wine, beer or spirits. We enjoyed the alcohol-free drinks menu, and I found my Marguerita very refreshing on a sunny day. I must confess it was bubbly day and a flute of bubbly would've been perfect.
The mesmerising view of crashing waves, happy children, and good food brought about feelings of calm and the blueness of the day an overwhelming sense of peace.
It is written, "We are beginning to learn that our brains are hardwired to react positively to water and that being near it can calm and connect us, increase innovation and insight, and even heal what's broken."
The joyful children bravely skipping into and galloping out of the freezing waves was a testament that sea air "accelerates our ability to absorb oxygen, naturally increasing our levels of serotonin, the critical hormone that stabilises our mood, feelings of wellbeing, and happiness."
Bravo! I can't think of a better place for a bite to eat, sit, relax and enjoy the views. One of these days, when the whales return, we'll be hard-pressed to find a table.
P.S. Suggestion: I would've loved to leave there with a tin or two of canned Perlemoen.. who knows maybe other diners would like to do so too.
Perlemoen
Old Harbour, 64 Marine Dr, Hermanus, 7200
Phone: 082 841 3547
---oOo---
https://www.dailymaverick.co.za/article/2021-05-02-the-abalone-connection-the-ties-that-bind-poaching-and-smuggling-with-the-sa-crystal-meth-industry/
---