Time Travels Through Zimbabwe
---
---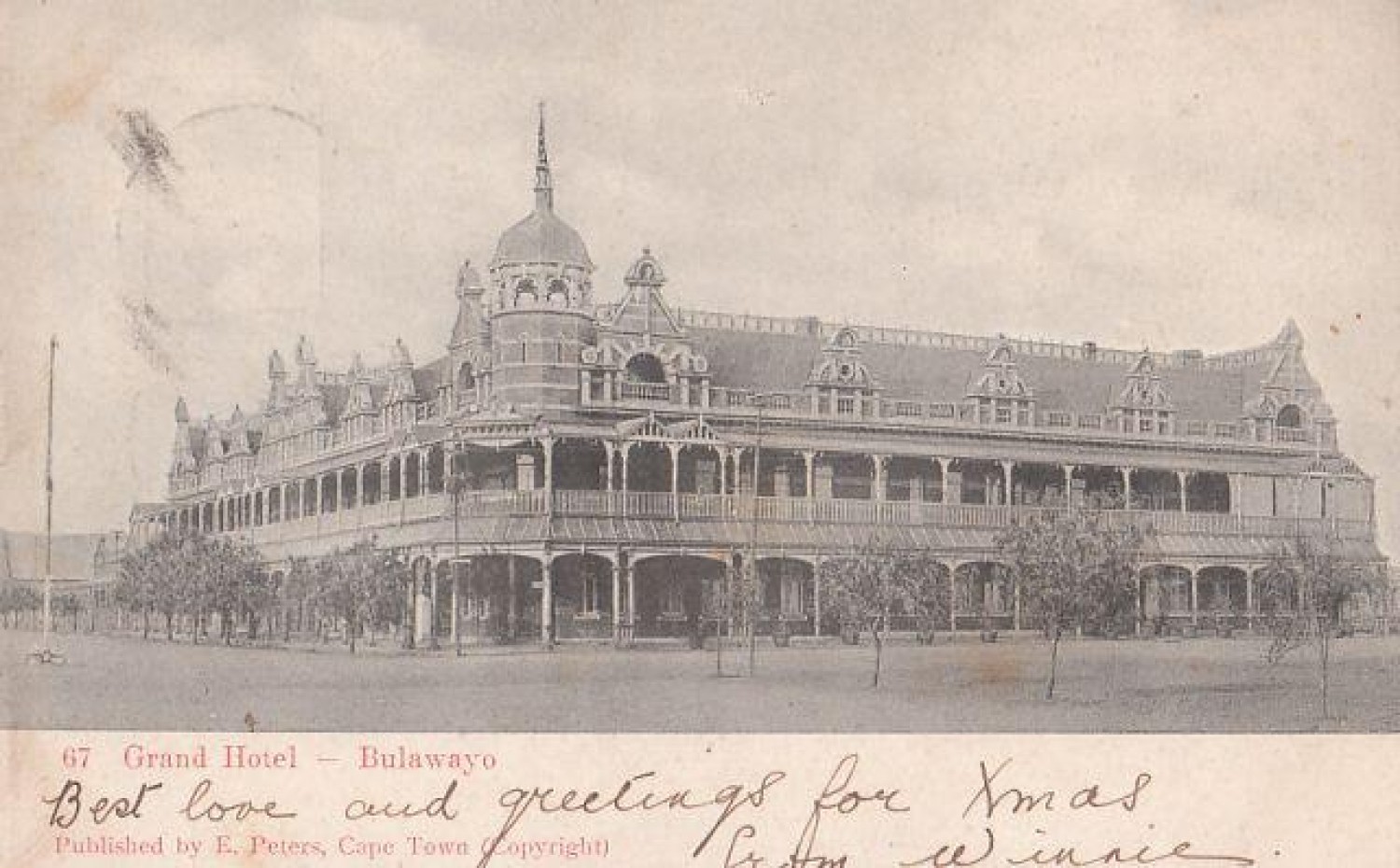 The clock struck one and time stood still in Zimbabwe. It's here that one fully appreciates that man's influence on the Earth is small and insignificant, but, the conundrum is that technology also has the upper hand, for a while anyway it will.
Plumtree border post was our port of entry and we knew we were there by the long queue. Here you queue whether you like it or not. Time is of no consequence either. We stood. Officialdom rules.
Files of documents are tightly squeezed against hot nervous bodies as we finger our passports looking at past visas and stamps from previous trips, I recall how I had to unpack my suitcase once again in Cancun, what on earth were they looking for? It's abundantly clear too that I don't look anything like my passport photo either. Oh dear.
That smile, it's all white teeth, like a row of perfectly spaced corn on the cob. "Hello Madam! Welcome!' There is laughter, chatter and I'm overwhelmed by the general bonhomie amongst the officials. In the little space asking what my "profession" was I'd written "retired housewife" that was funny and Precious at the next counter had to explain who does the work at home now. Foeitog, he was not in the mood and glared at me! Everyone else thought that hilarious. We got the stamp but that wasn't the end of it. Our sojourn in Customs and Vehicle registration took 2½ hours. Painless but pointless. No amount of paperwork, official or otherwise, will ever convince an agent bent on selling you "road and travel insurance" that you've got things covered. You will pay, while they whistle "this is my party and you'll pay if I want you to". Although the taxes (road and carbon) are a rip-off forgiveness comes easy when you're bid a safe and pleasant journey, it works every time!
It is here, in Zimbabwe, that her people speak their own words in their own tongue and their inherent goodness and good cheer is abundant. They are uncomplaining, resilient, strong and hard working. Although His light shines in their eyes they deserve His grace so much.
We'd been warned, roadblocks are the order of the day and so it was. The boom had hardly settled on the gatepost when a very stern looking policeman raised his arm. No problem. Before we left South Africa we made sure we complied with every vehicle law and by-law, we'd checked and double checked. Precious had a printed copy of the Government Gazette, with all rules and regulations brightly highlighted in neon green, it was wedged between my seat and the console between us. Our trailor and vehicle looked like a decorated Christmas tree with all the different chevrons and reflective strips in white, yellow and red. We glowed in the dark. Forewarned and forearmed. We were prepared.
Our journey took us on main roads, big roads, small roads, tar roads, strip roads and dust roads, we were flagged down dozens of times before towns big or small and on leaving towns once again. In every instance we were greeted with a friendly smile, well-rehearsed cordial greetings were made, we were asked where we came from and what our destination was. Our vehicle was checked and re-checked and I must honestly say it was a pleasure. On two or three occasions, I confess, we paid fines (traffic light violation and once for driving with our "spot lights on") we never felt threatened, uncomfortable or considered ourselves bribed. Each time we paid and received a fully completed receipt. Fines are paid in US$. Main roads are well maintained and surprisingly good, we're confident that the many tolls we paid did their job in maintaining these roads. Tolls were. US$2 or ZAR30. Either currency was accepted. We appreciated the "Enjoy your day, drive carefully and goodbye" after each stop. We paid heed whenever we saw a reduction in speed and slacked down immediately, it was worth it.
Villages en route are a reminder of my childhood. Mud rondavels with conical thatch roofs, small subsistence farms, goats and cattle in the road. We stopped for a huge bunch of orange carrots. Fresh, crunchy and packed with vitamins! We chomped away on our delicious snack. Ox or mule drawn carts are common modes of transport, ironically passengers often have a cell phone clutched in their hands too. Marie and Sister Agetha hit it off immediately and are now "WhatsApp" friends!
After a long, gruelling day we stopped at the Cresta Churchill Hotel in Bulawayo. We were exhausted. I had to smile at this Tudor style Hotel, ever so colonial too. It survived. The staff are extremely friendly and helpful and their recommendation to have drinks in the pub and supper in the restaurant was spot on. After a call to reception and a hot tap running for exactly 5 minutes I was rewarded with a tub of hot water in which to soak and refresh. At last we could switch on our phones (free Wi-Fi) to catch up with the rest of the world, but, not South African political news, ( I'd left that all far behind) and to learn that my beloved Joe had got onto bended knee to propose to his Emily. We were delighted and had to celebrate!
We slept like logs. Probably not the most upmarket Hotel in Bulawayo, but, we were comfortable. Linens and towels are a tad worn and could do with replacing, but they were freshly laundered and reminded me of visiting an old spinster aunt who had no need of upgrading her linen cupboard.

Time stood still in Bulawayo. In its heyday it must've been beautiful with avenues of flame, jacaranda and fig trees. There is evidence of large properties and ranch style colonial homes. Things have changed irrevocably. Most buildings are unkempt, tired and worn. Like our towns most properties have high walls and security gates (although not as pretentious as Johannesburg). Streets are wide and clean and well maintained but infrastructure is antiquated though functional. Surprisingly suburbs and street names haven't changed much. I suppose when you're dying to feed a family spending millions on changing street names would be ludicrous.

Fresh fruit, vegetables and breakfast was on my to-do list. Garmin, being the wondrous instrument it is, pointed us in the right direction and we were able to fill our baskets to the brim with scrumptious goodies at the Food Lovers' Market and the well-stocked, modern Pick 'n Pay. Stock is mostly imported from South Africa but, I'm happy to say where it's possible to support local industry and farming, local produce like potatoes, sweet potatoes, carrots and corn is stocked. Goods are expensive, but it's understandable. What a treat to have the "best omelettes" in town at the coffee shop at FLM.
We ventured downtown to see what the CBD looked like and like most towns it was busy, vibrant and energetic. Most banks are represented. The bustling village market looked exciting and I would've loved to stop and browse, we could've done all our shopping for fresh produce there, but I was too late!
New construction was evident, unlike most reports there is growth and an air of prosperity. African style. Zimbabweans are positive and live a life despite their dire conditions. I'm so happy the old town still remains with its picturesque period architecture. In the Commercial district pedestrians are plentiful, fashionable, sauve and confident as they hurry to work with their laptops swinging and Smart phones buzzing. Long queues lined the streets as clients wait to draw their $US before the "new" Zimbabwe Bond is official in June. Although we had no problem at the ATMs we were told that banks had run out of money to pay clients during this frenzy to draw cash. Informal, street vendors and money changers do a brisk trade and the exchange rate is a sweet deal.
I wish I could capture the friendliness, helpfulness and positive attitude Zimbabweans have. If I could bottle and sell peoples' smiles I'd be a millionaire. We passed through Bulawayo on a few occasions and each time I was suitably impressed.
I know now why my father called it "God's own country".
Cresta Churchill Hotel
Corner Matopos Rd & Moffat Avenue,
Bulawayo 9140,
Zimbabwe
Pick 'n Pay and Food Lovers' Market
Zizwezonke Shopping Centre
Bradfield,
Bulawayo,
Zimbabwe
---