Winning Winter Warmers When It's Welly Cold
---
---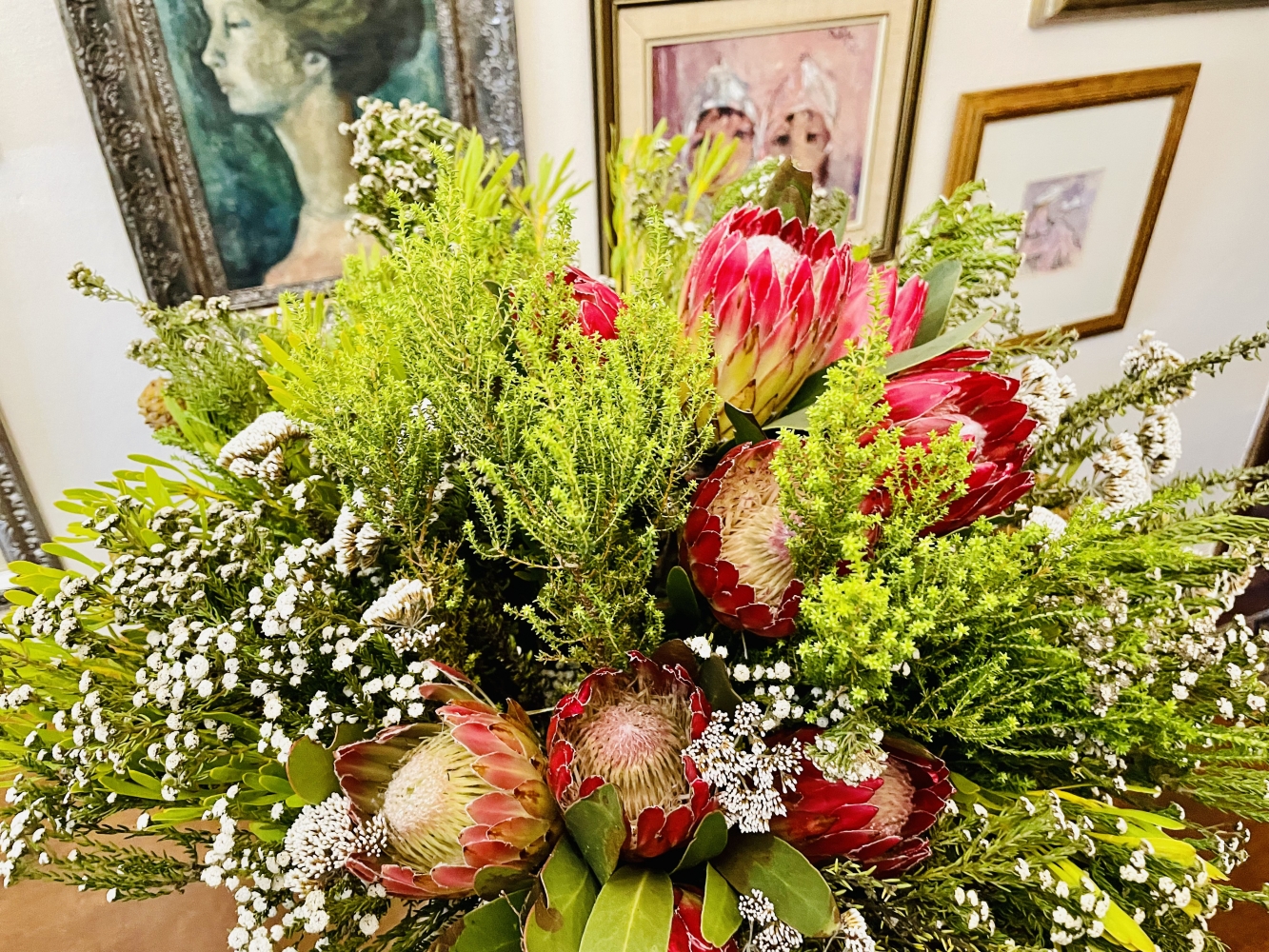 Recipes to warm your heart – Cinnamon Pancakes, Beetroot Risotto and Lamb necks on the braai.
This quotation inspires today's blog "Don't think about making art, get it done. Let everyone else decide if it's good or bad, whether they love it or hate it. While they are deciding, make even more art." Andy Warhol.
Rain is running rivulets down my windowpanes; the wind is howling so badly that my daily visit from the Robin has been extended as she see-saws while gripping a sickly branch of a pot plant, in dire need of attention. While her feathers are ruffled, I have the luxury of wrapping myself up in layers of wool. I picked the last roses in the rain. Soon it will be time to prune them, but, there'll always be a bucket filled with fynbos to cheer us up.
It's a pancake day. We'll break all the rules and succumb to our cravings, just this once. Our pantry has been stripped of all items which may contribute to our weight gain during the lockdown. For my pancakes, I'll need sugar, flour and eggs.
I hear the gate open and close; Butch has knocked off for the day. Checkers 60 will arrive any minute now. My hamper is delivered, within the hour, fresh eggs, a bag of sugar and a pound of butter. I'm still astounded by the internet, Apps and the convenience of online shopping. Every package delivered is a gift.
While I hear Butch spinning on his bike, I whip up a batch of pancake dough. I know I'll wake up during the night and count the calories and the teaspoons of sugar ladled all over my scrumptious pancakes. To hell with it. I'll go down the guilt-ridden rabbit hole later.
My Easy Pancakes.
2 cups of cake flour
5ml baking powder.
1/4t salt
3 large eggs
60ml oil (I use Olive oil)
500ml Milk
Method:
Blend all the ingredients in a large mixing bowl. Cover with cling wrap. Refrigerate for 1 hour or until needed.
Heat a small, light pancake pan on high heat. Swab the pan with salt to remove any sticky bits. Coat the pan with oil. Pour off any excess oil.
Check pancake mixture. If the pancake mixture is thick, add water until you have a creamy consistency.
Spoon pancake mixture into the pan—Cook for 30 seconds. Loosen edges with an egg lifter. Flip or turn the pancakes—Cook for a further 30 seconds.
Keep the temperature on high. After each pancake, add a teaspoonful of oil to the pan before spooning the mixture for the next pancake.
Sprinkle cinnamon sugar. Roll. A squeeze of lemon juice heightens the flavours. Enjoy your rainy-day pancakes.
This mix can be kept in the refrigerator for an extra day.
---oOo---
My kitchen is stocked with ancient, well-used utensils. My kettle is older than my youngest and still works perfectly. The soup ladle I use for my pancakes comes a long way; it holds exactly the correct amount of mixture to coat my pan, a relic. My heavy bottomed black cast iron casserole is well oiled and seasoned.
I have two more must-have recipes for you. Easy to prepare and make, but the comfort, warmth and satisfaction they provide are immeasurable.
BEETROOT RISOTTO
Bake a bushel of scrubbed medium-sized beetroot in the oven at 180C until a knife cuts through them easily. Cool until you can grate them. I used the coarse side of the grater.
In a heavy-bottomed saucepan, sauté one chopped onion in a good dollop of butter and olive oil. Be generous.
Add 300ml Arborio rice (Risotto rice). Stir fry for a minute or two.
Add 125ml red wine. On a high heat boil, occasionally stirring, until all the liquid has been absorbed.
Make 650ml vegetable stock according to instructions provided or use ready-made vegetable stock.
Add soup ladles of stock to the Arborio rice, simmer. Continue adding stock until the rice has cooked AL DENTE.
Add the grated beetroot. Stir through.
Add a large dollop of crème fraiche (about 75ml).
Stir through. Season. A generous grind of black pepper is called for.
Finish the dish off with a grating of Parmesan cheese.
Spoon a portion into a bowl, garnish with a scraping of cheese and a sprig of parsley.
Voila! Supper is served.
---oOo---
On Saturday, we had the kids and grandchildren for lunch; we always try and WOW them for this occasion, but we keep things simple so that neither of us is caught up in the kitchen. Much of the prepping happens beforehand. When we see their car pulling in, we down tools, I untie my apron, add a fresh swipe of lip gloss, and I'm ready to enjoy the time we can spend together to the max.
At a guesthouse in Sutherland, we experienced the delights of a slow-cooked lamb's neck. Butch found an easy Ina Paarman recipe which we adapted. If there's only one new recipe you try this winter, let it be this one! You'll not be disappointed. The meat must be slow cooked ONE DAY BEFORE YOUR BRAAI. Order your lamb necks beforehand to prevent disappointment.
LAMB NECKS IN A BARBEQUE GLAZE FINISHED OVER THE COALS
ONE DAY BEFORE, DO THE FOLLOWING:
3 Lamb necks, cut lengthwise (6 portions.)
In a pestle, crush 6 sprigs of Rosemary together with
10ml Maldon salt (or coarse salt)
15ml freshly ground black pepper.
10ml coriander seeds
10ml brown sugar
Also have:
500ml Beef stock
Barbeque sauce (We used Ina Paarman's Barbeque sauce, but any BBQ sauce would work.)
2 brown onions
2 whole cloves of garlic
Massage the rosemary rub into the meat. Place the meat into a roasting pan or flat-bottomed cast-iron saucepan with a lid.
Cut 2 onions into quarters and place them between the necks.
Slice 2 whole garlic heads in half and place cut side down on top of the meat.
Add a few sprigs of Rosemary on top. The flavours, while cooking, are intoxicating!
Make 500ml beef stock according to instructions and drizzle over the meat.
Cover the container with a double layer of tin foil and the lid.
Slow cook the meat in a pre-heated oven at 160°C for 2 hours.
Cool the meat, unopened, in the oven.
(I did this a day before, placed the meat in the oven at 18h00 and left the meat in the oven until the next morning.)
Next morning do the following:
Remove the meat, garlic and onions from the stock.
Reserve the stock to be used later for soups. (I froze mine in a ziploc bag)
Keep the garlic and onions aside.
Place the necks in ziploc bags and coat them generously with BBQ sauce. Marinade for at least 2 hours.
Carefully place the meat onto the front of a braai grid. Paint with BBQ sauce and braai over medium-hot coals. Butch braaied the meat on the highest level for 30 minutes, turning regularly and brushing BBQ sauce at each turn until the meat has warmed up right through and the outside is beautifully crisp and sticky.
Serve on a platter and garnish with sprigs of Rosemary the re-heated garlic bulbs and onion quarters.
Thank you, Ina Paarman, for this delicious recipe. You can be relied upon to always give us excellent tried an tested tasty recipes that work.
---oOo---
When he's in the mood my Butch is a masterchef and will conjur up a Thai dish in a jiffy using store cupboard ingredients and whatever's in the deepfreeze or fridge. He chops, dices and slices meticulously. His flavours are robust, hot and spicy. It's a pleasure watching him work and a treat to eat. All I do is pack the dishwasher afterwards.
---oOo---
With a sigh of relief I celebated another trip around the sun. Liam on the table, jointed us for tea while we had a slice of delicious Rainbow cake. A first for me. I loved it. We'll not speculate on the year ahead. That's one thing we've learned.
It's Monday morning, and as per usual, I will have to attempt to eat less. Today is freezing; the wind is still howling. My good intentions have already gone by the wayside; a delicious thick vegetable soup is bubbling away on the stove.
---