Scintillating Sunny Salads
---
---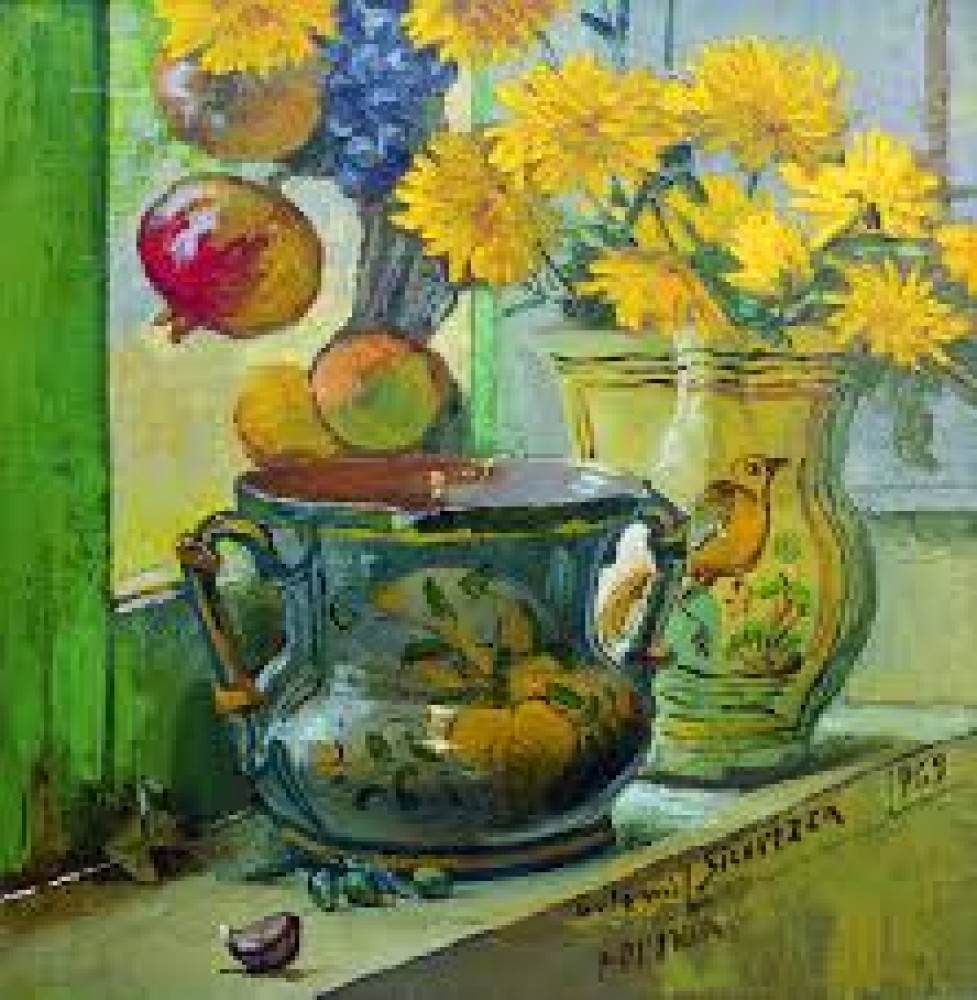 It's a mellow-yellow Saffron day, it's hot, sticky and slightly sultry. I awoke with melons, songs and nasturtiums on my mind a Yellow song and it was Coldplay! A good theme for Thursday.
This is a pedicure and cafe day. Provence is yellow, reminding me of Les Girls, pottery and champagne, those days of being French. I've got it! It's a Van Gogh day. We'll do Melons with a twist and I'll treat you to some of my favourite scintillating salads, we'll turn favourite pedestrian Caprese salad into art. All this on a dolce day.
To smell the fresh, full-flavoured muskiness of a Musk Melon is one of my favourite things, combined with Parma ham, walnuts and torn Buffalo Mozzarella makes it heavenly.
Melon and Parma Ham Salad
(Serves 6)
Arrange a selection of your favourite summer salad leaves on a large platter, make sure you've included delicious peppery Wild Rocket too.
Slice the Melon into thin slices, peel and arrange on the platter
Tear 120g Parma Ham into bite-size portions and drop between the Melon
Add any of the following ingredients: sliced avocado, cucumber ribbons, thinly sliced Fennel Bulb or chives
Garnish with Parmesan shavings and/or torn Buffalo Mozzarella
Dust with Spanish smoked Paprika, freshly ground black pepper, chopped Mint or Basil
Glaze liberally with glugs of green Virgin Olive Oil, squeezed lime juice or Balsamic Vinegar.
Pine nuts or Walnuts will do the trick too.
Ripe ruby FIGS just torn open can substitute the Melon with ease.
WATERMELON hearts, cubed, paired with a creamy blue cheese or Gorgonzola will wow your guests and please the kids as they'll get the large slices instead. Remember those sticky moments when a Watermelon fight breaks out!
This salad looks decadent on a washed wooden board.
Balsamic or Pomegranate reduction,
Make your own reductions, it's easy to do and perfectly complements salads
500ml Balsamic Vinegar or Pomegranate Juice (use a good red wine for a red wine reduction)
250ml sugar
Pour ingredients into a heavy bottomed saucepan, stir until sugar has dissolved.
Heat over a medium heat stirring occasionally until boiling point. Reduce heat and simmer until the liquid has reduced by half.
Remove from the stove, cool down and bottle.
Cover the top of the sauce with a sheet of cling wrap while cooling to prevent a skin forming on the top.
Classic Sun kissed Tomato and Marinated Buffalo Mozzarella Salad
You've got your mojo back when you make Caprese Salad.
Use beautifully vine ripened, sun-kissed Roma (Italian) tomatoes and the best Buffalo Mozzarella you can find, this recipe is so simple, like a little black dress, the quality makes it chic!
1 punnet Roma tomatoes (here your imagination can run wild, use colours and shapes that vary)
1 ball Buffalo Mozzarella
1 handful freshest basil leaves
Maldon Salt and freshly cracked rainbow peppercorns
DRESSING:
2,5ml fennel seeds
Zest and juice of one lemon
10ml oregano, chopped
garlic clove, crushed
30ml Olive oil
Roast the fennel seeds in a hot pan until they pop and flavour (the oils within the seeds will do that)
Crush in a pestle and mortar. Add all the other dressing ingredients and mix well. Marinade the mozzarella in the dressing for 30 minutes.
Cut the tomatoes into wedges, or slices if you're using large tomatoes, sprinkle with salt and pepper.
Use a beautiful platter to plate the tomato, Mozzarella and Basil leaves, slightly crushed to enhance flavours.
Drizzle with the marinade and finish plate off with a little extra lemon juice and Olive oil to refresh the shine.
TIP:
To make individual portions as a starter use large Roma tomatoes, slice. Stack the tomatoes, mozzarella and basil in layers alternating flavours. Drizzle with dressing and refresh with a few drops of extra Olive oil, Balsamic Vinegar and a Basil leaf.
The salad comes to life served with crusty bread or crostini (sliced French loaf, drizzled with olive oil, baked in a 180C oven until golden.)
The Yellow-billed kite is back and the vineyards are pregnant with fruit, I can see huge bunches of Red Globes sparkling in the sunlight. It's harvest season and time to celebrate a new vintage
ROSY FIG, RUBY RED-GLOBE AND WALNUT SALAD
(Shimmy the salad up with Pomegranate rubies)
1 head Butter lettuce
1 bunch mixed salad leaves and herbs
3 figs per person, quartered
3 large bunches of black or red grapes (mixed bunches are fine too)
1 handful chives, snipped
1 handful mint, chopped
120g walnuts, roasted and roughly chopped
1 small red onion, thinly sliced and chopped (optional)
Pomegranate rubies for garnishing
SALAD DRESSING:
250ml Extra Virgin Olive oil
50ml Pomegranate reduction (if you don't feel like making use red wine vinegar)
5ml Dijon mustard
30ml Orange juice
30ml honey
Salt and freshly cracked black pepper
Arrange lettuce and leaves on a platter or on individual plates, arrange figs around the outer edges of the platter or plates, pile the grapes in a mound in the middle of the platter. In a bowl toss the grapes, onion, walnuts, mint and chives together. Pile into the middle of the platter or plates.
Mix all the salad dressing ingredients together a day before serving, keep refrigerated until ready to serve. Spoon the dressing over the salad just before serving. Garnish with the pomegranate rubies. Serve extra dressing on the side.
TIP:
The figs and grapes can be replaced with baked beetroot and grilled Aubergine. (Wash beetroots, cover with olive oil and bake at 180C for 40 minutes, the aubergines can be sliced lengthwise, coated in olive oil, placed on baking sheet in single layer, baked for 25 minutes. Do check as ovens vary). Serve with soft Goats' cheese broken on top.
K.I.S.S. that's what we need to have embroidered onto our aprons! Keeping it simple is the only way to cook and entertain our guests. Now it's time to relax with a something cold and pink (Bloos from Hermanus Pietersfontein I think)
If you enjoyed this post and would like to receive more just complete the subscription form. Everybody's doing it!
---