Making Memories In Montagu
---
---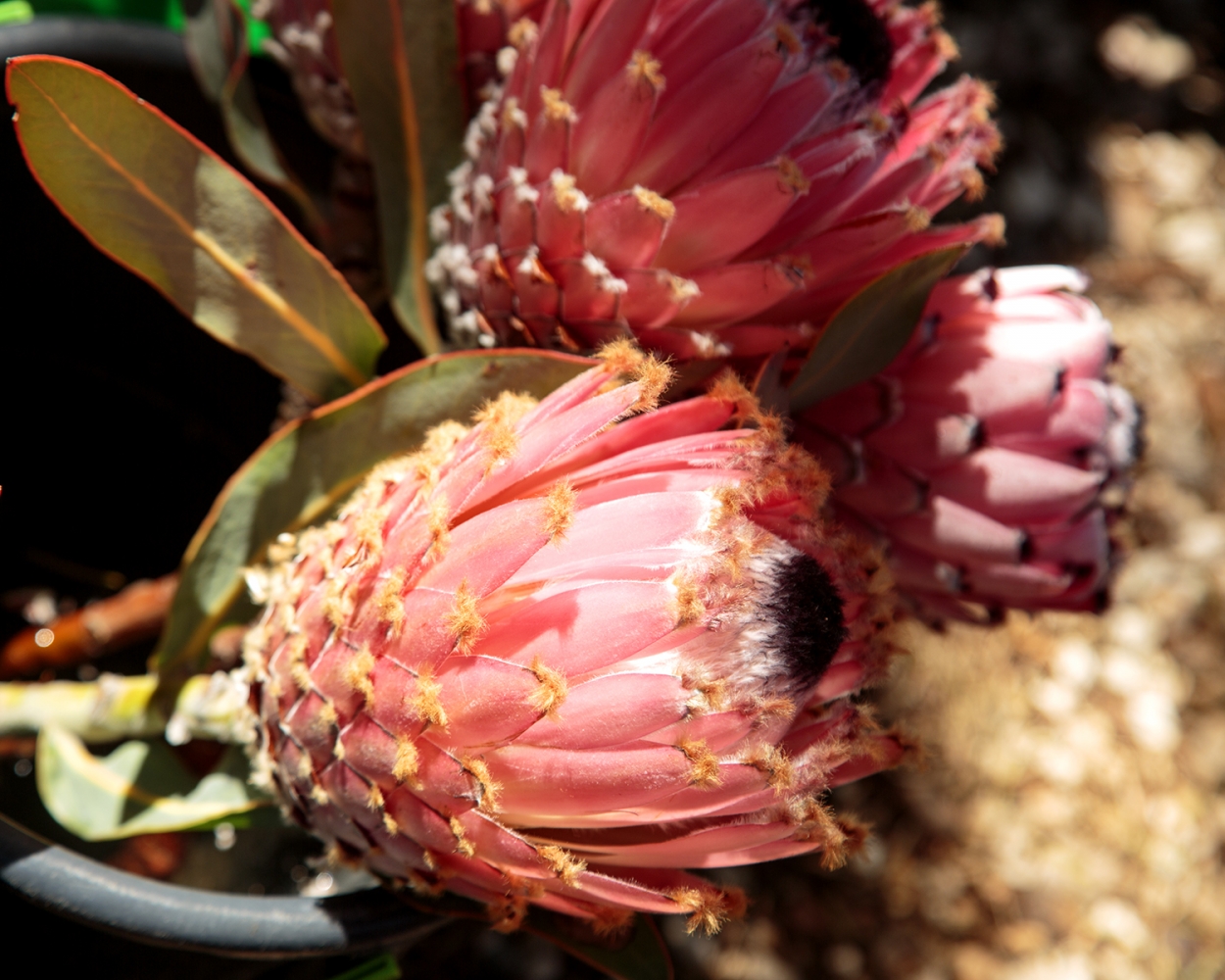 As we get older we enjoy celebrations. Could it be that they're becoming scarcer as we attend more funerals than parties these days? Fortunately we were on our way to a birthday braai and would camp in beautiful Montagu with its heritage homes, large properties, channelled water, quaint businesses and friendly residents.
We were all smiles and Kumbaya as we set off with a bag of freshly baked almond croissants for breakfast from our favourite bakery Daly Bread and a treat with our take-out coffee, Pasteis de Nata. We've become rather fond of them. We're just keeping up the "padkos" (literally translated means food for the road) tradition
A birthday celebration is a good reason to rev up our Honey Badger and head off for a weekend. Since his vested interest in the Rugby World Cup on Superbru Butch does not miss a game. We set off rather earlier than usual to watch the game in Robertson (always a good pit stop) at everybody's favourite restaurant Bourbon Street. I have only been there on a few occasions and couldn't believe how they've expanded.
While the anthems were being belted out we ordered drinks and a platter of fresh oysters. We had reason to celebrate. We know from previous experience that supper on our first night camping is always an affair and we needed to be well prepared so opted for a Tapas meal. Small portions of starters.
The menu covers most dishes loved by South Africans and we readily tucked into Jalapeño Poppers, Fiery Sirloin strips in a creamy sauce, Crispy wings and Nachos. Every morsel deliciously tasty and perfected prepared.
I was the designated driver from there onwards. We did it slowly. I had my driving instructor firmly on my shoulder spurring me along as I remembered all his advice. The many roadworks kept traffic at a steady pace and we made it to Montagu by midafternoon. It was blindspot, mirror, mirror, mirror, blindspot at every stop.
Construction has resumed on the colossal new Transversely-launched Arch Bridge crossing the Kogmanskloof river in Ashton and I am determined to be there when it replaces the old bridge, which is going to be awesome. Imagine the new tied arch bridge will be launched transversely into its final position, over the space of a weekend after removing the old bridge. I wonder whether it's been done here before.
Our reservation was on a working grape farm approximately 5km out of town towards the Montagu hot springs called Badensfontein. After a few turnabouts we eventually found the farm and couldn't wait to get ourselves set up and in relax mode.
A small, beautifully maintained campsite, situated at the foot of the mountains serves only 7 campsites, some under large shady trees and manicured green lawns we could pick our spot. Soon the campsite was a buzz with new arrivals. There was not much time to chat as everyone was busy setting up. As the sun set there was a collective sigh of relief as chairs were pulled closer and drinks poured. Now conversations could be heard while fires were lit in the barbecue drums available to guests.
The communal bathroom housed in a rondavel close to our site is adequate with two hot showers for ladies in two spacious rooms. Gentlemen don't have it as easy and Butch found the shower cubicle small and cramped and wondered how he'd have shared with another man. We suggested he use the ladies facilities, which worked far better. I'd suggest that the "mens" showers and lavatories be upgraded and turned into a third facility and that the three shower rooms be unisex as couples share in any event.
We did manage to get ourselves geared up to go for a walk in the morning but didn't find any hiking paths, so just stuck to the farm road and enjoyed a leisurely 5km amble. Suited me.
While Butch and Percy watched the rugby in a pub Sue and I headed off to do some exploring and our first stop was the Montagu Saturday market. Lovely. Situated under large, shady trees we browsed and chatted to the friendly stall owners who generously shared their stories with us. Anything can be bought there from educational wooden toys for children to pancakes, art, jewellery and beautiful crocheted dresses from a Zimbabwean lady who told us how she'd put three of her children through university with her handiwork. I must say she does a very good job.
On our wall will hang the sweet watercolour I bought at the market titled "eight is enough" by the watercolourist Maureen Riddell. It will take pride of place in our Honey Badger camper van.
Elton, a local street artist, with a big smile showed us his bits and pieces, but didn't offer any to purchase, he has a good thing going as we all "donated" to his cause.
There are bicycles to rent, interestingly, local artists have painted the bikes for colour I recognised Johanna Naude's contribution immediately. Short biographies are included. One gets the idea that in Montagu the survival of the town is a team effort as everyone pitches in and contributes according to their talents. Elsabe Robertson for example bakes the most amazing cakes and supplies chefs and caterers with her bespoke cakes. A client dreams it and she produces it perfectly.
Montagu certainly has some very interesting shops and galleries housed in beautiful old residential properties. Residents take pride in the gardens and many have taken up "water wise" gardening to survive the very hot, dry, Karoo climate.
Cape Dutch architecture as well as Victorian buildings make up much of the center of the village.
Lunch was at the local Craft Brewery Route 62 and what an experience that was. The brew master Eugene, from Elsie's River, was a treat! He kept up his banter with every client and had us in stitches. I even messaged my son Joe in Canada, to import him.
Waffles in all forms savoury and sweet are served here, quite unusual. The waffles were light and fluffy, the chef has mastered the art. We ordered a selection to taste e.g. one with classic pizza toppings (we're doing lots of taster menus lately) and I was pleasantly surprised. My only complaint, I had far too much gluten for one with an intolerance. I would pay dearly.
Clever coffee sachets, once opened become a drip system which is hooked onto the edge of a cup. Aptly named Coffee Angels. This is my second encounter the first at KOK coffee in Hanoi and now in Montagu. Supplied by www.rouxbean.co.za very nifty especially for guesthouses and campers or hikers.
The Portuguese food emporium does a buffet lunch, we did not stay for the delicious meringue cake, it certainly looks impressive. Hopefully next time.
Montagu is the capital of the dried fruit industry and we took full advantage stopping at the Cape Dry factory shop. Within a few minutes I had a basket filled to overflowing with fruit, nuts, seeds and honey. Our breakfast muesli is loaded with delicious dried, but fresh, fruit and nuts now. Well worth a visit.
The birthday celebration was a huge success, we overindulged in all respects and loved every minute of it. It was lovely to meet the new boyfriend, catch up with family, swop stories about our grandchildren and children. I vowed I'd fast come Monday. I didn't of course.
October is a particularly good time to visit as the weather is kind and the gardens are ablaze with colour. Indigenous medicinal plants thrive in the arid semi Karoo and Montagu prides itself with a beautiful formal medicinal garden at the museum, well worth a visit. One could buy a book describing the plants, its uses, how to make salves and tinctures etc. I seem to recall one could purchase ready made decoctions too.
All too soon our weekend was over and we had to pack up once again and head home. We made it in time to chat to the children. A Sunday ritual now.
This time we made it home without rim (tyre) problems. The saga is not over yet I must report. But I'll keep this little tidbit until next time. Now I must dash off to my driving lesson.
BADENSFONTEIN:
---