Suikerbossie Guest Farm Meander - A Review
---
---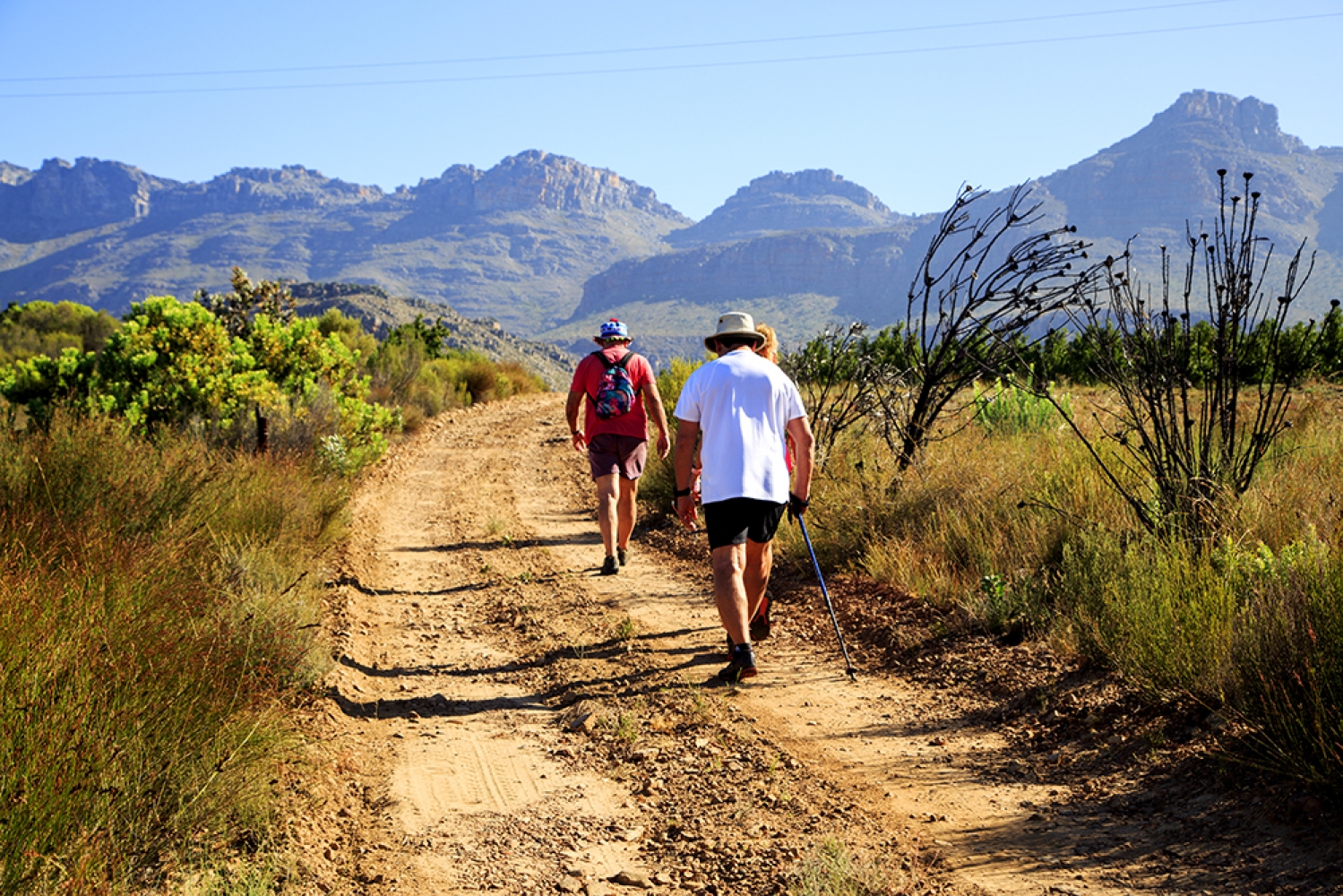 I have friend who knows the lyrics to all the 60's and 70's songs and she has the gift of being able to belt out the songs at the drop of a hat. So you say "submarine" and she'll take that as her cue to sing. She does it anywhere and everywhere. That's probably given my next sentence away! Suikerbossie inspires me to sing "Suikerbossie ek wil jou hê!"

Just a two hour drive from Worcester through the picturesque villages Ceres, and Prince Alfred Hamlet, over the pass and through Op Die Berg, where our boys played rugby in Primary school. The coldest place this side of Sutherland. There primary children play with bare feet on frost frozen playing fields.
Straight through on the way to Citrusdal we turned off and headed for the captivating Skurweberge. And there, nestled in the most weather worn rock faced mountains at the southernmost part of the Cedarberg on road 303 in the Kouebokkeveld lies Suikerbossie Guest Farm.
Rock formations, Bushman paintings, veld, rivers, waterfalls and freshest air. Take your pick of the following options: Camping sites, glamping sites, 4x4 trails, hiking routes and a wedding venue they're all there spread out on green-green lawns along the banks of the river.

For 200 years Hanekoms have had title to the land but the current Hanekom family have been there since 1982. All along the embankment the campsites are laid out each with a view and something uniquely attractive. We had to opt for a site to accommodate the Honey Badger. Like many of the sites we had a secluded enclosure where we could dine, cook, and braai and relax if the wind came up or we'd had enough of the sun.
Our days were spent hiking along the river through deciduous fruit orchards laden with golden pears and red cheeked peaches. This is a small working farm but campers have freedom to roam.
We dipped our feet into the cool waters and even ventured into the deep pools and waterfalls when we tired and warmed up towards noon. The communal jetty was where families went to play, dipping in and out of the pool, floating on their large swans. During the afternoon we were entertained by young and old slipping and sliding down the lawned embankment all arms and legs akimbo.
Cooking our meals is always a highlight and my cast are always eager to partake in the fun and games. On Friday evening after we'd all unpacked (it literally took us 5 minutes to settle) we set about getting the drinks poured Sue and Percy made their fabulous Lasagne in a pot. For lunch after our strenous hike we enjoyed Sue's Gourmet Burgers. What a treat.
We were "on duty" on Saturday night and our team effort produced a delicious Paella. Once again I was able to stock up on a selection of delicious fish from Fish'n Chicken in Worcester. Sunday was a lazy day and I refused to budge. A Spanish Omelette rounded off our Mediterranean weekend in the Cederberg.
Our next escapade will be to the beautiful Arniston campsite.
Website: https://www.suikerbossieguestfarm.co.za
A follow-up blog will feature the Paella Recipe.
---