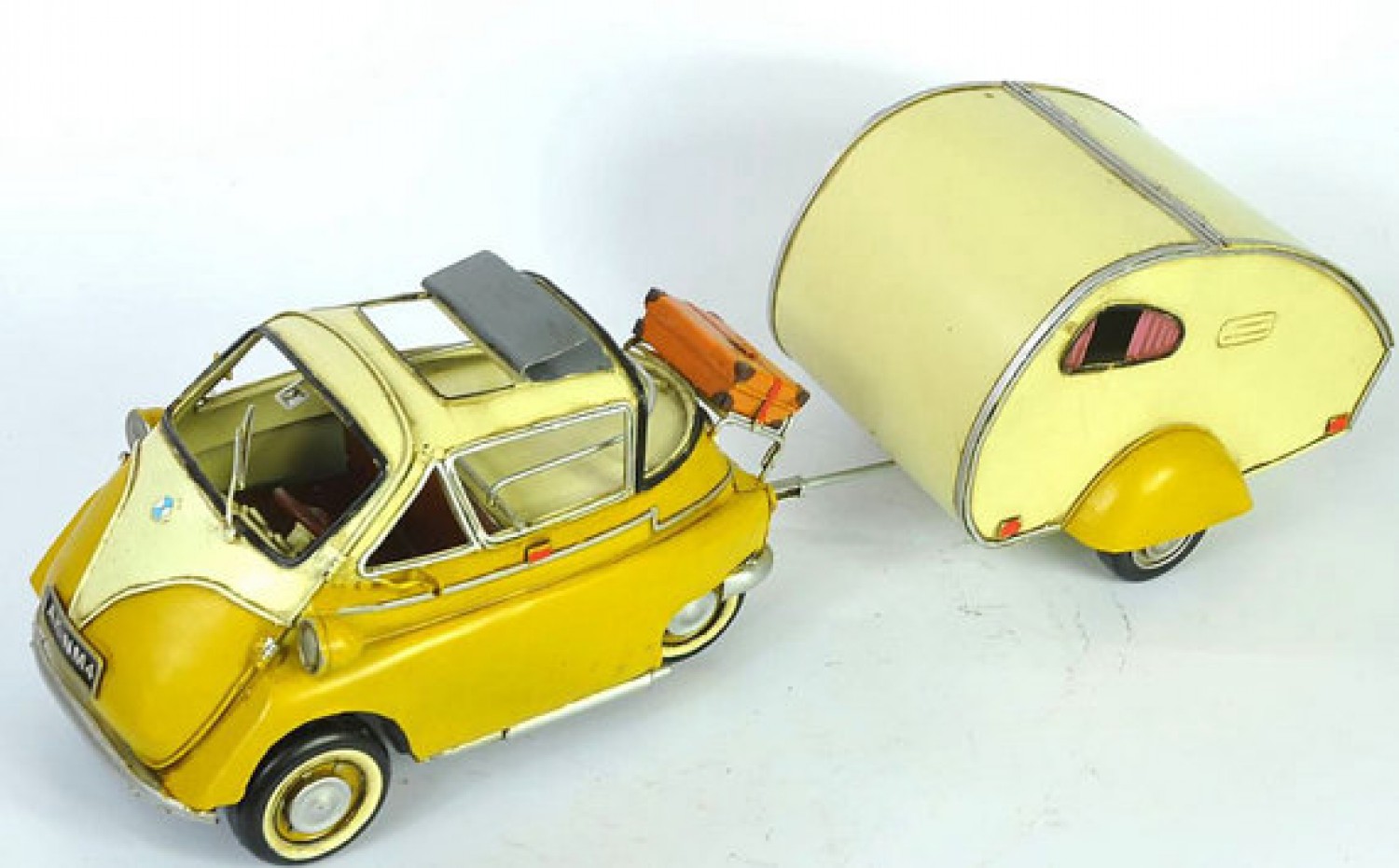 Not my usual story about our Honey Badger, but, it's about being motivated by the plan and execution that we have for our truck.Ours has been in the making for months and the end is not in sight. Yet. This one is a spur of the moment, "let's get stuck in and get the job done job". Typically what someone with too much energy does. The days are 24 hours long. Excitement is high and energy levels are on high alert. They're the young and restless.
A week ago Tim decided he was going to convert an old trailer home into an all-purpose trailer. You see like many people he has a birthday next week, he hates a fuss and would never celebrate it. Before any surprises are sprung on him he disappears into the Canadian tundra. He has an ulterior motives too. It's "open hunting season" in Canada, a short window period, where hunters may hunt freely (I think). It's also the best time to fill his freezer for the forthcoming winter. It's a thing that gets done there. Freezers, pantries, larders and cupboards get filled with all manner of things. Pickling is big, curing is big and hunting it seems is very popular too. Note: for the pot.
He does it with a bow. He stalks. He waits. And waits for a white tail or deer or elk. Often he just sits and waits.
But I'm regressing, and would hate for this to all end up on social media with the poor boy being cyber bullied. I must stress he doesn't hunt to make it into the papers or onto the World Wide Web!
The terrain it seems is wild, wet and wondrous. They drive as far as they can go safely, on an officially maintained road; then, stop, set up camp, (in this alternate, not to be confused "Venterjie") and then, once they've settled, they do their stalking. His idea is to have this very large trailer equipped for 2 large quad bikes, they will be used instead of a vehicle (hunting vehicle like the ones used here). Once the bikes are out the space will be set up for sleeping quarters.
I believe the part he enjoyed was stripping the interior so that they only had the bare bones of the structure. New wiring had to be laid for both gas and electricity as well as insulation so that the interior can withhold temperatures dropping to -30֩ C (that's how cold it gets there!). Once the bare necessities were in order new walls, were put in, a kitchen was installed and the walk in cooler was set up.
The entire job took a week of non-stop grinding, drilling, fitting and turning. But perseverance paid off and last night I received a short clip of the two quadbikes being driven up the new ramp and being safely stowed. Once they've reached their destination the bikes will be removed, their sleeping "cots" (we call them stretchers) will be set up.
Giving instructions and trying to help out is what I do best, I've done it, told him all about cupboards falling off the wall, I've warned him about bad roads, potholes and asked him about his clearance and whether the trailer will have adequate ground clearance. I'd hate them to get stuck in the middle of nowhere. But, boys will be boys and not much heed has been given to anything I say.
SPESIFICATIONS:
3 berth (must be comfortable)
Adequate kitchen and refrigeration facilities
Parking for 2 quad bikes
The unit is 6.7m long and 2.4m wide
All four tyres must have brakes and are synchronised with the vehicle towing it
The trailer does not have 4x4 capabilities
Working on a tight budget and time constraints - this ship leaves on the 15th September
As a young child he couldn't wait to take his brand new Christmas or Birthday present apart, he'd wield a hammer to it if it didn't budge. His favourite toys were Lego and Mechano which he built and broke down more times than I can remember. He loved fiddling around in his Granddads garage playing with his tools and doing woodwork. Now his favourite place is his own garage where he's still busy building, breaking down and re-modelling. Soon, I hope, his son will join him there in that quiet space they can call their own.
So to you and Dr. Phil, your wingspanner, we say well done. You've done an excellent job. We wish you a safe and hassle-free journey. May your arrows be swift, sharp and true.
And they're off. Saying goodbye to his family doesn't seem like much, but, believe me he will miss the smiles, cuddles and kisses.
---