Authentic Seafood Paella Recipe
---
---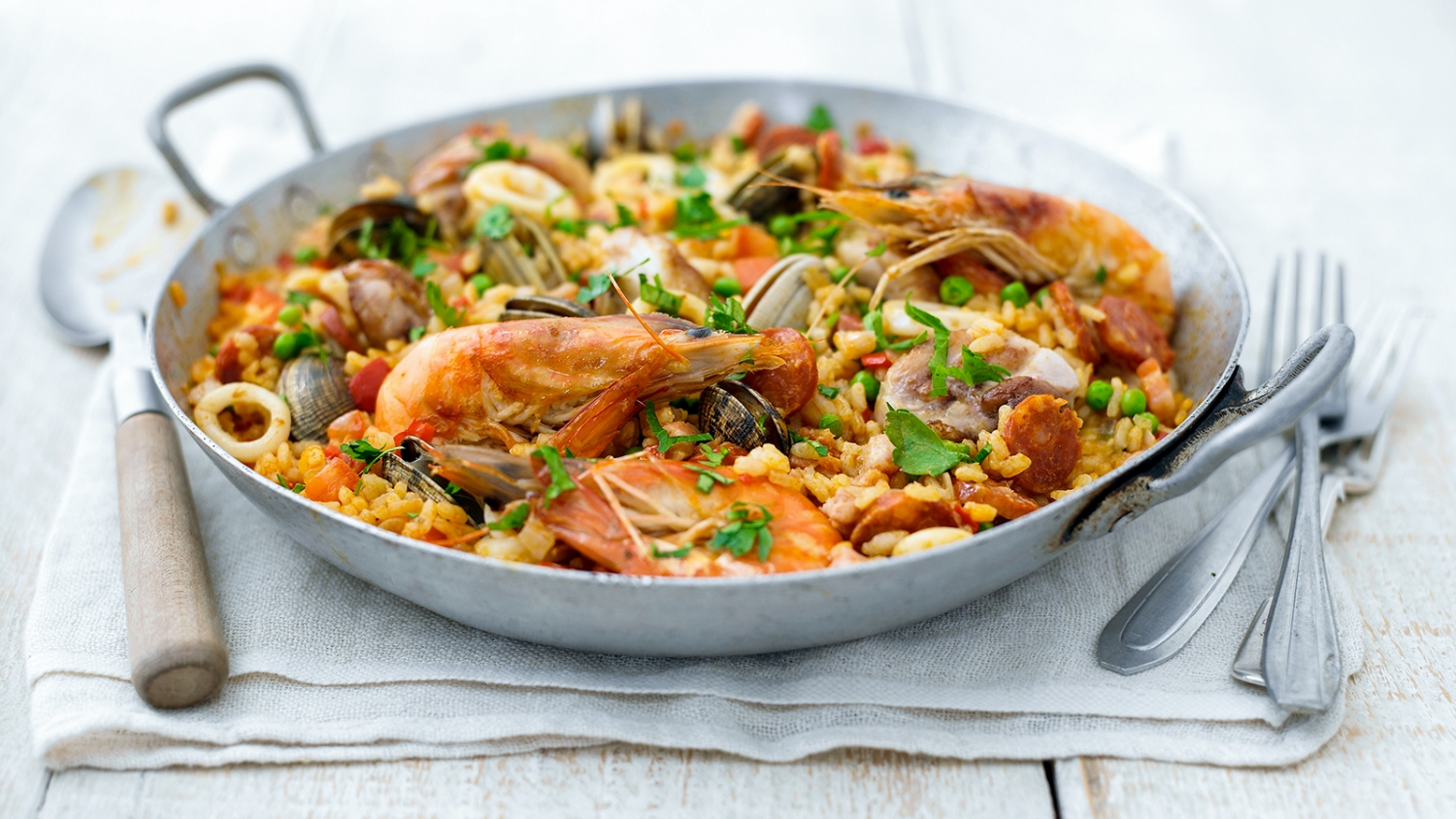 A Spanish Paella packed with punch, traditional spices and ingredients. A conversation piece that looks more complicated than it is and tastes sensational
In a previous life I was a caterer and this Paella recipe was a firm favourite with clients. It is fool-proof, easy and takes center stage at the table. I have shared the recipe with friends and family more times than I wish to recall and if I should ever write a recipe book it will be featured.
A Paella can be made for two or, the basic ingredients can be doubled up to serve a crowd. With this recipe there is the added bonus that it may be prepared in advanced, frozen and dolled up on the day. When fresh fish is hard to come by frozen products may be used with ease.

Paella does take a little effort, the ingredients must be at hand and prepped in advance. It is very suitable for a group effort as we did when we made this Paella on a raditional outdoor fire. The heat has to be constantly regulated and we made sure the coals weren't too hot. Perfect camping food.
PAELLA
Serves 8-10
(to make for 4-6 people halve the rice 250ml use less seasoning, vegetables, chicken, sausage and fish. Halve the liquids too. Here you can use your own discretion)

Ingredients:
30ml butter
30ml Olive oil
6 thighs and 6 drumsticks (the cuts of chicken used is optional)
1 chorizo, sliced
500ml Chicken stock (I used fresh chicken stock but you can make your own) cut pieces into smaller portions
500ml raw brown rice
2 leeks, sliced
1 medium onion, chopped
3 garlic cloves, chopped
1-2 green chillies, chopped
2 red bell peppers, cut into strips
6 medium tomatoes, skinned and chopped or a 400g tin of tomato
10ml tomato paste
5ml sugar
2,5ml cayenne pepper (we enjoy spicy food)
2,5ml Saffron threads, soaked in 60ml water for 5 minutes
250ml white wine
1,5kg assorted fish like calamari, prawns, black mussels, clams, firm while fish (I would use Cape Salmon or Stock fish, but Kingklip is a popular choice)
Clams (optional)
2 Crayfish tails (a luxury and optional)
Handful black olives in brine, stoned
250ml Frozen peas
Handful of fresh Italian parsley, cut (do not chop herbs until all the beautiful oils soak your chopping block)
Salt and freshly cracked black pepper
1 lemon/lime cut into quarters.
METHOD
Using a large flat bottomed pan heat the butter and Olive oil, stir-fry chopped onions and sliced leeks. Saute for a few minutes until the onions are glassy add garlic and chilli, saute.
Soak saffron threads in water
Brown chicken pieces
Add rice and stir-fry until nutty and brown
Add chorizo and stir-fry
Add red bell pepper strips and stir fry
Season lightly with salt and freshly cracked pepper and cayenne pepper
Pour over the white wine. Simmer gently until all the liquid has been absorbed by the rice.
Add chopped tomatoes, tomato paste and the sugar, if needed.
Stir through, add soaked Saffron threads and stir lightly.
Add small doses of chicken stock and simmer very gently adding more stock until the chicken is cooked and the rice has cooked. This should take at least 45 minutes. Use a lid to cover the pan, steam will aid the cooking process as the temperature can be reduced to prevent burning. Check seasonings.
In another pan heat a nob of butter or olive oil and fry the fish, crab meat and calamari for a few seconds before adding to the Paella. Add the black mussels and clams. Lastly layer the prawns or crayfish on top. Steam through for 4 minutes, try not to overcook the prawns. Once you've added the fish do not stir again.
Arrange the olives, add the peas. Heat through. Garnish with a sprinkling of parsley, a squeeze of fresh lemon juice and a good drizzle of olive oil enjoy!
TIPS:
This dish can be made with extravagant ingredients or simple ingredients. I enjoying adding what we can harvest from the sea e.g. black mussels and in Mozambique we're able to get clams which I'll use there. If we're lucky and there's a crayfish or freshly caught fish I'd incorporate that too. But, sometimes we have lean pickings so we make do.
TO FREEZE OR MAKE BEFOREHAND:
The paella may be prepared in advance a day beforehand or frozen for a few days (do not freeze for any long periods as the flavours deteriorate when frozen)
Prepare the Paella until the fish products have to be added. So when the chicken and rice is cooked remove from the heat, cool down completely, preferably in a plastic container. Refrigerate or freeze.
Frozen: If frozen remove 12hrs before use from the freezer, place in the refrigerator to defrost. Carefully transfer the Paella to a large oven-proof serving dish, arrange the fish as instructed, on top of the rice. Cover with tin foil. Pre-heat the oven to 220֠C. Reheat for 20 minutes in the oven. Toss to blend, add the olives, parsley, lemon juice and olive oil.
Can be served with a fresh green salad, garlic bread and a good glass of crisp wine.
Bon appetite
My traditional Paella pan has rusted and needs constant care, I prefer my Stainless Steel Pan. Perfect for making breakfasts, frying, it's perfect for grilling chicken breasts, steaks (very hot) we've made pizzas and toasted sandwiches.
Click here to browse Paella Pans
---