Bolognaise Arancini - Flavour Bombs
---
---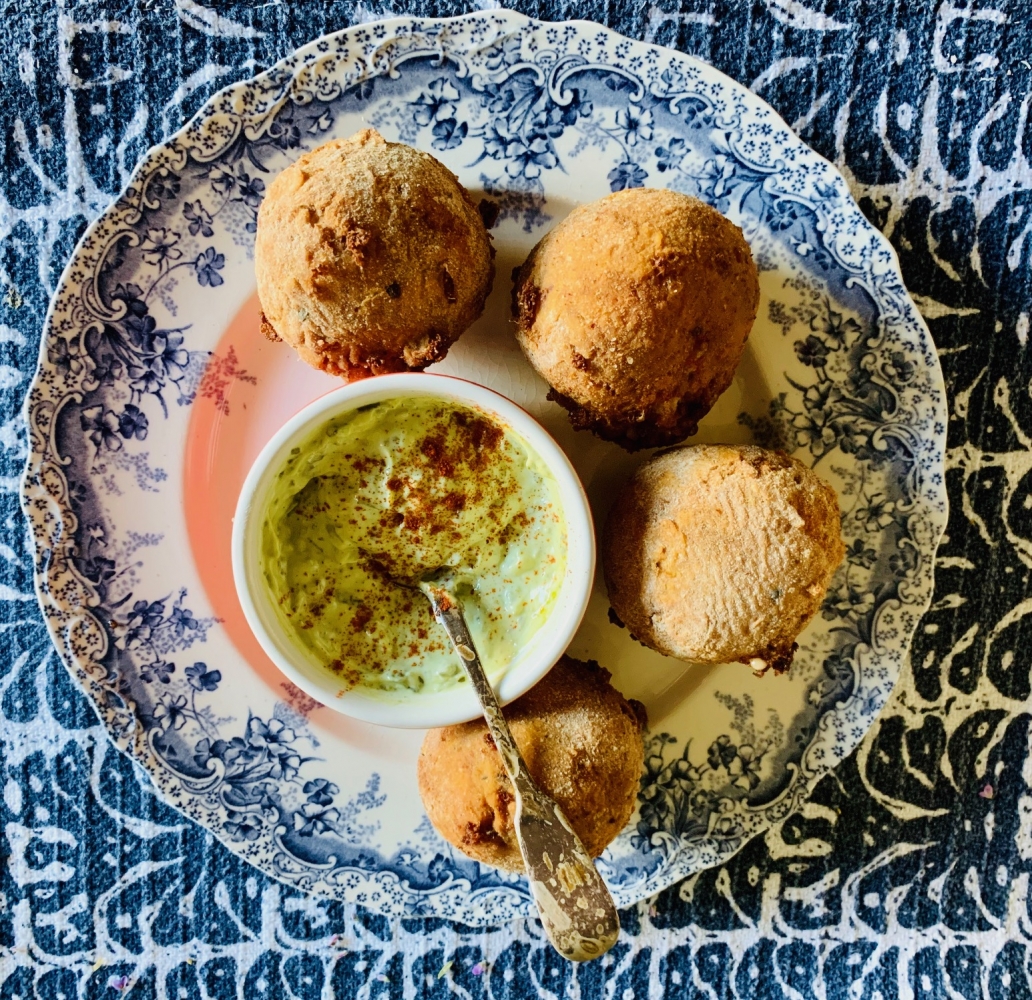 Arancini is an Italian dish consisting of small balls of Arborio rice, stuffed with a savoury filling, coated in breadcrumbs, and fried. Arancini is synonymous with Sicily.
If you've never tasted arancini or made it yourself now is a golden opportunity to impress. Here it's raining, cold and miserable. Everyone has fires roaring in the grate and comfort food is called for. What's more, there's no rugby on TV (I think) which means that all the couch potatoes are miserable. Whip up a batch of these flavour bombs.
I made a bolognaise sauce for lunch, increased my volumes slightly and just before adding my chopped tomatoes for the sauce removed some bolognaise mince for my arancini. Here is my recipe as I made it. They were delicious, melt in the mouth flavour explosions. This recipe should make 12 golf ball-sized arancini.
PLEASE NOTE THE BOLOGNAISE FILLING, AS WELL AS THE RISOTTO, MUST BE PREPARED BEFOREHAND AND LEFT TO COOL COMPLETELY.
BOLOGNAISE MINCE FILLING
500g lean beef mince
1 medium onion, finely chopped
4 garlic cloves finely chopped
30ml butter
15ml Olive oil
Season to taste
Handful chopped herbs e.g. parsley or marjoram
1 punnet mushrooms, finely chopped in a food processor
1 yellow pepper, finely chopped in a food processor
1 red chilli, finely chopped, or 5ml dried chilli (optional)
200g tomato paste OR 1 small bottle commercial bolognaise sauce (220g)
Melt the butter and heat the oil in a saucepan, add the onion and garlic and sauté, try to keep the mixture as dry as possible, I used a high heat. Add the mince, stir fry until the mince has browned and crumbly. Add seasoning, chilli, and herbs. Stir fry. Add finely chopped mushrooms, stir fry, keeping the heat up so that the meat does not become too saucy. Lastly, add the finely chopped yellow pepper.
Add tomato paste or small bottle bolognaise sauce. Cook through. Remove half the mince and set aside to cool completely.
To the remaining mince add:
250ml red wine
Add 1 large tin chopped tomato
Check seasoning
Simmer gently until the sauce is perfect to your taste. The sauce can be used later or for lunch (we had spaghetti bolognaise for lunch and our arancini for supper) the sauce can also be used for lasagne or frozen.
Risotto
1 cup risotto rice (Arborio)
1 medium onion, finely chopped
2 cloves of garlic, peeled and chopped
30ml butter 30ml Olive oil
½ cup white wine
750ml Vegetable stock
Cracked black pepper
½ cup grated Parmesan cheese
Sauté the onion and garlic in the butter and oil until softened. Add the Arborio rice, sauté until all the fats have been absorbed. Add soup ladles of stock to the risotto rice, turn the heat down and simmer very slowly on lowest heat, adding stock when the rice becomes too dry. It takes about 20 minutes of slow-cooking for the rice to be cooked but still al dente I only used about 675ml of stock. Stir in the grated cheese and stir well, then set aside to cool completely.
For the Arancini Assembly
1 ½ cups grated parmesan
1 ½ cups grated mozzarella cheese

Spoon equal amounts of cooked Risotto and Bolognaise Mince (cold) into a large mixing bowl. Add the cheeses, little bits at a time, mix thoroughly.
With slightly damp hands roll golf ball sized balls of arancini. The balls must be rolled firmly. Place gently onto a wooden board.
Now set up an assembly line with separate bowls of the following ingredients for the coating.
1 cup plain flour seasoned lightly
3 eggs, lightly beaten
1 1/2 cup bread crumbs (I couldn't find any crumbs so used Southern Coating instead. It worked very well.)
1L Canola oil for frying
Dust balls in the flour, dip the balls into the slightly beaten egg and then coat with crumbs. Set aside for 15 minutes while you prepare and heat the oil. Deep-fry at 180C until golden. (I don't have an electric fryer; I made sure my oil was very hot before adding the arancini balls. I used a small saucepan, making sure the balls were submerged.)
Fry for about 4 minutes until golden and crispy. Using a wire spoon remove the cooked balls from the oil, drain on kitchen towel while you prepare the Aioli.
NOTE:
12 balls would be too much for us. I only cooked 4. The remaining balls were refrigerated and used later.
For lunch yesterday Butch and I had an arancino each, on the side, with a lovely Curried Butternut and Sweet Potato soup.
Next time I make a Risotto I'll use the leftovers for arancini. Once you've tasted these flavour bombs, you'll find a gazillion ways of using small amounts of leftovers which can be served very successfully as part of a Tapas board.
TO SERVE:
Make a delicious Aioli – 60ml Homemade Mayonnaise (or commercial, you choose) add a finely chopped clove of garlic and 30ml Salsa Verde (I used Basil Pesto)
Aioli, allioli or aïoli is a sauce made of garlic, salt, and olive oil and found in the cuisines of the northwest Mediterranean, from Valencia to Calabria. The names mean "garlic and oil" in Catalan/Valencian and Provençal. Traditional in the cuisines of the Mediterranean coasts of Spain, France and Italy.

This weekend I'm going to make a delicious Waterblommetjie Bredie! (Water hyacinth Casserole). Traditional in the Western Cape. Winter food at its best.
The photos below show how the veggies should look when chopped.
The cooked Arborio rice looks like this:
This is what the mince looks like
Rolled and coated balls
Ready for frying, into the hot oil
Plated: crispy balls oozing with flavour and cheese. Served with a Basil Pesto Aioli
Products I used
---