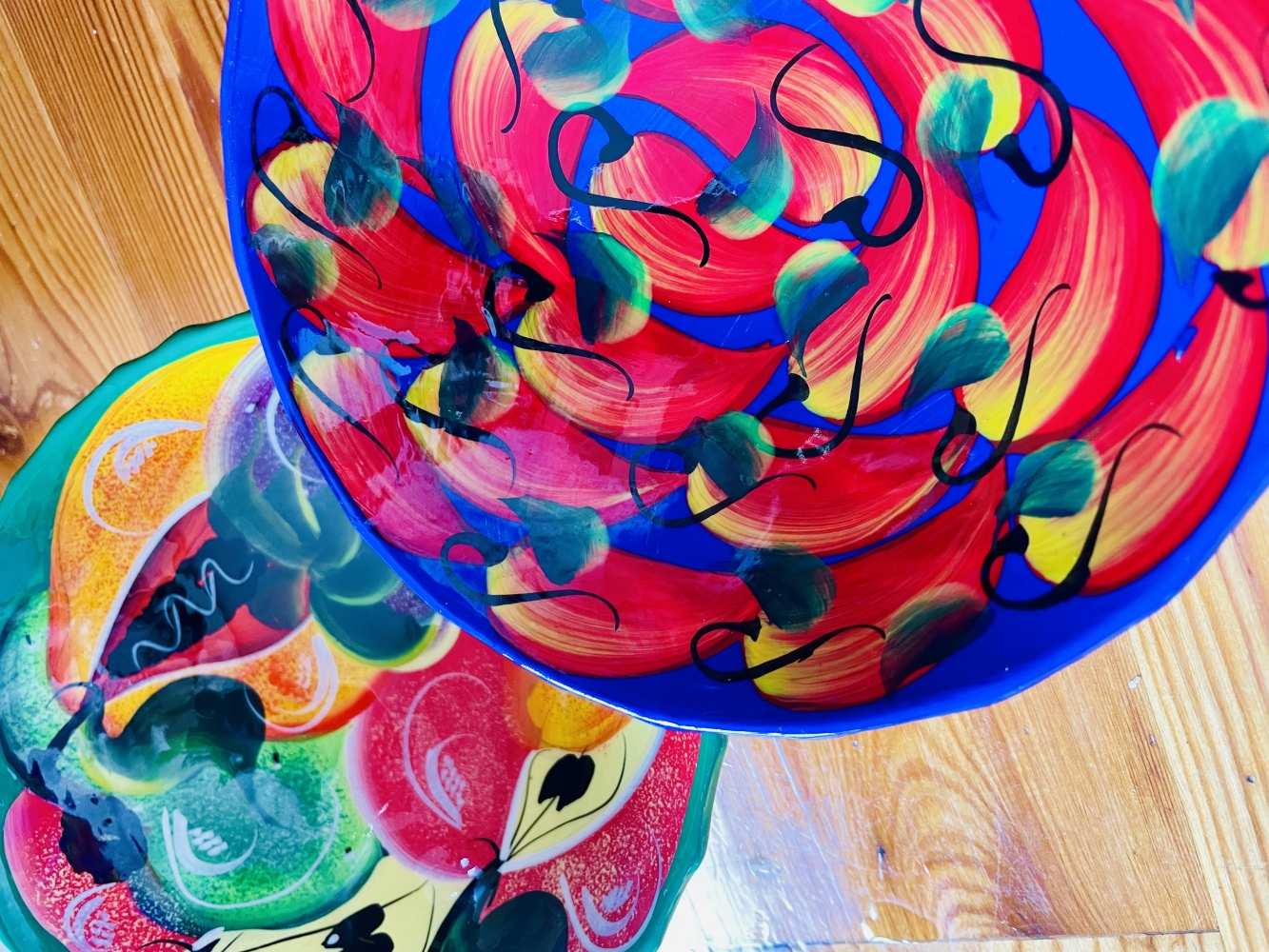 Every sign and forecast pointed to a wet, wintry weekend. Soon we had the wall heaters blazing, our non-skid socks and fleecy jumpers on. We lay in late, dipping rusks into hot coffee, occasionally casting an eye outside. At this rate, we'd spend the weekend in bed. Nope, we needed to re-group, get our butts out from the covers and at least have a good meal somewhere. Butch said it was a curry day. Where better than Nepal, we agreed.
Tucked away in a strip mall, en route to Hermanus, at the Gateway Center, we found a tiny restaurant named Mount Everest owned by two slight men from Kathmandu. आमा Āmā is the cook who keeps up a lively conversation in the kitchen. All dishes are prepared as guests wait. Indian spices permeate the air.

(A nostalgic reminder of a crowded joint we found in Bundi, India, where the best Mango Lassi is made, called, On The Road Masala Tea & Masala Coffee & Lassi Shop.)
Inside there is only seating for six guests with two additional tables outside. Beer is served while we perused the menu. For starters, our choices were: Traditional Nepali Lamb Samoosas. Four yummy, crispy parcels packed with aromatic flavours and a generous portion of filling dropped into hot oil and served piping hot with a delicious dipping sauce.
The four Drums of Heaven (chicken wings), coated in a bright red sauce, flavoursome but not hot. Tender fall off the bone they were.
As recommended by the waiter, we went with his suggestion of Chicken Korma and Lamb Jalfrizi (Lamb cooked in a tomato, onion and green pepper gravy) were served with Basmati Rice and spicy carrot sambal. Butch ordered extra chilli on the side. Our decision to go with dishes not too spicy was a mistake. We should've asked for a medium-hot curry. I found my palate has been anesthetised by our frequent intake of chilli, garlic and ginger! Our staple ingredients in winter. The Nan bread was delicious.
The waiter recommended a traditional, very bright pink, "milkshake" loaded with ice cream and Tapioca pearls for dessert. Very rich, but I'm sure it would get us up to base camp.
A steady stream of returning clients popped in to fetch their takeaways; I assume that's the restaurant's main attraction, which must've served them well during lock-down. Chef plated our left-overs in individual disposable bowls, a sign that takeaways are boxed attractively. A board game is on standby for the waiting patrons.
We will certainly be back.
Sunday's are reserved for lunch with my parents. My father loves excruciatingly hot sauces, and no matter how spicey my dishes are, he will add more spice until we have beads of perspiration pearling our brows.
I made crispy bruschetta with left-over ciabatta in the cupboard and topped them with my favourite Chilli Con Carne recipe. Dollops of sour cream, guacamole and grated cheddar cheese eased the burn—a very simple recipe that freezes well. Remove the night before and defrost in the refrigerator. It makes a delicious starter and, as a main meal, serve with garlic bread, Tortillas or pile on top of crispy Nachos.
CHILLI CON CARNE
1kg beef topside mince (lean)
1 onion, chopped
3 cloves of garlic, pressed
2 green chilies, deseeded, veins removed and finely chopped
2 red, sweet bell peppers, seeded, cubed.
45ml butter
15ml coriander powder
15ml cumin power
10ml cinnamon powder
5ml mixed spice
5ml cayenne pepper (optional)
5ml dried red curry flakes (optional)
5ml dried oregano
15ml chopped parsley
800g tinned tomato pieces
Small tin tomato paste
1 400g red kidney beans
Salt and freshly ground black pepper to taste.
To Serve: Condiments.
Sour cream
Chopped parsley
Spicey Guacamole (mashed avocado flavoured as you desire)
A few extra sliced chilies.
Grated cheddar cheese
Lettuce leaves sliced ( I use mixed leaves, whole, not cut)
French bread broken into generous pieces, or garlic bread.
Sauté onions, garlic, chilli and sweet bell peppers in sizzling butter. Lower temperature slightly. Add the spices, stir fry for one minute to develop the flavours. Turn up the heat. Add minced beef. Stir fry until the mince is cooked through. Add the tomatoes and tomato paste. Simmer for 20 minutes—season to taste. Lastly add the beans, heat through.
Serve in a bowl topped with condiments.
Buen provecho amigo.
---oOo---
As amazing as technology is, we have found ourselves at our wit's end with our TV, struggling to remember passwords or how the remote operates. Fortunately, we hit the jackpot on Amazon Prime (don't ask how we managed that, it remains a mystery) this weekend. We binge-watched the highly recommended series Goliath.
Now an ambulance chaser, a disgraced lawyer, gets a case that could bring him redemption or at least revenge on the firm that expelled him. Starring Billy Bob Thornton. I know. He's always typecast as the unsavoury villain. In this role, he shines.
---oOo---
I'm always surprised by the green landscape during autumn driving home over the Overberg mountains. Green wheat fields everywhere. A rare sight I think.
---